KLM Delft Blue Miniature Houses: everything you need to know
KLM miniature houses have been cherished collectors' items among passengers for more than 60 years. The little Delft Blue houses decorate many window sills, offices and kitchen cabinets. In a few days, on 7 October, we will celebrate KLM's 100th (!) birthday, and as always, with the unveiling of a new KLM House. 
But first, a few facts:
The first miniature KLM Delft Blue Houses were given to passengers, almost certainly, in 1952.
Production was random until 1994; a number of houses were produced one after another, then none for several of years.
An extra 15 houses were produced in 1994 in honour of KLM's 75th anniversary. This brought the number to exactly 75. The number of houses in the series has kept pace with KLM's age ever since.

Photo: Ben Kortman
Filled with Dutch Genever
The first houses were filled with Bols Genever in the 1980s. Prior to that they contained a liqueur or gin from the long-established Dutch distilleries Rynbende and Henkes.
KLM Houses are handed out to passengers who travel World Business Class.

Some are used as ashtrays
Given the alcohol policies in a number of destinations in the Middle East, KLM handed out house-shaped ashtrays for a little while. A fun detail in these ashtrays was that, when a cigarette was placed in the back of the ashtray, the smoke came out of the chimney. The following editions of the KLM Houses came in ashtray form: 1, 3, 4, 5, 8, 14, 15, 17, 20, 21, 22, 23 ,25, 26, 27.
The Delft Blue Houses were produced by Royal Goedewaagen in Gouda until 1995.
Almost 75% of all Delftware is made outside Delft. It is therefore the technique that lends its name to the houses and not the place.
More than 800,000 KLM-houses each year
Around 725,000 Genever-filled and 79,000 unfilled KLM Houses are loaded onto KLM aircraft each year.
Apart from the standard series of houses, a few miniatures have been issued without a number. The Royal Palace Amsterdam, Goudse Waag cheese weigh house in Gouda, Paleis het Loo in Apeldoorn, Koninklijk Theater Carré in Amsterdam, and the Hall of Knights in The Hague all have a limited-edition, KLM version of themselves.
Apart from the early ones, KLM Houses are always replicas of buildings of special historical and architectural interest.
The only house so far that was produced, but not based in the Netherlands is House No. 85. This is a model of the Penha building, the most famous house on Curaçao, which is part of the Kingdom of the Netherlands.
For a house to be reproduced as a porcelain miniature, it is important that its facades and ornaments are not too detailed or outstanding.
The maximum size of a miniature is 5.5 cm x 10 cm.

Photo: Ben Kortman
Newlyweds
Royal Palace on Dam Square in Amsterdam and the Goudse Waag cheese weigh house in Gouda were given to newlyweds flying KLM on their honeymoon.
An enlarged version of the Royal Palace Amsterdam has also been presented to the winner of the KLM Open golf tournament every year since 2004.
KLM Delft Blue House No. 100 will be revealed on the seventh of October. Keep an eye on our social media channels to be the first one finding out what the new house will be.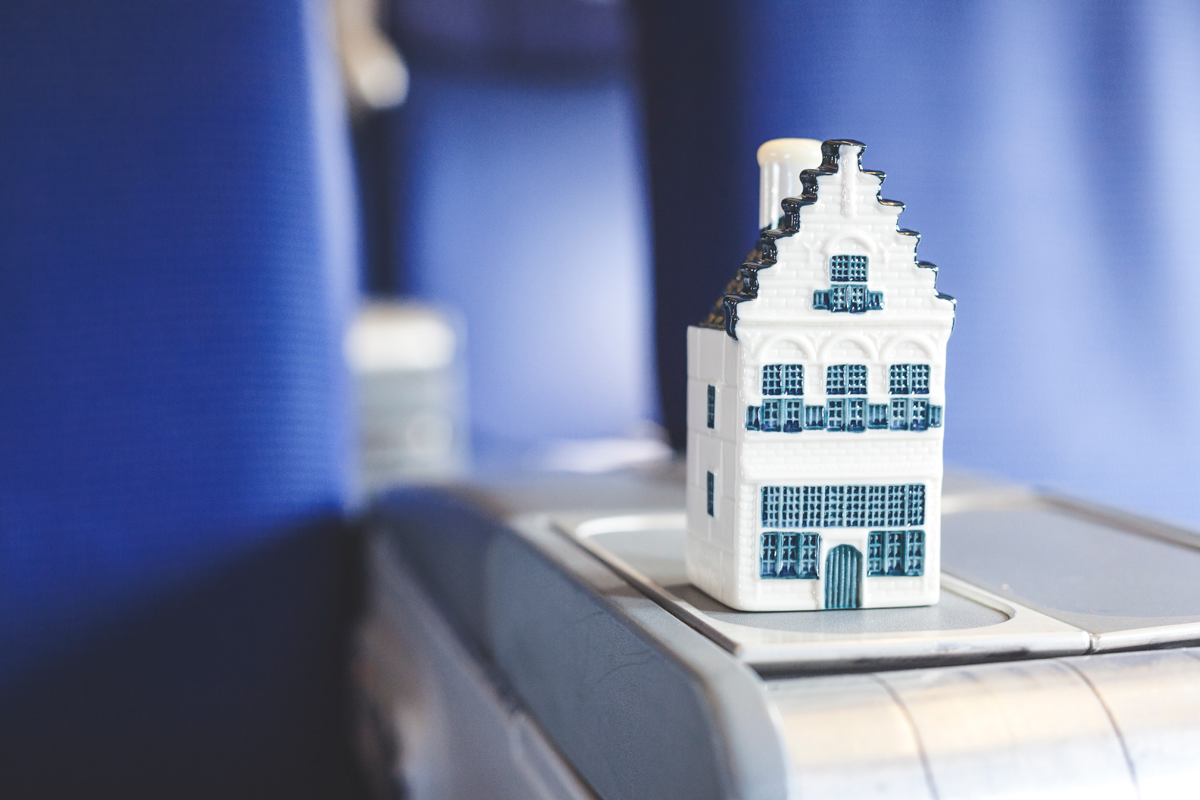 Photo: Thirsa Nijwening
If you liked reading this, you might also be interested in the following blogs about The 8 Most Desired KLM Miniature Houses and A Gorgeous Walk Along the KLM Houses in Amsterdam. Download the KLM Houses app for additional information.