KLM's First Passenger Aircraft
When KLM first began transporting passengers, it used First World War bombers that had been slightly modified to accommodate their human cargo. The De Havilland DH-9B had an open cabin and exemplified everything that civil aviation stood for in those days: high adventure and minimal comfort, with passengers clambering into the plane wearing heavy leather jackets, fleece-lined caps and pilot goggles. Then came the Fokker F.II – KLM's first passenger aircraft.
A festive day at Schiphol
The Fokker F.II, KLM's first passenger aircraft, was presented at Schiphol Airport in 1920, on the same day that KLM transported its first passengers from London to Amsterdam. There was room for four passengers, who were seated in a closed cabin, while the pilot sat out in the open air. This single-engine plane had a range of 1,200 kilometres and a maximum speed of 150 km/h over land and 120 km/h over sea. The wings were made of wood, whereas the fuselage and tail were made of steel tubing covered with linen.
The Fokker F.II was developed in 1919 and the first test flights took place in October of that year. The new aircraft was presented at Schiphol on 17 May 1920, the same day that KLM welcomed its first flight from London to Amsterdam. It must have been a very festive day at the airport, with the press and public getting two historical events for the price of one.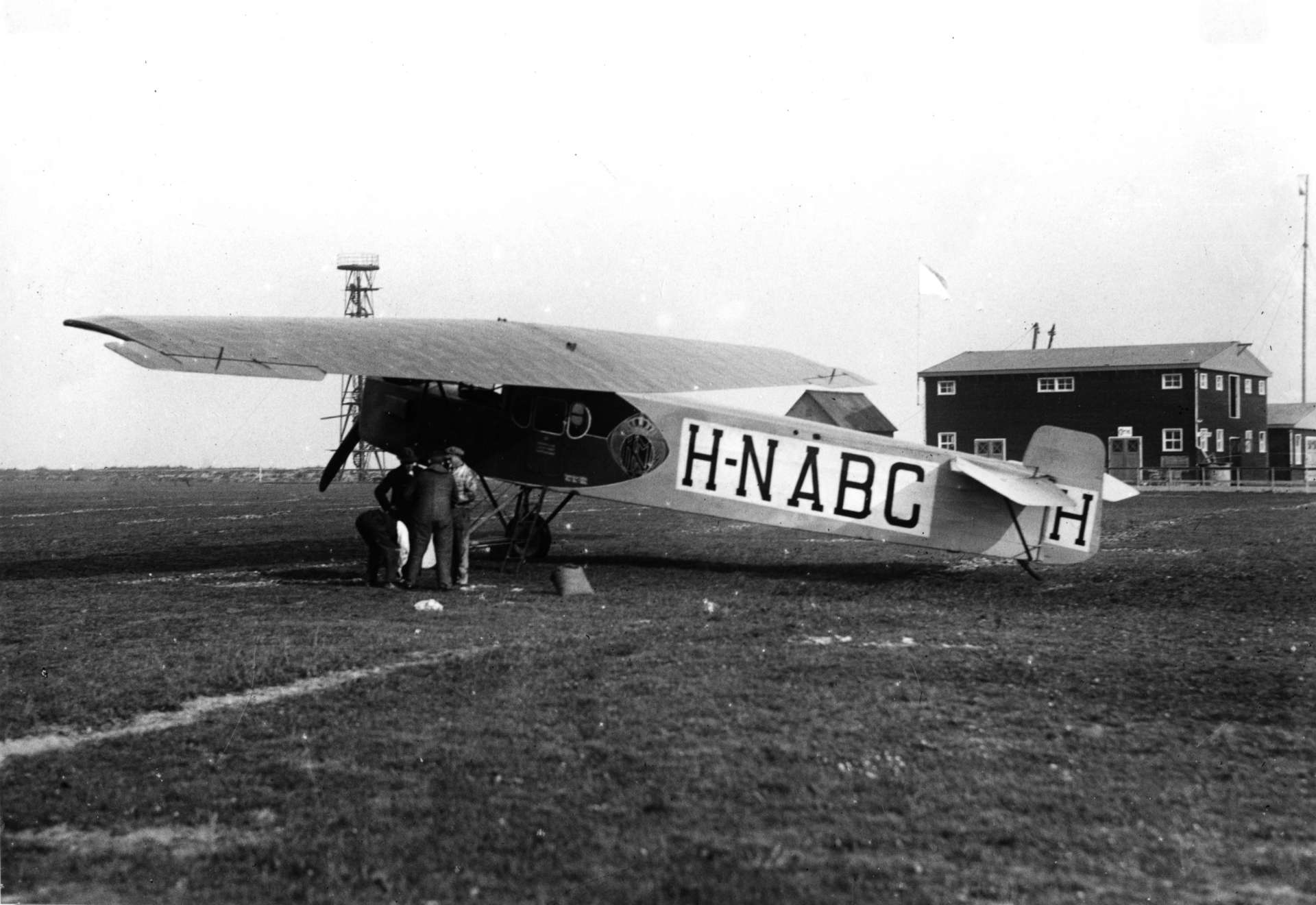 Twenty times Amsterdam-Jakarta
KLM ordered no more than two Fokker F.IIs, which were delivered that same year. This had nothing to do with the quality of the F.II, which may look Spartan today, but was the very height of comfort back then. The truth is Fokker was already working on the F.III, which could carry five passengers and therefore had a greater commercial appeal to KLM. In KLM's first year of operations, 1920, its fleet of two De Havilland DH-9s and two Fokker F.IIs carried a total of 345 passengers, 21,963 kilos of freight and 2,962 kilos of mail. The flight schedule ran from 17 May to 31 October, with operations closing down in winter. A total of 584 flights were operated for a total of 233,600 kilometres, which was 20 times the distance from Amsterdam to Jakarta, according to KLM's annual report for 1920.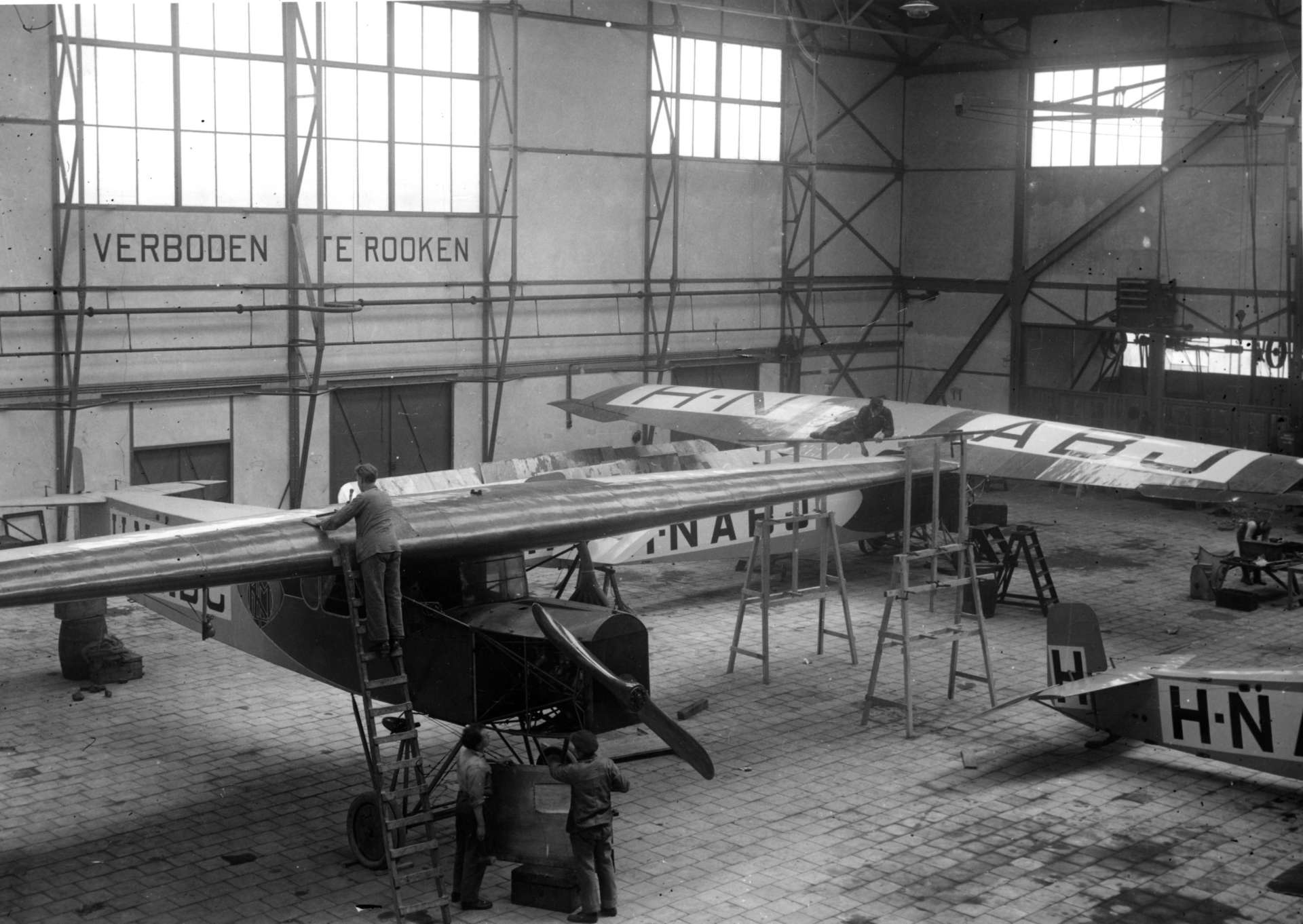 Left: Fokker 2, Right: Fokker 3, both in the maintenance-hangar in Waalhaven airport, NL.
Sold to Sabena
The two Fokker F.IIs, registered H-NABC and H-NABD, served KLM until the summer of 1927 and were then sold to the Belgian airline Sabena, which deployed them for a couple more years. One of these aircraft returned to the Netherlands in 1931 and was used as a laboratory plane by what is now the Netherlands National Aerospace Laboratory. This aircraft was later stored at Schiphol, with the intention of exhibiting it at an aviation museum, which had yet to be built. Sadly, history decided otherwise, because the plane was destroyed during the bombardment of Schiphol on 10 May 1940.