Last Monday, I was a member of the crew on the first KLM flight to Buenos Aires. After an absence of ten years, KLM is back in this beautiful Argentinian city. Even though I had never been to Buenos Aires before, this destination has always been very special for me. As a matter of fact, the very first KLM flight to Buenos Aires in 1946 was captained by my grandfather Frijns. On 6 August 1946, he took to the air in a Douglas DC-4 named 'Friesland'. And that was not a direct flight like the one I made last Monday. No, he flew to Buenos Aires via Lisbon, Dakar, Recife and Sao Paulo!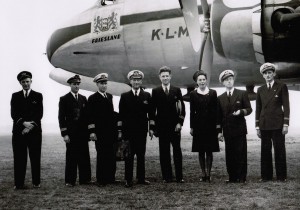 This South-Atlantic route was set up in 1946 and my grandfather was sent out to check the suitability of the airports in Recife, Sao Paulo and Rio de Janeiro, which were 'not yet known to KLM pilots', according to a newspaper article at the time. After a return that took three and a half days, my grandfather declared that the condition of the airports was up to standard. However, unfortunately KLM had still not concluded a satisfactory agreement with the Argentinian government at that point. So it was decided to fly to Montevideo in Uruguay, from where KLM would finally ferry its passengers to Buenos Aires by boat. In the following year, the route was more successful and by October 1947 5,500 passengers and 50,000 kg of cargo and post had been flown two million kilometres in 6,700 flying hours. In 1948, KLM and the Argentinian government finally concluded the aviation agreement allowing a scheduled service to start that would last until 2001, when Argentina was hit by a major economic crisis.
And now we're back! And so too are the many stories that I've heard about my grandfather. He was a pioneer, an adventurer. He also held licence number 9, making him the ninth pilot in the history of KLM.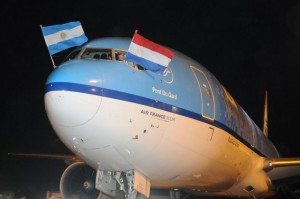 And what a difference with today! I flew to Buenos Aires in thirteen and a half hours, while he took three and a half days. I flew direct while he made many stopovers. For him, this was pioneering, a real voyage of discovery. 65 years ago, my grandfather flew from Amsterdam to Buenos Aires for the first time. In so doing, he laid the foundations of KLM's new scheduled service to Buenos Aires. I'm so proud that I'm his granddaughter!
Karen
Inflight Services