I just haven't been that lucky with my New Year's Eves abroad so far. I guess the best ones are still to come.
I remember my first one. We were high in the sky halfway to Tel Aviv, when our watches told us it was midnight. The handful of passengers who were on board, celebrated their new year on a different day than we do. But they tried hard to make this eve of our year a special one. They sang along to 'Happy New Year' (Abba), played on the plane's speakers, and congratulated us on our brand new year. It was really sweet of them. But arriving at Ben Gurion Airport, it was business as usual. As it would be at Schiphol Airport at Buddhist, Muslim or Jewish New Year, I presume.
Afterwards I heard great stories from a friend who'd spent her New Year's Eve at Copacabana in Rio. Wow.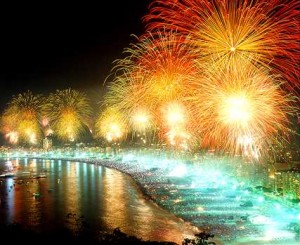 Some years later a friend of mine and I arrived in Panama City late afternoon on the 31st of December. The hotel had organised a New Year's Eve party, so we decided to join in. We agreed to meet each other downstairs in a couple of hours. I took a shower, dressed up and sat down in a chair for a minute, only to wake up in complete darkness, not knowing where I was and what time it was. When I finally found out that it was four in the morning, I felt incredibly guilty towards my friend, who must have tried to wake me up and had celebrated Le Moment Suprême with strangers. The next morning I found out that she had fallen asleep as well. Even before she changed. She found herself in KLM uniform on the bed in the middle of the night.
The same friend who spent New Year's Eve at Copacabana a few years before, told me amazing stories of her New Year's Eve that year at Times Square, New York. She showed me pictures of a joyful crowded street and the final countdown at a big screen.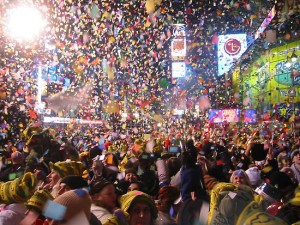 This year I will celebrate the turn of the year in the Netherlands. But I am looking forward to the stories of that friend, who this time will be in the air somewhere between Dubai and Amsterdam at Le Moment Suprême. Somehow I'm pretty sure it will be special again.
Caroline