Wear your KLM uniform but preferably not your highest heels: we expect some light physical effort of you. That's about all I knew when I drove off to Hangar 12 at Schiphol airport to join KLM's new Social Media Campaign.
Five hundred colleagues from all divisions wearing a KLM uniform were requested to help create a spectacular Internet film about KLM's 24/7 personal service on social media.
I didn't have a clue what would be expected of me and was rather anxious to find out, as were the other colleagues who showed up. To be honest, I still didn't understand very well what it was all about even when the producer had explained it. All of us together were going to give live replies to questions addressed to KLM on Facebook and Twitter. Well how, precisely?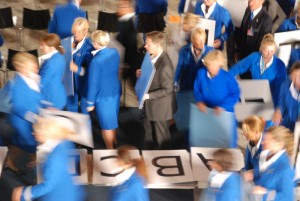 We all got a bracelet with a number on it corresponding to a seat and a place on the floor of the hangar. It all turned out to be very easy (even for me: I had just returned from a flight that morning and hadn't slept at all). All we had to do was take our seats and wait for a question to be asked. When an answer was formulated, we got a 'go'. We then had to run to a screen to read the answer and check out what letter corresponded to our number. Next we took a board with that letter on the back and ran to our numbered place up front. At the next signal, we had to hold our boards above our heads, showing the letter. Above us, a camera was shooting our live reply.
After some practising, which must have looked highly chaotic, it went smoother and we started to enjoy the whole thing a lot. The mood was set.
[youtube]dOatud9o1SM[/youtube]
Number 91 (my neighbour) laughed, "You know, it feels grand to be a part of this campaign. We're just like one big KLM family. Even though my mother will never recognise me in the film!" I had to admit I felt the same. And I think I will keep my number 92 bracelet as a souvenir, just as I cherish the tag from the Fly2Miami flight.
Did I make you curious? Then check us out at YouTube:
Caroline