If your job involves flying around the world and visiting foreign places, it suggests that you learn about all those different cultures easily. But, as I already wrote in a previous blog, I find it hard to get to know 'the heart' of a place and its people during my short stopovers.
At KLM, there's an easier way to get to know other cultures though.
KLM engage local cabin crew on flights to and from destinations where language and/or cultural differences might cause misunderstandings. As a result, Dutch cabin attendants work together with 'locals' on flights to China, Japan and Hong Kong. Since most of these flights are long ones, there's usually some time to have a chat. One of the advantages is that our local colleagues speak English very well. Another one is that they are acquainted with Dutch culture a little. So our straightforward, sometimes even blunt questions generally don't shock them right away.
It's through my local colleagues that I've got to know much more about habits, manners and family life in their country of origin. And, obviously, about their view of us, the Dutch. Fortunately, most of them are polite enough not to mention our directness and they confine themselves to our good points, like our openness and freedom.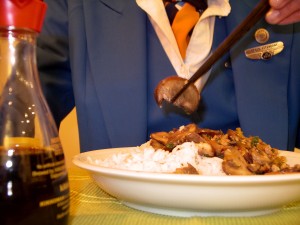 My last flight was to Tokyo. After discussing our personal lives, my Japanese colleague and I came to a highly important subject for almost all airline crew all over the world: our shopping.
There turned out to be quite a few similarities. On her last flight to Amsterdam, my colleague bought a scrubbing brush in the shape of a giraffe; I bought worker's gloves with a flower print in Japan. I bought flexible, portable ashtrays i
n her hometown (a giveaway for smokers at home, to stop them from throwing their butts on the streets); in Amsterdam, she bought pencil cases with Jip and Janneke (Dutch cartoon characters) on them for her nieces and nephews. She took noodle pincers to Holland while I took a plastic stirring spoon to Japan. Obviously, I ate sushi and soy sauce, while she ate cheese and peanut butter.
Our final conclusion was that shopping habits (especially when you have jetlag) are the same all over the world.