One of the advantages of being away from home and having some spare time now and then, is that I get round to things I don't give myself the time for at home, like reading a book. Most of the books that I've read over the past years have been read beside a swimming pool or in a hotel bed during a sleepless night.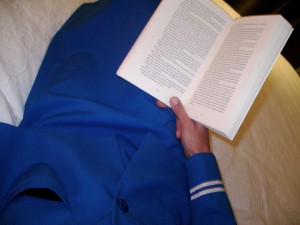 Since I started working as a flight attendant, I've discovered many other leisure activities. I've taken golf lessons, learned how to survive on a wakeboard and gone on rafting tours, just to mention a few.
And for those lost hours in between, a whole new world has opened up to me: the world of beauty and wellness. Till then, I had regarded body care as just a necessity; it never occurred to me that it could be a pleasant pastime as well.
Asia is paradise when it comes to pampering yourself. There are so many different kinds of massage. I've tried many, but my favourite is still foot reflex. On arriving in Singapore, tired from a long flight, I always feel reborn after having one.
Sometimes I get talked into things I regret afterwards. Like that time I had an eyelash extension. I have to admit it looked wonderful – that first day. But I lost half of my artificial eyelashes during the night. I looked like a clown the next morning and had to soak off the rest of my false eyelashes with oil, resulting in red eyes for the remainder of that week.
On a recent flight to Kuala Lumpur, a colleague convinced me to join her in 'something really special'. Later, while I was sitting with my feet in an aquarium, my boyfriend sent me a text message asking how I was doing. "Well, at this very moment the hard skin on my feet is being eaten away by a huge shoal of little fish". It took a while before he replied: "I see you had some spare time left".
Caroline