Mind on zero, eyes on infinity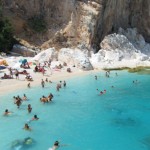 Some time ago, I was wondering where to go in the summer. Exotic tropical resorts flitted through my imagination. Pearl-white beaches and brilliant sunshine seemed the ideal combination for a perfect holiday. Unfortunately, my bank account had a different opinion. As a student, you simply can't afford to do as you like. So I decided to look a bit closer to home: Italy! And since I had already been to Rome and Milan a couple of times, it would have to be somewhere different. The city trip was well and truly off my wish list.
Together with my 'partner in crime' Justin, I decided to take a driving holiday. The plan was to fly to Florence, pick up the car and then enjoy a leisurely cruise through the beautiful Italian countryside. Full of enthusiasm, we started to look for a hotel and a car. The hotel was quickly found but the car was a bit more complicated. The fact is that I don't really like driving; I prefer to be ferried around :). And Justin, from Australia, isn't used to driving on the right. "I'll sacrifice myself," I said, feeling rather forced into it. "But you enter the car at your own risk!"
In Italy, we were awaited by quite a different car to the one I had expected. Instead of a two-door compact stood an enormous station wagon. I got into the car with a heavy heart. "Come on! How hard can it be?" I asked myself. But I quickly found out when I stepped on the gas just a tad too hard and almost drove straight into a wall.
"Beginner's mistake. It can happen to the best," said Justin, to calm me down. And, in fact, after this bad start, we seemed to progress quite smoothly. Here and there we took a wrong turning (there's an art to driving with sat-nav) but it got no worse than that. Until we came to…MOUNTAINS. Big, high mountains. With narrow, steep roads. I got the shock of my life. It had taken about 10 lessons before I'd started to master the clutch pedal even a little, so, believe me, driving up a mountain was the last thing on my mind.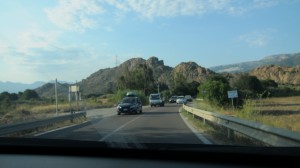 "Relax. It'll be easy!" I heard Justin say. And then, for the first time in my life, I braved a mountain. And how! I changed down a gear and smoothly climbed up the incline. A bend to the left, a bend to the right, just like playing Mario Kart. Everything went fine until we reached the summit. Okay, it had taken a bit of time, to the considerable frustration of other road users, but, all the same, I had done it! And how difficult could it be to drive down the other side? Peanuts, surely..?
And so I zoomed downwards. Without touching the pedals! "Dave! Hit the brake now! NOW!" I noticed that driving downhill did, in fact, require some skill.
We Dutch people are more used to our little flat country.
Dave van den Brule
Bio: At the moment, Dave van den Brule is on a communications internship at KLM. He is currently completing his final year in Editing & Media Production and soon wants to go out into the big, wide world. Until then, he is enjoying all the pleasures that Amsterdam has to offer. His New Year's resolutions for 2012 include resuming his blog and taking more exercise.