My 8 favourite inflight products
Around a thousand KLM stewardesses attended the Boutique Magnifique at the Amsterdam Convention Factory on 17 April. This annual event offers cabin crew an opportunity to engage with companies that supply all sorts of inflight products. And that includes food and drink, but also items such as perfume, jewellery and gadgets. The event, featuring workshops and short familiarisation sessions, serves as an inspiration for our work on board.
I was there and I made a selection of my favourite items, all of which are available aboard KLM flights!
1. Nuxe
This cosmetic oil made by the Parisian brand Nuxe really is ideal if you fly frequently and suffer from dry skin. I hadn't heard of it before, but upon applying the oil to my skin, it immediately felt smooth as silk, without being oily to the touch. Great for face, body and hair.
2. Snap Remote
This gadget allows you to take remote selfies. Set your phone up on a flat surface, make sure everyone is in the picture, press the button on the remote, and hey presto! Very handy for group photos.
3. Dolce
Unfortunately, we can't let passengers test perfume on board. Odours spread quickly aboard an aircraft and before you know it the cabin would smell like a perfumery. But how does one describe a scent? Let me give it a try: Dolce & Gabbana's new fragrance is fresh, sparkling and romantic, with a hint of flowers. Dolce will be available on board from May.
4. POM
The founders of the Amsterdam brand POM (Piece of Mine) also had a stand at the event. My colleagues flocked to see their fashionable scarves, which made me happy and more than a little greedy. The colourful scarf in this picture currently graces our inflight assortment.
5. Nicolas Feuillatte champagne
After lugging around suitcases and waiting in long rows at check-in desks, passengers really appreciate being welcomed with a glass of champagne. We have been serving our Business Class passengers Nicolas Feuillatte since January. I tasted this champagne for the first time at the event and was delighted by its refreshing taste.
6. Punselie's
Those who fly KLM regularly are no doubt familiar with the traditional, syrupy Punselie cookies. The family-run bakery has been making them since 1945 and KLM has been serving them on board for 38 years! According to Mr Punselie himself, grandson of the founder, the secret of their popularity lies in their universal appeal. Regardless of whether you are Chinese or American, everyone enjoy them! There are rumours that a larger version of the cookie is to be served aboard European flights in the near future.
7. Njoy
These cheerful gadgets immediately caught my eye. They are mini speakers which you can connect to your smartphone or tablet via Bluetooth. This is a must-have if, like me, you're a music lover who spends lots of time in hotel rooms. The sound is surprisingly good. They'll be available on board shortly.
8. Amarula
The exotic taste of this African Amarula liqueur evokes thoughts of distant travel. We serve it in Business and Economy Class. Many passengers are unfamiliar with it, but because I love it, I enjoy offering it to them. And I've never met anyone who didn't like it!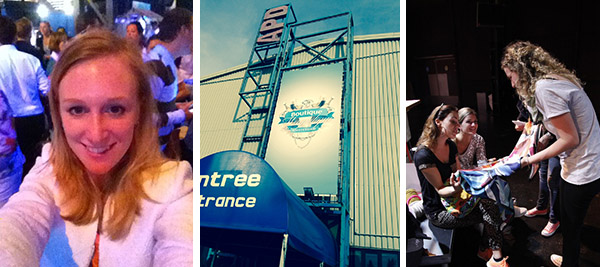 Photo credits: Mijke Broerse, Marjon Broeks