My Preparations for the KLM Open
I won last year's KLM Open, so that makes things extra exciting. I'm the titleholder. In terms of the world rankings, it doesn't matter which tournament you win, but the KLM Open is special to me, of course, because it's a Dutch tournament. In fact, it's the only Dutch tournament. As a Dutch golfer in a Dutch tournament, I get a lot of attention from the press. That's great because it gives me the opportunity to create more awareness for the game. And it certainly helps if you win!
Around 25 tournaments a year
There is an amazing number of tournaments all over the world. You can't take part in all of them because you would get overloaded. So I make a schedule of the ones I want to play. The world's leading golfers take part in between 20 and 25 tournaments a year. I'll take part in 30 this year. Apart from the KLM Open, all of these are abroad, so I don't get as much attention there. Media attention usually goes to the local heroes.
Coverage is important for players because it's important to sponsors. It's all part of the show. But it shouldn't get in the way of the game. When I won the KLM Open, I received so many requests for interviews and all sorts of offers. New pictures have to be taken everywhere. It takes time and you can't do it all, no matter how much fun it is. I have to train and I have to perform. That's what it's all about.
The risks of the course
Tournaments always begin on Thursdays. That week, I always maintain a fixed routine in order to prepare. I arrive on Tuesday and play nine holes to start my practice. Wednesday is Pro-Am day. The forty highest-ranking pros play against amateurs, who are the sponsors. That's the nice thing about golf. The handicap system allows everyone to play against each other. As a sponsor, you can play a game of tennis against Roger Federer, but he'll wipe you off the court. For us, this presents a great opportunity to engage with the sponsors and to familiarise ourselves with the golf course — to check out the riskiest spots. At the end of the day, I do a workout and my physiotherapist comes round to attend to any minor injuries.
On Thursday, depending on my starting time, I always try to be at the course an hour and 45 minutes before I have to tee off. My physiotherapist attends to me for 45 minutes. He loosens me up and gives me some exercises to get me ready. Then, 50 minutes ahead of time, I warm up on the driving range before walking to the first tee to start my first round. You either begin around 9.00 o'clock or around noon. If you start early one day, you'll start late the next day. The people with the best scores on Thursday and Friday get the best starting times on the weekend.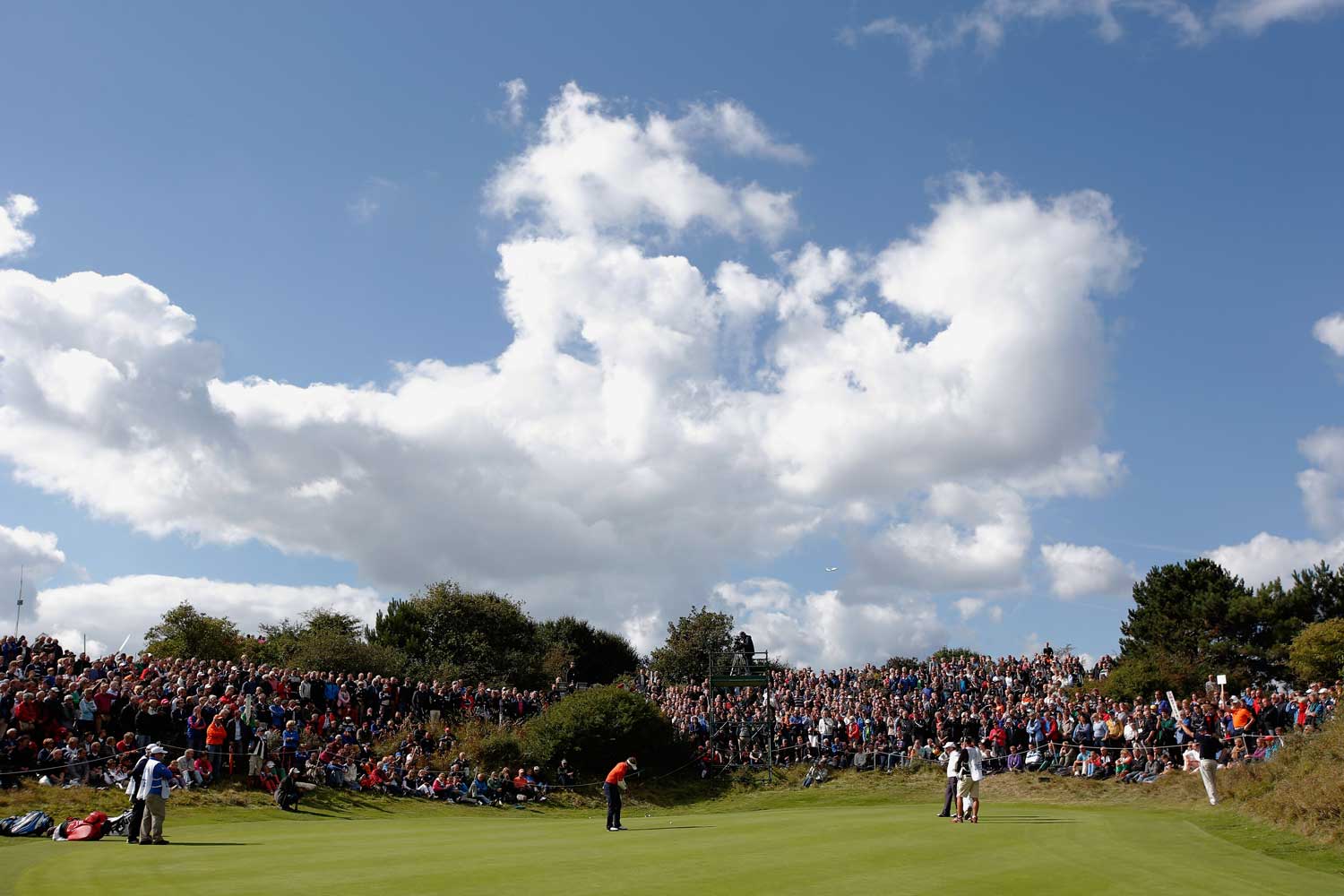 Choosing the right club
For a normal kind of guy like me, from a small town, this is a very different world. That was already the case when I started at the age of nine. Back then it was a game for the rich, but I never let that stop me. I just liked the game. And as far as I could tell, the other people at the club thought it was pretty funny — that little boy who played so well. A lot has changed since those days. There are still a few traditional clubs, but there are now 175 golf courses in the Netherlands, so there's always a club nearby that is open to everyone. It's a bit like choosing the right school.
The KLM Open is almost here. I'm the titleholder, which means extra pressure. On the other hand, I've already won it once, which means there's less to be lost and more to be won!