This Is (Y)our Guy In Saint Martin
Did you know that more than 2,000 people work for Air France KLM at many destinations outside the Netherlands and France? Take Martijn ten Broecke. He's been station manager on Saint Martin, a jewel in the Caribbean Sea, for the last two years. What are his responsibilities and is it really the dream job it seems? We went to Saint Martin to find out. 
It is impossible to miss Martijn as we walk through the gate after a nine-hour flight. At 1.80 metres tall with blond hair, he's unmistakably Dutch. His hi-vis vest and walkie-talkie betray his status. He welcomes the disembarking passengers and warmly shakes our hands. Somewhat fuzzy from our journey, we shuffle behind him towards his office. We perk up at the sound of a steel-band trio filling the arrivals hall with sound, as if to say, "Welcome to the Friendly Island!"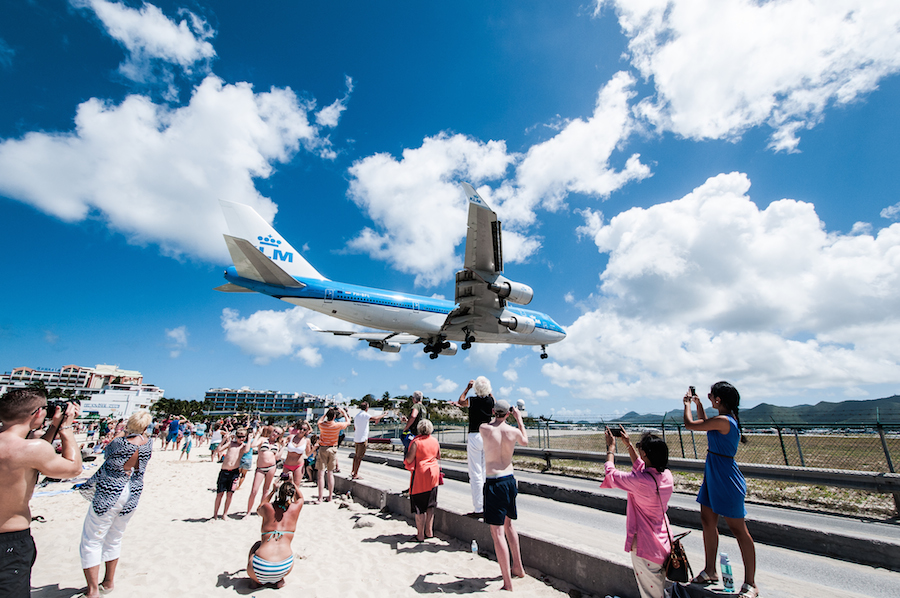 1. How did you end up on this island paradise?
When I finished my degree in aerospace engineering in the 1990s, it wasn't easy to find a job in aviation. A roundabout route eventually took me to KLM Operations. I soon discovered that I found the operational side of aviation so interesting and dynamic that I wanted to stay. After being Flight Dispatch Supervisor at KLM's OCC (Operations Control Centre), my first overseas posting was Tel Aviv in 2011. I lived there with my family for three years. This is my second "outstation", as we call it.
2. How does Saint Martin compare with your previous station Tel Aviv?
It's very different from Tel Aviv, because it's a small island and tourism is its only source of income. Saint Martin is an important hub in the region, which means we have many connections to and from various other islands. Because our commercial headquarters is on Guadeloupe, we are really left to get on with it here. So, in terms of responsibility, it feels more like running your own business.
That sounds a little lonely. Is it?
Not at all. There are three of us, which is perhaps a small Air France-KLM team, but we work closely with the permanent staff of two handling agents, Halley Aviation Services and Menzies. Together in the high season we ensure that 11 flights (3 KLM and 8 Air France) take off and land every week.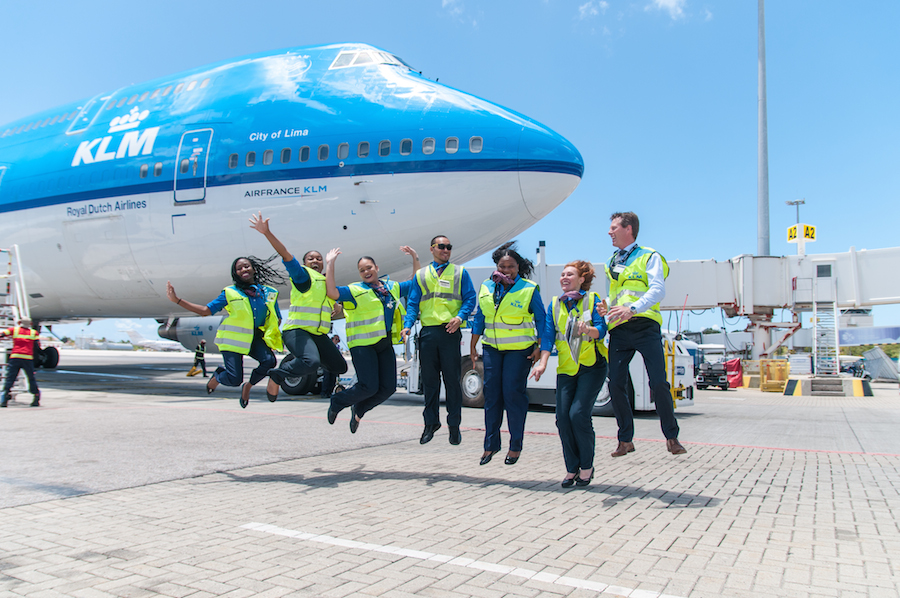 3. What is your most important task as station manager?
In brief, I'm responsible for ensuring that aircraft are able to depart on time with happy passengers on board. I manage the processes, check quality and step in wherever needed. Customer service, in particular, is becoming increasingly important. This is why I like being on the work floor – in the departures hall when passengers are checking in and at the gate when they arrive. Then I'm in a position to offer immediate assistance, if required.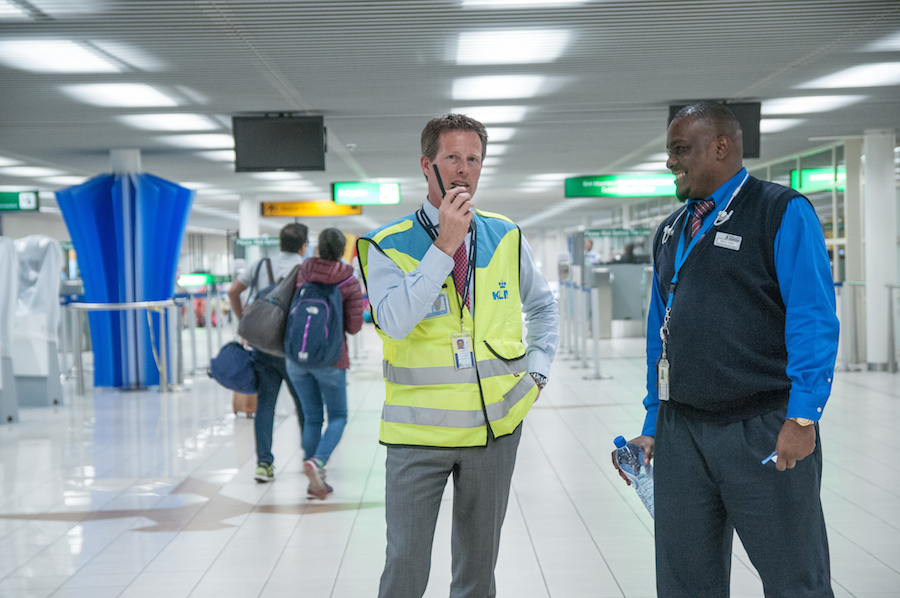 4. What is a typical workday for you?
We handle 11 flights a week. We always begin by going through the telex messages that have come in and discuss them at the daily briefing. We also discuss any special issues, such as children travelling alone or passengers who need extra assistance. Today we had to arrange a rebooking for Air France. We had to find 6 passengers who would be willing to stay on the island for an extra day – with compensation, of course.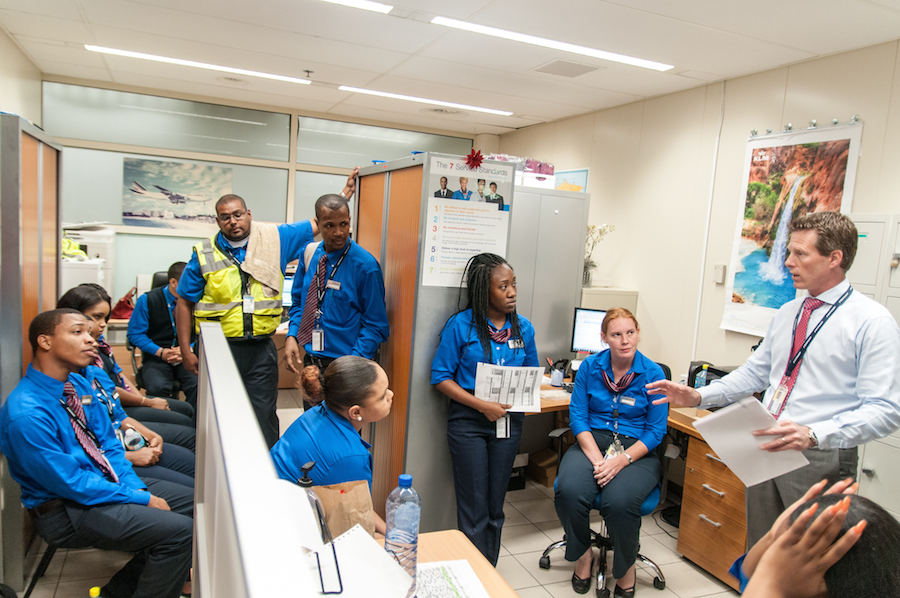 The first thing I do is take a walk around the departures hall to see if everything is running smoothly at the check-in desks. I usually also take a peek at the baggage and do a random quality check. Is there any damage to the baggage trolleys? Are the suitcases in the correct containers? I try to be at the gate when passengers disembark and have a brief consultation with the KLM crew who are flying on to Curaçao.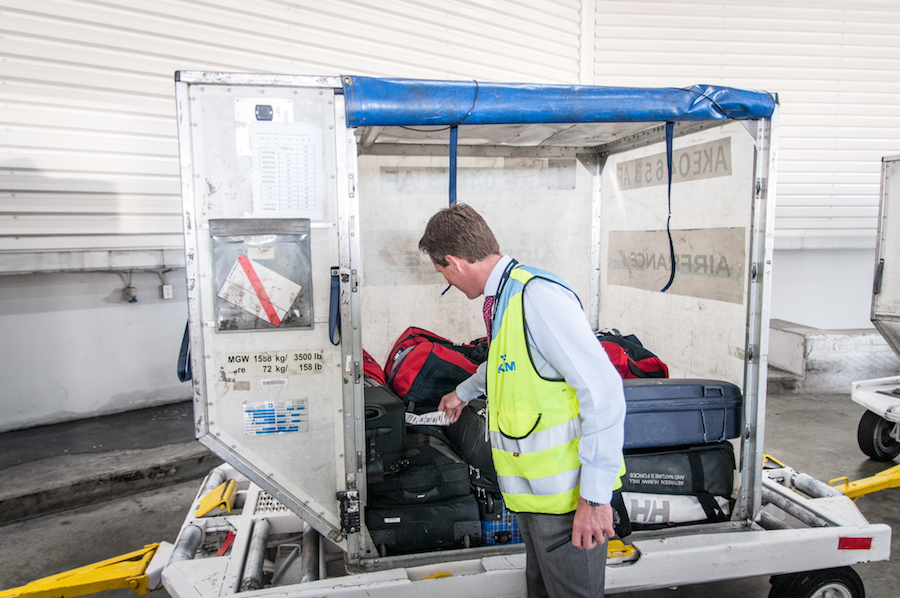 Our aim is always to wave the aircraft off on time. KLM has a turnaround time of 65 minutes, Air France 125 minutes. The Air France aircraft need more time because they fly back to Paris and have to be resupplied and cleaned here on Saint Martin.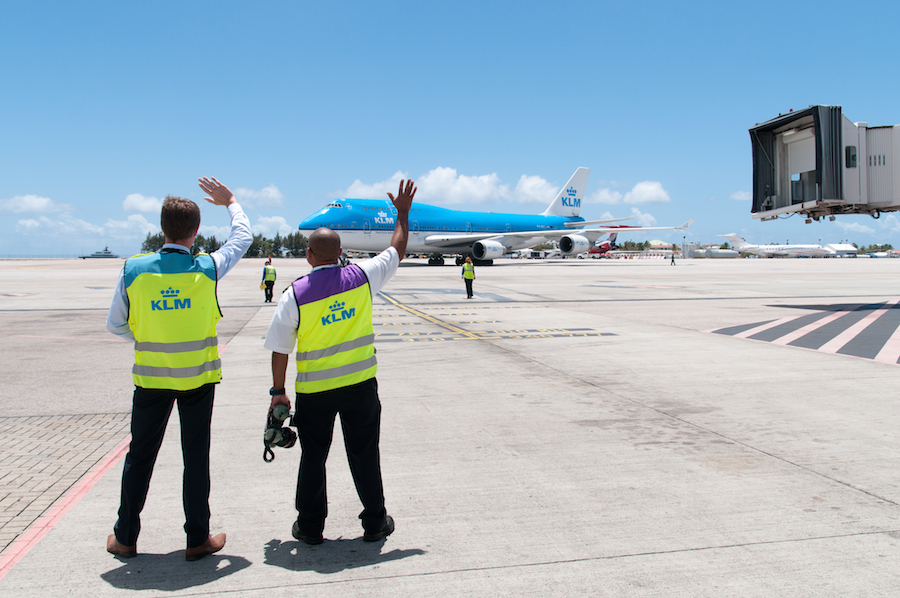 5. Do you know any of the passengers who regularly fly to Saint Martin?
I see many familiar faces and I, of course, know quite a few of our regular passengers who come from the island. We have a lot of restaurant owners and business people, in particular, but also people we meet privately. And there are politicians from both sides of the island – the Dutch and the French. These are generally good Air France-KLM customers, so I try to do a little extra for them – book a seat, perhaps, though bit of personal attention is often enough.
6. What makes Saint Martin airport so unique?
I think it's the only place in the world where a KLM Boeing 747, the largest aircraft type, is greeted with a round of applause when it lands. It's a pretty unusual runway: it's short and very close to Sunset Beach, which is always full of people who want to see, feel, film and photograph the massive force of this plane. On my days off I to like to watch KLM coming into land. You can even watch it via an HD webcam with live air-traffic control transmissions.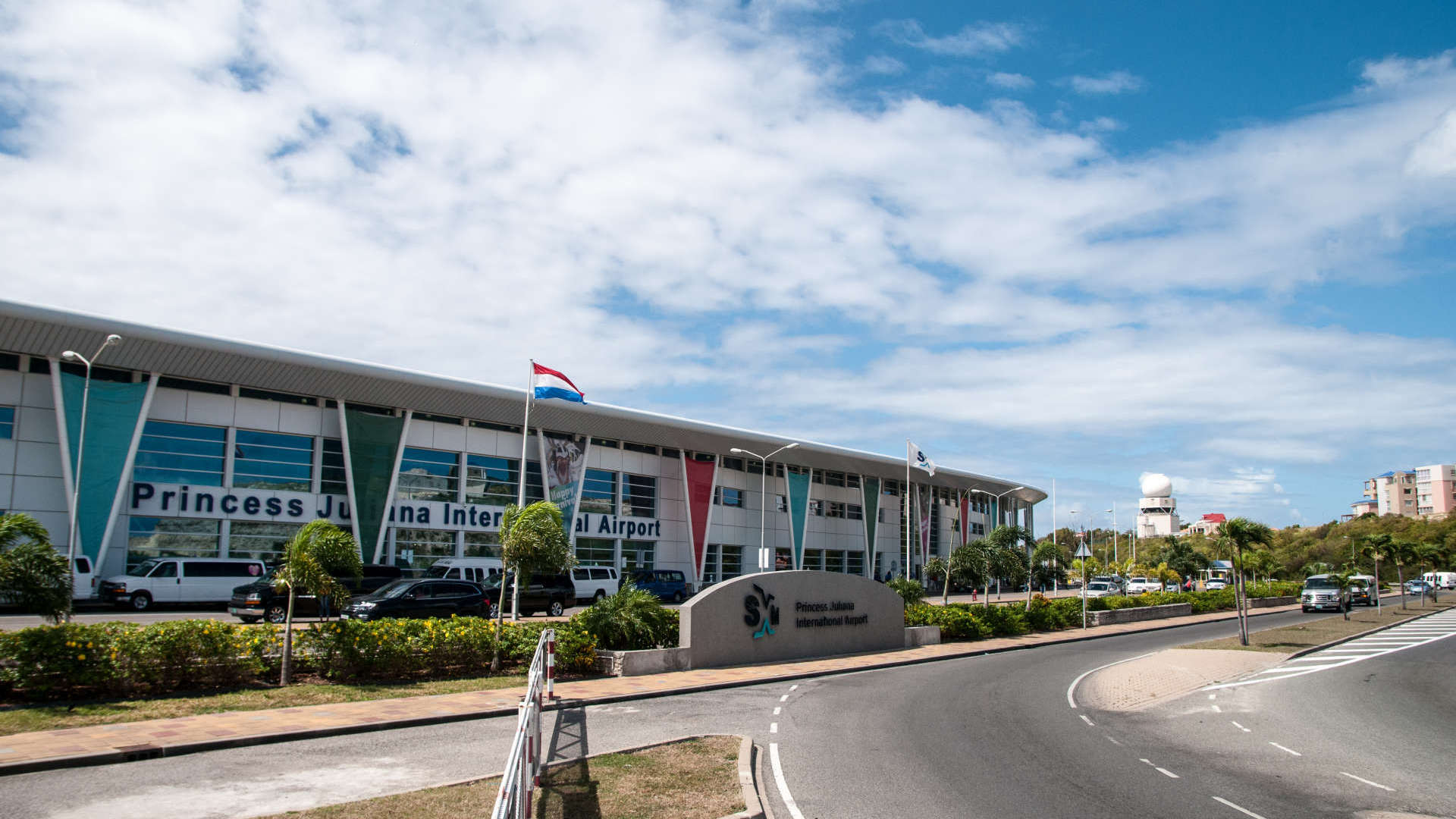 7. Category 1 Hurricane Gonzalo swept across the island in 2014, just three months after you arrived. That must have been quite a baptism of fire.
The hurricane hit the island pretty unexpectedly, because at first it didn't look as if it was coming our way. In no time at all, Gonzalo gained strength and wreaked havoc. Boats were strewn across the beach and here, at the airport: a small aircraft was even upturned. Luckily, the airport building was new and, apart from one small leak, survived the storm undamaged. After a bit of sweeping and cleaning, the airport was reopened in the morning, just before the arrival of flight KL785. So KLM was the first aircraft to land after the storm. That's great, you might think, but an airport can't function properly without a good infrastructure. Fallen trees across the roads caused passengers to arrive late and staff, too, trickled in slowly. We had to improvise and for me it was indeed a new and extremely challenging experience.
8. What do the residents of Saint Martin think of KLM?
Saint Martin has two parts – a Dutch part and a French part. For the French inhabitants, Air France is their home carrier and hence their preferred airline. The KLM brand is associated with more emotion. The largest aircraft that lands here is KLM's and the blue livery looks stunning against the backdrop of sea and sky. The KLM Boeing 747 is a real attraction. The islanders regard KLM as reliable, but sometimes expensive. We're trying to counteract that image with very competitive special offers. For example, at the moment we have a promotion for an all-in return to Amsterdam for ANG 1,000. On the other hand, if you want to fly to Europe, you don't have many options. Consequently flights are usually very full.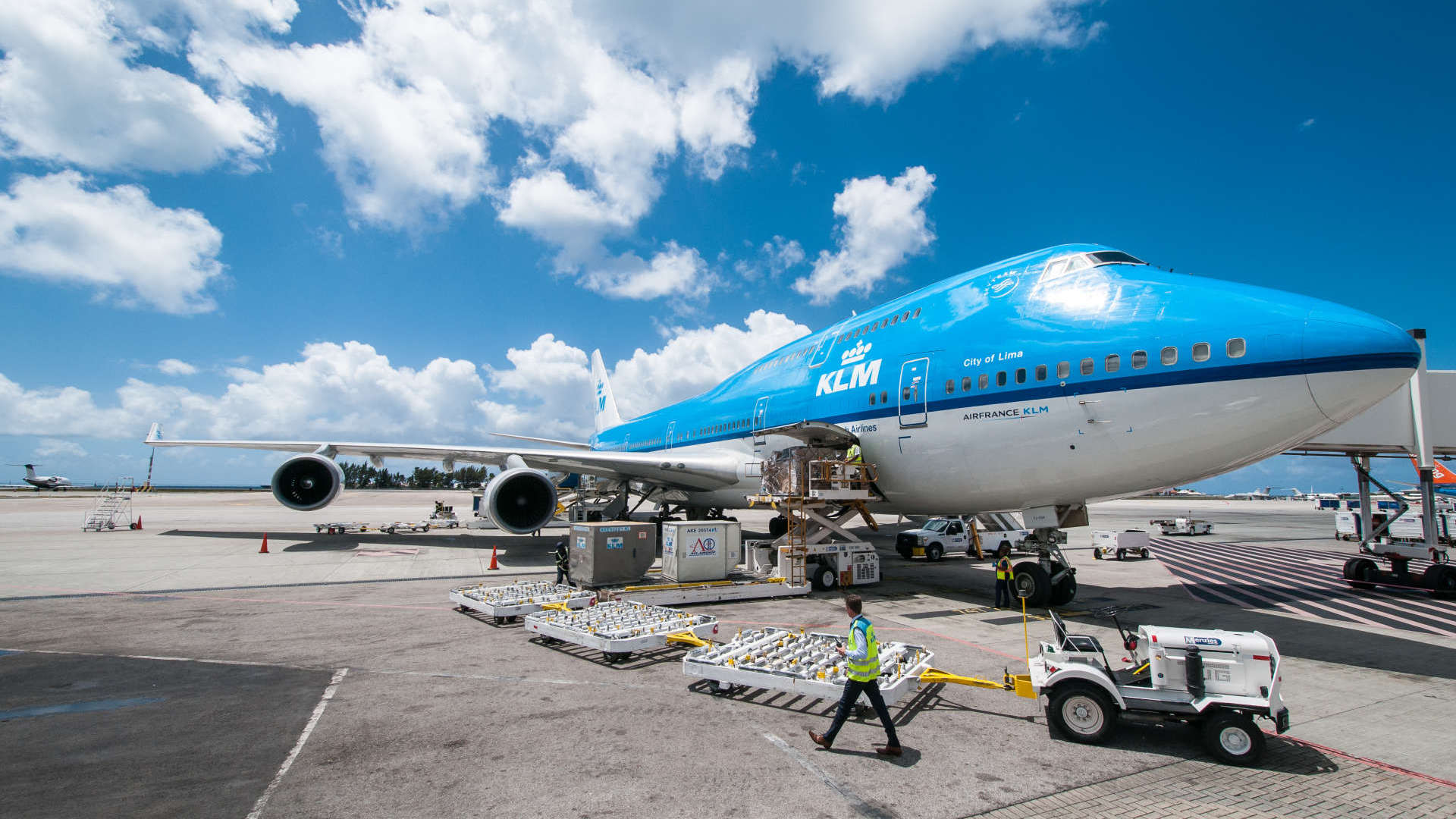 9. Are there passengers who have touched you in some way or who you haven't forgotten?
Not very long ago we had a technical problem with one of the KLM aircraft. This is, of course, very frustrating for our passengers. I tried to have as much personal contact with them as I could and kept them up to date with the progress via the intercom. I don't tend to stick to official announcements in these circumstances, but make it more personal. "Good morning, my name is Martijn ten Broecke, please feel free to ask me anything you like…" and so on and so forth. When the passengers were finally able to re-embark after a 31-hour delay, the relief was tangible. Many of them shook my hand or called out "Thanks Martijn!" A boy of about nine, the same age as my son, even came up to me and gave me a big hug. I found that really touching.
10. Where will you be working in 2 years' time?
That's hard to say. I can express a preference, but Head Office looks to see who is needed where and the decision is theirs ultimately. Each country has its own challenges and culture and it comes down to what you make of it. I wouldn't be where I am now without the support of my wife and children and I have always been very grateful to KLM for the opportunities it has given me. I would therefore go anywhere Air France-KLM needed me, but, if I were able to choose, I would love to go to Mexico or Asia. Mexico, for the combination of A380, B777 and B747 in a regional setting (including Cancún and Guadalajara) and Asia, because of the huge potential for growth and the operational and commercial challenges that lie ahead in the region.
11. Do you never tire of the nomadic life?
The Netherlands is and will always be my homeland. But you learn so much about different people from different cultures by being abroad. This enriches you in so many ways. Our children have learned different languages and can adapt quickly to new situations. We also always go for it 100% in terms of friendships too. I live now and I don't want to keep people at arm's length because I know we're only here temporarily. We still maintain regular contact with friends from different countries.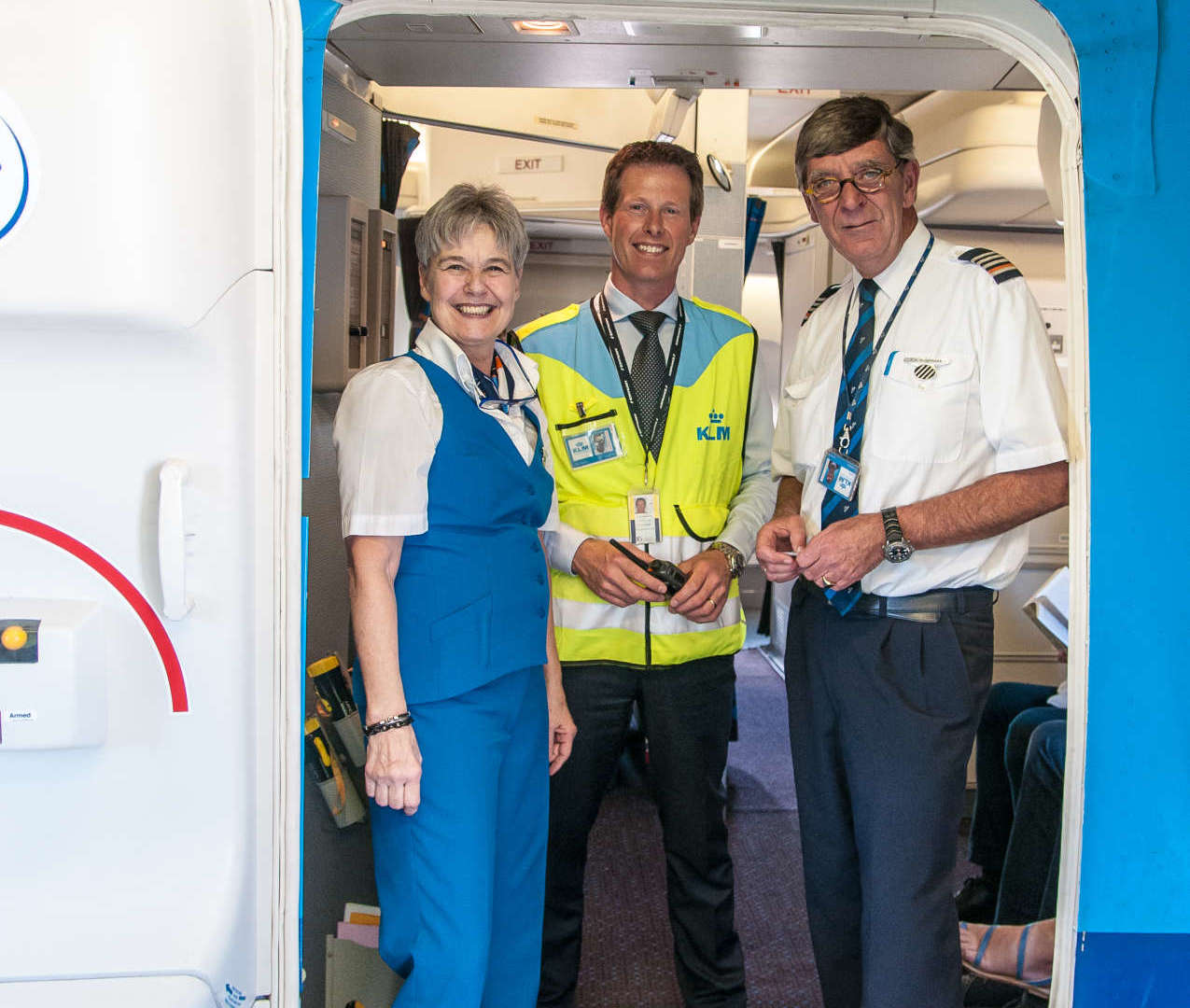 12. Can you tell us something else about Saint Martin? What's your favourite place, for instance?
I really like taking a small boat with my family and friends to the little island of Tintamarre, which is about 3 km offshore. There's beautiful snorkelling there and we often see turtles. Walking from Pic Paradis, the highest point on Saint Martin, to Lottery Farm is also fantastic. But one of the best things is jet-skiing around the island. It's only when you see it from the sea that you truly realise you live on an island.
If you happen to be there in April, I really recommend buying a ticket for the Holi festival, which is organised by the Indian community. This is an annual Hindu spring festival, during which people cover each other in coloured powder. Here it is celebrated on the beach with steaming curries and groovy beats.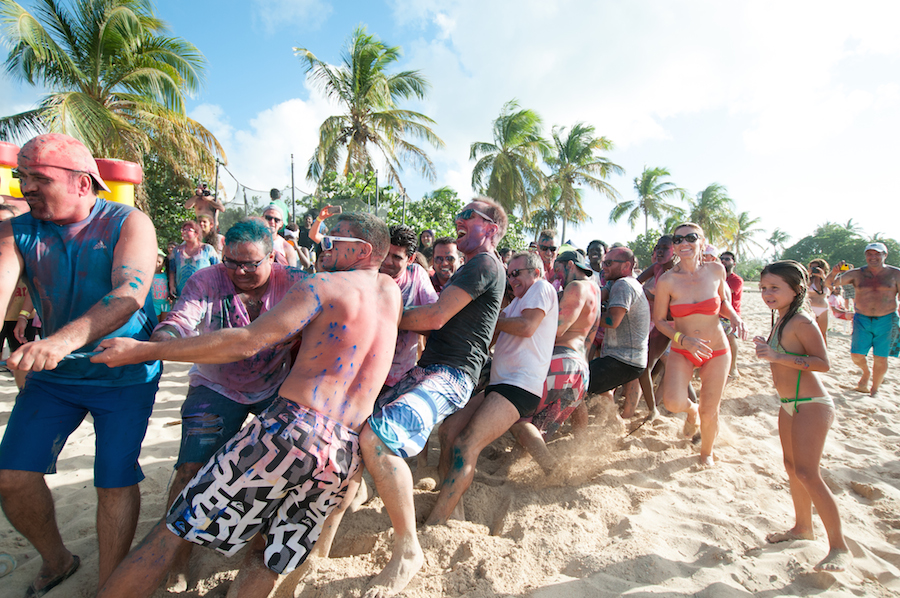 At the beginning of March there is the annual Heineken Regatta, one of the largest sailing races in the region. Boats come to Saint Martin from all over the world to take part.
If you're a carnival lover, you can visit Carnival Village in the capital, Philipsburg, during the last two weeks of April. The highlight of two weeks' of dancing and partying is the parade with amazing costumes.
ABOUT SAINT MARTIN
This Caribbean isle has a Dutch part and a French part. The island's economy revolves around tourism. This makes sense, because it's a beautiful place for snorkelling, diving and all sorts of water sports. From Saint Martin, it's an easy hop to surrounding islands, such as St Barts (the St Tropez of the Caribbean), Saba or Anguilla.
What is the best time of year to go?
High season runs from mid November to the end of April. Temperatures are around 28-30 degrees Celsius and sea temperatures hover around 26 degrees Celsius.
June to November is Hurricane Season, so there's a high chance of tropical storms and short, severe rain showers at this time.
Photography: Rogier Reker