I already mentioned the Delft Blue Houses in a previous blog. These pretty little miniatures are KLM's gift to Business Class passengers and are very popular. The good news is that this month house number 92 has been released.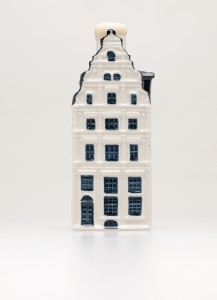 It was only a few years ago that I learned that a lot of these miniatures are actually copies of real Dutch houses. A Business Class passenger once asked me for house number 2 and explained that it's a copy of the D'Vijff Vlieghen (old Dutch for 'The Five Flies') restaurant in Amsterdam. She was going to visit a business partner who had taken her to this restaurant a few times and she wanted to give it to him as a present. I felt rather embarrassed that I hadn't known about that, so I then decided to learn about the backgrounds of our Delft Blue Houses. Among the things that I found out was that a great many of the houses were from the Herengracht in Amsterdam, where I used to study! In fact I had passed these buildings for years without knowing that my future employer had produced replicas of them. So I then started to pay more attention. During a tour through Leiden, I came across house number 19 (Rapenburg 31); in The Hague I recognised the former headquarters of KLM (75); and I found out that house number 40 is 'De Rode Hoed' (The Red Hat), a cultural centre at the Keizersgracht in Amsterdam that I used to visit frequently.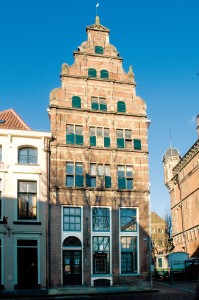 But the new Delft Blue House, 'De Drie Haringen' (The Three Herrings), will be my favourite from now on, since it's one of the prettiest houses in the town where I grew up: Deventer. It's located on a beautiful, old square in the centre of town. And what's more, I was kissed for the first time right in front of it.
Caroline