Once, twice, three times a lady
Last week it was the B747-400 that got all the attention, so now the choice falls on the McDonnell Douglas MD-11. A little less 'grande' than the B747, also called 'La Grande Dame', one of KLM's first officers called the MD-11 'the lady of the fleet'. Why? "It's simple," he says, "she's a real woman. You need to cherish her and pay attention to her." But there is another reason for the MD-11s being called 'the ladies' – they are all named after women who have been pioneers in the world.
The MD-11 is the successor of the DC-10, which was also produced by McDonnell Douglas, which was a trusty regular during the seventies and eighties. The MD-11 was test flown on 10 January 1990, and in December 1993 KLM put its first MD-11 into operation. By April 1997 it had ten, and at present almost two hundred MD-11s fly around the world.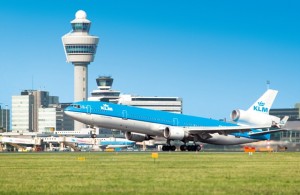 Some facts and figures: the MD-11 is 61.4 metres long and 18 metres tall, measured from the ground. It has a maximum take-off weight of 280,300 kg and can carry 285 passengers in three classes: World Business Class, Economy Comfort and Economy Class. It has winglets on both wings which reduces the amount of fuel needed, and has a wingspan of 51.7 metres.
Starting in December 2006, all the ladies underwent an upgrade. The Business Class seats were replaced by more luxurious ones and a year later they were equipped with a modern In-Flight Entertainment system (IFE), just like those of their 'colleagues', KLM's Boeing 777 and Airbus A330. As of May 2010, KLM became the only airline in the world to still use the MD-11 for its regular intercontinental passenger flights, and in January 2011, after more than ten years, it took over the MD-11 C-check-out itself again. This is done by KLM Engineering & Maintenance in Hangar 12 in cooperation with Martinair colleagues.
KLM's ten MD-11s all carry the names of women who have made important contributions to the world. Do you know who these women are? If so, let us know!
Karin
Corporate Communications