Palak Dhal (spinach and lentils)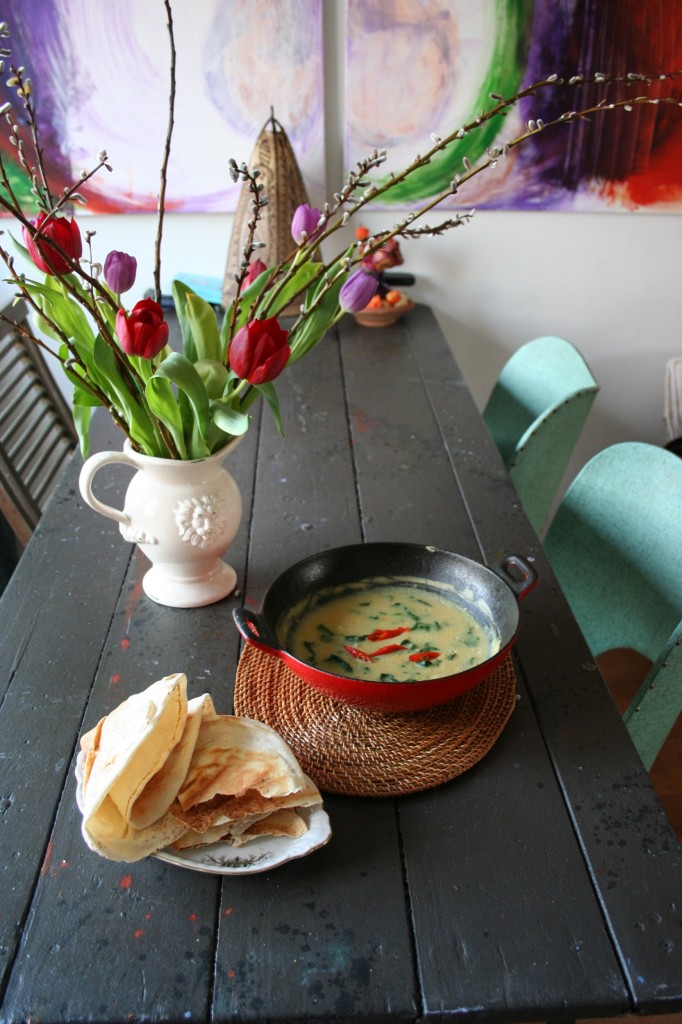 If you ever had the opportunity to join us – KLM ground employees –  during an evening break, the first thing that would strike you would be the smell. Here the cuisines of China, Thailand, Italy, Turkey and the Netherlands mingle. And everyone who, like me, is mad about delicious, healthy food, swaps recipes for their favourite dishes.
Sometimes a recipe reaches me in a very unusual way. Four generations of an Indian family were travelling back to Delhi one day. Namaste to all of you! This promised to be a special check-in…
"You look healthy"
While the sons attempted to get the luggage down to the right weight, the grandmother came to stand closer to me. "You look healthy", she said quietly to me. I looked at her in surprise. "You like yoga?" she added. I nodded yes and added my preference for organic and vegetarian food. It that case, she had an Indian recipe for me. One which was not only nutritious, but also easy to make. I quickly scribbled it down on a KLM shift-swap form. The woman whispered that this dish would do my mind and body good and ensure the right yin and yang effect. At her request I checked the on board evening meal list. "An Indian vegetarian meal request", I read, my mouth watering.
Let's try her recipe
I decided to try her recipe for Palak Dhal at home. I brought the lentils, salt, turmeric, and chilli powder to the boil in a saucepan with some water. I then let it simmer for a while and added the wild spinach and a bit more water. In the melted ghee (Indian butter) I fried the garlic, cumin, mustard seeds and onion until the onion had softened. Stir frequently, she had said.
Finally, I added the mixture to the lentils. The spices and lentils mingled together in a juicy, colourful mass. And then the finishing touch. With perspiration forming on my forehead I sprinkled in the garam masala and added the coconut milk. With a piece of warm naan, I sat back and savoured all the flavours.
I circle my next evening shift in my diary. My colleagues are going to taste the latest culinary tour de force!
Is there anyone else who would like to pass on their world recipes to me?
Morena