Take a peek inside the entire KLM fleet – without a ticket
As of late, you can take a virtual stroll through business class on a B787 without having to pay… How? We've taken photographs of the interiors of the entire KLM fleet using a 360° camera. VR specialist Chris Koomen, from KLM's Digital Studio shares more about this exciting initiative.
A successful experiment
"Our reason for taking 360° photos of the KLM aircraft – from Boeings to Airbuses – was actually very practical. We wanted to familiarise cleaners with an aircraft – the B787 – before its first flight to Minneapolis. They were set to come in the evening to clean the aircraft after its arrival, but had not yet seen this type from the inside. We knew that it would take a lot of extra time," explains the VR man from KLM's Digital Studio. "And we therefore came up with a solution. The members of the cleaning crew had an opportunity during the day of taking a virtual tour on an iPad, using a VR headset so they would be well prepared when arriving to clean the aircraft in the evening."
"It was an experiment, but one that instantly booked success. Incredible! They finished cleaning fifteen minutes early and on top of that, they didn't make a single mistake." Cleaning crews are normally given a sheet of paper with a 2D drawing. Koomen: "Top and front views – that's what they had to make do with. They're going to be better prepared now."
Cabin attendants and galleys
"The images are now regularly used for training purposes worldwide. And not only to the benefit of cleaning crews; the images are very handy for training new cabin attendants," says Koomen. "New crew members can now become familiar with their workplace far quicker."
The biggest group of users can be found at Catering Services. Koomen: "They use the images to train colleagues who set up the aircraft galleys."
Find the Easter egg
In short, the virtual fleet is handy for all our (new) staff members. But let's not overlook our passengers and aircraft enthusiasts. It's fantastic to be able to explore the interior of each aircraft from nose to tail, examining places on board where passengers don't usually get to go. Examples here include the cockpit, galleys and business class. Or simply stroll through the B747, the Queen of the Skies. Or our latest acquisition, the Dreamliner B787-10. All of that, without taking a step on board.
Should you want to take a look inside our aircraft, we've hidden Easter eggs in some of them (something amusing for you to look for). See if you can find the meal in the B787-10, or take a virtual seat in our new business class seats inside the B787-10. You'll be able to get to grips with all the new features like the adjustable privacy screen or the "Do not Disturb" button for even more privacy and individual space. And can you see that the B747 consists of two different parts. "It's actually a combi carrier," Koomen clarifies. "One part is entirely for passengers, while the other is for a 50:50 combination of cargo and passengers."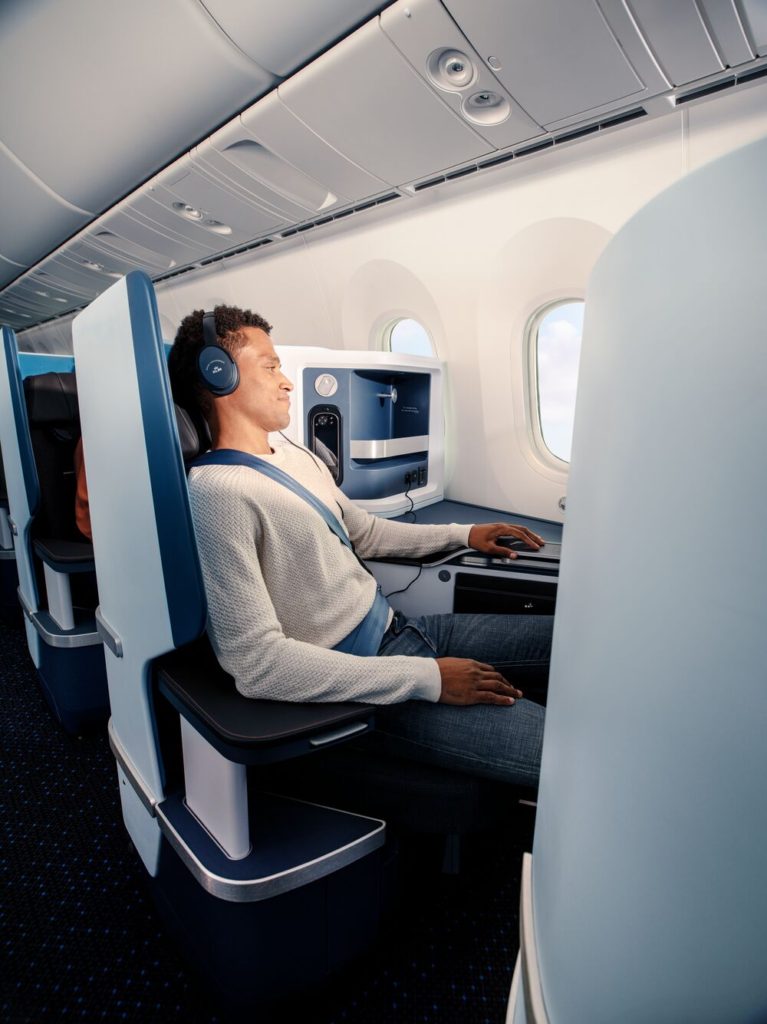 Curious about the entire KLM fleet? Take a look inside ALL our aircraft:
Boeing 787-10
Boeing 787-9
Boeing 777-300
Boeing 777-200
Boeing 747-400
Boeing 747 combi
Boeing 737-900
Boeing 737-800
Boeing 737-800 BSI
Boeing 737-700
Airbus 330-300
Airbus 330-200
Embraer 190
Embraer 175
Profile: Chris Koomen (39)
Chris Koomen joined KLM twelve years ago. He started off as a technician, but has been preoccupied with VR since 1996. He refers to it as a "runaway hobby" he turned into a business three years ago. The VR team now consists of eight people who focus continually on designing and creating VR training programmes, computer generated and 360° photos & videos alike.
Did you like this blog? You may also like Aircraft cleaning: How does that work?