Pinch me! I'm having a caipirinha with Ruud Gullit!
We'll be hearing a lot about Rio de Janeiro in the coming period, with the city hosting the 2014 World Cup Football and the 2016 Olympic Games. We were lucky that KLM was just switching to the winter schedule when we were in Rio, which meant we had three nights in the city, instead of two. And I made good use of the extra time, as you can see in the fabulous photos I managed to make.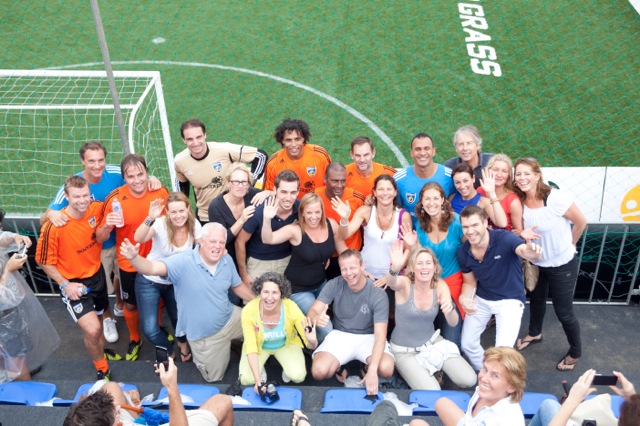 The biggest thrill of the trip was meeting a group of legendary Dutch football players. The former international stars were in Rio for the Soccerex Legends Cup on the beach at Copacabana. Ruud Gullit, Rob Witschge, Oscar Moens and Arthur Numan had been on board our flight on the outbound trip.
Press card
The whole crew went to watch the match and, because of my press card, I was allowed to take photos all over the place. There were four teams: Latin American All Stars, Rest of the World, Brasil and Holland, which also included Ronald de Boer. Up in the grandstand, a cheering KLM crew saw Holland beat Brasil in the final.

Caipirinha
Rio is huge, but somehow I managed to bump into the players again, sitting out on a terrace at Copacabana. This time Pierre van Hooijdonk and Aaron Winter were with them. Strangely, it's a lot easier to approach celebrities when you're abroad than when you're in Amsterdam. And so we had a lovely chat over a caipirinha.
Uncle Cor
Those who have been to Rio will know the gigantic figure of Christ on the Corcovado. KLM Crew have been calling this statue "Uncle Cor" for many years. I hadn't seen him in 15 years, because KLM suspended service to Rio for a while, but he hadn't changed a bit and was still as photogenic as ever. I managed to shoot some great pictures of him during a helicopter flight around the statue.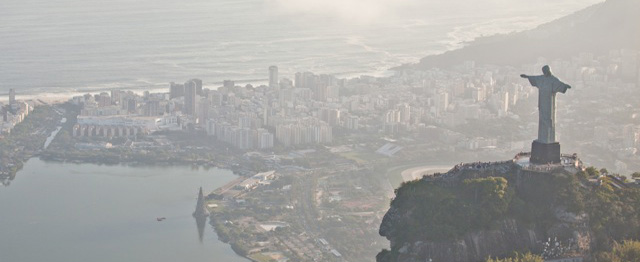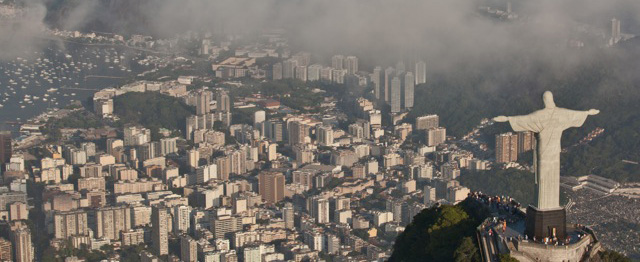 Lapa stairs
One of the must-sees in Rio is the Lapa stairs in the oldest part of the city. This stairway has been decorated by artist Jorge Selarón, using thousands of tiles collected in 60 countries. It's incredibly colourful and cheerful. And I found quite a lot of Dutch tiles, too.
Hang-gliding champion
If you're a daredevil, I advise you go hang-gliding. I took a flight with Ruy Marra, a Brazilian hang-gliding champion who has completed no fewer than 31,000 flights. What an awesome experience! I felt completely at ease and it was a huge thrill to land on the beach in Rio.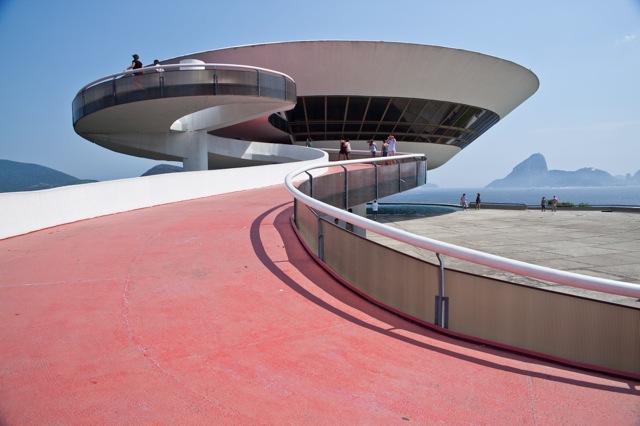 Because I had some time left, I went to the Museu de Arte Contemporânea, partly because the building designed by the recently deceased Oscar Niemeyer is so superb. I got there using the local ferry and bus, which was a tip from Max Westerman, a Dutch journalist who flew out with us.
All of these incredible experiences left me feeling euphoric as we took off for Amsterdam in the evening. There was a rumour that the Dutch crown prince and his wife were on board, but that wasn't the case. I suppose you can't have everything during a single trip.