I have always wanted to see The Fjords. I'm not sure why. Maybe because they featured in my father's travel slides, which we begged him to screen three or four times a year, before we got a TV. I was also pretty crazy about Vikings and Prince Valiant back in those days, and I loved reading books and comics on war history. Whenever I saw a picture of a fjord, I imagined stricken U-boats sinking slowly into the icy depths to settle among the wooden skeletons of dragon ships.
And then there was John Cleese, of course, and the hilarious Monty Python sketch in which he tries to return a dead Norwegian Blue Parrot to a pet shop. At one point in the quarrel, the pet shop owner boldly claims that the dead parrot is merely resting. "It's pining for The Fjords," he adds.  Upon which John Cleese roars in disbelief: "PINING FOR THE FJORDS?!" In the years that followed, the Fjord Roar frequently echoed through our house, much to the annoyance of my mother.
Why am I telling you all this?
Well, let me start by explaining why I have consistently written The Fjords with capitals. I thought they were like The Alps – a geographical feature that is common to more than one country. After driving around Denmark for a week, I was forced to revise this belief. We drove over rolling, crop-covered hills, we saw quaint fishing villages with colourful houses, we visited rock-hard beaches that the Danes used as parking lots, but nary a fjord did we see.
Not wanting to look stupid, I did not share my disappointment about our fjord-free Danish holiday with my wife and children and friends. Instead, I simply steered our next holiday towards Sweden. We had, after all, had such a wonderful time in Denmark that it was worth looking further north. Little did they know that I was driven by fjord lust.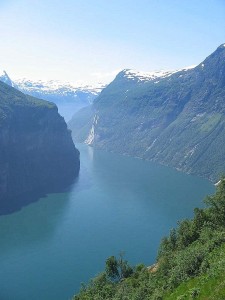 You can imagine my disappointment when we crossed the bridge from Denmark into Sweden and I did not see towering cliffs as we approached the coast. In fact, we did not see very much at all for the next two weeks, apart from millions upon bazillions of pine trees. I challenge you to come up with a joke about wood, Ikea and matchsticks that we did not make in those two weeks. Although, to be fair, we did have a wonderful time looking for hidden lakes among the trees, swimming in waters and sunbathing on rocks without another human being – except our rowdy group of 12 – in sight.
About halfway through the holiday, after generous helpings of salmon and self-imported box wine, I made the mistake of popping the question: "So, where are the fjords?" Some nights I still wake up screaming: "In Norway! Why?" And I hear my wife and friends cackling like hungry vultures, waiting to tear the flesh off my ignorant carcass.
It has taken me several years to get over the embarrassment. This summer we are going to Norway. We have booked a house overlooking a fjord. Just north of Stockholm.
Richard de Nooy