Quality Time With The Dutch Masters At Schiphol
The world-famous Rijksmuseum reopened its branch at Amsterdam Airport Schiphol last year. This means travellers can now view eleven Dutch masterpieces at the airport, 24 hours a day, free of charge. Having been the world's first museum to open an airport branch, the Rijksmuseum Schiphol is currently the only airport museum exhibiting 17th century paintings by Dutch masters. The precision brushwork, the texture of paint on canvas, the exquisite colour combinations – you can see them all close-up. Here are six more reasons to visit the museum.
1. The refined selection
The museum's curator has selected a superb range of works from the Golden Age of Dutch art history. Travellers are treated to eleven typical and beloved Dutch themes, including water, flowers and portraits. Back in the 17th century, the Dutch Masters became experts at depicting these popular themes. The museum offers arriving travellers a taste of what the Netherlands has to offer, and ensures that those departing head home with a lasting memory of our picturesque country.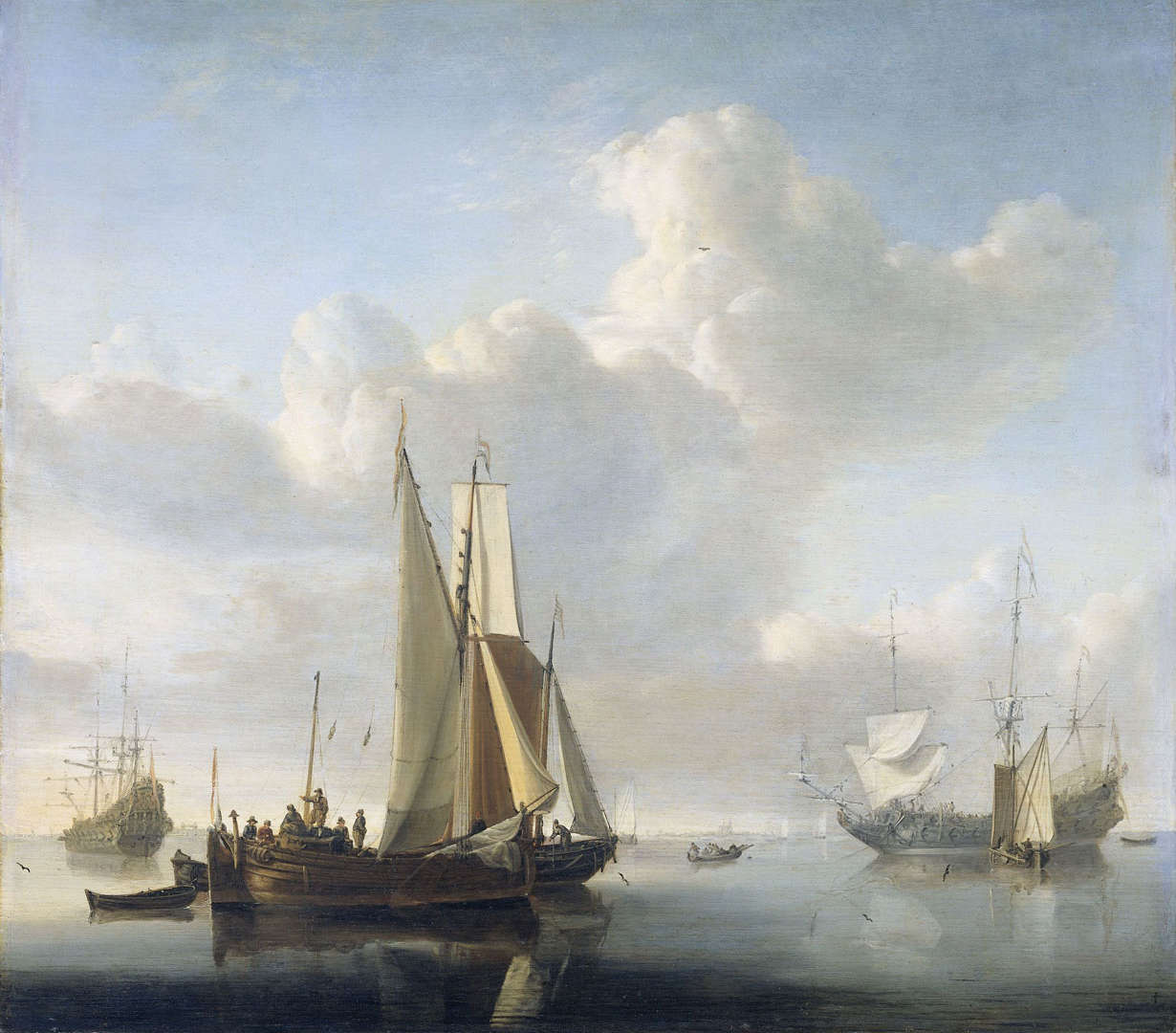 "Schepen voor de kust" – Willem van de Velde (II), after 1670
2. Art under your suitcase
Who wouldn't want to take a superb Rembrandt or Vermeer home with them in their suitcase? Unfortunately, not everyone can afford to take one home, but the airport has found multiple ways to let you enjoy them! To mark the reopening of the wholly-renovated Rijksmuseum, the baggage carousel No. 16 in Arrival Hall 3 was decorated with 45 of the museum's masterpieces, spanning the 73-metre length of the belt. This decorative masterpiece was recently reinstalled and the Rijksmuseum has plans to let arriving passengers enjoy this spectacle again in future. When? Who knows! All great art is full of surprises!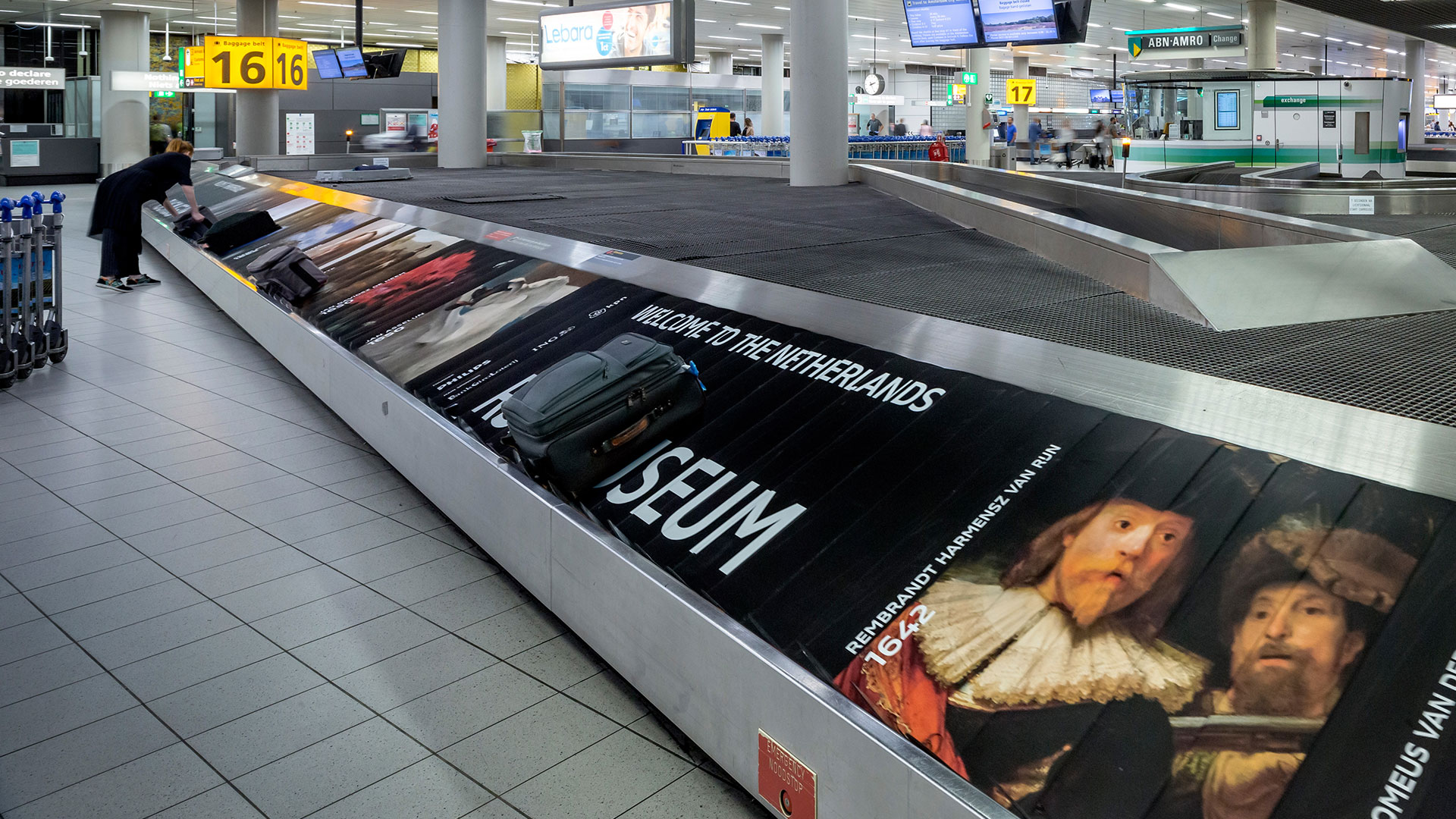 3. The Night Watch and the Milkmaid
People who want to see Rembrandt's Night Watch or Vermeer's Milkmaid will have to visit the Rijksmuseum in Amsterdam. That really is the best place for them, displayed alongside other classics from the Golden Age. So whose paintings are on display at the airport? Willem van Aelst, Jan van Goyen, Michiel van Mierevelt and Willem van de Velde, for instance. Many of these paintings aren't part of the Rijksmuseum's permanent collection, which means they are seldom on show. These lesser-known masters excelled at painting landscapes, portraits and maritime pieces. What ties them all together is the astonishing realism of their work. With their incredible eye for detail, these painters brought the world to life in their paintings on canvas and panel.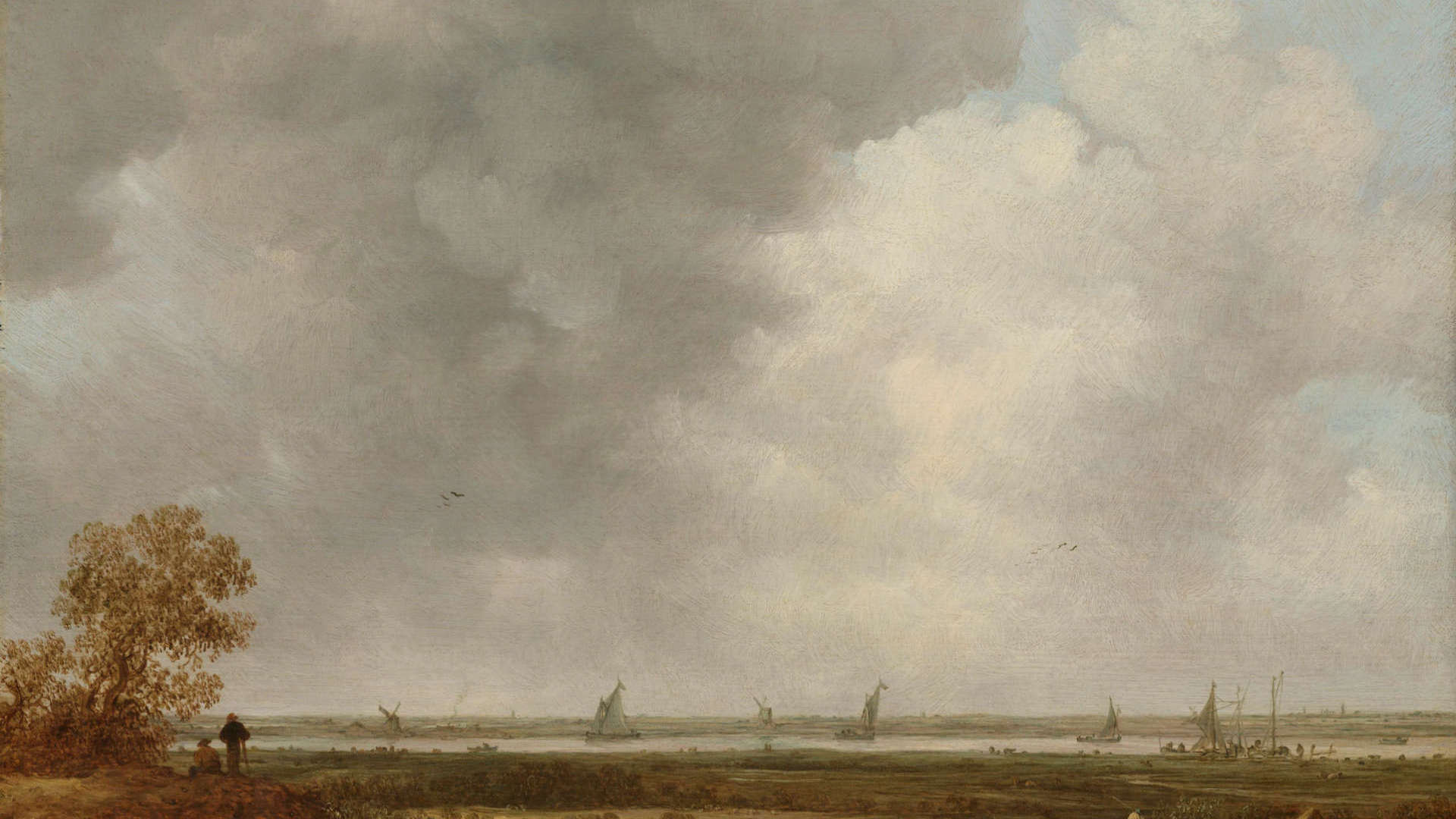 "Vergezicht over de uiterwaarden van een rivier" – Jan van Goyen, around 1644
4. A flight to bygone days
Too little time for a quick peek between flights? Not to worry, the paintings will be on show for quite a while, allowing hurried travellers to travel back to the bygone days of the 17th century. Feel free to come back and enjoy the beauty of just eleven paintings in tranquil surroundings. The Rijksmuseum may have 8,000 works on display, but it is also a lot busier! But be warned: time may seem to stand still at the Rijksmuseum Schiphol, but don't miss your flight!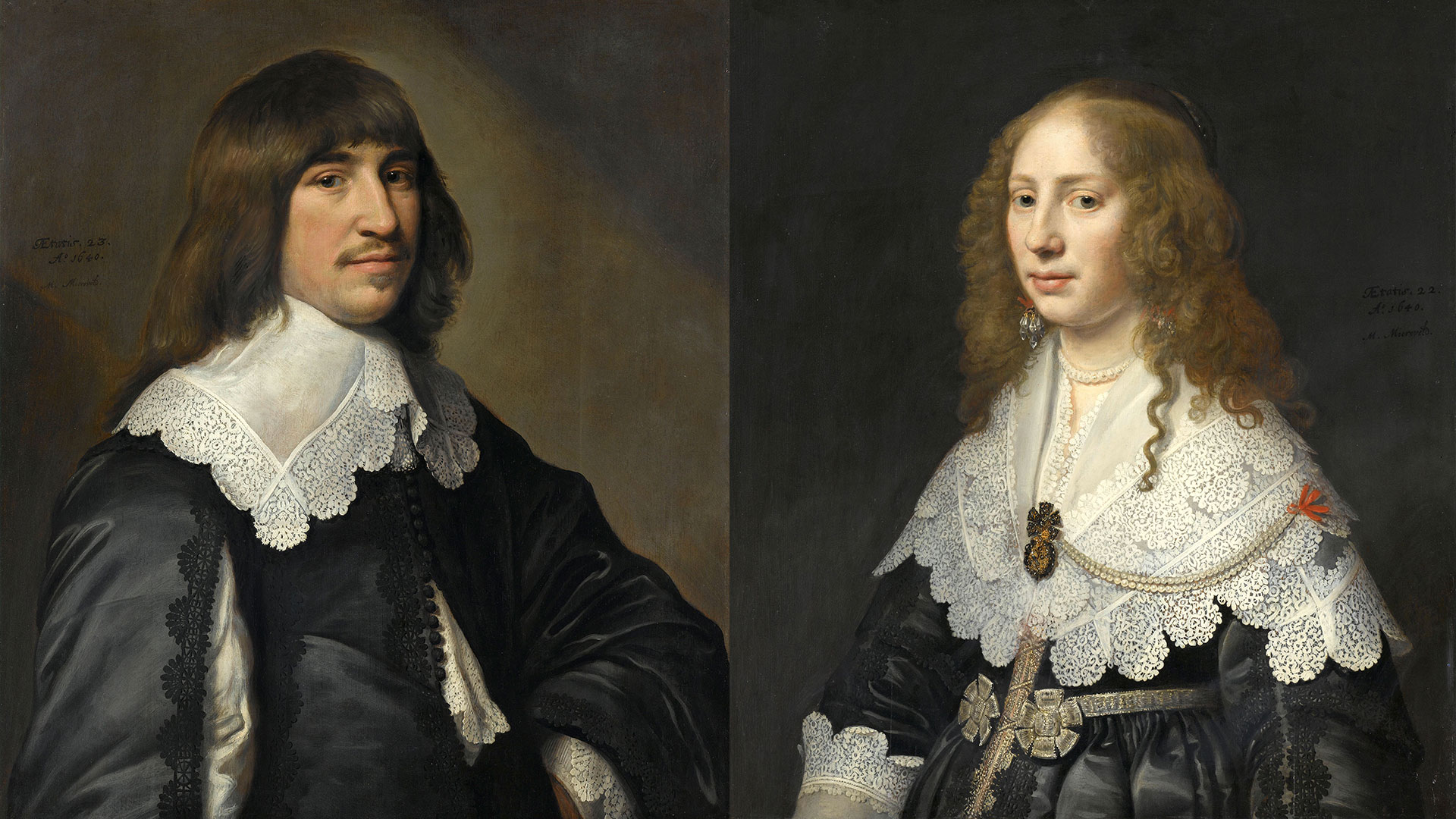 Portrait of Henrick Hooft, Michiel Jansz. van Mierevelt, 1640 & Portrait of Aegje Hasselaer, Michiel Jansz. van Mierevelt, 1640
5. A rare pearl
The Schiphol Rijksmuseum is located beyond security control, between Lounges 2 and 3 on the Holland Boulevard. When the daily hustle and bustle is at its height, there's a good chance you'll dash by without noticing it. That makes the museum a rare pearl between the many shops and restaurant vying for your attention. It really is worth looking for and visiting!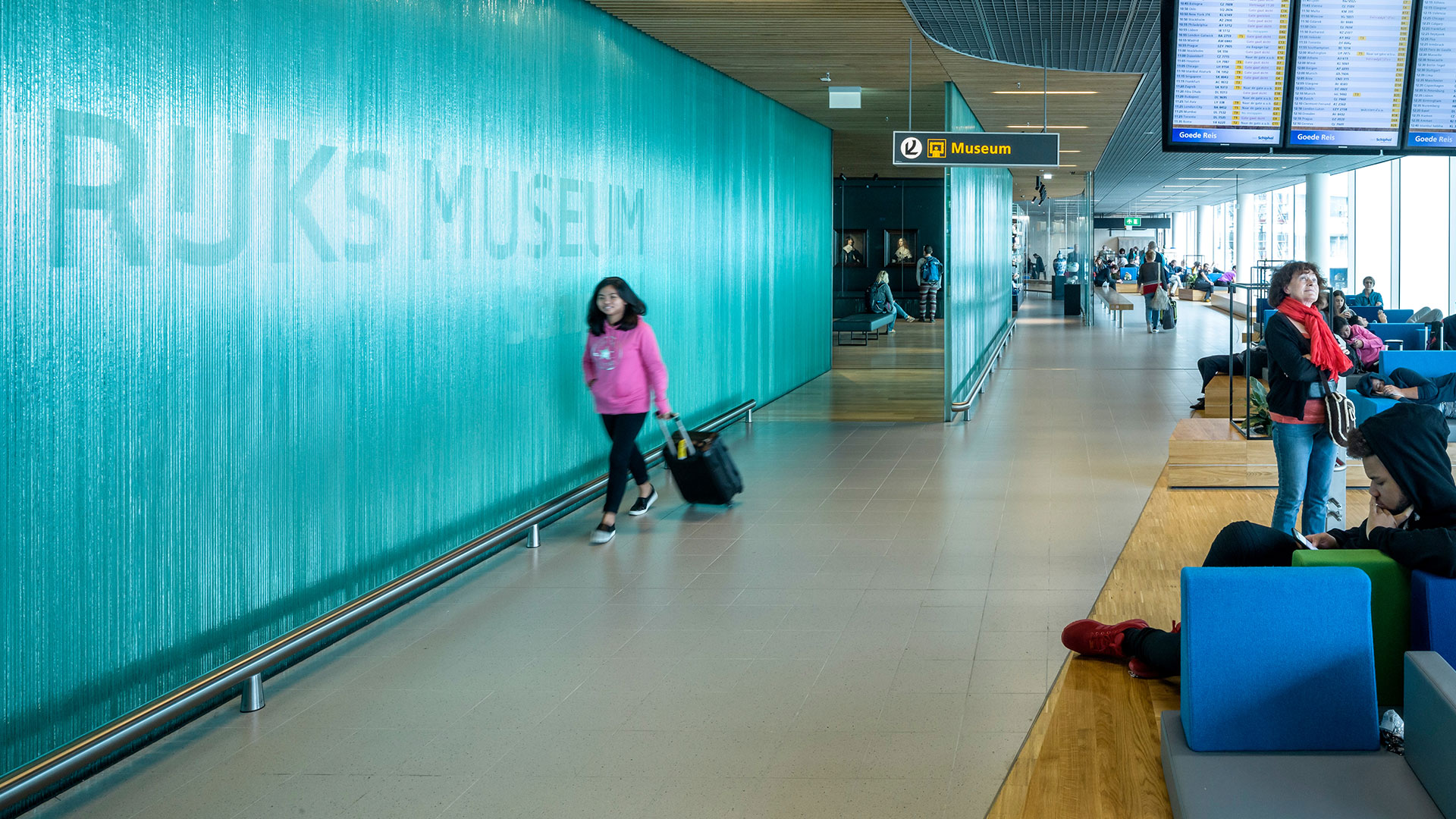 6. Vermeer in your home
Would you like a Vermeer's Milkmaid hanging on your wall at home, framed for less than EUR 100? It's waiting for you at the museum shop. You can also get it printed on a mug, magnet or mouse pad for less. Or would you prefer a Rembrandt or Van Gogh, elegantly incorporated into a scarf, handbag or other item? You'll find all this and more at the museum shop. Buy them as a gift for yourself or for someone else, and you'll be sure to make a colourful and memorable entrance!