Quick Photo Everyone, Hands In The Air, Hooray!
This is the fourth time KLM has joined the Netherlands Red Cross to organise an annual day trip to Valencia for chronically ill and disabled guests. 60 guests are going to Valencia and back today and I am joining them.
KLM took over the batten of this tradition from Martinair in 2011, who had operated no less than 40 of these flights with the Red Cross over the years. When I arrive at Schiphol, it is jam-packed with volunteers wearing Red Cross volunteer vests. 35 in total, plus a few of my KLM colleagues. It is a challenge to get all the guests, including 20 in wheelchairs, checked in and through customs, but it all goes smoothly. Despite the fact that, or perhaps because, some of our guests had got up extremely early to come down from Groningen in the north-east, spirits were very high. The mood collapsed into giggles among some of the women when they got to pose for a photo with KLM President & CEO Camiel Eurlings. Even the oldest – a vivacious lady of 96! – didn't let the opportunity slip to have a chat with Camiel and Jeroen den Tex, Chief Marketing Officer at the Netherlands Red Cross.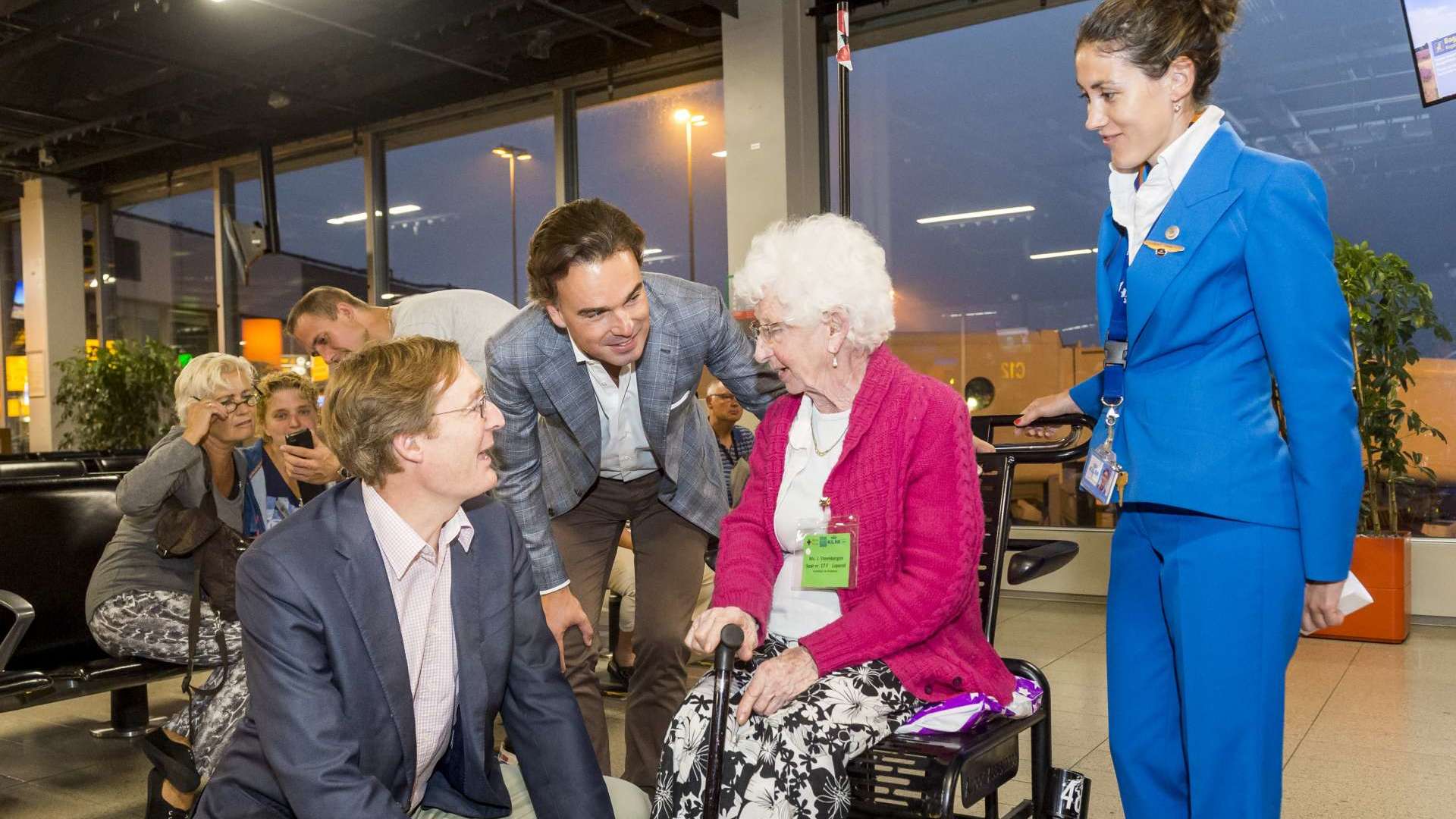 School trip
Quick photo everyone, hands in the air, hooray! Then it really was time to start boarding the flight. Camiel wished everyone a very pleasant flight and a lovely time in Valencia. During the flight we were thoroughly spoilt by the crew, who had been specially selected to provide the best possible service on the outbound and inbound flights. The mood onboard was excellent. I began to get a bit of a "school trip feeling", though we didn't go quite so far as to hide under our seats.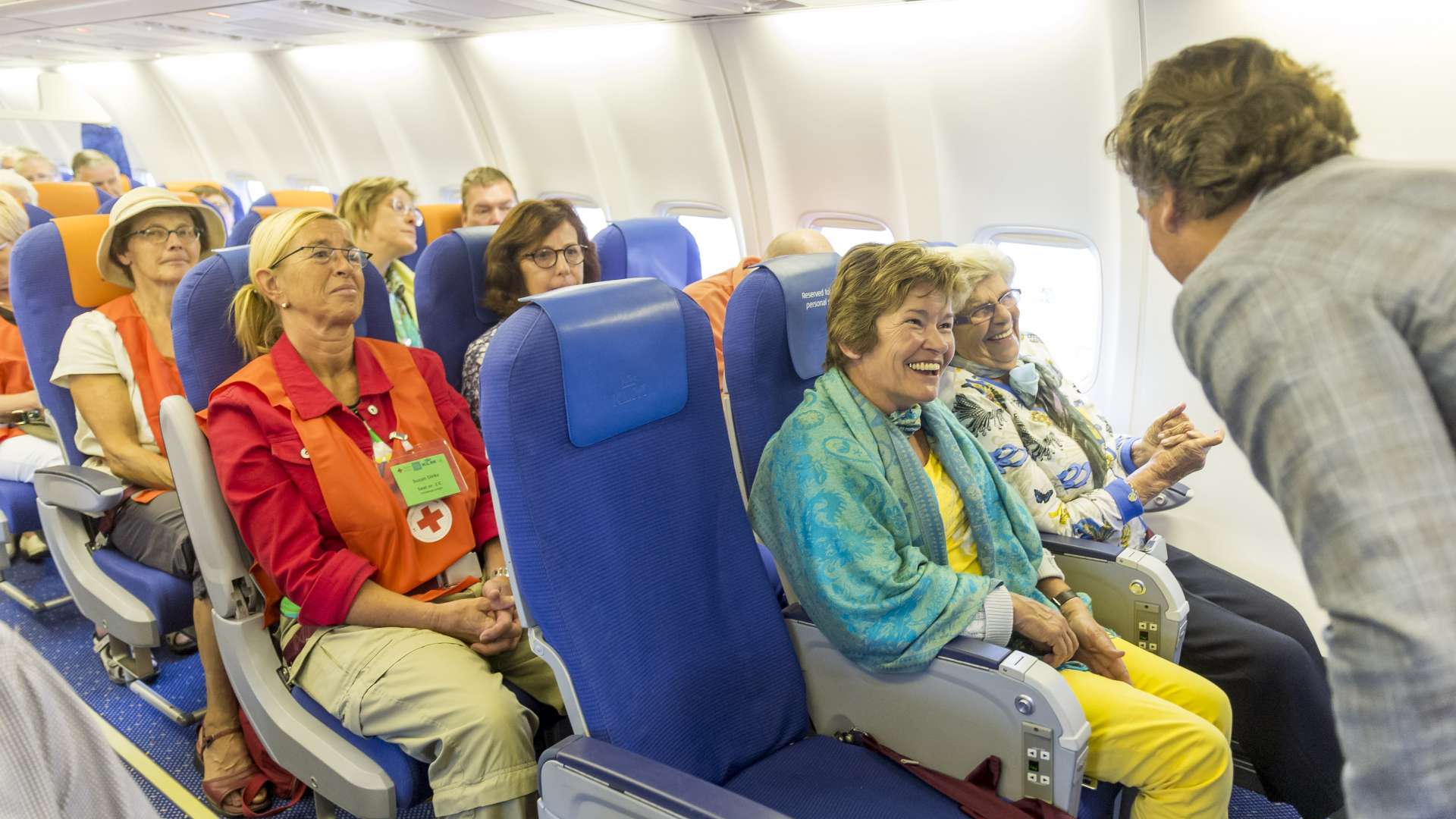 During the journey I got talking to Mrs Nuland from Berlicum and her nurse Jeanette Klazen, who cares for her twice a day and was accompanying her on the trip. We hadn't even reached the beautiful city and Mrs Nuland was already enjoying herself thoroughly, not having flown for 20 years. Her last flight was with KLM to Rome. When I asked what she expected to find in Valencia, she said, "I've heard there are beautiful buildings and some very new ones too."
Retired doctor
Next to me is a very friendly man, Ad de Vlaam. A retired doctor, he has been on four Red Cross flights, including the last Martinair Red Cross flight to Orlando. He told me that every flight was made special by the people on it. He also travels five times a year on the Red Cross holiday ship the "Henri Dunant". I remembered that last year Mr de Vlaam had to take action when one of the volunteers got his foot stuck under the step-lift of the bus. That volunteer was back again this year, his foot fully recovered, luckily.
When we arrived at Valencia airport, the buses were waiting to take us to restaurant El Coso. Valencia is not a regular KLM destination, but it was chosen for this special flight because it is a beautiful city and because the airport provides special handling, beyond the normal procedures. Safety takes precedent, of course.
Delicious Calamari's
Once all the wheelchairs had been unloaded, we left for the restaurant on the beach of Valencia. At record speed we were served delicious calamaris followed by paella served from dishes a meter in diameter. I skipped desert and coffee to go with the photographer to find a good spot on the roof of the crew hotel. From there we could take a good group photo when the others come out of the restaurant. We're on a tight schedule. Quick smiles for the camera and into the bus we go. Off to the city centre.
Fear of flying
The party is divided into smaller groups for guided tours through this gorgeous city. Mrs Varga from Alkmaar and Mrs Kooy are friends and have known each other for 30 years. Mrs Kooy hadn't flown for 20 years because of her fear of flying, but she was asked by her friend, who is in a wheelchair with MS, to accompany her on this trip. She said that her fear had diminished somewhat, thanks to this flight, and she was looking forward to visiting more cities – by plane.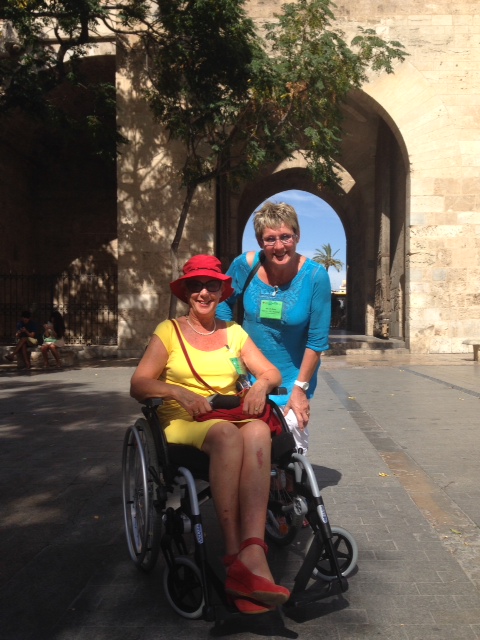 After a walk on the beach and a drink on the terrace, it was time to go back to the airport. There the enthusiastic crew was waiting to steer everyone in the right direction. After truly Dutch snacks onboard – a croquette in a roll and a syrup biscuit – we soon found ourselves back at Schiphol. A warm farewell to everyone and then off home.
It was a privilege to join this flight for a second time. I heard inspiring stories and the mood among the volunteers, KLM crew and the guests was amazing. It is wonderful to witness how privileged people feel when they are able to care for each other.