Reading The Signs – What Do They All Mean?
Flying thousands of kilometres can be a lot easier than finding your way around an airport. When you look at the window while taxiing, you'll see all sorts of lines, lights and signs. This blog is for everyone who has ever wondered: what do they all mean? And what are the challenges when "driving" an airplane?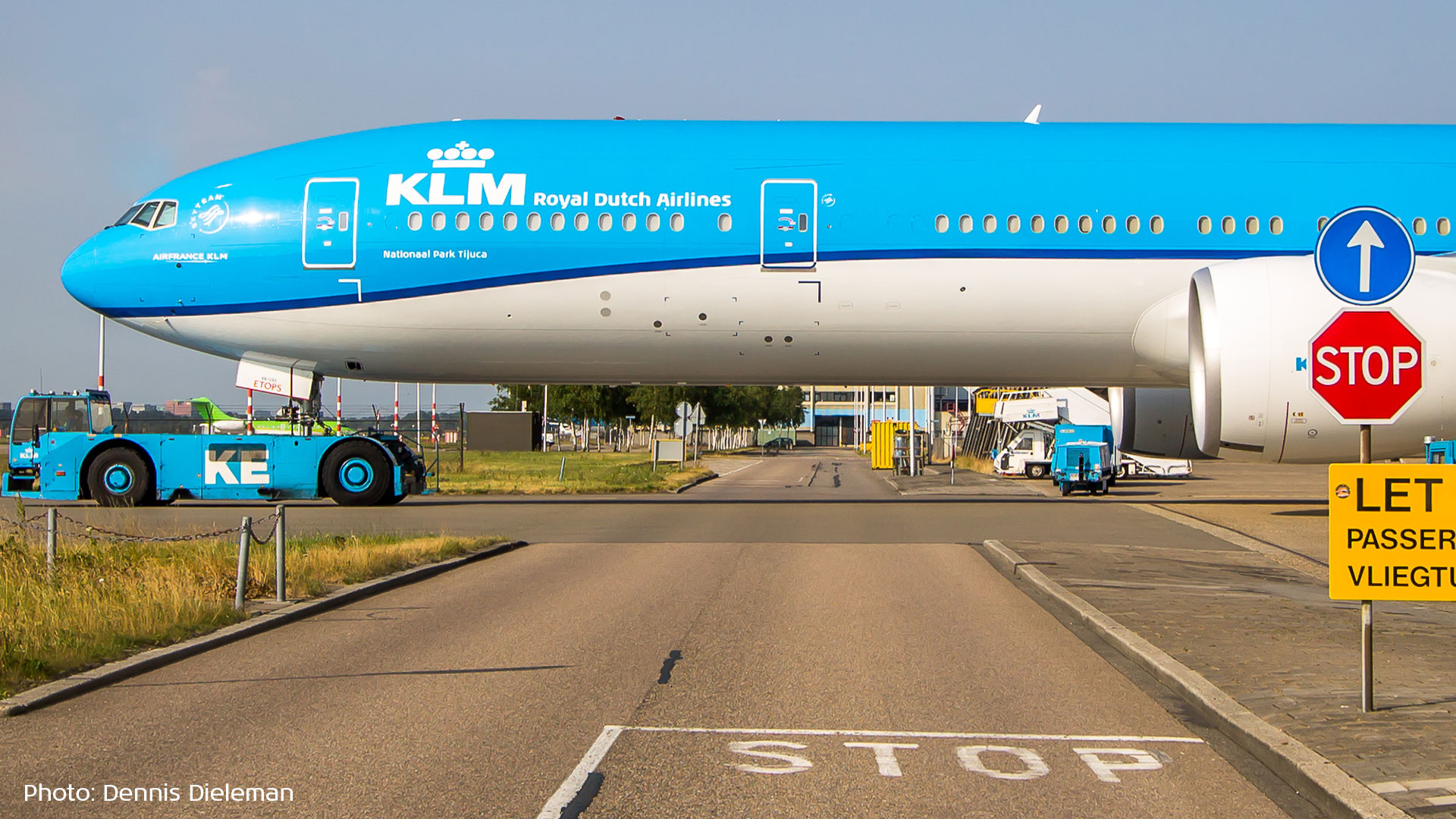 It may sound strange, but one of the greatest challenges for pilots and air traffic controllers is to maintain an orderly flow of traffic on the ground. Aircraft are designed for flying, not for driving. There are three obvious reasons for this:
An aircraft is wide. Up to 70 metres wide, in fact. Pilots can usually see their wingtips from the cockpit, but the distance makes it very difficult to see where exactly the wing ends. To complicate matters, aircraft have so called "swept wings", which is aerodynamically indispensable, but presents complications on the ground. When steering to the left, for instance, an aircraft first sweeps its wing further out to the right! Give it some thought… ;)
An aircraft is also very long. The nose wheel, which is used for steering on the ground, is often located far behind the cockpit. This means pilots first have to pass the actual turn before making their turn, especially when negotiating tight turns and narrow taxiways. If they fail to do so, the aircraft's main undercarriage could end up in the grass.
An aircraft is also very heavy, which presents a major challenge when manoeuvring on the ground. To make a tight turn on the ground, we need quite a bit of thrust. That can be pretty dangerous when you're near baggage containers, smaller vehicles or stairways, which could quite easily get blown over. We also have to keep a sharp look out for de/boarding passengers, as well as other aircraft that may be manoeuvring with their engines running.
And then we have to find our way around. That may sound pretty easy, but it often isn't. We know our way around Schiphol airport, of course, but we certainly don't see any other airports on a daily basis. There are so many destinations and it's impossible to memorise all the local regulations.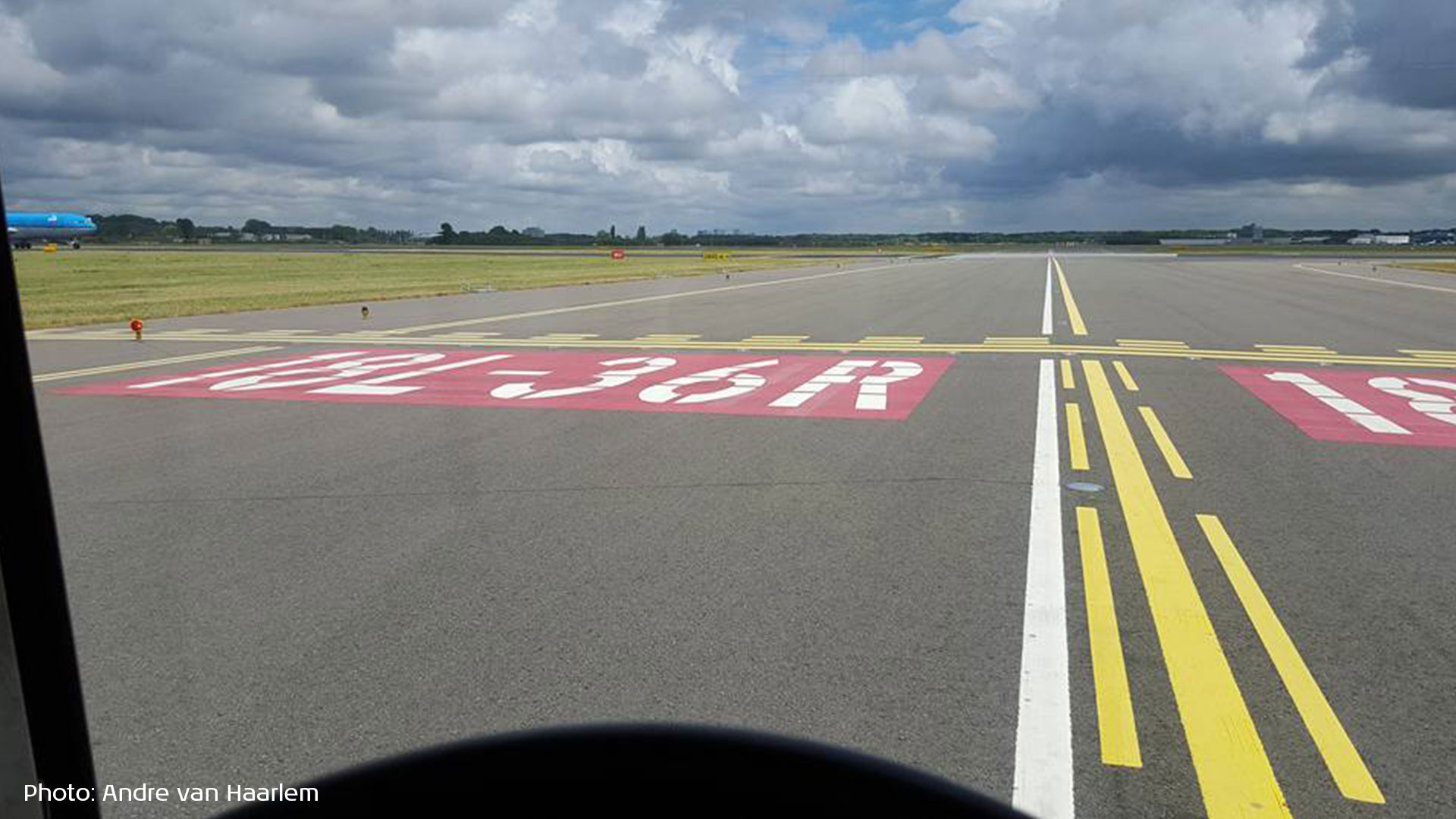 That's right, every airport has its own specific rules, which are mainly dictated by the layout of the runways and taxiways. Most airports have standard routes for departing and arriving flights, but these routes vary depending on the runways that are in use, and this is in turn dictated by the prevailing winds.
Some taxiways are reserved for one-way traffic, while other taxiways have restrictions in terms of maximum wingspan, weight etc. Sometimes these rules and restrictions are signposted along routes, but we often have to check our airport map for this kind of information.
Lines
There are, of course, all sorts of lines, lights and signs to guide us around.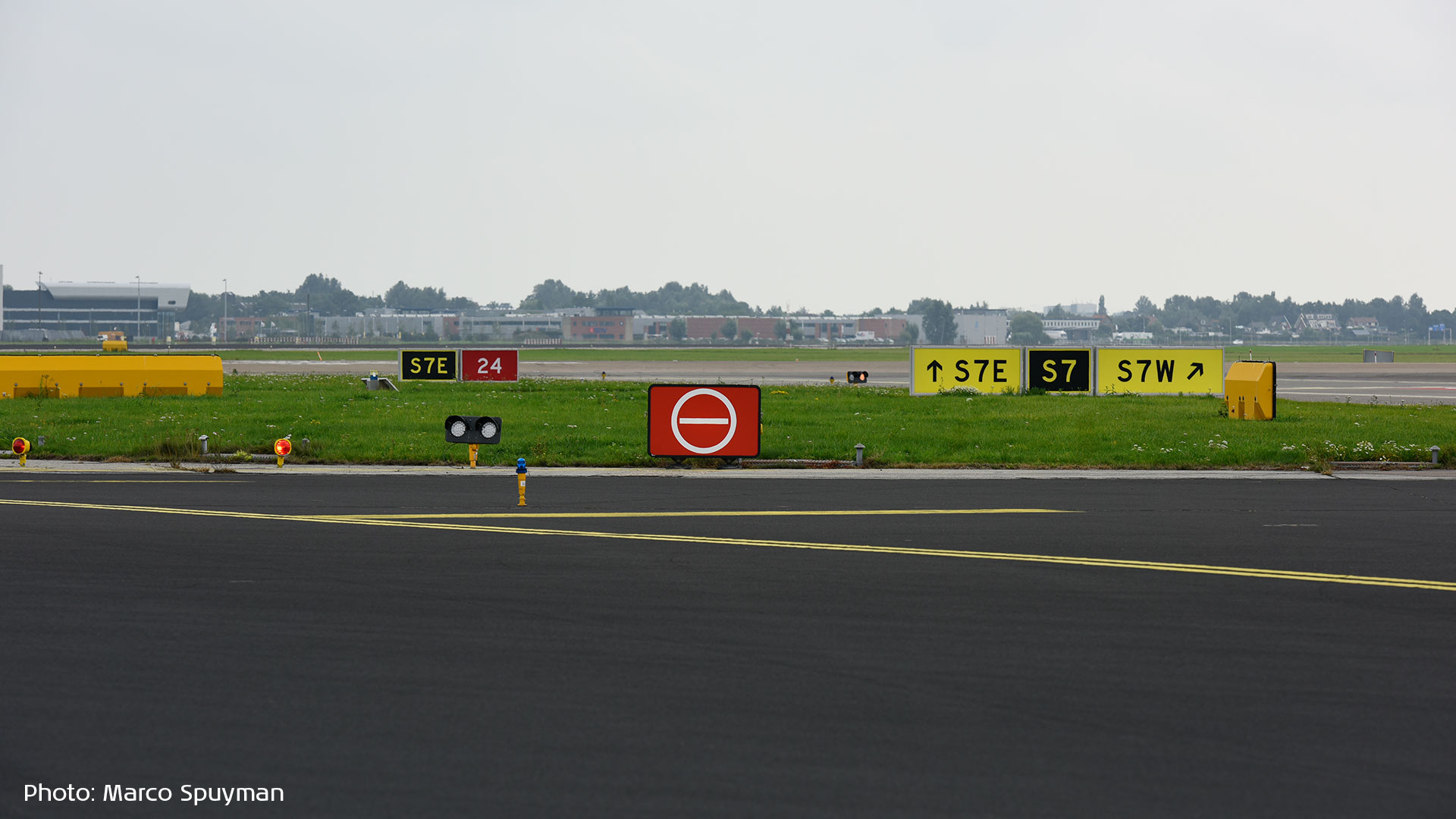 White lines are usually reserved for runways. The same goes for white lights, which mark the runway's edges and often run along the centre line too.
Yellow lines are used for taxiways. These sometimes also have edge lights, which are blue. Green lights are used to mark the centre line of a taxiway. The lights are embedded in the asphalt. You can feel the nose wheel bumping over them as you follow the line.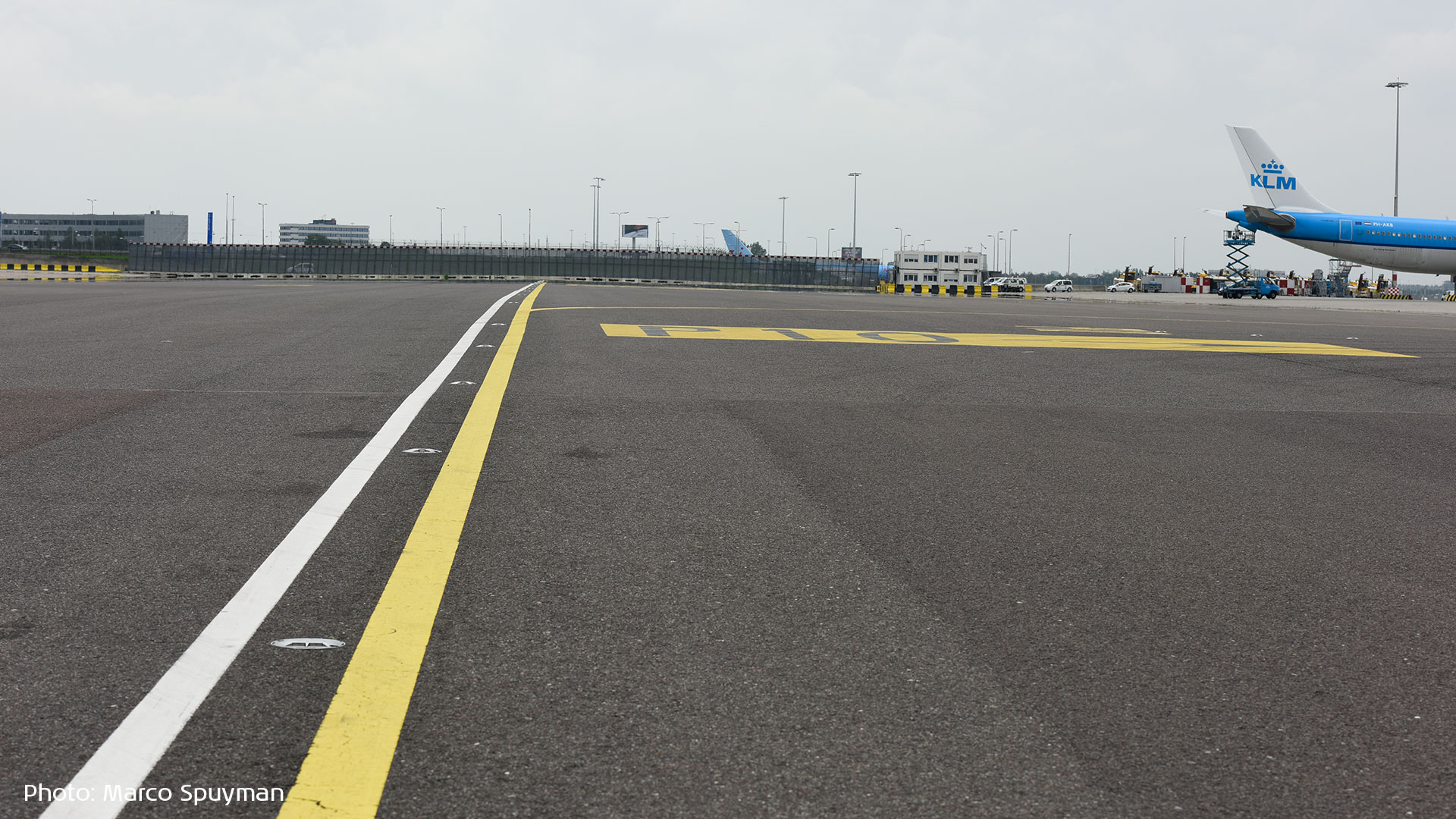 Names
Taxiways have names, just like ordinary highways. This may be little more than a letter, sometimes in combination with a number (e.g. N4), but other descriptors such as "inner" or "outer" may also be used, or orientations such as "North", "East" etc. Before take-off and landing we take a very close look at the route on the map (usually on our iPad nowadays), so that we don't run into any surprises. Yellow signs are generally used to indicate the names of taxiways.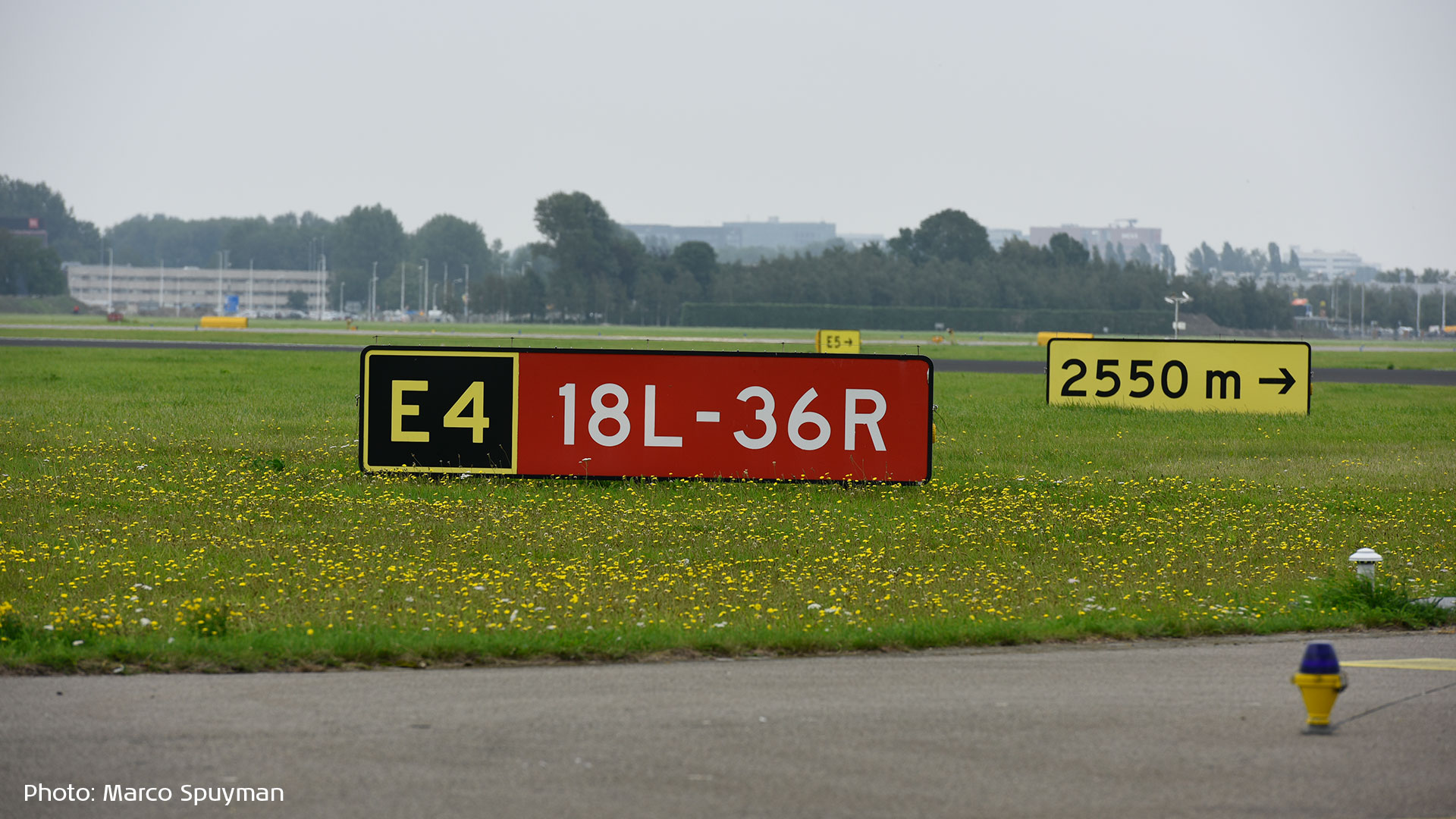 As we approach a runway, there is a red sign marked with two digits (e.g. 05). This number is also painted on the runway in giant letters. This tells us that we are approaching Runway 05, which gets its name from its orientation, rounded off to the nearest tenth, which means the bearing is approximately 050 degrees (i.e. northeast). If we were at the other end of this runway, we would see a sign marked "23". Because runways are dead straight, the bearing in the opposite direction would be 230 degrees. It bears mentioning that runways oriented north are marked "36" and not "00".
If there are parallel runways, an extra letter is added. Schiphol has no fewer than three parallel runways oriented north-south. Most people know these as the Polder, Zwanenburg and Aalsmeer Runways, but pilots refer to them as 36L/18R, 36C/18C (centre) and 36R/18L.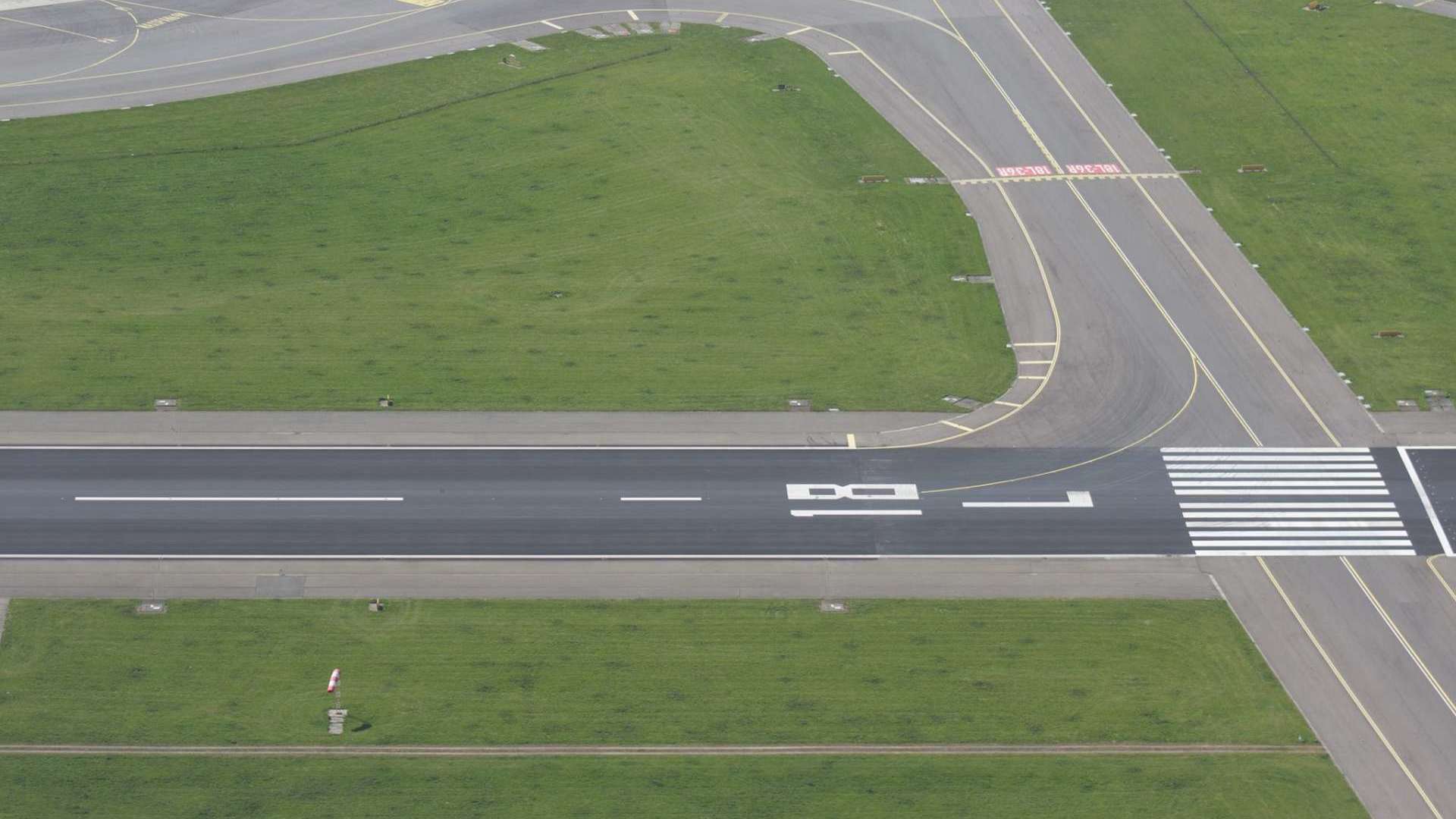 In short, taxiing is a lot more complicated than it might seem and your journey is only over once we are neatly parked and the engines have been turned off. And speaking of parking, this also demands precision. Not too far, not too near, straight down the centre line, otherwise it might be impossible to connect the gate to the plane. There's an electronic sign to guide us, indicating how many more metres we need to roll forward and whether we're neatly on the centre line.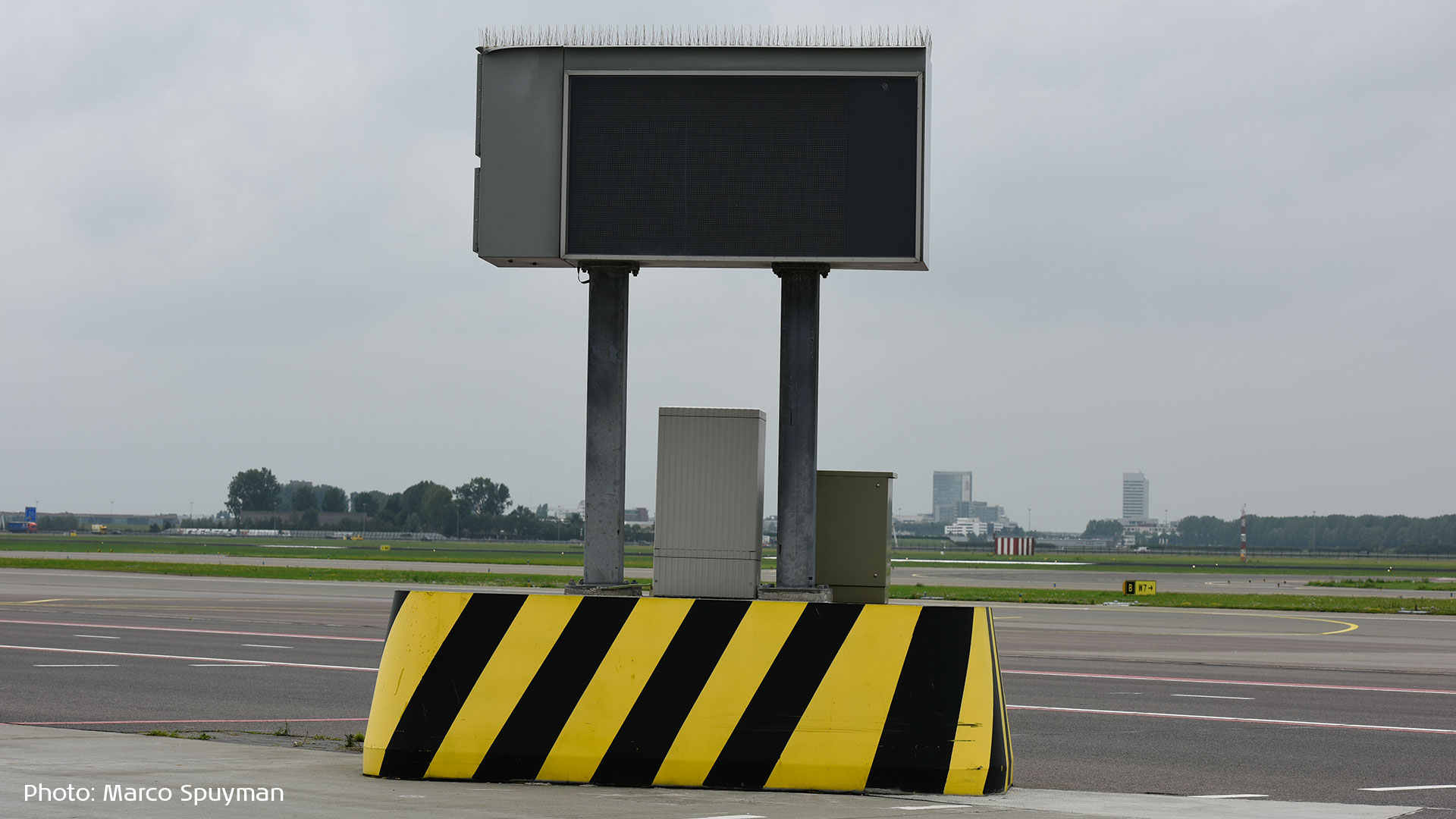 And if the electronic sign isn't available, there's always to good, "old-fashioned" marshal, holding up his two "ping-pong bats", directing us to our parking bay.
I hope this blog has given you some insight into the different signs, lights and markings at airports. Maybe if you look out of the window on your next flight, you'll have something to amuse yourself and the taxiing won't seem as endless. But that's a topic I'll save for my next blog.
Sounds familiar?
It's quite possible you've heard or read this before. We've posted this blog in August, 2015. So this actually is a repost. But let's be honest: discovering the world of lines, lights & signs at airports is very interesting, right? ;-)