KLM is a Dutch airline. The tulip is the flower most associated with the Netherlands. The two were meant for each other. So I decided to delve into the archives to see what photos KLM has that link it to tulips. It might have been easier to ask what the two don't have to do with each other. KLM and tulips are inseparable.
Once upon a time, though, tulips were much more than a nice bunch of flowers. They were a complete hype – and an expensive one at that, even if it went by another name. This particular hype took place in the seventeenth century. The tulip was a brand new flower from Turkey. It quickly became obvious that the Dutch earth and climate were perfect for the tulip. It also turned out to be the perfect seedbed for Tulip Mania.
Tulipa
And, as it often goes with hypes, this one got completely out of hand. The tulip bulb became the object of financial speculation. Certain breeds did particularly well under the circumstances. One tulip bulb was so expensive that you could easily have bought an Amsterdam canal house for the same money. And, as with all hypes, it came to a dramatic end with many losers – probably only losers. The tulip became just a flower again. In 2009, on the event of its ninetieth anniversary, KLM got its very own tulip – Tulipa KLM. No, not blue, but green and white. KLM staff and passengers had the opportunity to buy them. In my view it was a hit and, fortunately, not a hype.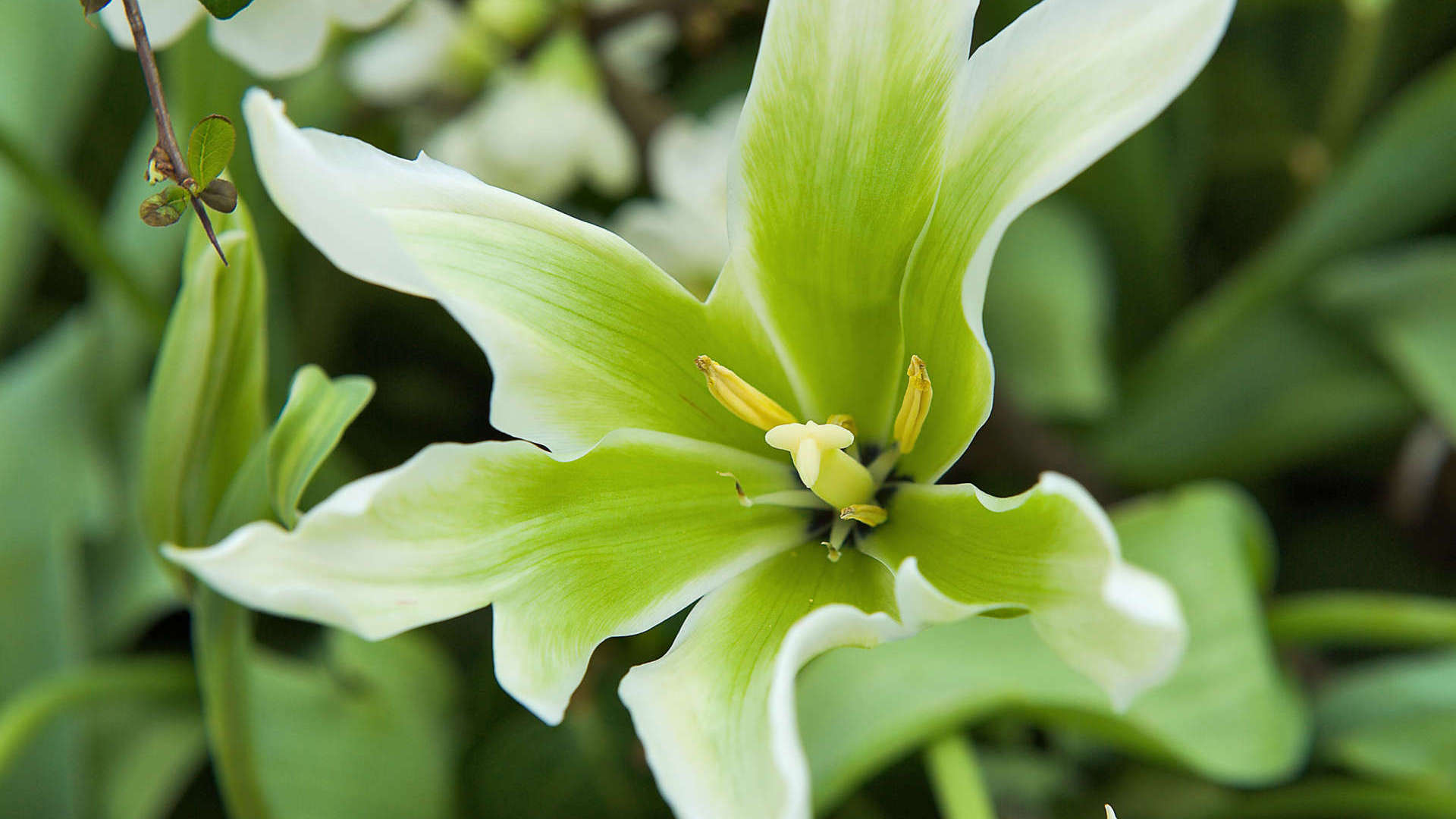 Tulip and stewardess
Nowadays, however, people come from far and wide to the Netherlands. In that sense, people are travelling the world in search of the tulip. In this case, they are coming to the Keukenhof Gardens in Lisse to see the tulips in all their glory. I might sound blasé because it's all pretty normal for me, but I grew up there and cycled past the tulip fields on the way to school every day. The only sad part is that the blooms – called the heads – were clipped from their stems pretty quickly to allow the newly formed bulbs to reach maturity. After all, it's a business first and foremost. Of course, anything that survived the decapitation went into vases wherever possible. KLM is a major flower transporter and many stewardesses have been photographed holding bunches of tulips – something they clearly enjoyed.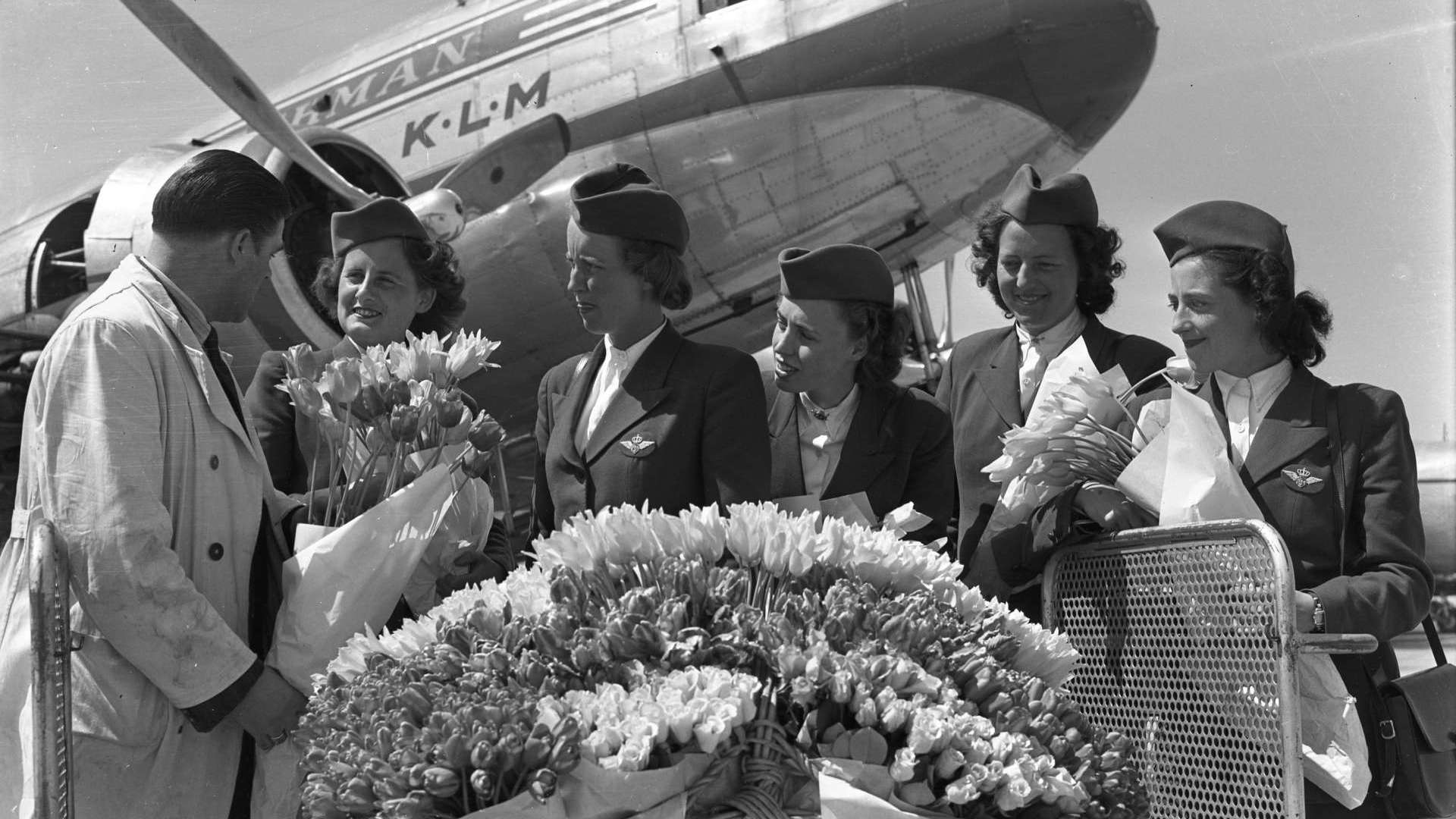 Benny and Ella
Another popular subject is celebrities with flowers, that is, along as they arrived at Schiphol in the spring. I found numerous examples in that category. Men and women have posed gladly for the camera with a lush bunch of Dutch pride in their arms. I have two for you, and not just anyone, but two jazz legends: clarinettist and band leader Benny Goodman and singer Ella Fitzgerald. These photos are from 1958 and 1959 respectively. At the time, Goodman was performing in a converted auction hall in the village of Blokker, North Holland. (The man standing back right is the famous presenter and music lover, Willem Duys.) Ella was performing at The Concertgebouw in Amsterdam with Oscar Peterson and I would have done anything to be there; this celebrated classical concert hall is magnificent for jazz too.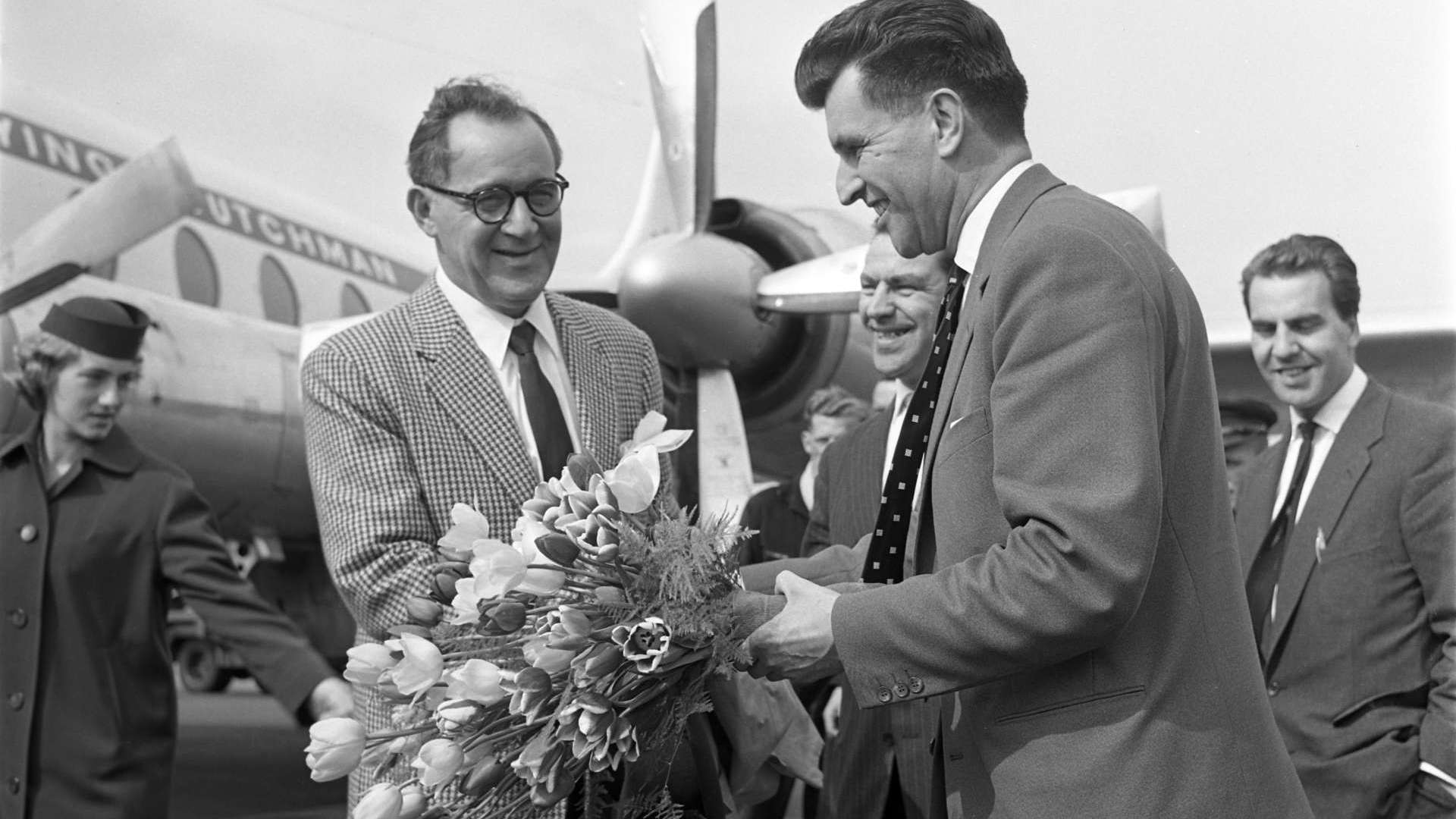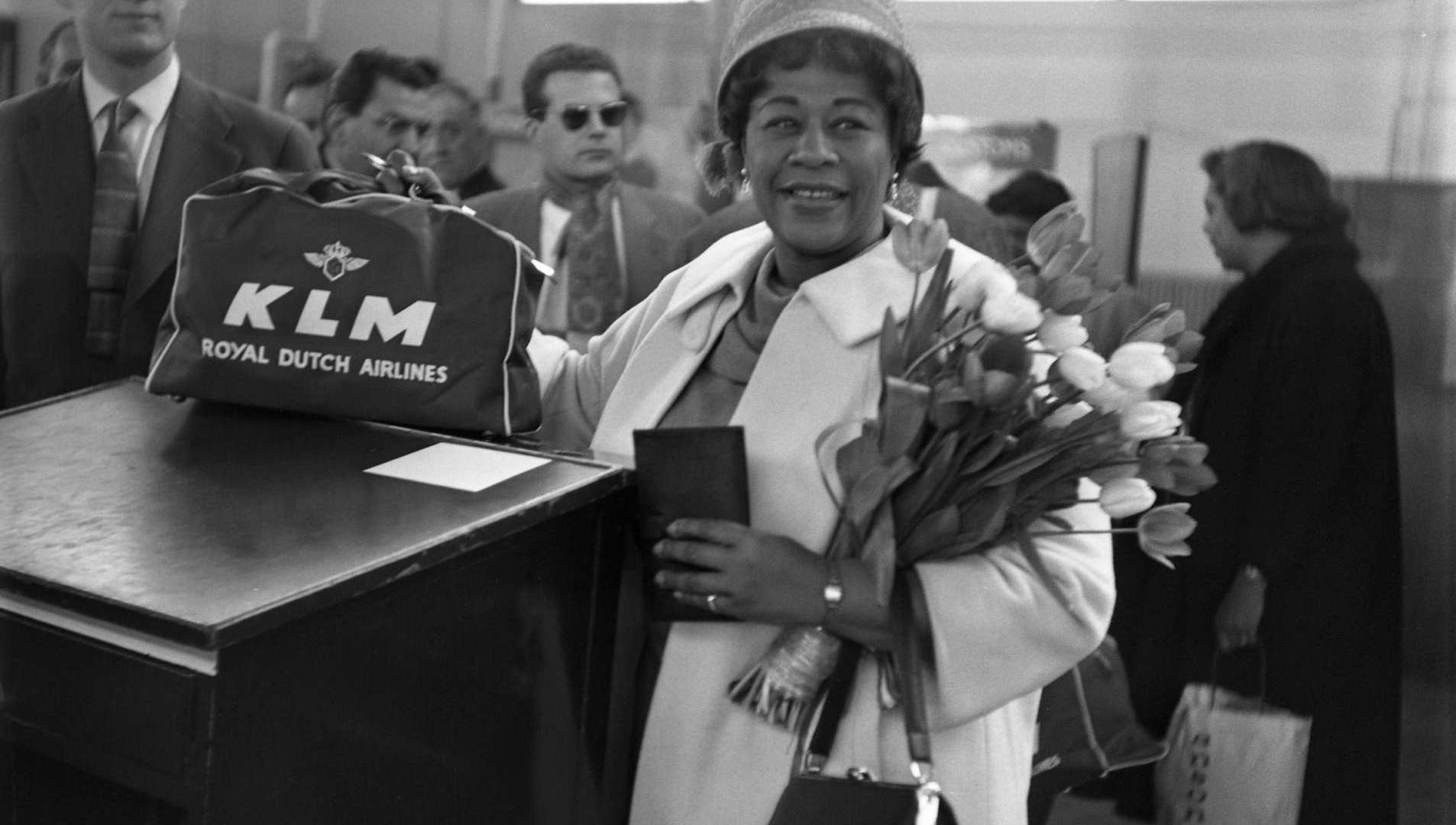 Holland promotion
Over the years, KLM has come up with numerous ways of emphasising the link between Holland and the tulip, and they've done pretty well at that. There's the song, "Tulips from Amsterdam" (written by a German!). I think of it as a tourist song, because tulips don't come from Amsterdam. But its three-quarter time gives it a pleasant swing, so it's always good for a waltz accompanied by a barrel organ on the canal side. Do you see the picture? It's unmistakably Dutch. Below, there are two posters – left from 1960, right from 1986 – depicting the link between the tulip, the Netherlands, and Amsterdam in particular. Blooming perfect.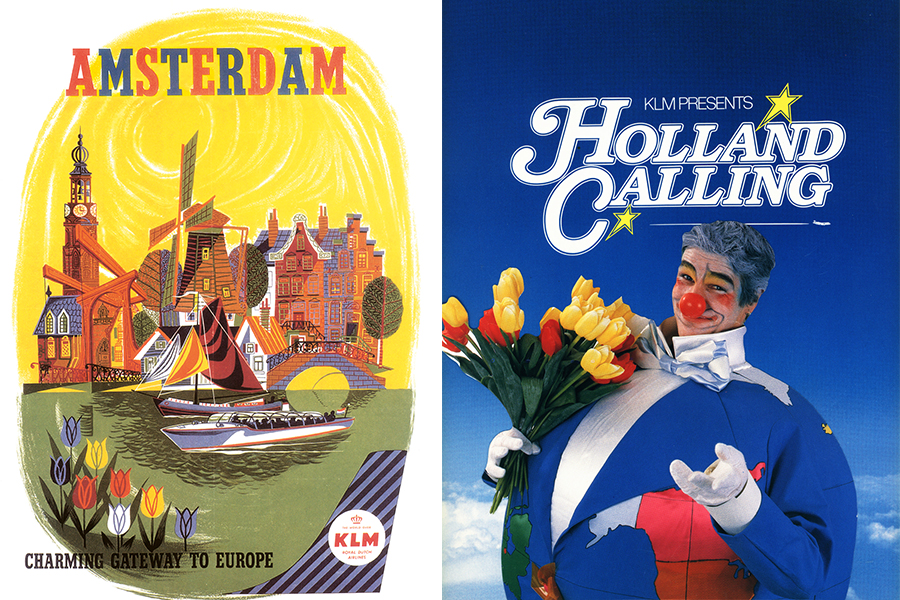 Decorative element
In the 1970s, the tulip made its way into the aircraft cabin. A stylised tulip motif found its way onto seats, walls, and curtains – not to forget the dishware. Personally, I think this is one of the most attractive dish sets KLM has ever offered. The tulip is very subtle in places. You might have to look twice to see it in full bloom. Sadly, the tulip motif only hung around for six years. According to the Design Bureau, it was a "variable decorative element subsidiary to a consistent KLM brand." Ploughed under too early for my taste.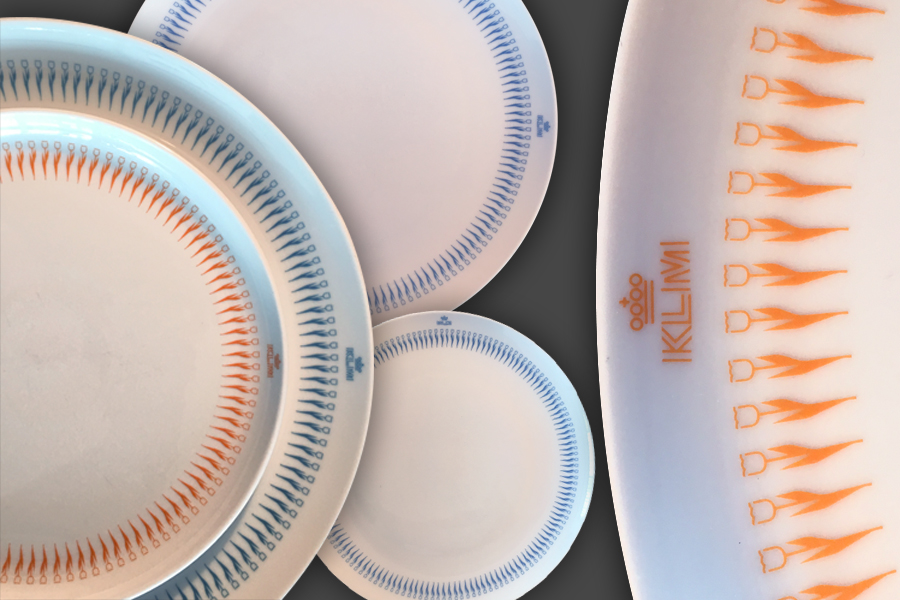 Bloom
And one last photo – the aircraft and the tulip. Not as a decoration – or perhaps precisely as one. Here we see a DC-10, a striking appearance all its own. According to the description, this particular aircraft – the PH-DTD, Maurice Ravel to be exact – is ready for takeoff at Schiphol. We are writing in May 1974. In the foreground a sizable field of tulips in full bloom. That's how I like it. A bloom as a symbol for a blossoming company. KLM and the tulip are perennial.