Sensation: A Once-in-a-Lifetime Dance Experience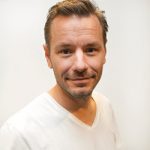 Sensation is returning on 5 July. The annual dance event -a once-in-a-lifetime experience- is entering its fifteenth year. Dance lovers come from all around the world to take part. Of the 38,000 visitors, 11,000 fly in from abroad. Following its premiere in Amsterdam, the show -bearing the theme Welcome to the Pleasuredome- will go on tour. All around the world. We asked Sensation's Creative Director Sander Vermeulen how the preparations were going.
You're now in the final preparation phase for the party. How are things?
"We've been busy all year. Slowly but surely, everything is coming together. We're now testing the construction of a variety of objects. We're doing that in Amsterdam's RAI Convention Centre and in the Western Harbour Terminal. Today, we built the centre stage. Until now, we had only seen it on the drawing board. When you see how well it works, it makes you as happy as a little kid. We were all jumping up and down and shouting.
We're a large team. We have about ten chiefs who are responsible for the various activities such as stage design, stage construction, choreography, costume design, makeup, line-up, pyro, and motion. And each of those has its own team. You have to think of a party of this kind as a beautiful banquet. There are so many ingredients including laser shows, the DJ line-up, the décor, performers and much more. So we are cooking it all up to make it as delicious as we can."
A year of preparation for a single evening? Take us through the steps.
"We start by evaluating the previous year. What went well? What went less well? Then we think about the new theme. It's important that the theme is universal. Something that relates to everyone. Larger than life. The theme is the starting point. The entire stage design, the acts, and all the great moments all centre around the theme. We worked the seven chakras into the theme, 'Innerspace'. Not to make it too obvious, we enveloped it in the Seven Stages to Enlightenment. Probably only ten percent of the people really understood all the different layers. But that's just what I like about it. Then those people go and explain it to others. When we had the theme, 'The Oak of Love' we used a seventy-metre-wide inflatable tree. The highlight of that evening was when eight giant hearts floated down during Donna Summers' 'I Feel Love'. Goose bumps!
The whole assembly requires you to explore a variety of paths. Some ideas work. Others don't. For the theme, 'Ocean of White' we thought up an act using dancers and umbrellas all of which mimicked a giant jellyfish. We had the costumes designed and we tested the whole thing. It was great. We also thought about using a giant shell, but it was too big. It also has to work technically when it goes on tour. When we take the show to other continents, everything has to be shipped and each container costs an enormous amount of money. The number of containers varies from one show to the next between five and eight. The smaller and lighter the packaging, the better. That's quite a challenge during the design stage. It can take months to ship everything, so we travel using multiple shows. The 2008 show goes to Asia, the 2009 show goes to Canada, and yet another goes to South America. So you can imagine a map with all those ships travelling around the world.
We didn't tour in the beginning. In 2004 we started with Belgium followed by Germany. That's when we got the idea to travel around the world. It meant that we had to build our shows in a modular fashion. We needed larger and smaller versions so that one could fill a football stadium while another could fit into an ice hockey stadium. So a lot of the development money goes into technology applications that the visitors never see, but which allow us to shrink the installations. Shows of this kind cost an incredible amount of money. The production is comparable to Cirque du Soleil, though they have a much larger budget. We can keep everything under control because we know exactly how much everything costs. Sensation is now entering its fifteenth year. However, we have been putting on parties for 22 years through our parent company ID&T and we continue to work with the same organisations. That's something you can build on! We earn back the money on tour and, the next year, we return with something even more spectacular."
What was your greatest challenge this year?
"This year, we had to make the show work outdoors. Not all of the countries we visit have covered stadiums that are large enough. So we had to turn down a few locations. Now we also want to travel to South America and Dubai, so we thought up a giant hydraulic system using arches on which we can hang the décor, lighting and pyro. The lack of a roof limits our possibilities enormously. Everything hangs from the roof: the lighting, the lasers, the sound, even some of the dancers hang from the roof. Now we have eight giant steel arches, each ten metres wide and twenty-two metres high half a Ferris wheel spouting fireworks. That's how you turn a weakness into a strength you blow the roof right off!
Every year, we do our best to out-do ourselves. Our Dutch audience has grown along with us. We expected that. But, a few years ago, we went to Poland for the first time. The people there didn't know what hit them. They witnessed fifteen years of dance experience all at once. It blew them away. The same thing happened in Prague. To watch their amazement is the icing on the cake for us!"
Why do all the visitors have to dress in white?
"The brothers Miles and Duncan Stutterheim founded ID&T. In 2002, Miles was killed in a car accident. His death occurred just before Sensation and we asked everyone to dress in white out of respect. We wanted to create our own heaven on earth. About 80% of visitors did so. In the years that followed, we have required our visitors to dress this way using the slogan, 'Be part of the night. Dress in white.'"
What are your ambitions? Even more countries?
"Actually, we are looking to downsize. Last year, we gave eighteen shows; the year before that, twenty-four. The team was extremely stressed. We were placing quantity above quality. It wasn't fun anymore. You need the space and the energy to make the next show better than the last. That's why we have opted to avoid the pressure of having to organise 24 shows a year. A once-in-a-lifetime experience doesn't happen by itself. It requires time, passion and energy."
What are you looking forward to this year?
"Everything! A year's worth of puzzle pieces have to fall into place. This year, we have created an entirely new world by building a stage that levitates off the ground. We have new inflatables, swivelling spray guns equipped with no less than seventy CO2 bottles that shoot out ten-metre-high plumes of smoke. And, of course, that's all planned around a good piece of music. It's going to be ecstatic. And it's what we are working towards, all year long. One of those never-seen-before moments. And they are still to be found, even for the most jaded visitors. A once-in-a-lifetime experience."
More videos of The Road to Sensation on the KLM YouTube Channel.