Shipwreck survivor seeks lifejacket
Ever since I survived a shipwreck, I always check the lifejackets on any boat I board. Trauma response or occupational disability? Apart from a shipwreck survivor, I'm also a flight attendant with 17 years' experience. And it's because of the flight safety training I had for my job, I'm still alive today. No thanks to the lifejacket I was wearing. And thát is exactly why I went in search of one of them. Maybe you can help?
"Rolex, Cartier! You want a watch?", cries a Chinese trader on a market in Shanghai. When I tell her I'm looking for an old lifejacket, she looks at me bemused and laughs. My search for a lifejacket in China is laborious, to say the least. The one I am looking for dates from 1971. I know this, because it was labeled as such, along with the word "Adult" in English and Chinese. But from what I remember, it barely held my girlfriend above water. The lifejackets we were wearing turned out to be useless accessories in our fight to stay alive and I wouldn't want anyone to ever experience such fear.
Religious relic
That's why, ever since I wrote a book about my shipwreck and how I survived, I have been trying to find one of these poor excuses of a lifejacket to illustrate and reinforce my story. Because I know that the moment you see one, it will be apparent that no one should ever be sent to sea with it. So, if I do get a hold of one, I may well nail it to my sitting room wall, like a religious relic, as a reminder to make the most out of every day of my life.
Eureka!
Armed with a piece of paper bearing a description in Chinese of what I am looking for and why, I set off for the harbour where I thought would be lots of lifejackets. Not much later I found myself stranded at the tourist office. It seems it's only possible to visit the harbour if you have an invitation, a kind of visa, which, needless to say, I did not.
Coffee in hand, to keep my engine ticking over, I considered my options over lunch. The Chinese coffee did the job and I had a Eureka! moment. I would sail up the Huangpu River myself, past the famous skyline and the Bund promenade. Several tourist boats were moored on the quay and I choose one for a 50-minute trip.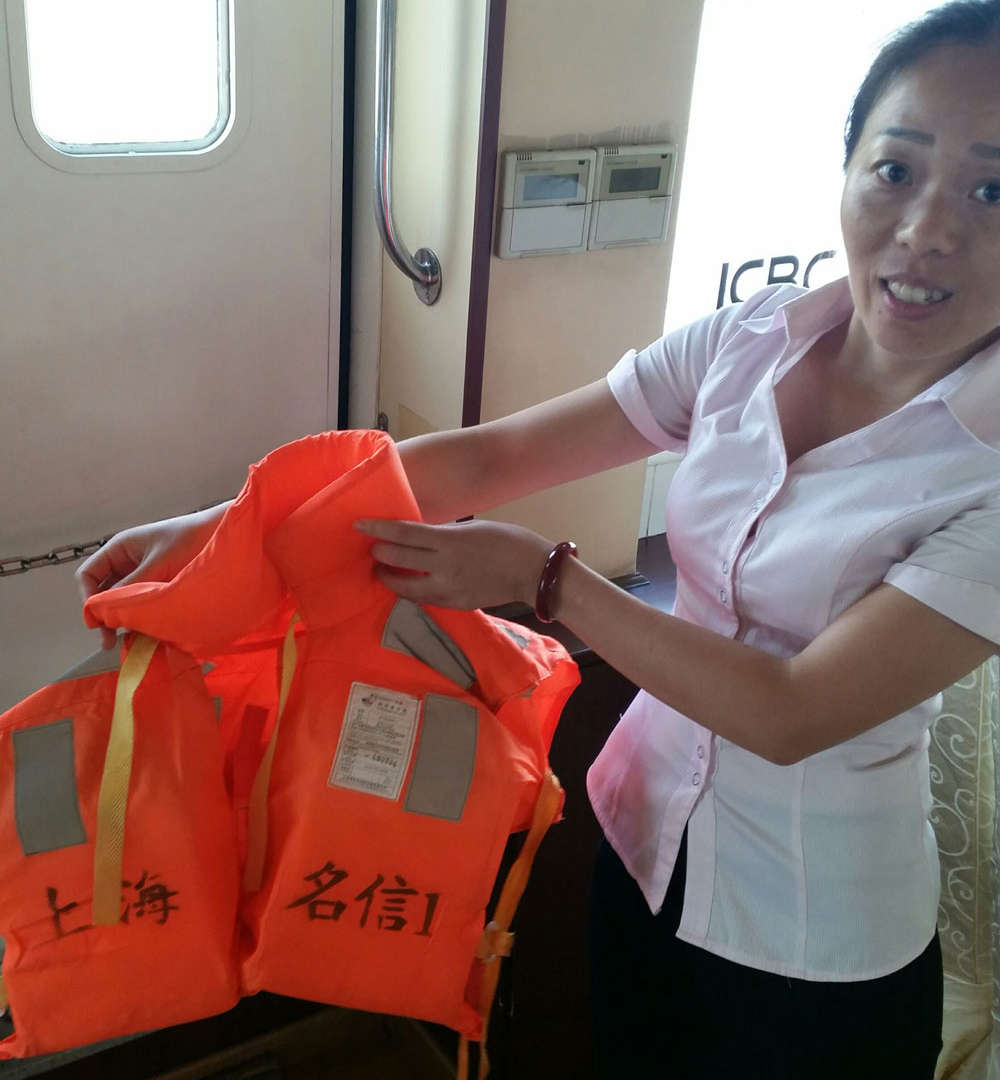 Found & lost
Once on board I showed my piece of paper to a member of staff. The by now familiar reply "méi yŏu" (I haven't got one) comes, sure enough, accompanied by an adamant shake of the head. Then, out of the corner of my eye, I spot a bright orange object; it looks just like the type of lifejacket I'm looking for. A 1970s retro model made from four blocks of polystyrene. I enthusiastically grab it, but I'm not the only one. The employee has also seized it. Smiling sweetly, she gently, but firmly, extricates it from my grip.
No means no
Despite my note in Chinese, beseeching look, "okay okay", and an offer of money, I don't get the lifejacket. I understand, they need it. So in the end I settle for a couple of good photos. When I look at the pictures later, I'm shocked to read: "For national and international shipping". If it wasn't so frightening, it would be funny. This lifejacket is at most suitable as a work lifejacket for situations where land or rescue are close at hand!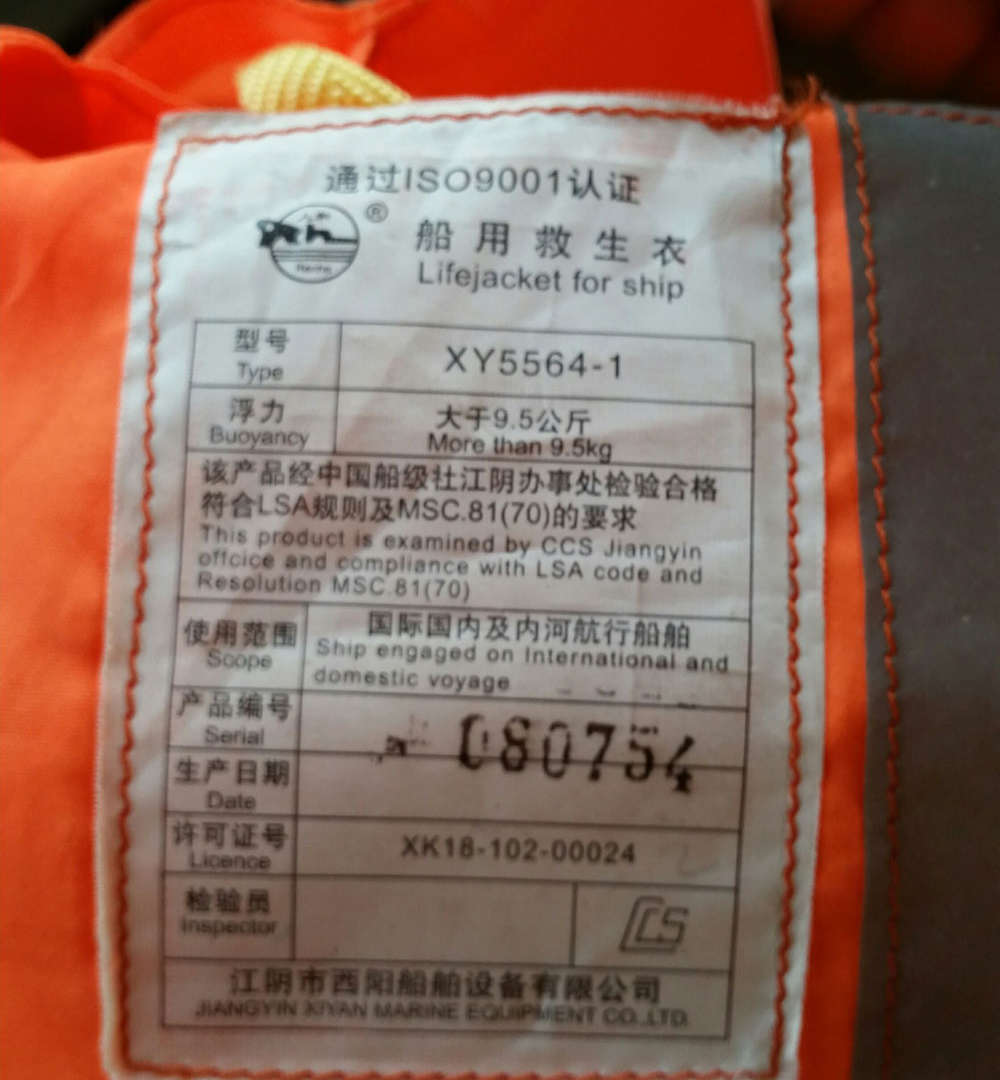 Check, check, double check
Shocked, I give up my search. For the time being and only in China. The search here has confirmed to me once again how important it is to always and everywhere check and follow safety measures. You never know what situation you might find yourself in and the right preparation and knowledge might at least help you to stay one step ahead of fate.