Singapourin' – a short story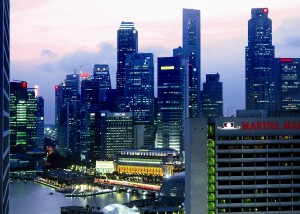 The torrential shower drives bedraggled strangers into the hotel lobby, warm rain battering the huge flowers in the beds outside. They nod their heavy heads against the base of the towering windows, begging to come indoors, where gloved waiters coast silently among the tables, serving gin slings to elegant patrons. "It really is little more than a sandbank, enriched by foreign investment," roars an elderly man in a crumpled, white-linen suit. His gangly companion, possibly his son, turns away and rolls his eyes behind his jam-jar specs.
"I've heard it's all about cocktail lounges: singing and pouring at the same time," quipped Louis, when I made the mistake of asking my friends what they knew about Singapore.
We'd ordered a first round of drinks as we waited for the stragglers to arrive. Our fortnightly get-together was still going strong, despite the mounting pressure of expanding families and soaring career. As the last single in the group, I had gradually, unwillingly, assumed the role of administrator and planner. They all seemed to think I had plenty of time on my hands.
"We sail tonight for Singapore. Take your blankets from the floor. Wash your mouth out by the door. The whole town is made of iron ore," roared Victor, showering the table with whiskey.
"What the hell was that? Echoes from an empty stomach?" I asked.
"That's Tom Waits, my lad, and the sum total of my knowledge of Singapore," replied Victor.
"That's very helpful, thanks, but I was hoping for something more prosaic," I said.
"I've heard you get shot if you spit gum in the street," said Graham.
"What? That's ridiculous. Who told you that?" I asked.
"A friend who worked there for a while. A pleasant chap. I'm sure he was against it," Graham continued.
"I should bloody well hope so," growled Victor.
"It's one of those places you can never quite point out on the map," said Louis. "Somewhere between Vietnam and Australia, I think."
"I thought it was off the east coast of India," said Graham. "Or is that Goa?"
"I hope the pilot won't be taking directions from you lot," I said.
"Directions to?" asked Isabella, late as usual, dragging Helen in her wake.
"Dickey's going to Singapore," said Graham.
"Ooh, lucky you. My favourite city in the whole wide world!" cried Isabella.
"Seriously?" we chorused.
"But you've only ever been there once! For a week!" said Helen. "I remember you going on about sudden sheets of warm sexy rain; air so muggy one cleaves through it; fabulous food, jewelled tree frogs …"
"Changi, Chinatown, Little India, the Asian Civilisations Museum, Raffles, Clark Quay, Jurong Bird Park, the botanical gardens … are you writing this down?" asked Isabella, stopping to inhale.
"A pen, quick!" I said, grabbing a napkin. "And where would you go if you were meeting someone for the first time?"
"Oooh," the table chorused.
"Shh," said Isabella. "Business or pleasure?"
"A bit of both," I lied.
"If it's a lover, meet at the top of the Swissôtel for a bird's-eye view of the city. Then take her for tea at the Carousel on Royal Plaza. Be sure to share a slice of the divine chocolate cake before heading out to the botanical gardens, where you can lure her into one of the shaded pagodas for a first kiss."
"And now we want her name, my lad," roared Victor. "The full story!"
And so I found myself in the lobby of the Swissôtel, waiting for a woman I had only ever spoken to in writing. She would be wearing a scarlet dress and carrying a lilac umbrella. The latter had me a little worried, because the sun was breaking through.
(PS: This story is based on comments from Facebook friends in reply to my question: "So, what can you tell me about Singapore?" Thanks to Angela Voges, Louis Greenberg, Victor Schiferli, Graham Hendry, Isabella Morris, Helen Moffett and everyone else who shared their experiences and imaginings. Feel free to add your own.)