Sinterklaas is coming to town!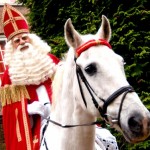 Today, 5 December, we Dutch celebrate the name day of the biggest friend of children everywhere: Sinterklaas (St. Nicholas). The main reason why this elderly, rather serious man is so popular with children is that he spoils them to bits with presents! In mid-November, he arrives on his steamboat from his hometown somewhere in Spain. Everywhere in the Netherlands, children are anxiously waiting for him to arrive on his white horse Amerigo, surrounded by a large number of helpers in funny costumes and with blackened faces. These Black Peters (Zwarte Pieten) are wacky. They laugh and jump and get up to all sorts of funny antics. They also scatter sweets and gingerbread nuts (pepernoten) on the street, which we quite happily pick up and eat. Children gaze at him with adoration, but they're also a little bit scared. They sing songs for their old friend and tell him what they would like to get in their shoe that night, and if it were up to them, every other night for the following three weeks. The old custom is that, just before they go to bed, children put their shoe in front of the fireplace, together with a drawing for Sinterklaas and carrots for Amerigo, in the hope that one of the Black Peters will visit their house, climb down the chimney and deliver his gifts. Of course, not all Dutch houses have chimneys, in which case the children put their shoes in front of the radiator. (They never seem to wonder how the presents get through there!)
Tonight is the night when Sinterklaas brings gifts for young and old! As usual, the children have eyes only for their gifts; the adults mainly enjoy writing poems to poke fun at their friends and relatives anonymously. Usually, we celebrate this night with a bunch of people, which means drawing lots for gifts and making a big fuss about the poem.
In my home, my father once deliberately managed to pick his own name when we drew lots, and, of course, he didn't tell us. We had agreed that we wouldn't spend more than 25 guilders on each present; it was much more important to come up with a hilarious poem. The evening started quietly but certainly took a different course when my father got his first present: a very expensive bottle of French Cognac, together with a huge poem telling us what a wonderful person he was. We were even more surprised when he got a second present: a deluxe box of cigars and another poem. Sinterklaas was apparently not yet finished with eulogising him. My father was having the time of his life, and all the more when the third present came along: an annual subscription to a horse-racing magazine. And – it won't surprise you – with another poem.
But…  all in all, it's a children's event. And one day they will find out that their friend does not live in Spain at all.
What legend did you believe in when you were young?
Karin
Corporate Communications