Solo through Basque Country – my tips and treats!
My six-day visit to the Basque Country confirmed what I'd hoped – Yay! – which is that it's such a thrill to head off on a trip with minimal preparation. Picture this: me in a Fiat 500 – Yay! – with Spanish radio blaring at full volume, surrounded by jaw-dropping landscape, on my way to "wherever my fancy took me". And the fanciful places just kept coming! As if it were meant to be. As if I'd planned it all. But I hadn't planned anything and I had zero expectations, which made it even more wonderful to find all these jewels along the way.
Amsterdam – Bilbao
After a pleasant flight from Amsterdam, just under two hours long, the KLM aircraft landed at Aeropuerta Loiu, which is 13 kilometres from the centre of Bilbao. I'd booked a rental via Sunny Carsa couple of hours before I took off from Schiphol, which meant I was free to come and go as I pleased. Now that I had my wheels, I could head off and do my own thing. Well, sort of, because two of the six days were reserved for the Harvard Project Zero Perspectives Conference in Pamplona. I'd been selected as a member of the faculty supervising the interactive workshops. This is another topic I could write a blog about (or a book), but let me stick with travel for the moment.
So there I was, in my lovely Fiat 500, in the parking garage at Aeropuerta Loiu, with a big smile on my face, destination unknown. Where should I go?Bilbao of San Sebastián? I knew very little about either of them, so I let intuition guide my fingers as I typed "San Sebastián" into the navigation system. Vamos!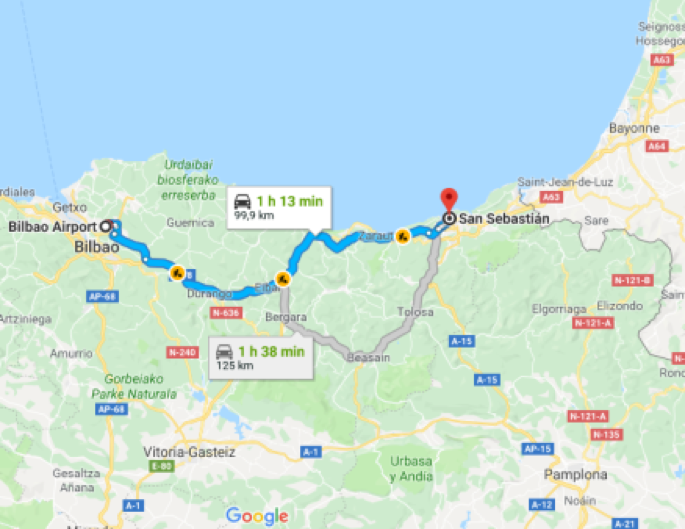 As I drove around exploring the busy city, I suddenly encountered an oasis of space and tranquillity: the beach! The sea! My mission was clear: find a hotel room with a sea view! I didn't have to look very far, because I soon spotted a stately hotel, separated from the beach by a bustling boulevard: Hotel Londres.
I parked my car in the garage just beside the hotel entrance and asked if they had a beautiful room with sea view for one night. "Of course" said the friendly receptionist, "in fact, my personal favourite was still free." Excellent!
When I stepped into the room, the reasons for its popularity were immediately clear. The view was absolutely stunning!
But now I was faced with conflicting impulses: Should I stay in the hotel for hours, staring at the view, or should I head out to explore the old city? The conflict was soon resolved, because I could quite easily do both.
Pintxos, please!
I'd heard some rumours that the food was good in San Sebastián. Someone had mentioned "pintxos", so I went down to the reception and asked where I could get the best pintxos. The answer was simple: everywhere. The friendly receptionist pointed me towards the old centre. Meandering along the boulevard, I walked straight into it. The streets were flanked by tall tables with people standing around them eating, drinking, chatting, laughing and singing. HELLO! I LOVE this! Such great fun. I stopped at every bard that took my fancy and ordered a glass of white wine and the two favourite pintxos recommended by the barman or woman. I had no idea what I was being served, but it was finger-licking fantastic!
What are pintxos?
Pintxos are slices of baguette topped with delicious combinations of various ingredients, such as tomato salad and serrano ham or a shrimp salad. They're set out on the bar and you ask the bar staff for a "platito" (small plate), which you then fill with whatever looks tasty. Pintxos cost 2-4 euros, and that goes for the wine, too.
I could have stayed in San Sebastián forever. I wanted to move into my hotel room with the magnificent view, but I was expected to be in Pamplona by Thursday evening for dinner with the Harvard Project Zero Faculty.
So, the next morning, after a delicious breakfast, it was time to say goodbye to San Sebastián. Hasta la vista! See you soon!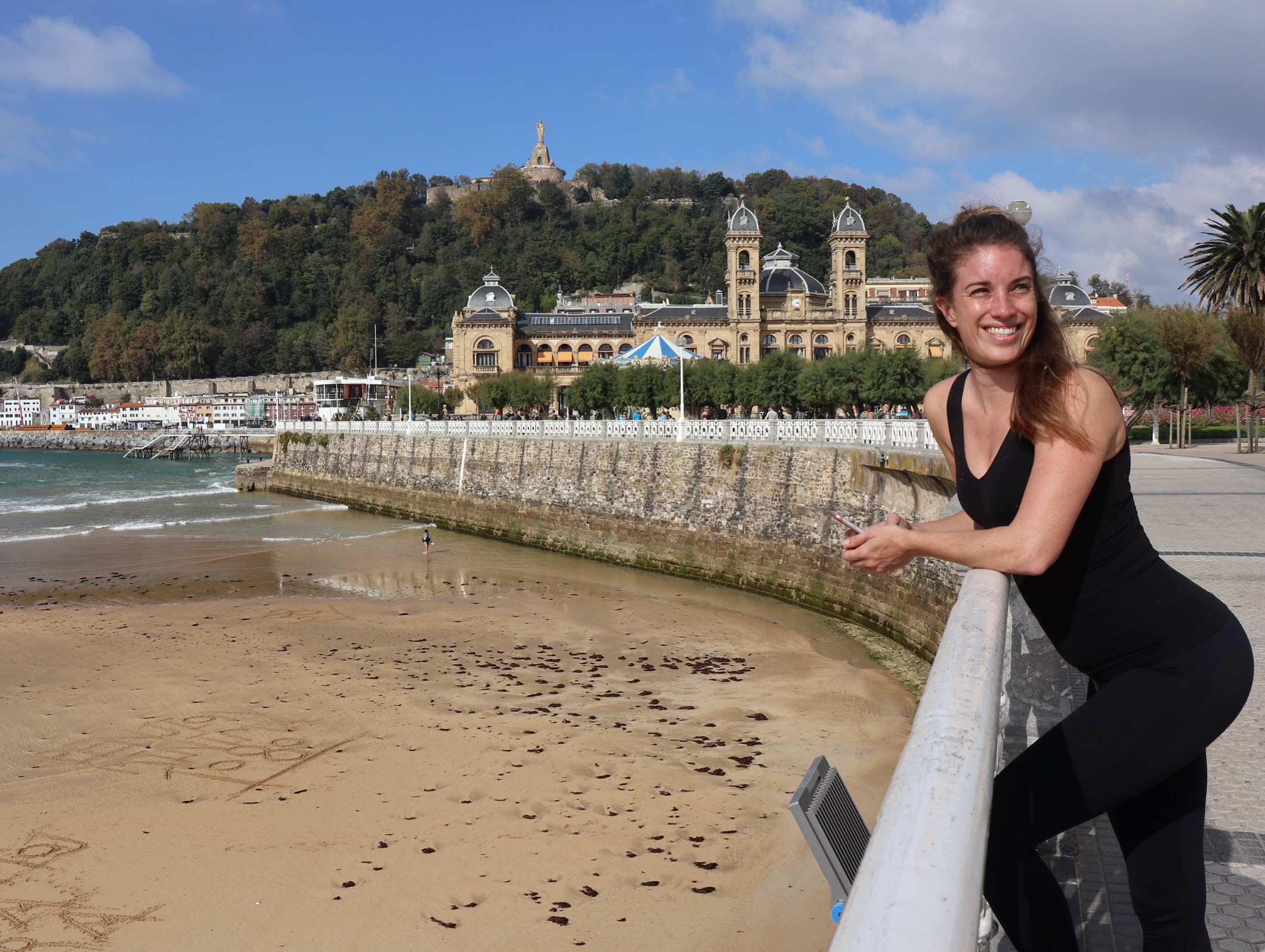 Before I tell you how I discovered my second jewel, I'd like to give you a brief account of the drive from San Sebastián to Pamplona. It was bootiful (as my kids Jools and Pippa would say). Around the halfway mark, I found the perfect spot for lunch at a petrol pump-and-restaurant called Pagozelai just outside Gorriti. It was great to sit back and enjoy the surroundings without having to keep my eyes on the road.
So now I was ready for Pamplona. I couldn't wait to explore the city! Not once had I heard any of my friend mention this city, so I was really curious to see what it had to offer. But first I had to find a place to sleep.
Just as I'd done in San Sebastián, I let my intuition guide me around. Having passed through narrow streets, an old city gate and even a fort (am I allowed to drive here?), I ended up on a pretty square, dominated by large building that bore the sign: "Pamplona Catedral Hotel". That sounded classy and it looked good, so I parked and popped in to see if they had a room for me. And of course they did!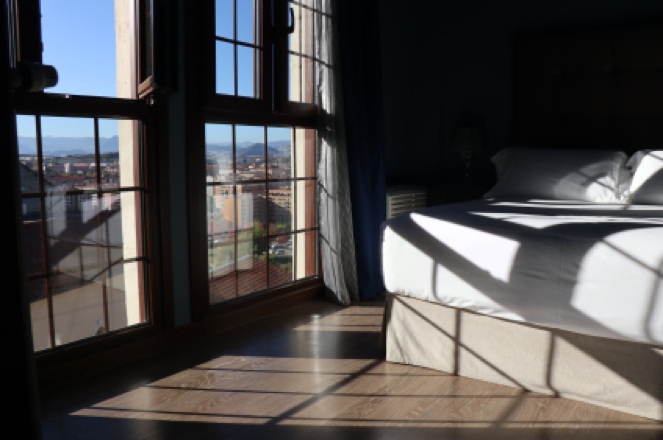 I spent three nights at this hotel. I spent the first night tossing and turning. The next day was the kick-off to the conference and, even though I thought I wasn't nervous, I'd experienced the workshop in five different ways during the course of the night. You can imagine how I felt when my alarm went off at 06.30 and they day had yet to begin. Fortunately, a hearty breakfast in truly superb surroundings helped to get me off to a good start.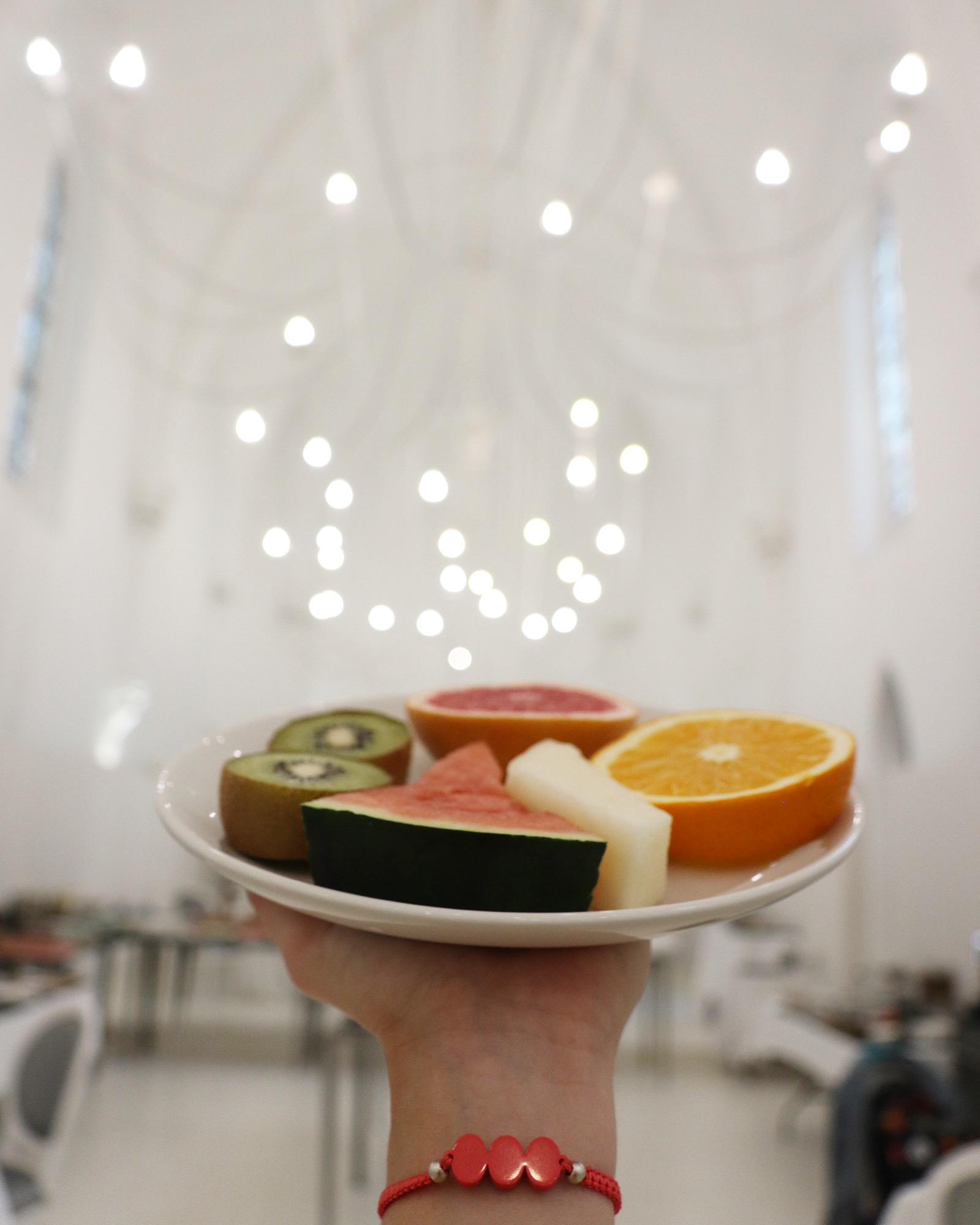 It's hard to put into words how I experienced the two-day conference. I also don't fully understand how it gave me so much energy, but I'll post a full report on my site MOMspiration.nl. This is the start of something big! A revolution in everyday education. We got the ball rolling in Spain.
Pamplona by night
Fortunately, I had some free time to explore the city, which is a delightful labyrinth of narrow streets lined with 1001 pintxos bars! The old centre of Pamplona is surrounded by an ancient wall, which gives the place an idyllic feel. This is another place I would love to return to, because there's so much more to discover and the city has a heart-warming atmosphere.
Hola Bilbao! – Hotel Melia Bilbao
To complete the triangle, I drove from Pamplona to Bilbao. I'd only seen the airport there, which is almost the same as seeing absolutely nothing.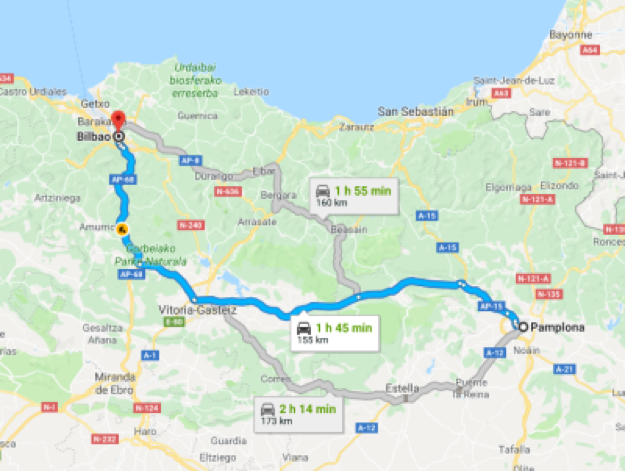 The only thing I knew about Bilbao is that it has the Guggenheim Museum. People mentioned this hotspot whenever they heard I was going to Bilbao, so I wanted to see it for myself. As I drove into Bilbao, I followed the signs to the Guggenheim Museum. Wouldn't it be great if I could find a hotel nearby?
That proved to be a "mission: highly possible", with superb hotels on almost every street. The one I found most appealing was Hotel Melia. It turned out that they had a room with a river view for me. Nice! There were also other perks: the Guggenheim was 300 metres away and the hotel had a heated outdoor swimming pool. Time to check in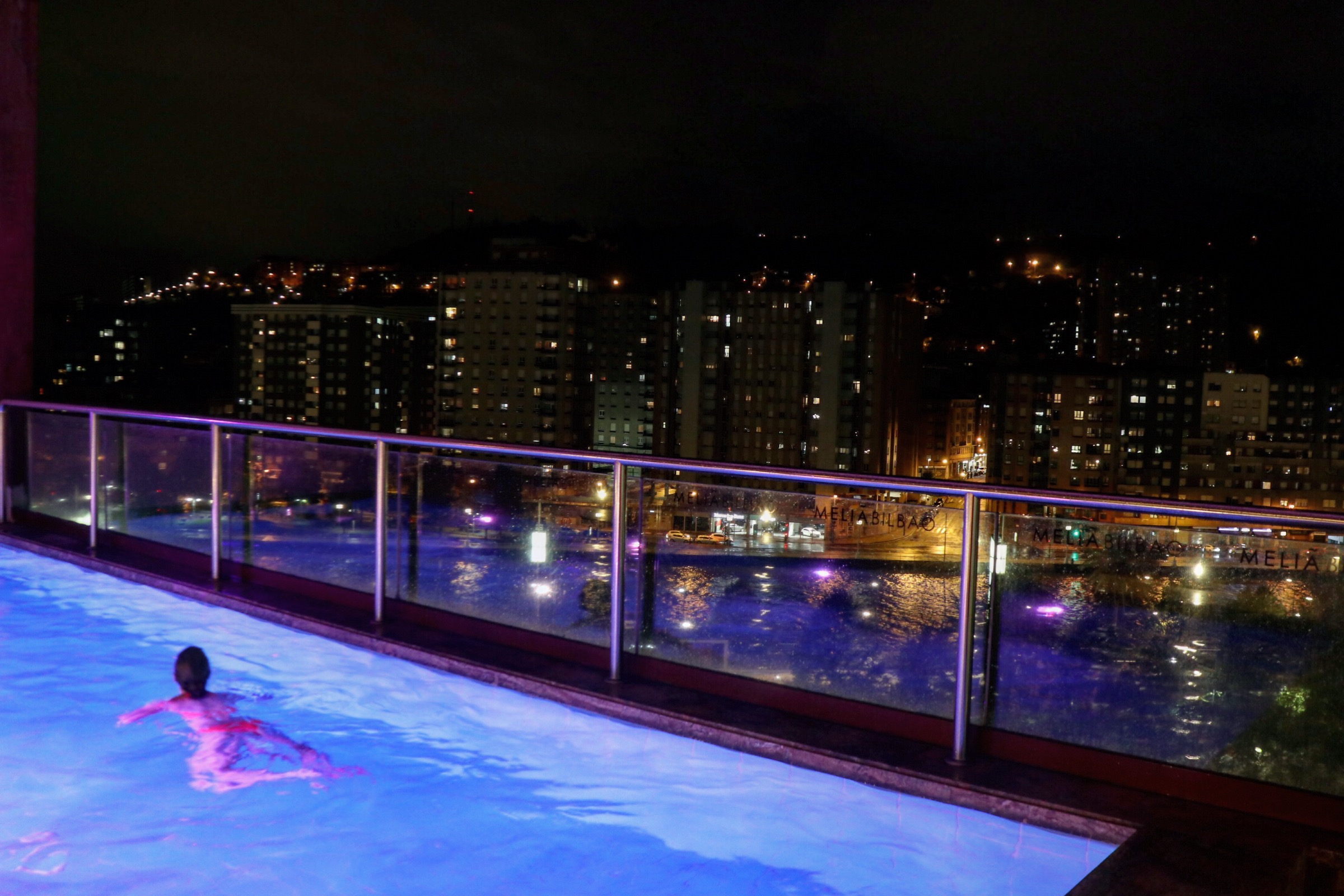 And of course I saw the Guggenheim… It really is everything people say it is. An absolute MUST-SEE! It's more than magical and I don't want to spoil it by trying to describe it. You have to experience it yourself. I can give you some views of the outside, because the building itself – this "Breathing Body of Art" – is a marvellous experience in its own right.
To end off my much-too-short stay in Bilbao, I went on a Pintxos Style Pub Crawl. One last night sniffing, gobbling and sipping up Basque culture. I stayed longest at the third bar I visited, just around the corner from Hotel Melia, not only because the atmosphere was electric with Barcelona vs Real Madrid on TV, but mainly because the barman couldn't stop enthusing about the very best Gay Pride in the world, organised annually in Amsterdam. When the time came to leave, I wanted to take one quick photo of the bar from the outside. I'd hoped that everyone would just keep doing their thing – chatting and drinking beers – but they soon spotted me and my camera.
This is the photo I took. It says more than a thousand words. The atmosphere in this photo is precisely why I love travelling so much.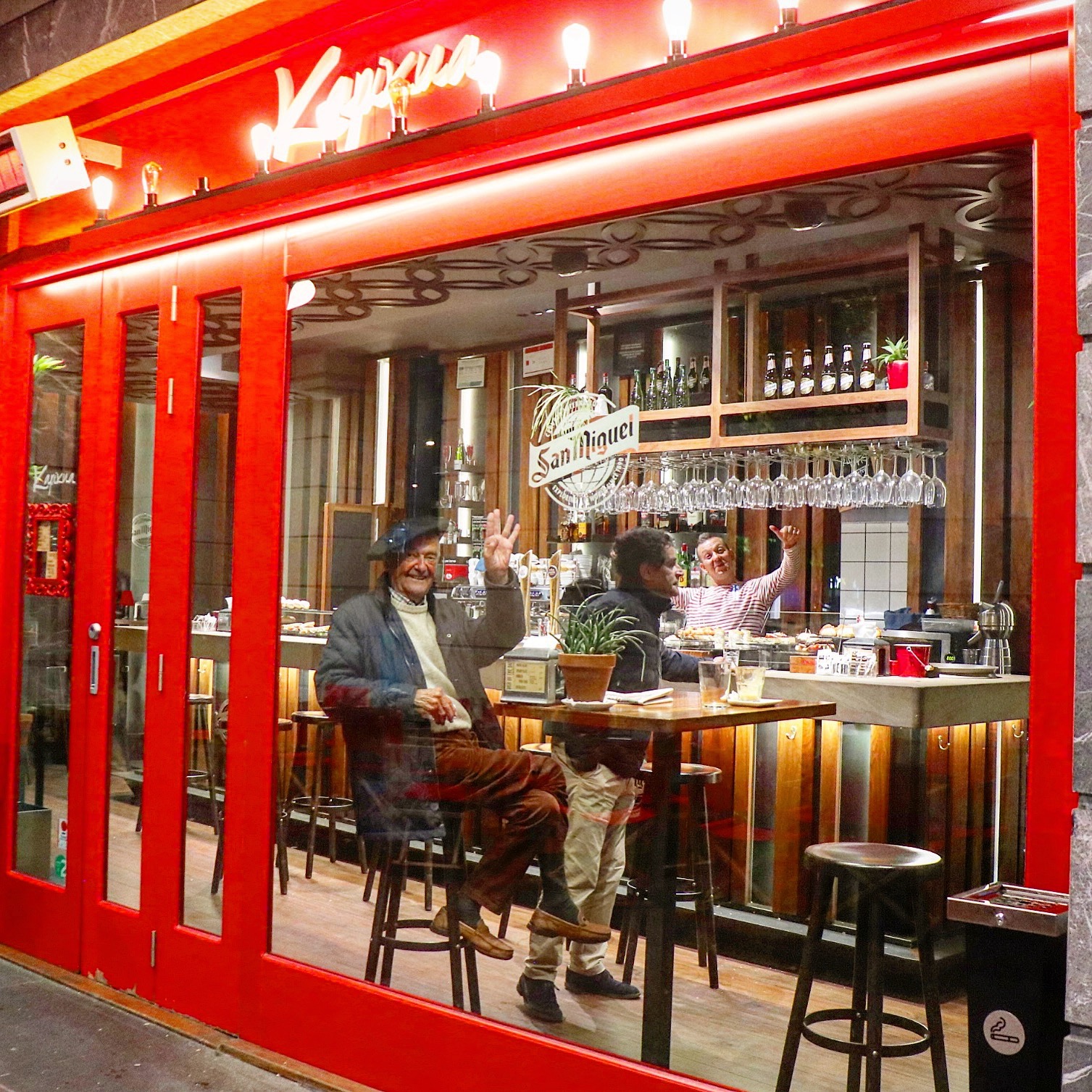 There is no way of buying or planning the people you meet on your travels.
You meet people because you are open to meeting them.
You give them a smile and you get one back.
You show respect and are shown respect in return.
You show an interest and receive stories in return.
You give attention and you gain friendship.
Love,
Annette
PS: If you'd like to fly KLM to Bilbao and complete this Triangle Road Trip, you can check current ticket prices here, and here's the link if you want to rent via Sunny Cars at Loiu Airport just outside Bilbao. From the arrival hall, it's an easy walk to the car rental pick-up area.