"Some People I Will Never Forget"
I sometimes ask myself how many people I've welcomed on board since I started flying years ago. I've met some amazing people – especially on the longer flights – sometimes entering into meaningful conversations extending beyond "How was your trip?" or "Would you like chicken or pasta?" Here are two examples of my encounters, with Vida (87) and Quinn (5).
KL702 Buenos Aires – Amsterdam
Almost a year ago, I met Vida, who was born on 29 February 1928. Secretly, Vida always wanted to be a KLM cabin attendant. She applied, but never made it through the selection process and ultimately found work as a secretary.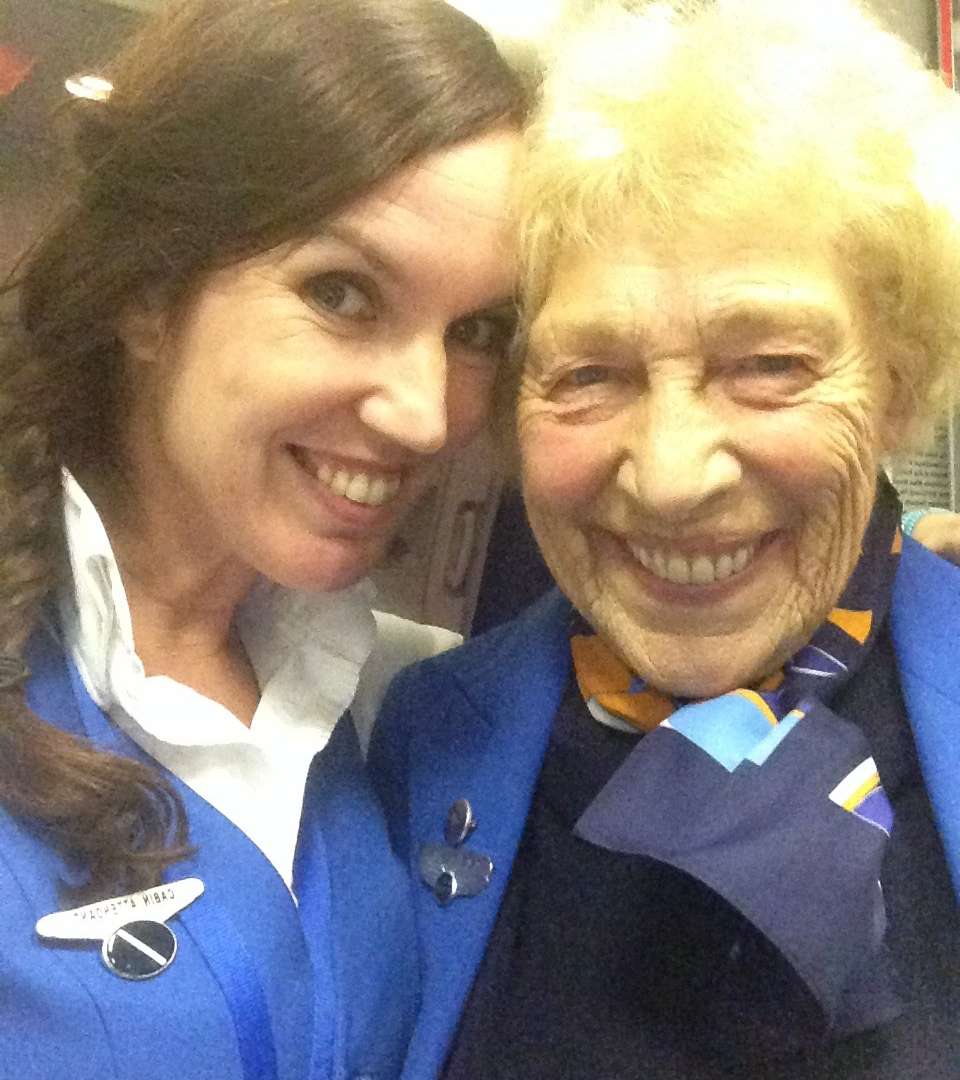 On board, she shared her dream of becoming a cabin attendant with me. I decided to make her dream come true during the flight – at least in part. We took a few snapshots of Vida, one of which shows her in the galley wearing my uniform jacket and scarf. When a friendly passenger asked for another glass of wine, I said: "Yes, with pleasure, we'll be right back." Vida had great fun serving the glass of wine, grinning from ear to ear.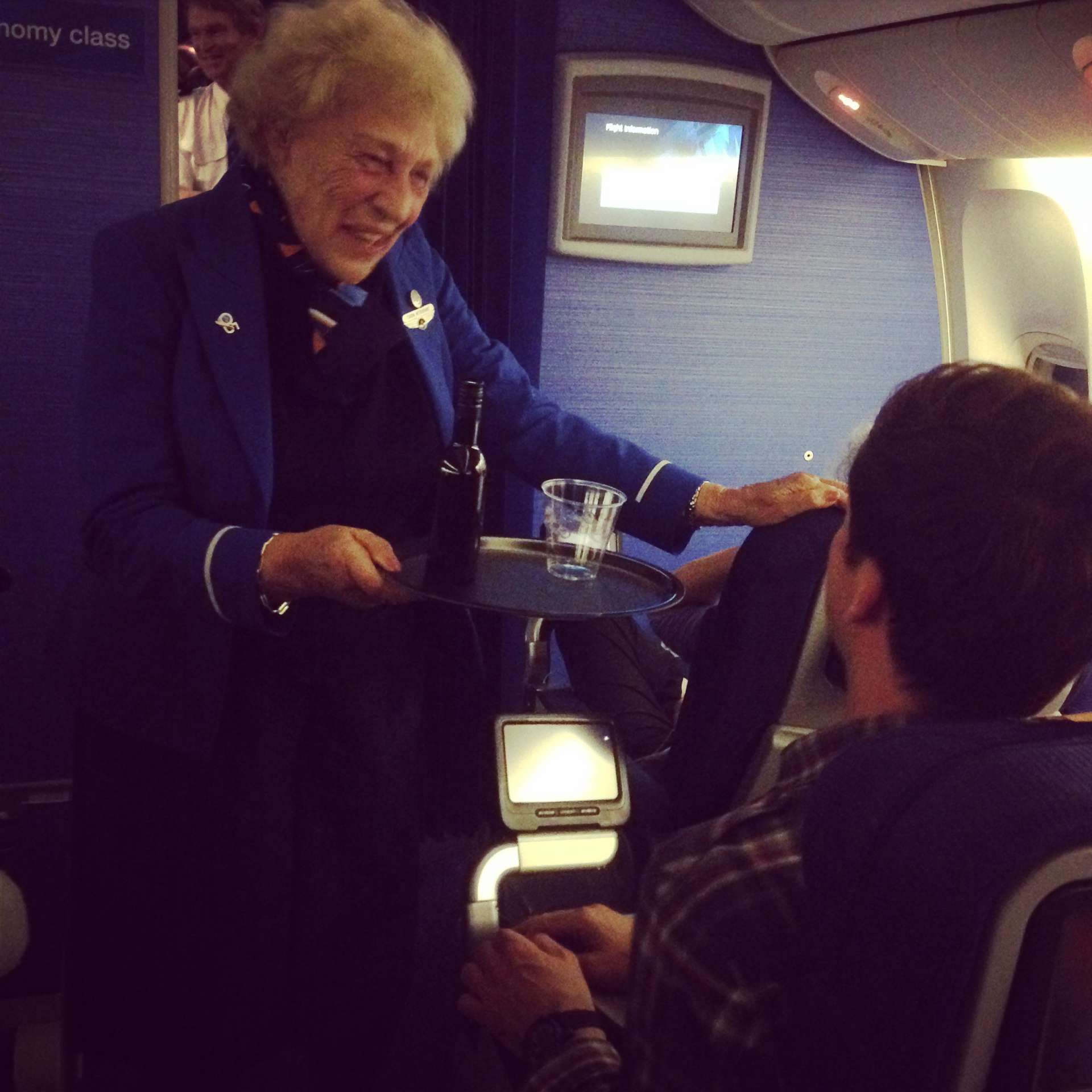 As proud as a peacock
As a surprise, I sent the photos taken on board as a postcard. She always carries this card in her bag and is keen to share her meeting with me with anyone who's interested. She calls me regularly and she's even visited me in Maastricht by train, together with her friend Jan (87).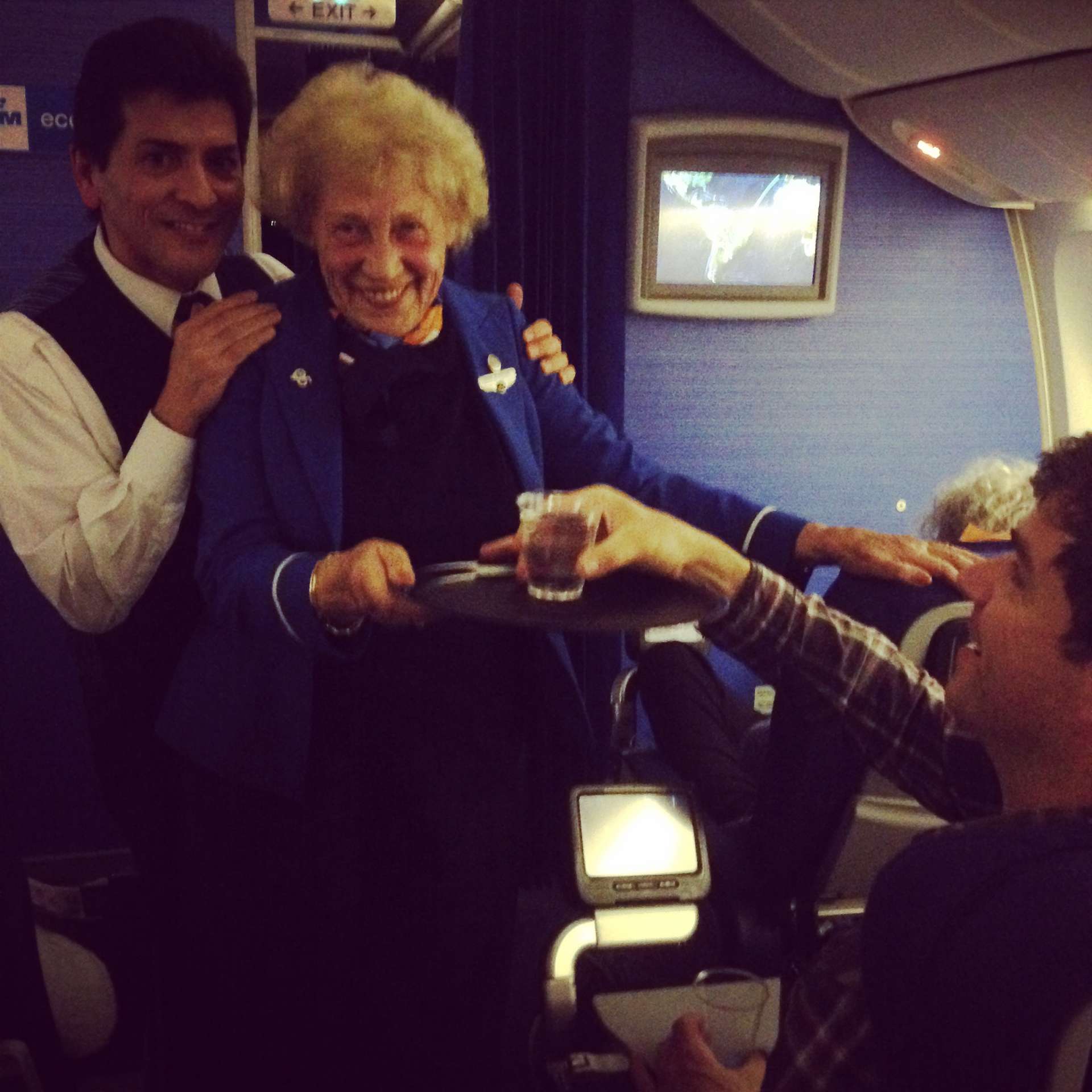 When I called her on 28 February to wish her happy birthday, I asked her when you actually celebrate it, if you're born on 29 February. She replied: "Really, child, throughout the weekend. It's a two-day party! Pity you can't be here."
I didn't hesitate and three hours later I was boarding a train holding a bunch of flowers and a present. And that's how it came to pass that I celebrated her 87th birthday at her house with Jan and her family and friends. I didn't even need to introduce myself; everyone knew who I was. We toasted our friendship and life in general. Viva la Vida!
KL810 Kuala Lumpur – Amsterdam
A day after the MH17 air disaster, I took to the sky with mixed feelings for a week-long stopover in Kuala Lumpur. I love my job, but also felt a sense of sorrow and was ill at ease, perhaps even a little scared.
The outbound flight went peacefully and professionally, and I received a home-made bracelet from a sweet eight-year-old girl. "Your lucky bracelet!" she said. I was moved and immediately felt better.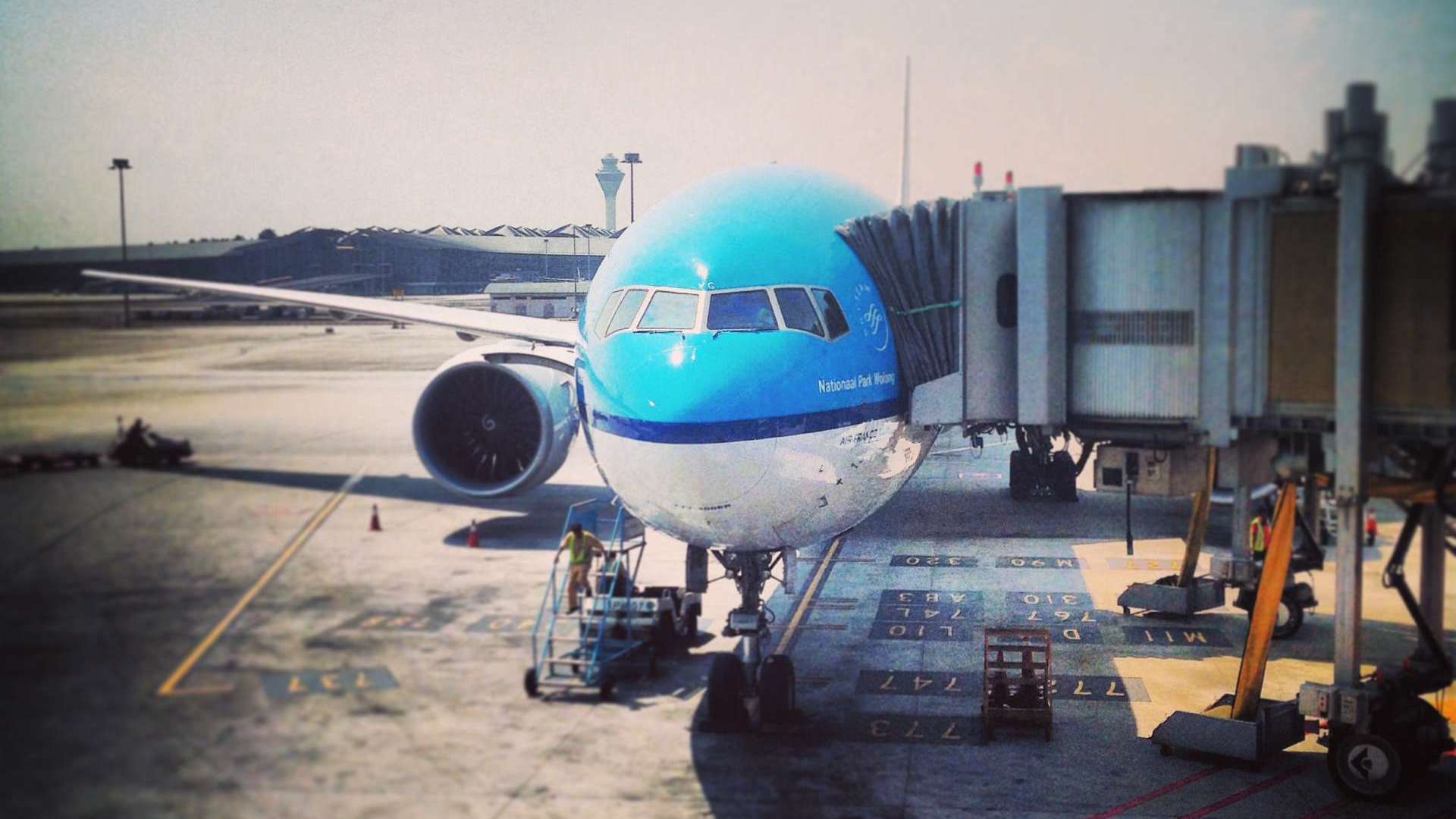 Peanut butter commercial
On the homebound flight, I met five-year-old Quinn. His friendly presence was immediately striking. He was travelling with his mother, stepfather, brother and mega Minion – a large cuddly toy. They too were visibly shaken by the events surrounding MH17 and were excited to be flying home.
"Miss…?"
"Yes, sweetheart," I replied.
"I'm in the Calvé peanut butter commercial!"
"Wow, I thought I recognised you. May I get a snapshot with you just now?"
Full of pride, he answered "Yes" and that's how it happened. With the super large Minion of course…
I exchanged email addresses with Quinn's mother. On my return, I wrote to her: "It was great that you were in my zone. After all the sad news about MH17, it was a pleasure to welcome a child like Quinn on board. It gave me the strength and energy to bring my flight to a satisfactory conclusion. Here are the photos as promised!" I also had a look at the commercial again from the comfort of my living room and was thoroughly impressed by Quinn's performance! The spitting image of a junior Van Persie :).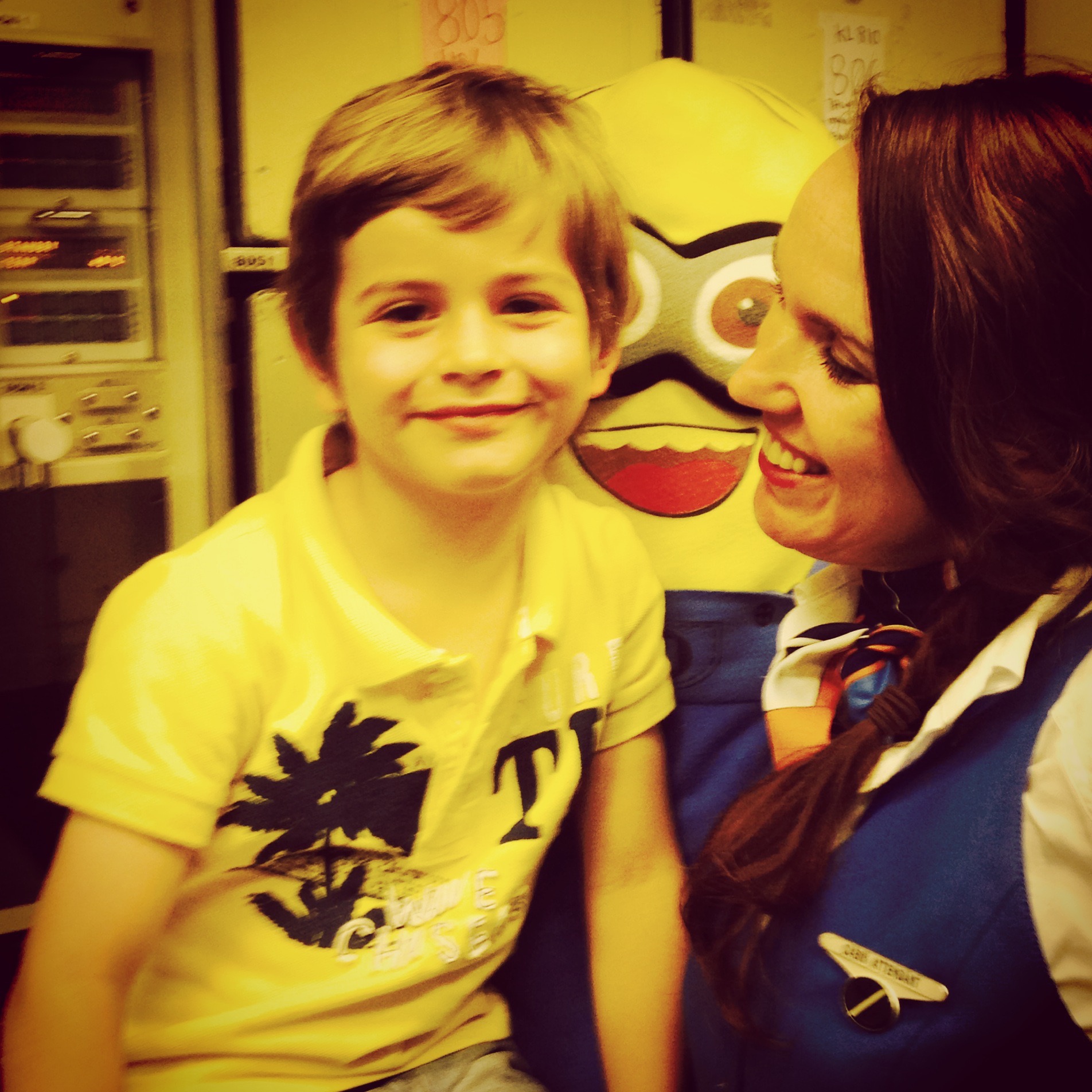 Mini Celebrity
"Fantastic photos! Quinn is really proud of them. We really weren't looking forward to the return flight because of the terrible events surrounding the Malaysian Airlines flight. But, because of you and your colleagues, it turned out to be a calm and relaxed journey. Thanks for that and for your kind words!!" Her response confirmed the fact that despite my reservations about flying, we did our job properly as the flight crew.
Two short stories – from a series of many. Not only experienced by me, but familiar to numerous (ground crew) colleagues as well. Some even find true love on board, others make friends… Either way, flying makes me a better person.
Ps. For more travel photo's follow me @dareshegoes on Instagram.