U heeft waarschijnlijk al vaker dan eens met KLM gevlogen. De kans is groot dat u daarbij een keer in bijzonder gezelschap verkeerde… En dan heb ik het niet over passagiers of bemanning. KLM heeft Boeing 747-400 combitoestellen in haar vloot. In dit vliegtuig zit het passagiersgedeelte voor in het toestel en het vrachtgedeelte op het hoofddek achter in het toestel. Dus misschien werd u tijdens uw vlucht wel vergezeld door bijzondere vracht.
Van Gogh
In 2010 hield het National Art Centre in Tokio een tentoonstelling met werken van Vincent van Gogh, afkomstig uit de collecties van het Van Gogh Museum en het Kröller-Müller Museum. KLM kreeg de opdracht om de kunstwerken naar Tokio te vliegen. Nadat het vliegtuig met de schilderijen aan boord was vertrokken, kwamen ze bij het Van Gogh Museum tot de ontdekking dat ze een schilderij waren vergeten. Op het laatste moment slaagde KLM Cargo erin deze Van Gogh met de volgende vlucht mee te krijgen. De piloot was zo vereerd dat hij dit beroemde kunstwerk mocht vervoeren, dat hij het schilderij bij hem in de cockpit zette en het "met zijn leven" bewaakte.
Henri Matisse
In hetzelfde jaar vervoerde KLM ook het wereldberoemde schilderij 'De dans' (La Danse) van de Franse kunstenaar Henri Matisse van de Hermitage in Sint-Petersburg naar Amsterdam. Dit schilderij van formaat is maar liefst 4,22 meter breed en 2,90 meter hoog, en woog, samen met de kist waarin het werd vervoerd, rond de 400 kilo. Het vervoer van een echte Matisse is natuurlijk een serieuze aangelegenheid. Daarom werd deze waardevolle lading begeleid door twee 'load masters', die toezicht hielden tijdens het laden en lossen in Sint-Petersburg en op Schiphol.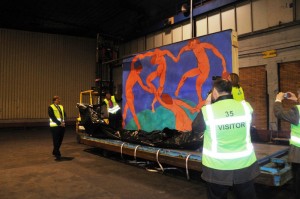 Grote kunstwerken worden meestal in dit soort combitoestellen vervoerd, omdat een medewerker van het vervoersbedrijf of een beveiligingsexpert dan een oogje in het zeil kan houden. Het aan boord laden van kunstwerken vergt namelijk specifieke kennis. De kunstwerken mogen uiteraard niet op elkaar worden gestapeld en moeten evenwijdig aan de lengte van het toestel aan boord worden geplaatst. Zo komt er minder druk op het doek te staan en kan het schilderij stabieler worden vervoerd.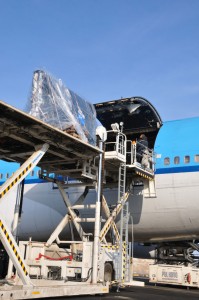 Zo ziet u; bij het vervoer van een echte Van Gogh of een vier meter brede Matisse van het ene continent naar het andere komt meer kijken dan een sterke kist en een bagageruim met temperatuurcontrole.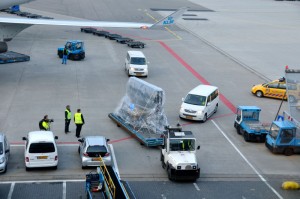 De volgende keer dat u aan boord van een van onze zestien Boeing 747-400 combitoestellen reist, bevindt u zich misschien in "bijzonder gezelschap"…
Karin
Corporate Communications