Last week I was on standby again. In a former blog, I wrote about these two-week shifts, during which we have to be available for KLM in the event of disruptions or if a colleague has fallen ill.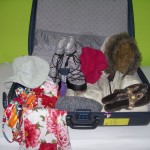 I'd moved to the countryside since my last standby shift and this means an extra hour's drive to the airport. Consequently, when I'm on standby, I can't stay at home anymore since KLM might need me at an hour's notice.
So for my first standby since moving, I drove off at 5 a.m., my suitcase packed for all seasons, and with the roads to myself. At one point I even started to believe that I was the only one awake at that hour. However, when I arrived at the airport, I realized I was wrong. The crew centre was buzzing with crew members arriving or leaving on an early flight. My self-pity was gone in a split second.
I also discovered that I wasn't the only one spending time at the airport.
KLM provides its flight staff with a crew restroom and I was highly surprised by the number of people there at this early hour. Some were spending time here between flights; others were on standby as well. A few of them had pagers as they were on airport standby, mostly in the event of disruptions to European flights. They could be at the gate within ten minutes if needed.
Every ring of a phone would startle the group of standby crew. I had very mixed feelings about it: on the one hand, I hoped for a flight so that I would be clear about my whereabouts for the next two weeks. On the other hand, I was kind of enjoying myself with this group of colleagues who were all in the same boat. We had some nice conversations and when the pagers started to squeak halfway through the morning, we were all rather disappointed.
I drove back home that afternoon without having been called for a flight. However, the next morning I did get a call on my way to the airport – I would be off to Lima later that morning. Obviously, I was relieved. In the crew restroom, I said goodbye to my 'standby friends' and wished them luck. And, deep down, I regretted that I wouldn't be spending another day with them.