Tropical temperatures and prevailing winds guarantee a pleasant stay on Bonaire, a Dutch community in the Caribbean. Kralendijk is the largest place, yet is still small and easy to get around. It has a harbour for cruise ships, a yacht marina, a charming boulevard, and great bars and restaurants. No one is in a hurry on Bonaire. Life meanders slowly, and the locals are friendly and unpretentious. You get that lovely island feeling right away.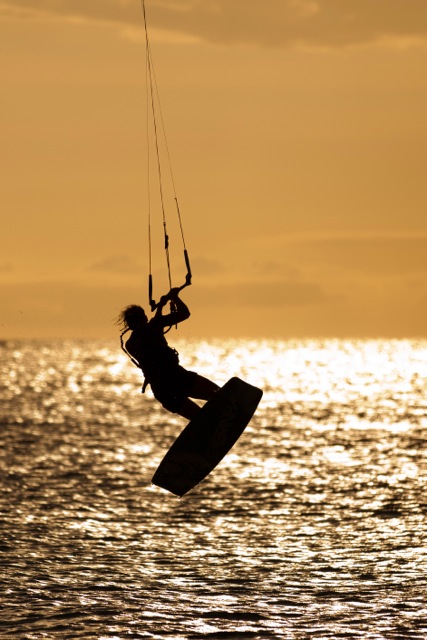 [tweet text="No one is in a hurry on Bonaire. Life meanders slowly, and the locals are friendly and unpretentious."]
Surfers Place
On my hired scooter, I ride to Sorobon Beach where the local windsurfing legends train. Freestyle flat-water champions such as Caesar Finies strut their stuff here. These young man and women have been windsurfing here since they were little children. Now they are instructors at the Jibe City windsurfing school. I am here to take action photos of them. I'm standing up to my waist in Lac Bay, which leads to the sea. The wind here is perfect. The water is flat and you can stand everywhere. It's the perfect place to learn how to windsurf or freestyle. The trainers take turns coming around to me to so I can take photos of high jumps and lots of splashing water. At the Hang Out Beach Bar near Jibe City, I check my camera screen to see I've taken some great photos.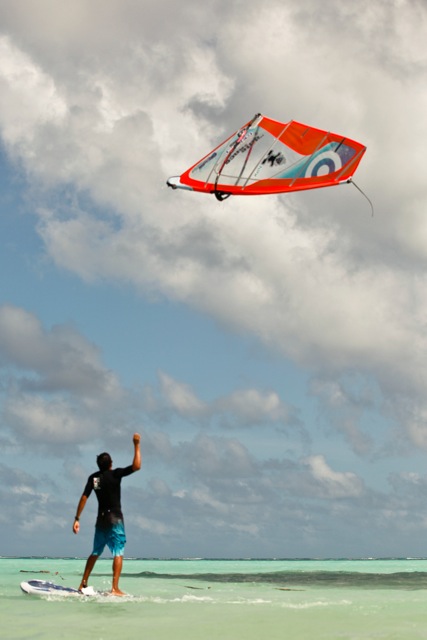 Kite surfing
If you love water sports, you'll be right at home on Bonaire. In addition to the many diving schools on the island, kite surfing is extremely popular. Atlantis Beach, perhaps better known as Kite Beach, is the best place for kite surfing on the island. Here, an offshore wind crosses the beach offering the perfect conditions, especially since no other water sports take place here.
Lars runs the Bonaire Kite School. He's teaching one of my colleagues. The beach is located near some of the old slave houses and salt extraction lakes. It's a beautiful place to watch the sunset. If you come to this beach, be sure to eat one of Hagen's burgers. He makes them from lionfish he's caught himself. The best burger I've ever eaten.

Jacques Cousteau
I take a trip on the Aquaspace, a glass-bottom boat. It's a trimaran that the French architect Jacques Rougerie built for the famous sea explorer Jacques Cousteau. Through the thick glass walls on the underwater observation deck, you can look down into the sea. It's as if you were swimming in a large aquarium. I can't believe my luck as I watch a pod of dolphins swimming along in front of the boat. I can hear the squeaks of these intelligent mammals as they seem to dance in our bow wave. Edwin Sluis is the captain on this former research boat. He organises sailing tours complete with snorkelling and a delicious barbecue.
And I'm in luck. The kibra hacha trees are in blossom. These yellow flowers come out just two days of the year, all over the island.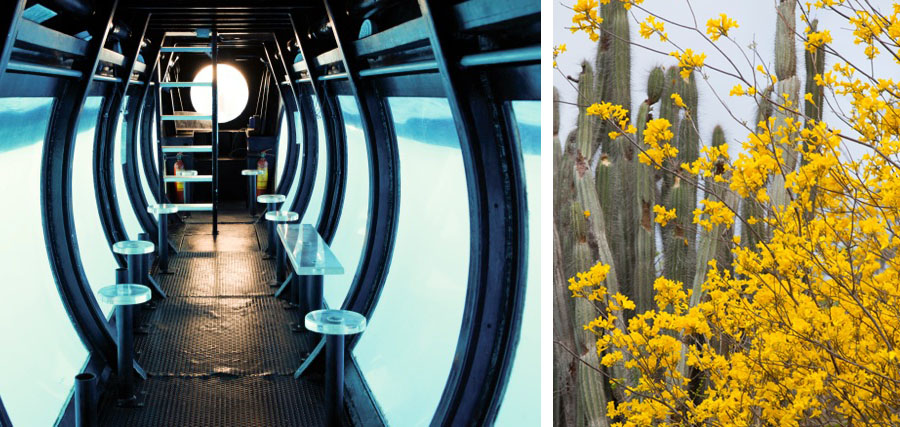 In short: Jör's travel tips for Bonaire
–       visit the lively and charming town of Kralendijk
–       Sorobon Beach is windsurfing paradise
–       Atlantis Beach is the best place for kite surfing
–       Eat a lionfish burger at Hagen. They are delicious!
–       Take a trip on the Aquaspace, a glass-bottom boat.