Flight simulators have changed quite a bit since they were introduced over a century ago. They are now a key part of training for pilots and cabin crew.
The earliest ones, which date from the beginning of the 20th century, were little more than a seat with some fake controls. These were mounted on a pivoted base so that assistants on the ground could physically move the improvised plane to the left or right, according to the pilot's steering.
Today's full-flight simulators are identical to a real cockpit, right down to the shape and position of each dial and switch. These simulators are also equipped with motion (a movable platform which simulates the acceleration of a real aircraft) and visual (an image display system for the simulation of the outside world as seen by the cockpit crew through the cockpit windows) systems.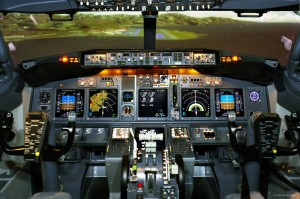 'SimCity'
KLM currently has nine full-flight cockpit simulators, with separate equipment for every aircraft type. Any modifications made to the cockpit of a real aircraft are carried over to the simulators. Pilots are required to complete two proof checks and three recurrent checks in a full-flight simulator per year. The use of high-tech equipment makes it possible to simulate real-life situations. As a result, experienced crews require little training in real aircraft. This considerably reduces training costs, noise pollution and CO2 emissions.
One procedure that pilots have been familiarising themselves with in recent months is the Continuous Descent Approach (CDA). This is effectively one long glide, rather than a step-like descent, from cruise altitude to the runway, which minimises engine power and fuel usage. The CDA not only saves fuel but also reduces noise on the ground, to the benefit of the residents in the wider area of Schiphol Airport.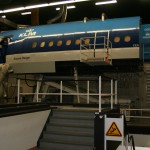 Pilots are not the only ones who benefit from simulation software; cabin crew use it to perfect a range of safety procedures. In the cabin crew simulator, the crew deal with a 'flight' that requires all of their flight safety skills to prepare them in case of emergency in a real situation. In addition, on-board equipment as well as door trainers for all the different aircraft types are used for training and drills.
Such drills are part of the requirement to complete two flight safety recurrent training sessions a year, as well as type conversion training. In addition, cabin crew and flight crew complete a full day of training together where crew resource management is the leading spirit for both parties.
Open 24/7
Within Flight Operations, technical experts from the internal engineering and maintenance teams perform the crucial function of maintaining KLM's flight simulators. In spite of the complexity of simulators, they guarantee 99% availability. That's not an easy target to meet, but it does mean cockpit and cabin crew training can proceed with minimal disruption, 24 hours a day, seven days a week.
Karin
Corporate Communications