Taking off with… Milou Hielkema | Aircraft Mechanic
If you've ever flown in a KLM Boeing 737, there's a good chance that Milou (30) has worked on it at some time. Clearly, she isn't afraid to choose her own path. After all, not every fifteen-year-old girl chooses to train as an aircraft mechanic. Following her training she started with KLM as an intern in the hangar at the age of eighteen and never looked back. For twelve years, now, she has stood shoulder-to shoulder in a blue KLM world populated largely by men. At home she's devoted to her family. At work she's a complete colleague. She never hesitates to take that extra step if she knows it will help her team. Amidst a friendly team she works enthusiastically on her 737 in Hangar 14.
Short biography
Date of birth: 23 May 1988
Place of birth: Dronten
Position: Boeing 737 aircraft mechanic at KLM Engineering & Maintenance
Personal: Living together, four-year-old daughter
Career: Joined KLM in 2007
My job
I perform major maintenance – called the aircraft C Check – on KLM's Boeing 737s. The aircraft come to us about every two years depending on the amount of flight hours, take-offs, and landings they've run up. The time we need to work on an aircraft can vary between a week up to three or even four weeks. Right now, we now have a major C Check going. In that case, we check absolutely everything. We empty the entire cabin and interior side walls, and we remove the seats. Outside, we open up the wings and inspect everything. All in all, we do a thorough check according to Boeing's official guidelines, which leave nothing to the imagination.
During the inspections, we find and replace a wide variety of things based on malfunctions that have been recorded. We write non-routine cardsfor these issues. We check the seats completely, for instance, to see if the pocket springs work properly, or that the armrests come down, or that the tables fold back properly. We replace filters in the engines, lubricate undercarriages and flaps – everything actually. It's pretty much like a major car check-up.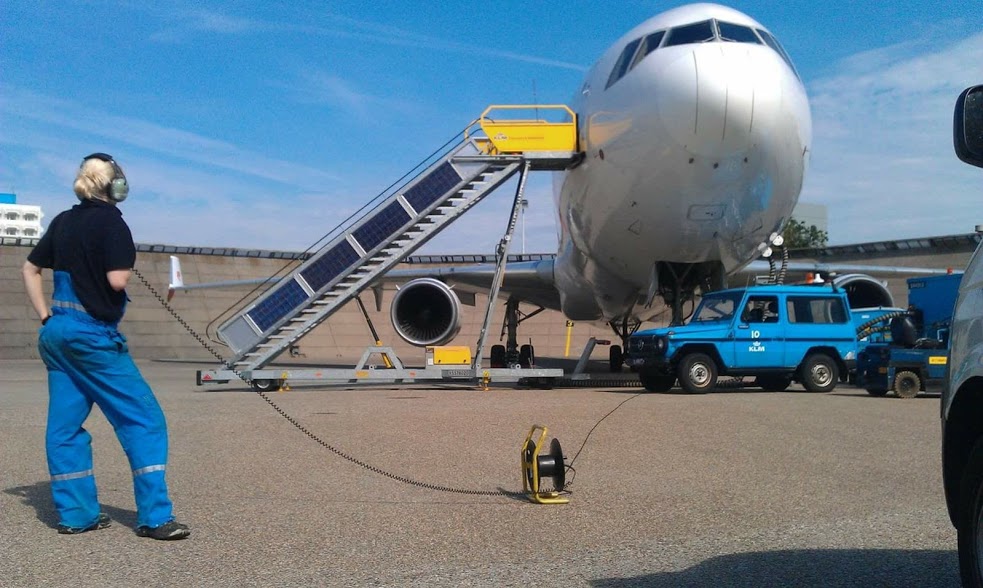 Team make-up
We have three teams working on each aircraft. The transverse team works from wing to wing, on the undercarriages and the engines. The length team works from head to tail on the aircraft exterior and takes care of the cockpit. The cabin team works on everything in the aircraft interior. As mechanics, we rotate the teams. That makes it a lot of fun, because we do everything. One day I'll be changing a landing gear. The next, I'll replace a sticker on the hull. The day after that, I'll install a row of seats.
New mechanics
We have had a regular team of mechanics for years, but now a little fresh blood is coming in. That's new and fun. We have to explain to others how things work at KLM and we show them some useful tricks during aircraft maintenance. But that goes both ways. They look critically at things that we have been doing for years and sometimes they know how to do things better than we do.
Working at…
I was in secondary school and I actually wanted to go into the Air Force. Then I saw a leaflet advertising a training course to become an aircraft mechanic. That's a lower secondary school course and I could do it in my hometown of Zwolle. It looked pretty cool so I decided to try it. After that I did an internship at KLM in Hangar 10. I did two internships in all. When I was 18, I got a one-year contract and I have been working at KLM for twelve years now.
I met my boyfriend during my internship. He also worked for us on the floor. We got to talking at work and decided to go out together. Well, now we have a daughter. Very often, we work swing shifts. He takes day shifts and I work evenings. We were working on the same team then, but it wasn't a problem. We didn't know any better. You got to know each other at work. That went without saying.
At home
Sometimes at home we talk about work. After all, he knows what things are like. If I tell someone who isn't a mechanic that I changed a landing gear or removed a flap and everything went wrong, it means nothing to them. But he knows what I mean. Even so, we also like to keep our family life separate and we talk more about that.
An average day
We start our days by checking in with the lead ground engineer together with the team. This way we can find out if anyone has called in sick, if we are on schedule, and other things we need to know about the project or the hangar. He then divides up the tasks and we get a number of jobs for that day. Sometimes we work as a team, sometimes we're alone. It depends on the work. Then I grab a tool cart and get to work.
The work goes on
My work never stops. It depends on the kind of job at hand. For example, on a day when I havea lot of small jobs, I'll work half an hour here and a half hour there, and I can move through everything smoothly. Then I have ten task cards – job assignments – and I do the administration in between tasks. There is always a little time to joke around with friends. But there are also jobs that can take several days at a time, such as changing the landing gears. That can take several shifts so other people will work on it besides me. At the end of those jobs, I have to write a clear transfer report so the evening shift knows exactly how far I've got and where they have to continue.
A woman in a team of men
There are two women on the narrow body team at Hangar 14, Klaasje and me. There are also women on other teams at other hangars – ground engineers and mechanics alike. But we're the exceptions. I sometimes have the feeling that everyone notices when I enter another hangar. Just imagine, a woman on the floor! It took them some time to get used to us. They were a close-knit male team and they weren't sure what kind of jokes they could or couldn't make. Now everyone feels at ease. It is very relaxed and we belong. We've been working together for a long time, now.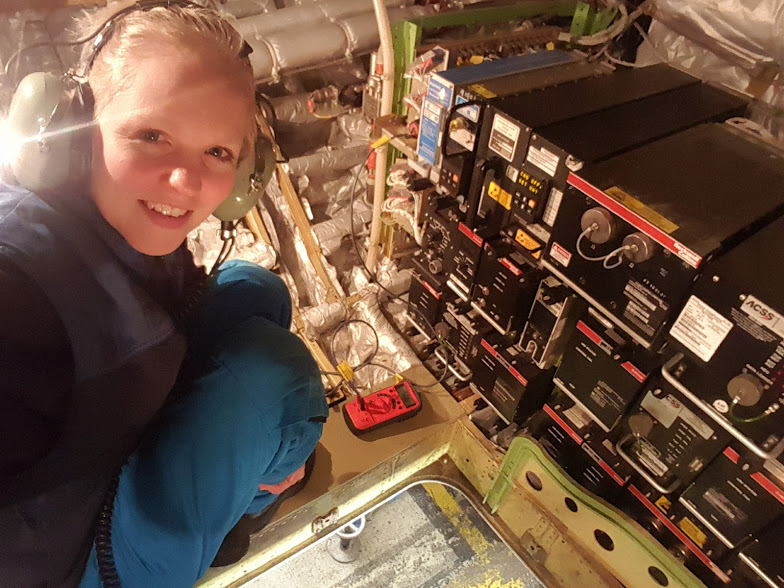 A culture of our own
Engineering & Maintenance has its own culture. There's no nonsense, it's more straightforward, and you can just say what's on your mind. People expect you to do what you're supposed to do. I like that about this group.
Team atmosphere
But I think we have a lot of fun together. That's important in the workplace. There are also a few colleagues who I see after work. Sometimes the whole team gets together outside work. This summer we took a boat through the Amsterdam canals. We all try to have a drink a few times a year with a decent portion of the team. We never quite manage to get everyone together. But whoever wants to, and can, is welcome.
Indispensable
In this job you have to be able to communicate clearly because you have to write down a correct transfer report that others can understand. In some cases, jobs may stop for three or four days at a time. But if one person picks up a job after four days, then it's important that they understand from my transfer where and how to proceed. All transfers are in English – all the paperwork actually – so knowledge of English is absolutely necessary. I sometimes joke that anyone could do this job, because we often work according to a manual that describes everything step-by-step. But we learn tricks of the trade through experience that make our work easier. It also helps to be good with your hands in addition to knowledge of the system.
Favourite part
I like changing landing gears the most, but that doesn't happen a lot. It's a bigger job and has to be done across several shifts. It gets you very dirty and I really like that. But I really like everything because there's so much variation.
Unforgettable
When a plane flies through a flock of birds, there is good chance that a bird-strikes will occur. I remember once that it had happened to an airline for whom we did not yet perform maintenance. So a whole variety of paperwork had to be prepared before we could start work. As a result, the plane was left outside for three weeks. There were birds everywhere. The whole engine was full of dents and birds, or pieces of them. There was even half a bird in the nose door and more in the landing gear. That was pretty dramatic. Finally we had to change the entire engine and some other parts as well. We don't do a lot of work on the engines themselves. They get sent to the engine department. An engine that has experienced a bird-strike gives off a very specific smell. You can tell it immediately. Also fuel and certain types of grease have strong odours. You won't find those smells anywhere else – only here.
Special experience
One time, I had to go to Edinburgh to change a cockpit window. It had developed a crack during take-off. I was supposed to have a weekend and evening shift. They called me at home at 11:00 in the morning saying, "Will you and your colleague Peter be able to go to Edinburgh at 3:00 this afternoon to change a cockpit window?" It was pretty stressful because we had to get our stuff quickly, print some manuals, pack everything, shoes and overalls, manuals, tools – more or less anything that we thought we might need. Getting on board was also stressful. There were problems with the tickets because it all happened at the last minute, while our colleague was loading the new cockpit window into the cargo hold. We had to run to catch the flight. When we arrived, our plane was waiting on the apron far away. It was winter so it was getting dark early. We started the job at 5:00 PM. The temperature was nearly freezing – very cold on the fingers, in the dark – and the airport had placed spotlights for us. We changed the window and then slept there overnight so we could take the flight back at 11:00 the next morning. I didn't get to see anything of Edinburgh. The people from the airport and the control tower were very friendly, but that's all that I got to see. So I'll have to go back again sometime.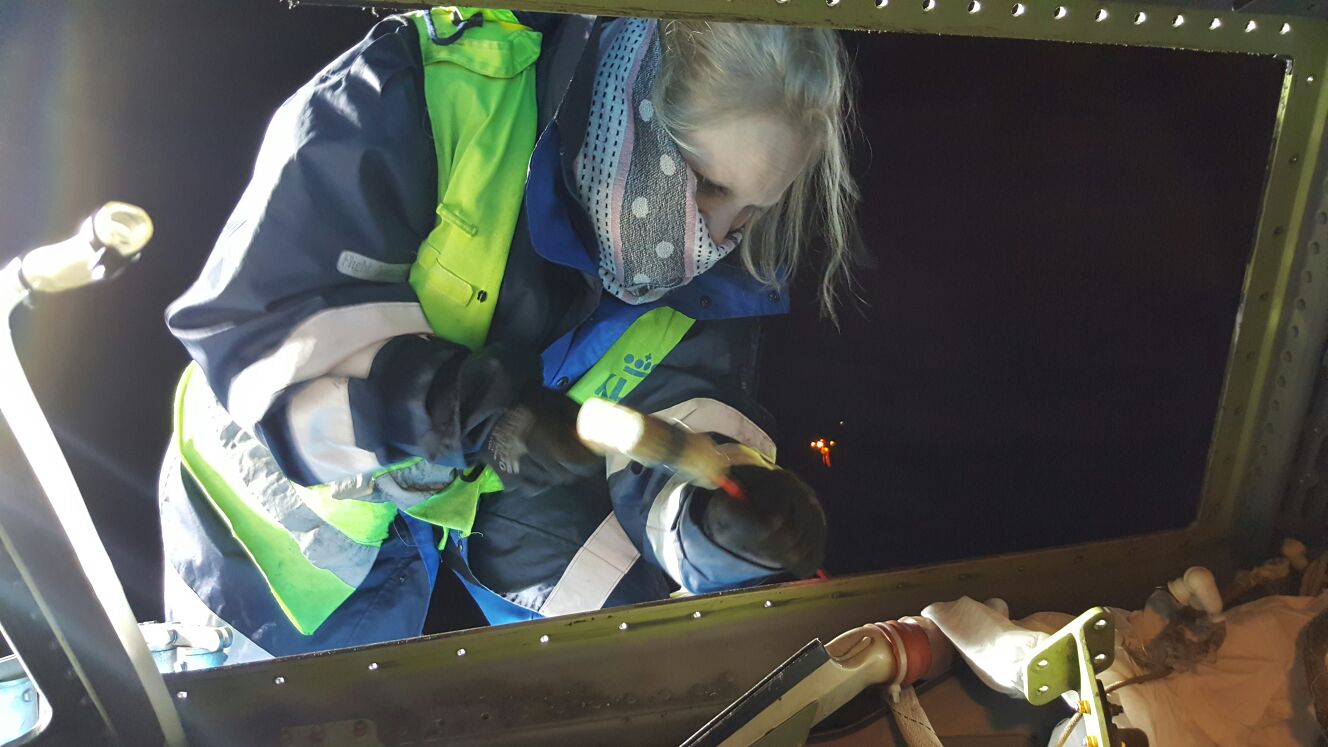 I learn from…
I learn from a lot of people here. Everything about the operation is deeply so intertwined that you get something from everyone. There is a whole team, from young mechanics to ground mechanics, and we all learn from each other.
Some of the things you don't think about
Some aspects of my job are very dirty. For instance, we have to deal with whole toilet system. I have small hands and am a bit smaller than many people on the team, so sometimes they'll ask me to help with certain jobs. One time, I had to help a colleague who had dropped his screwdriver into the toilet. I wrapped a large plastic bag around my arm and felt around to find the screwdriver in the toilet bowl. Well, I can laugh about it now but, wow, was thatdirty! Early on, I also had to climb into the fuel tank pretty often. It's divided into small compartments in the wing so there are only a few people who can do that.
The best tip
I think that, when you're new, you just have to pay constant attention, ask as many questions as you can, and be open to learning as much as possible. Try to take the extra step. The best thing is if you can show that you really want to learn and do well.
A stressful job
In principle, we should have enough time here to finish every job on time. Even so, you always have to keep an eye on things. Everything finally comes down to flight safety. You always have to keep your shoulder to the wheel and double-check everything you do. When an aircraft is about to undergo its last day of maintenance, we test the engines one last time. If there are still problems, the pressure can be high to get everything done on time. Sometimes we have to continue working and there's no time for a coffee-break.
Coffee break
People in the office can drink coffee any time they want. They can just walk away from their computers and get some. We have fixed coffee-break times but, basically, we work all day long. Sometimes, when we do our admin, we can sit at the computer and drink a cup of coffee. So that's always a good chance.
A day off
I'm close to my family. I have a four-year-old daughter who has just started at primary school. So, on my free day, I'm especially busy with her. I often go with her to a farm nearby or to the local playground, or a visit to the grandparents – my parents-in-law live nearby. My own family lives in Kampen, a little further away, but I do drive there regularly to say hello.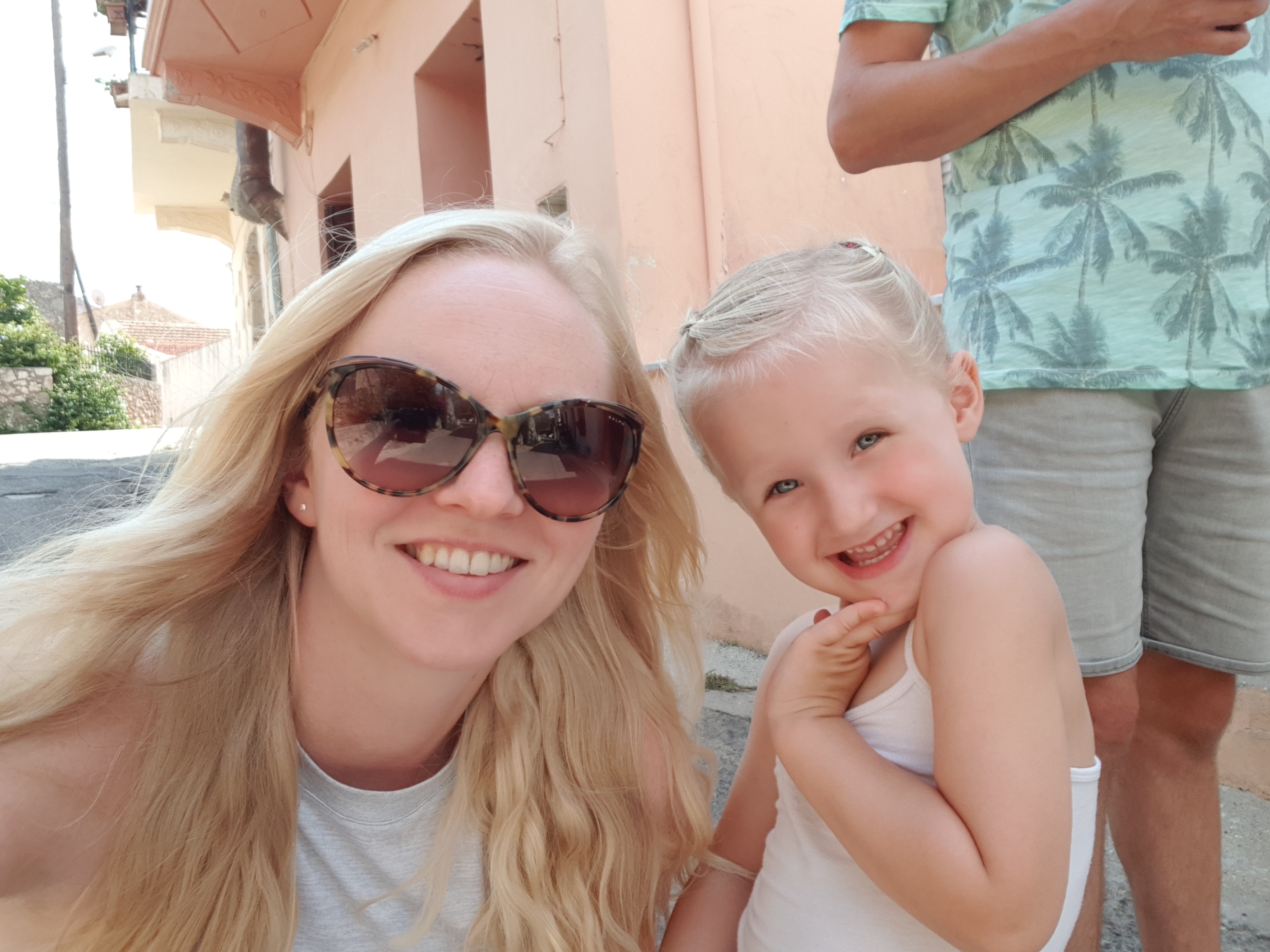 Keeping fit
I turned thirty this year. I have a physical job. I am always walking or standing and sometimes you have to stand in crazy positions for a long period of time, and you can feel it. So staying fit has become important to me. When I have an evening shift, I try to swim some lengths in the pool in the morning, or I'll play squash with a friend.
Special
I see parts of an aircraft that no one else ever sees. For us that's normal. Even so, it's pretty cool to do what I do. It's easy to forget but, in the end, we're the ones who make sure that the planes keep flying. We keep the planes fit. I don't think people always realise that, beyond the crew, there is an entire team behind each airplane. There are so many departments and people working on the plane to make sure it gets up into the air. There are a total of eighty people here alone and they all work on the Boeing 737s. There are even more people working at Schiphol-Centrum. It's really pretty cool when you think about it.
A special memory
A few years ago we moved from Hangar 10 to Hangar 14. On the last day in that hangar, there was a special atmosphere. We had been working there for so long. It was in the middle of the summer. The sun was shining and the hangar doors were open. The plane looked good and it was ready to go. It was towed outside and stopped on the apron in front of the hangar doors. It was the last plane to leave Hangar 10, shining in the sun. Everyone was taking pictures – of the plane and of each other. The team stood in front of the plane and we took a group picture. We were all a little sad to leave Hangar 10, but we also realised that it was very special moment.
The extra stap
When a job takes longer than usual and the delivery deadline is tight, you can always be sure to find two or three people willing to work a little longer, just for the good of the team. It allows the next team to start testing the very next day. We never have to ask a manager to sort it out, because we can arrange it ourselves. The fact that your shift is done – that's no reason to leave your team members in the lurch. We all want to deliver the plane on time and do our job well. That's what we're here for.
A great KLM memory
I'll never forget the moment I got my permanent contract! One manager did his very best to see to that. That was really great. It's the reason I'm still here.
A feeling for technology
One time, I helped a friend by installing a simple electrical socket in her house, while she thought "I couldn't possibly do that." Sometimes my friends ask me to help them with technical things. But, if I'm honest, it's different at home. My boyfriend is the one who does most of the chores in and around the house. There's always something to do in the house. For example, he replaced the roof together with a friend. We have a flat roof and it was covered with pebbles. First those had to be moved to the neighbours' roof. We spent full a day just doing that. It was a terrible job, but it looks great now.
Do it yourself
When we bought our house, the two of us needed a full a year to rebuild it. We did everything – the toilet, the bathroom, we replaced the kitchen, and we did all the painting. Upstairs we moved a wall, we built a cupboard wall, and installed new floors everywhere. We only let someone else do the plaster and, fortunately, the electricity was still in good condition. We lived with my parents-in-law for a while and, during that time, we did everything outside our working hours. Two weeks before Christmas we were able to move in.
A life lesson
My mother is very creative and I think that, as children, we learned that you can be just as crazy as you like. That means you can make your own rules and find your own path. I was fifteen when I decided to do my training as a mechanic. Many people around me wondered if that was a good idea, but my mother thought it was perfectly logical. I think she already knew it was a good match for me.
Early training
My dad always made me fix my own bicycle tyres. He did it once and, after that, I had to do it myself. I have two brothers and that was case for all of us. But I always enjoyed tinkering with my dad.
The best trip
My boyfriend and I went to Budapest once. That was one of the best holidays I've ever had. It wasn't long – just four days. But I'll cherish those wonderful memories. The city is incredibly beautiful. We walked all day and did nothing other than look around. It may not have the most beautiful nature, but there is so much to experience there.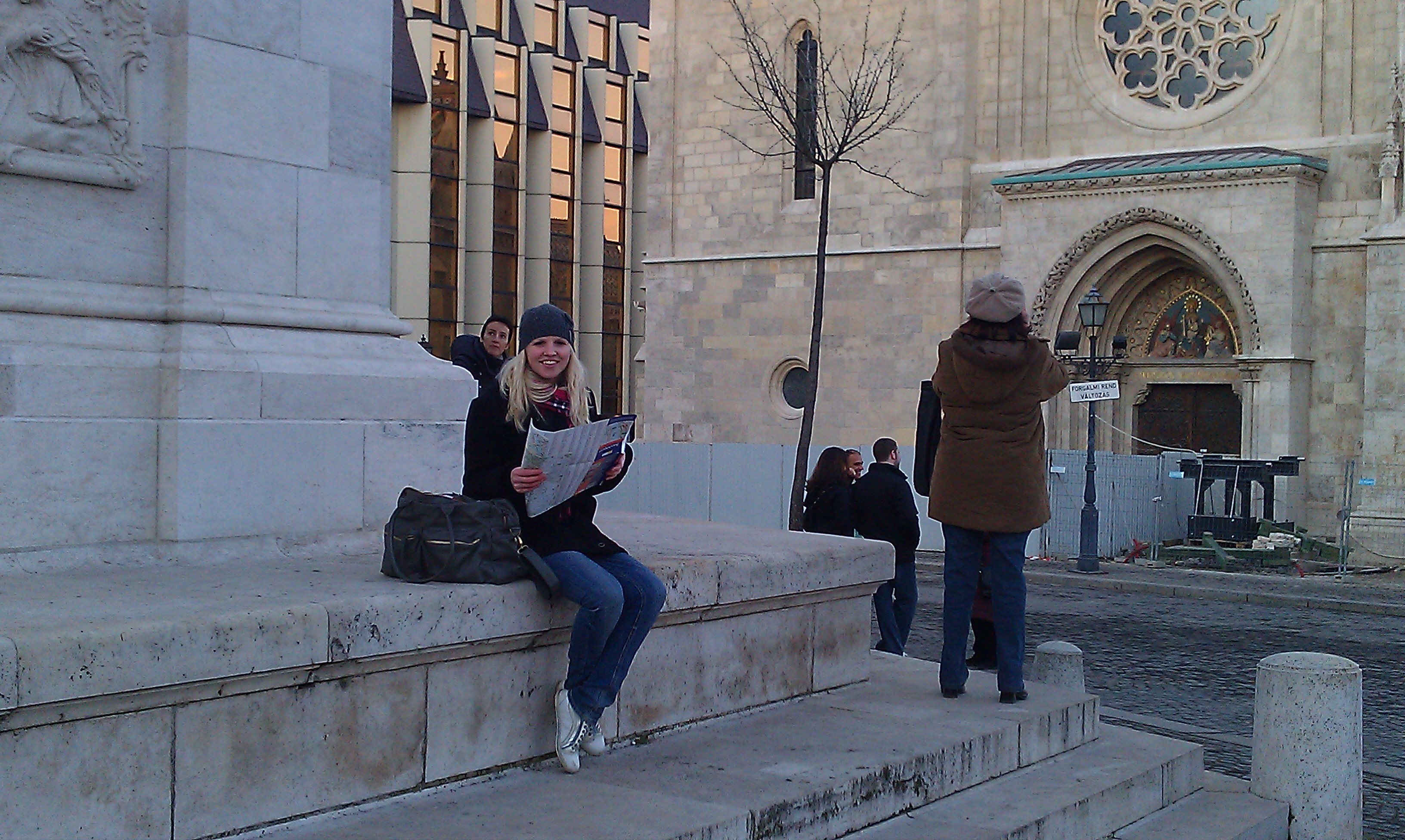 My bucket list
I'd love to go back to Edinburgh sometime. We've been talking about going to Cuba for a long time. But, if I'm completely honest, I don't really love to fly, so I'm not sure if anything will ever come of that. Sometime, I'd like to strike out on my own. I've never done that and I want to see what that's like.
My favourite holiday destination
We really enjoy exploring the Greek islands – hopping from one to the next. We've already been to Crete, Zakynthos, and Thassos.
A holiday with the children
Last year we booked our trip pretty late and went to Crete with our daughter. She was so good! We took along a colouring book, some food, and drinks, and everything went perfectly. Mostly we just kicked back at the pool or went to the beach. We love Greek food and drink! It was really relaxing. We hired a car and toured the island for a few days and saw towns and mountains everywhere. You can't drive all day with a little one in the car. You adjust your daily rhythm accordingly. But in the end, she really liked it too.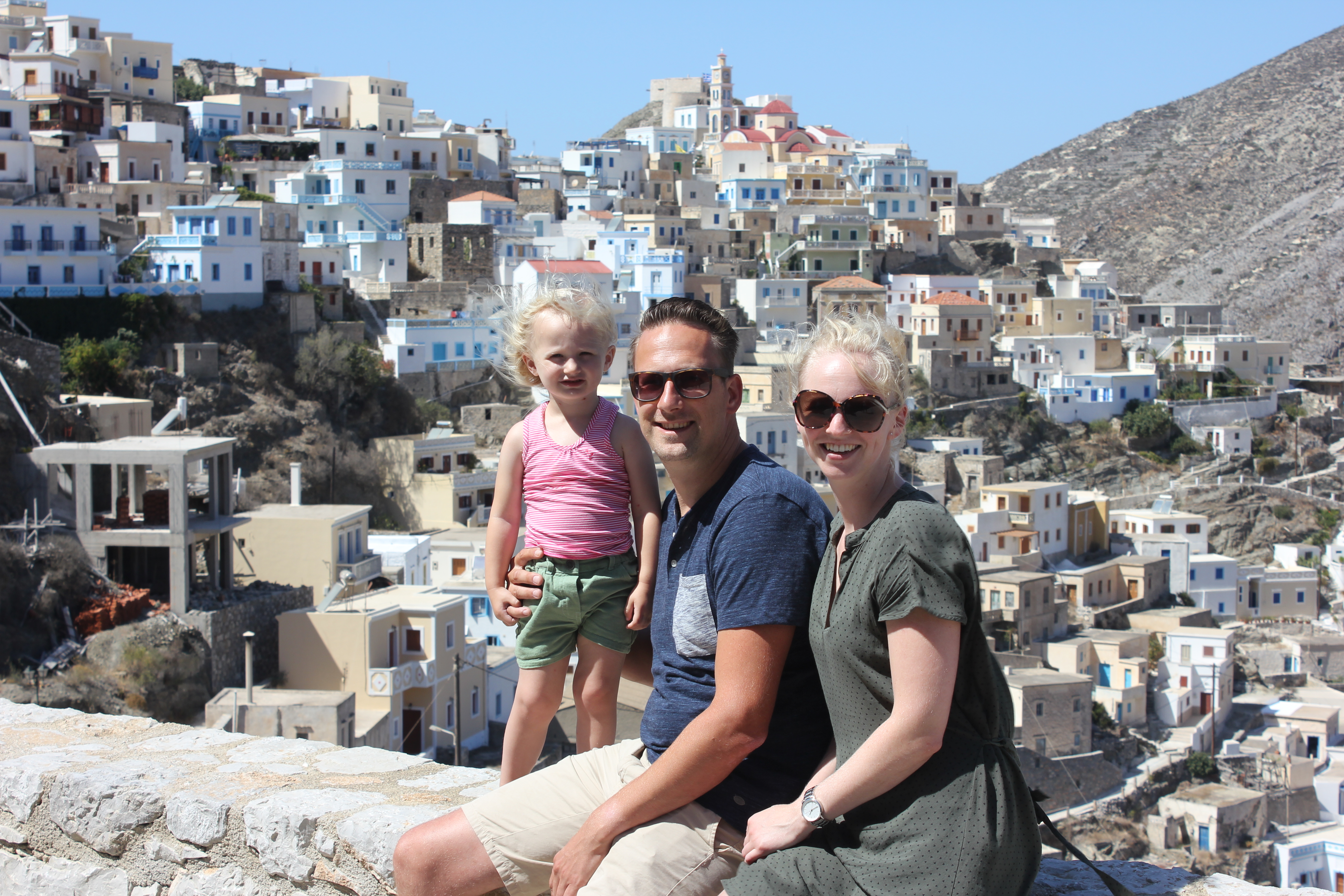 Senses
I'm highly sensitive to smells. There are moments when my boyfriend thinks I'm crazy, but sometimes I don't even like the smell of the glass, while he smells absolutely nothing. For example, I really don't like the smell of copper. I love clean, fresh, and lemony aromas. But I also love the smell of wet grass or just the outside air. Or when it rains in the summer – I love that smell.
Wake me up
I love snow. As far as I'm concerned, you can wake me up anytime it's snowing outside. Then I like going outside in the dark. My daughter is still too small yet but, sometime, I want to wake her up to walk outside in the snow for half an hour. At this age, it's harder to get her to sleep so I don't do that. But, in the future, when she gets a bit older and she's more willing to go to bed, we'll definitely do that.
Proud
I am proud to be a woman working here. When I first started, people looked at me and said "What are you doing here?" "Women don't fit in here," or "In two years from now you'll end up in the office." As a woman, it's not always easy to work when you have a family, but I'm really proud to be here now.
In the plane
I prefer to have a window seat just behind the wing. That way, I can see what's happening everywhere. Sometimes I'll notice that a seal isn't properly tightened or I can already detect problems just from their sound. At that position, I can hear if the hydraulic pumps are running correctly. These are some of the things you take away from your work, and you never forget them. I always remain critical, even when I'm on holiday as a regular passenger.
At KLM…many of us have a blue heart beating secretly for KLM.
At home…everyone's welcome – anytime.