Taking Off With… Annemiek Van Anten | Senior Purser at KLM
 In the series "Taking off with…", I'll be interviewing some of my 32,000 colleagues at KLM. Does this story sound familiar? If so, that's because this piece was partly published in the Holland Herald of May 2018. In this blog, you can read the full story.
This purser is crazy about Shanghai. The city won her heart and never let her go. She also loves her job at KLM. It's a  way of life for Annemiek and she wouldn't have it any other way. Her attitude to life – go for it, even if the timing isn't perfect – has taken her far. What this working mum loves most is being with her children! Preferably exploring the world together.
Short biography
Date of birth: 21 August 1968
Place of birth: Wormer, Netherlands
Position: Senior Purser at KLM Inflight Services
Personal: Annemiek is a mother of two, Julia (13) and Marijn (11), and is in a relationship.
Career: She joined NLM Cityhopper on 20 December 1988 and transferred to KLM worldwide three years later. She has been a purser since 2008.
20 December
That was the day I joined NLM Cityhopper in 1988. It doesn't seem that long ago. The date is also on my KLM ID card. It follows you around for your whole career.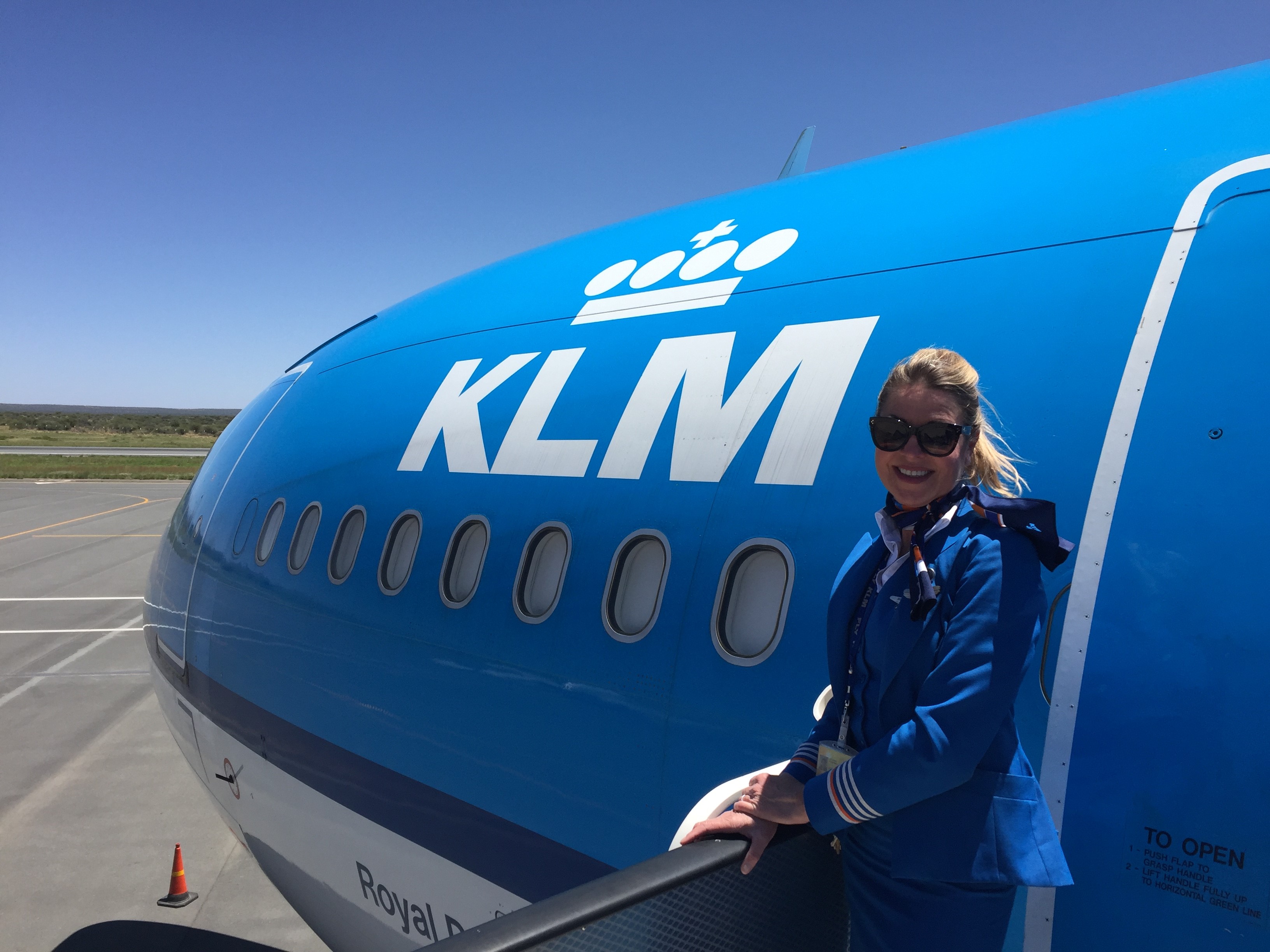 Way of life
I wanted to study communications, but there were so many applications, they had a lottery, and I lost out. That's how I ended up applying for a job at NLM (now KLM Cityhopper). My plan was to fly for a few years and then move on. "A few" eventually became 29 years, but I still really enjoy it. It really is a way of life. I wouldn't want to do anything else, really. I can't, actually… (She laughs heartily.) That's nonsense, of course. It's just that your work and private life become so intertwined in this business, it's hard to separate them.
Freedom
My job offers an enormous sense of freedom. It takes me all over the world. And when I'm at home, I really have time to myself. It's a wonderful lifestyle, with lots of freedom. There's always something new to discover when you travel.
Parenting
Before I had children, I didn't mind how far I had to travel for work or how long I was away. That changed when the kids arrived. Nowadays, I prefer shorter trips, in terms of distance and time. I co-parent with the children's father, which means I'm with the kids full-time in the weeks they're with me. That feels like quite a luxury. Bear in mind that, my children were accustomed to me being away from a very young age. Children get used to that, but they really like it when I'm home. My children are pretty flexible and I think the demands of my job contributed to this.
What I love about my work
Cabin attendants leave home has individuals, but within 15 minutes of meeting each other, we've bonded and we're pulling together. That's pretty amazing, considering that some of us have only known each other for 20 minutes. One of the most marvellous things is how a team forms during a flight through real teamwork. Passengers often tell me how impressed they are by the cooperative spirit between crew and how well we work together in the cabin. In fact, passengers are also part of the team, in a way. What I love most about my job is the contact I have with passengers and my colleagues on board.
Orchestra
I think KLM is very good at selecting a certain type of person. People with a bit of life experience and they're always highly dedicated men and women, very service-oriented. This forges a bond on board, much like musicians in an orchestra, making beautiful music together. We need to have a strong bond to achieve our goal. If one person slips up, another works just a little bit harder.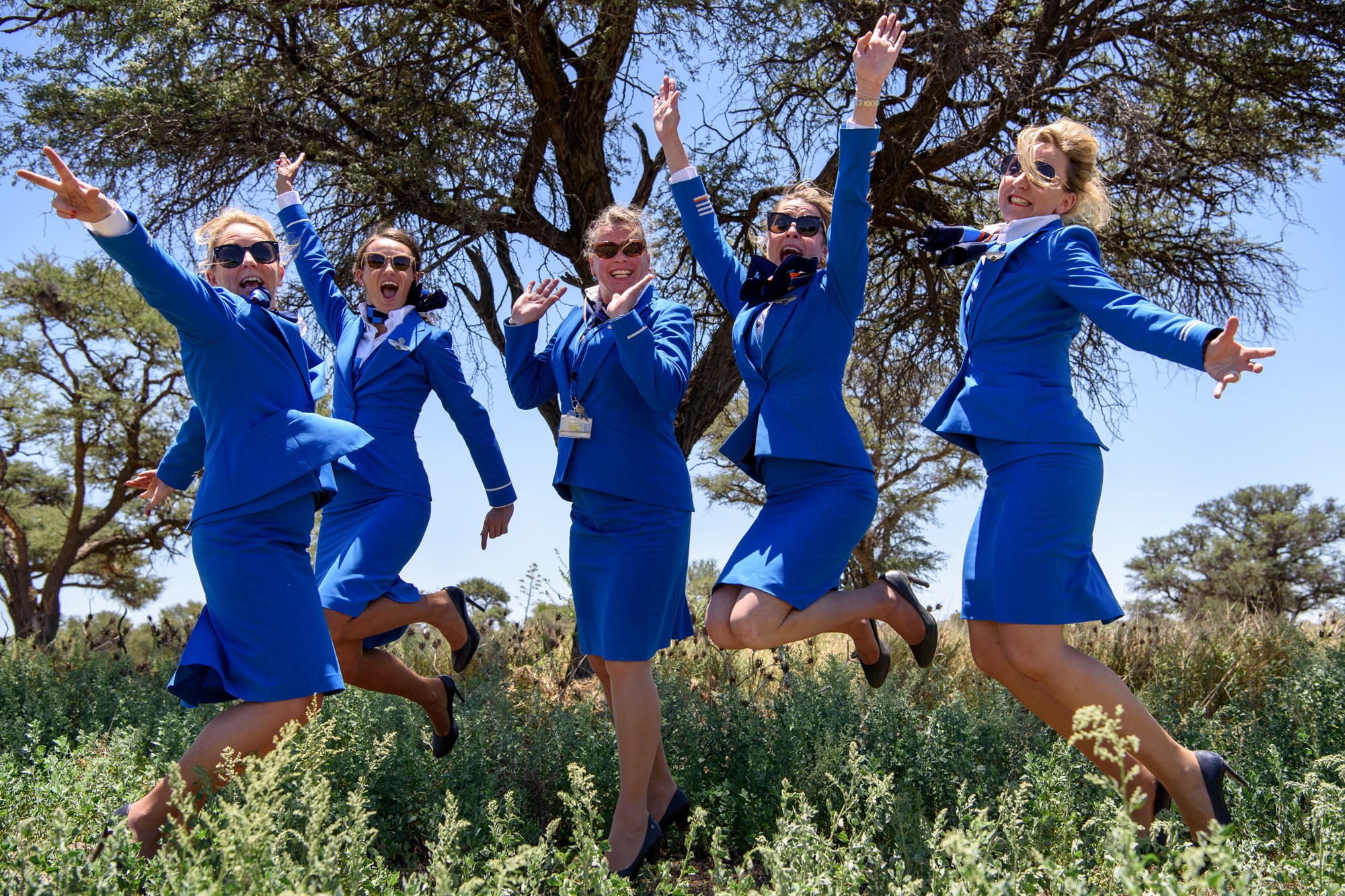 Wisdom
One of the greatest things I learned while working for KLM is that it's good to seize every opportunity you're offered, even if it doesn't quite tally with your life at that moment. I was once offered a promotion just after I'd given birth. That's not great timing, but I took it anyway because I knew that nothing changes as fast as the world around us.
Seize opportunities when they present themselves, whatever the situation.
Personal ties
Colleagues sometimes share very personal stories and then, after an intense week together, you say farewell with the promise of keeping in touch. There's every reason to do so – you've worked well together, you've bonded, you don't live very far apart – and yet you seldom get round to contacting each other. Home life soon takes over.  Friends and family need your attention. That said, I sometimes miss having more permanent colleagues, but I also really enjoy meeting new people. My job is far from impersonal.
Christmas 2017
My most beautiful KLM memory is quite recent. I spent Christmas with my children and partner in Panama. It was truly wonderful. We had the luxury of being able to travel business class on Christmas Day – which was a wonderful gift! I loved having my children there on the "shop floor". They also saw me at work and helped out. It was wonderful.
On top of the world
Shanghai is at the top of my list. It's one of my favourite destinations. We once had a drink in a club on the 20th floor of a building that had an absolutely stunning view. Thirty-six hours later, I was freezing on the sideline at my son's football match. What a strange life I lead, I thought to myself.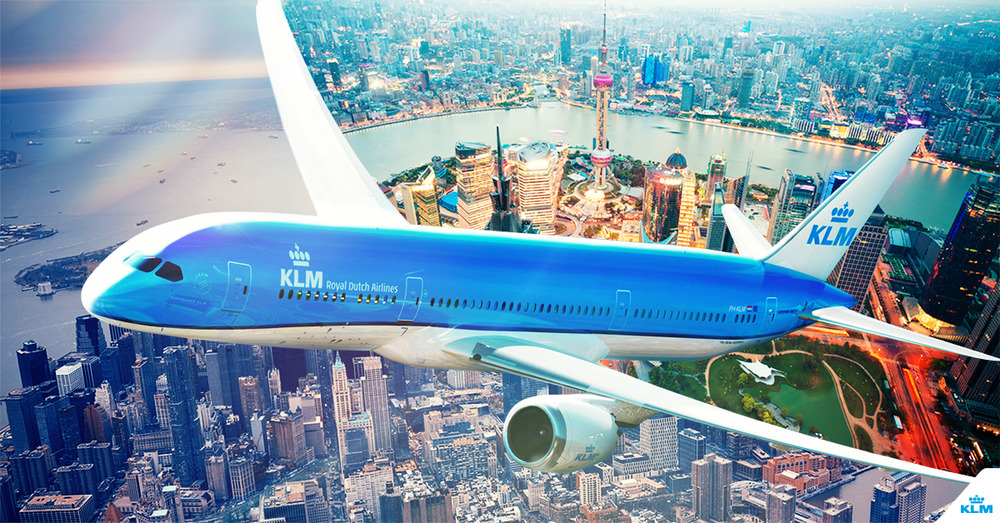 Be in the moment
My life evolved out of the opportunity to see a  lot of the world. I'm really grateful for that. And because of all the wonderful places I've been lucky enough to explore with my own eyes, I have learned how important it is to be in the moment.
Hilarious
And slightly scary. A woman once brought a cat on board in a soft basket. The cat went crazy and began clawing its way out of the basket, like a wild predator. It escaped and we eventually found it a safe spot in a toilet. The cat was put in a more secure basket when we landed. Naturally, the protocols were tightened after that. All in the interests of safety.
Superstition
I touch unvarnished wood, just to be sure, but I'm not really superstitious.
Ritual
I always pack a picture of my children and a book in my suitcase. And a lucky stone I once got from a close friend. I always make sure I have snacks on board with me. And a hot-water bottle is wonderful for a bit of extra warmth during the breaks on long journeys.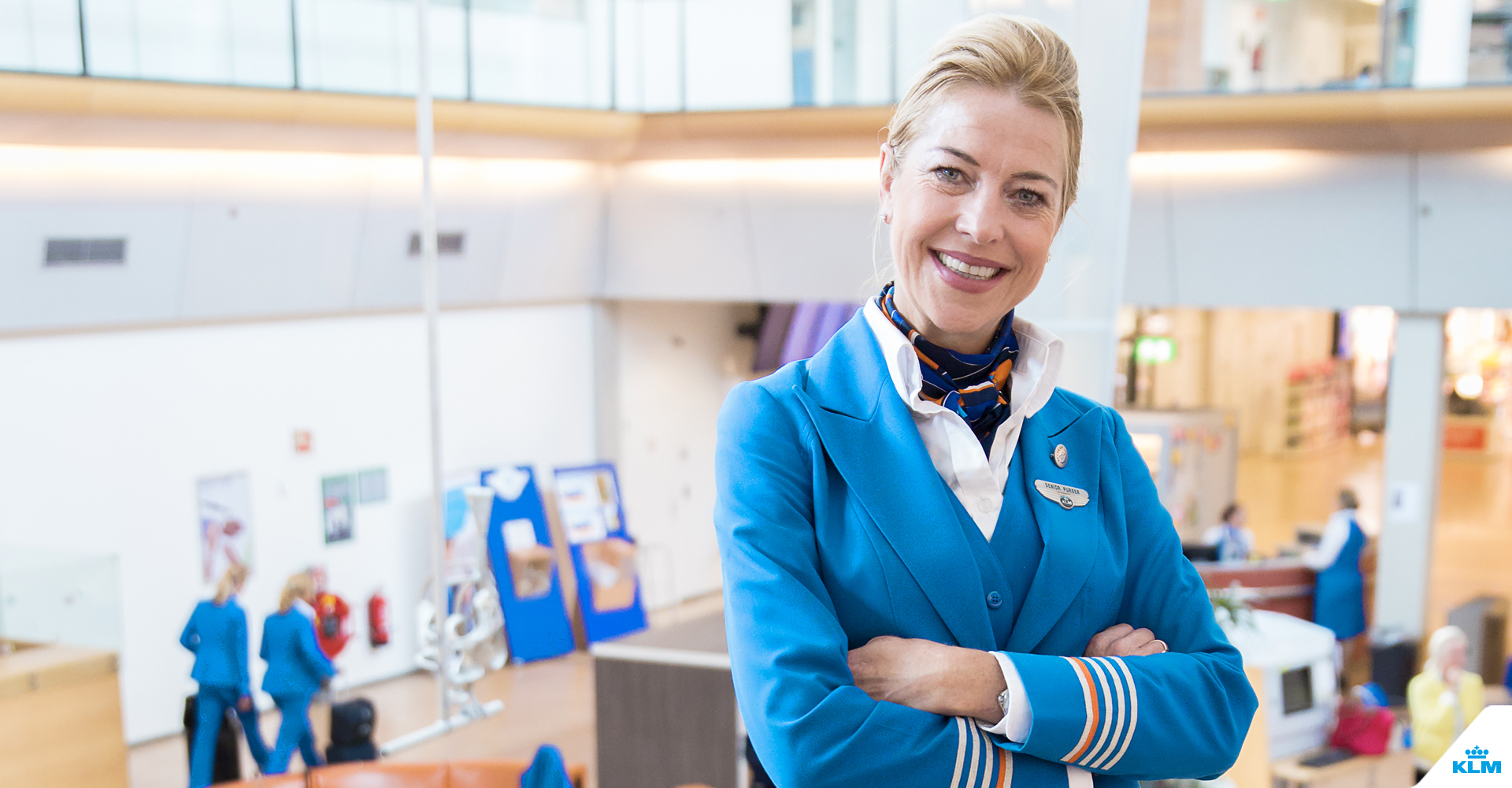 Oh yes, I always tidy up the house before I leave. I like coming home to a tidy house. I also have other important rituals before flying. I don't make many appointments, because I like to take off feeling rested! More so as you get older, because your body needs more time to recover. That's just the way it goes. I always take time relax on the day I get home. It works really well.
Skills
What I really like about KLM is that they offer a whole range of opportunities to acquire new skills. This means you can keep on developing yourself. I'm always learning new things anyway. And KLM is also always developing.
Dream job
This is the ideal job for me, although I never dreamed over being a cabin attendant as a child. But as I said above, this job appealed to me from the start.
It's in my nature to get bored quite quickly, but this job is never boring.
When I'm grown up…
…I want to travel with the children, when they're a bit older and they can join me on a long trip. Preferably one at a time: one-to-one with my daughter and one-to-one with my son. I'm really looking forward to that.
Lessons in life
Always be yourself. This also applies when working. I remember how nervous I was when I first started working in World Business Class. Someone gave me the tip to, above all, always be yourself. The nerves turned out to be unwarranted. People are just people, in all parts of the aircraft.
Glitter and glamour
That's what people think our lifestyle is all about, right? I can't deny that I have been on some fabulous trips. I was recently in Cape Town with my partner. We booked a flight with a helicopter and spotted some whales. Not really everyday stuff. And yet, as a cabin attendant, you experience more than you fair share of everyday stuff, too.
Fascination for aviation
Not really, no. The "glitter & glamour" part of it fascinates me more. The jet-setting lifestyle. I don't mean luxury.
I see glitter & glamour more as a metaphor for the dynamism of being in a completely different place within a few hours.
All those passengers who board our planes at Schiphol every day, all for different reasons, going to different destinations. That's far more fascinating to me than the type of aircraft I'm flying aboard.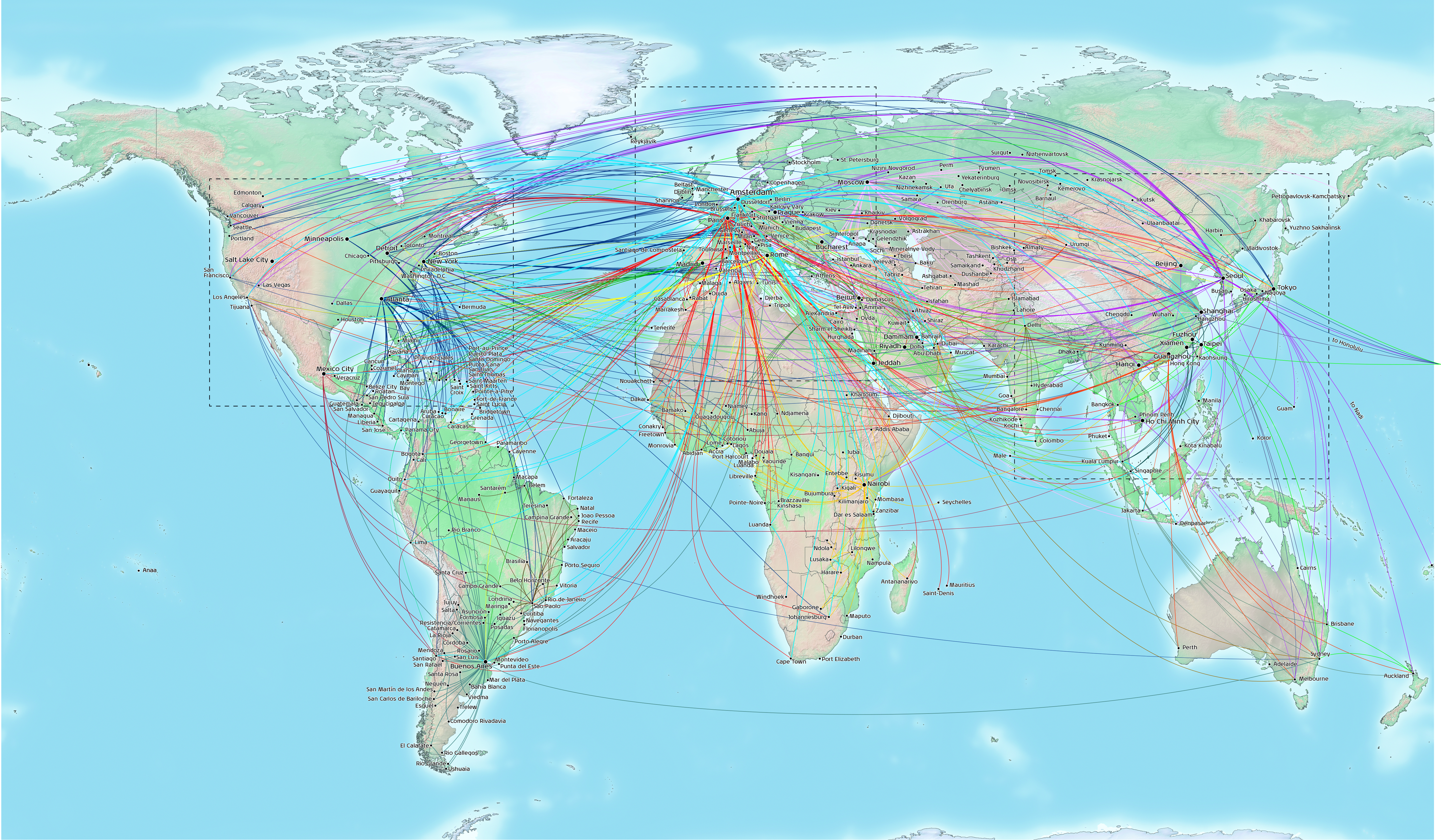 Goosebumps
This brings to mind a very sad story. A Filipino woman who was working in Norway was travelling home to her child, who had died. Her daughter, who had been raised by her grandparents, had died of an asthma attack. I will never ever forget that mother's grief. It made me realise how many mothers there are who earn their living in a country far from home and barely get to see their children. That really hit home.
My ideal day
That would be a day with my children at the beach or a movie film, or out to a good restaurant together. And then, preferably, meet up with some friends in between.
Most recently downloaded app
There's a really useful school app that I share with my daughter. It allows me to see her timetable, homework, written assignments and tests. It's so good to have. And I recently downloaded Tenniskids for my son.
Dream
I would really love to have a second house in a warm country. No, not in Shanghai, more like the Caribbean or the South of France. That would be really nice, because I really love going on holiday. I much prefer to spend my money on holidays than on material things.
Ultimate plane
The Boeing 747, without a doubt. That's the Grand Old Lady. Loads of passengers know her nickname. I know that plane like the back of my hand, inside and out. And yes, it's an old aircraft and there are good reasons for phasing it out, but it's still special. And very impressive.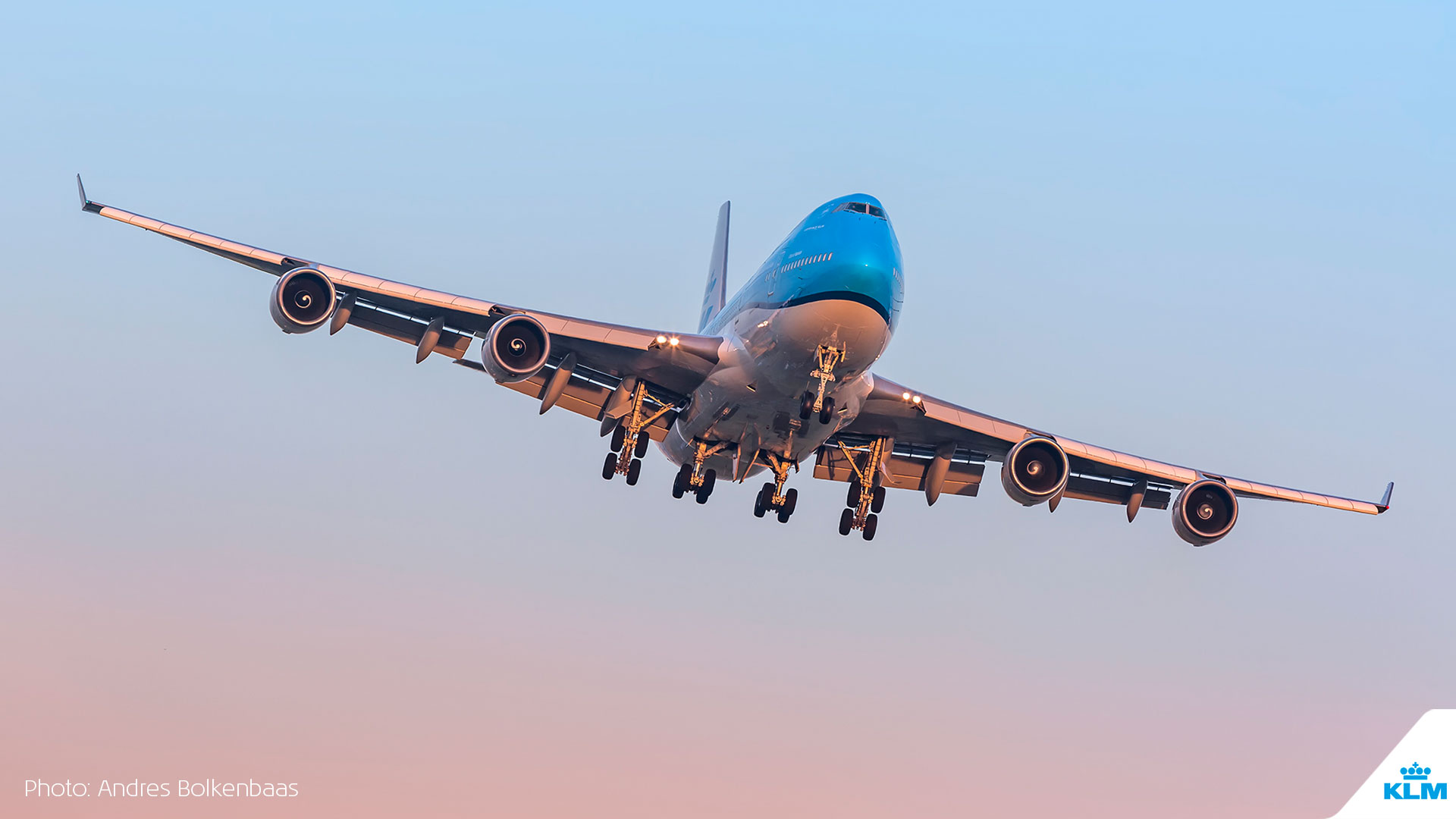 Website
I surf the internet a lot. There's always something new to see and read. I especially enjoy Pinterest and Instagram.
Island
I went to Ko Tao a long time ago. If you enjoy diving, this place is truly amazing. My ex-husband recently went diving there with our children. So brave, those kids of mine. A lot has changed in the meantime on Ko Tao. Tourism has increased, of course, and that makes it seem less serene and idyllic.
Laidback
I really like a laidback atmosphere, like you have on Bonaire, but also on Curacao. But my favourite destinations are Cape Town and Shanghai. Asia is my favourite continent. I love the people, the food, the landscape. And South America is my second favourite, along with the Caribbean. Do I really have to choose?
Travel tip
Drink lots of water during your flight and wear comfortable clothes, especially on long flights.
Good food
I'm a bit of a foodie. My first thought is of Cape Town, where I had the most amazing meal at a winery called Groot Constantia. Fantastic!
Most beautiful place
In Ethiopia, outside Addis Ababa, there's a crater valley, which is very green. We went horse-riding there. It was so unspoiled. "This is paradise," I said to my travel companion. Waterfalls, wild horses, children innocently playing. Like being in a movie.
When in Amsterdam
Rent a bike and cycle through the city. You should definitely go to the Rijksmuseum and Anne Frank House – in fact all the museums – and take the ferry behind Central Station to Eye Film Museum. That's a nice area to explore.
Also worth a visit are Nieuwmarkt and Zeedijk, where there are lots of great cafes and restaurants.
Sober
KLM is typically Dutch – sober and sincere. What you see is what you get. KLM is the pride of the Netherlands, isn't it? I'm certainly proud that I work here.
Love
My love for my children is unconditional. That kind of love is so beautiful. I love cuddling my children. "I could eat you up," I used to say to them when they were smaller. When I think of my partner, love means security, trust, safety, and growing old together.
Team spirit
It really motivates when we manage to form a team in no time. As I said earlier, when we get that orchestra going, that's where I find my true drive. But drive needs to be balanced out with something else. On a long work trips you need to find ways to relax. Being alone for a while works really well.
After standing on my feet for 12 hours, it's lovely to withdraw to my hotel room. I think a lot of my colleagues feel the same.
Pride
I'm self-reliant. I bought my own house and I'm pretty proud of that. And of the fact that I grabbed my chance to become a senior purser.
Friendship
I would love to go on a flight with my flying friends one day. It would be great to work on a flight together and then spend a couple of days together. We would, of course, go to Shanghai.
Emotion
I choose intuition. I'm quite sensitive. I can read people quickly and I'm easily affected by them. They touch my heart. More so as I get older.
Eating out
Our favourite place is Seray in Hillegom. Truly delicious! Asian, of course. Hillegom is near Amsterdam.
Coffee or champagne?
Coffee. I don't like champagne.
Hotel or your own bed?
I have a wonderful bed, so that's what I'd choose.
Dutch islands or tropical islands
Tropical. Even though I find the Netherlands more and more beautiful, especially the Wadden Islands. Perhaps it's because I'm getting older that I can appreciate home much more, the landscape of my home country. I never used to see it that way, but now I appreciate it more.
At my place…
It's homely. There is love and warmth and cosiness.
At KLM…
There's a sense of familiarity, and I think our passengers feel that too. They feel at home with us.