Taking off with… Helga Wiegant | Member of KLM's PR team
In the "Taking off with…" series, we've been interviewing a few of the 32,000 colleagues at KLM. Does this story sound familiar? If so, that's because part of this piece is featured the Holland Herald. In this blog, you can read the whole story.
Short biography
Place of birth: Delft, the Netherlands
Position: Crew support at Inflight Services / PR team member
Personal: Helga is married to Paul and they have two daughters, Julie (20) and Sammie (18).
Career: Joined KLM in 1977.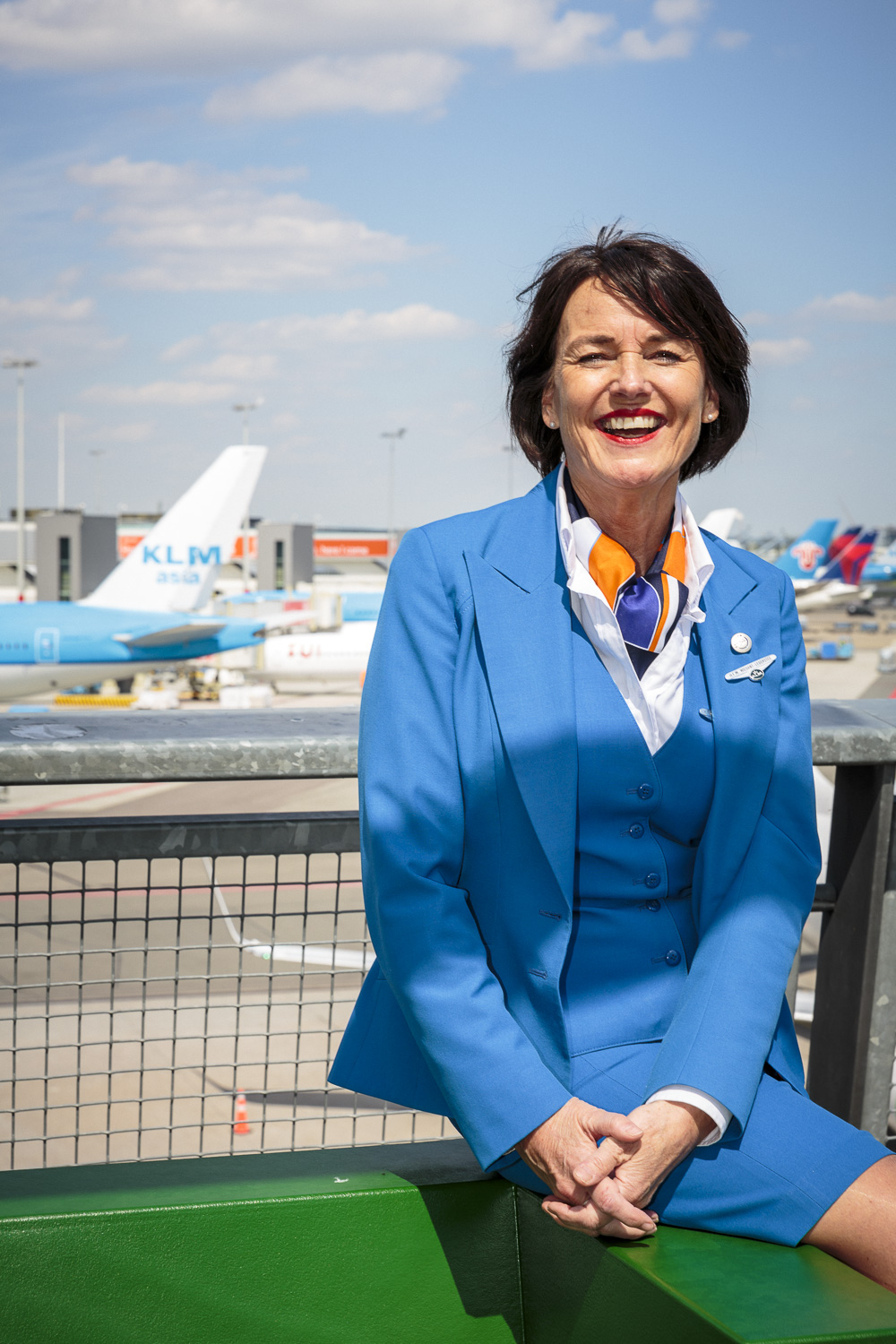 In her capacity as a member of the KLM PR team, she meets and accompanies a wide array of different people. This includes members of the Royal Family, celebrities and, of course, a large number of KLM customers. Helga Wiegant (60) doesn't get ruffled easily, because she feels like a fish in water wearing her KLM uniform. As long as the contact is genuine.
10 years
That's how old I was when I first chose a profession as part of a school project. I already knew I wanted to work at KLM; what I would do didn't really matter much at the time. I sent a letter to KLM and received a neatly typed response from personnel. I still have the letter.
40 years
That's how long I've been at KLM. At first, I thought, gosh, that's a long time and perhaps a bit boring. When you have worked for KLM for 40 years, you are presented with a special badge and get a chance to throw a party. I did just that and loved every minute of it. Champagne glass in hand, I looked around at all the fantastic colleagues I've been privileged enough to meet over the years. I felt an immense sense of pride at having reached the 40-year mark.
Dreamliner duvet
KLM has become part of my life; the common theme running through my family life. I met my husband at KLM – where he still works as a duty hub manager – and my daughters appear to have caught the bug as well. They, too, see themselves joining KLM in the future. It's close, but we don't sleep under a Dreamliner duvet yet.
Talent
Establishing contact with people, showing a genuine interest and being curious. That's my speciality and it's what I love doing. I like to bring out the best in people. But I don't always succeed. I'm not spared the occasional confrontation. At those moments you have to draw on all your skills; it's not hard to be nice, but there really is an art to diplomatically and respectfully resolving difficult situations. If you succeed, you tend to establish lifelong bonds with the people concerned.
Favourite
My favourite part of the company is Engineering & Maintenance (E&M), KLM's maintenance division. I give guided tours there, which gives me an opportunity to stroll through a Boeing 787 every now and then, or to take a peek inside the innards of an aircraft engine. There is so much knowledge and love for the profession here that it's palpable.
Paradise
My favourite destination? You want to know where I love to go? Vlieland, one of the Dutch Wadden Islands. We've been going there for years as a family; it's our second home. I still remember asking our daughters: Would you like to go on holiday to Singapore this year, or to Vlieland? Vlieland was the reply.
Dream
Our own little house on Vlieland…
Twee
It may sound twee, but KLM has given me a great deal. I am the daughter of a man who worked in an ice-cream factory. My father died when I was 12, and my mother worked hard and with immense dedication to keep the family on its feet. And she did so very successfully. The fact that I have reached a position where I meet so many people and see so much of the world has made me a richer person, but I never forget where I came from.
Uniform
The moment I put on my uniform, something changes inside me. It gives me strength and puts me in control. I am always aware of the fact that I represent KLM. When I'm in uniform in public, I always greet people more emphatically.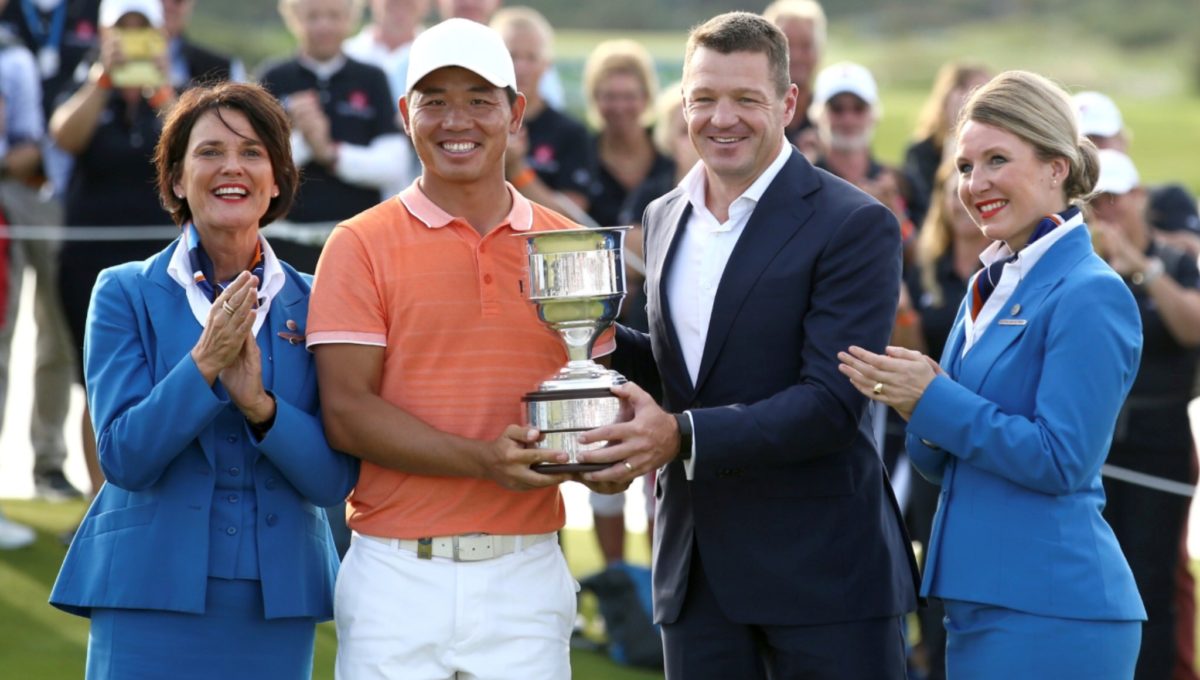 Theme
Sincerity is the most important theme in my life. I want to engage with people in a sincere way, ensuring that there is a real connection. I approach everyone as equals, whether it's our own CEO, Pieter Elbers, or someone from another echelon of the company.
Mother
It was 6 September 1997. I had a touch of flu and I was lying on the couch, watching the funeral of Diana, Princess of Wales. Then it struck me: she lives on in her children. And suddenly I felt a very strong urge to become a mother. I was 40 at the time, so I was rather late, but exactly a year later, on 6 September 1998, I gave birth to my eldest daughter.
Change
Look at my history: 40 years at KLM and almost 40 years of marriage. I've also gone on holiday with the same girlfriends for the past 25 years. You can certainly call me loyal and slightly averse to change. But all is to be transformed in the months ahead! We are moving house this autumn, because my husband is being posted to Nairobi for two years. This will probably be harder for him, because he is very much a family man, but I am sure we'll be perfectly fine as a couple and as a family.
Delft
No other Dutch city can match Delft for beauty and fun. With its canals and old centre, it's like a compact version of Amsterdam. The Royal Delft Experience is great, showing you how blue Delftware is made. You should also visit the Nieuwe Kerk where William I, Prince of Orange, and many other Dutch royals are buried. And it's a good idea to go by train, because the new station is an architectural marvel that is well worth seeing.
Inspiration
I have been teaching ballroom dancing for 25 years. I wasn't crazy about dancing myself, but I really enjoy teaching people. If I hadn't joined KLM, I think I would have become a teacher.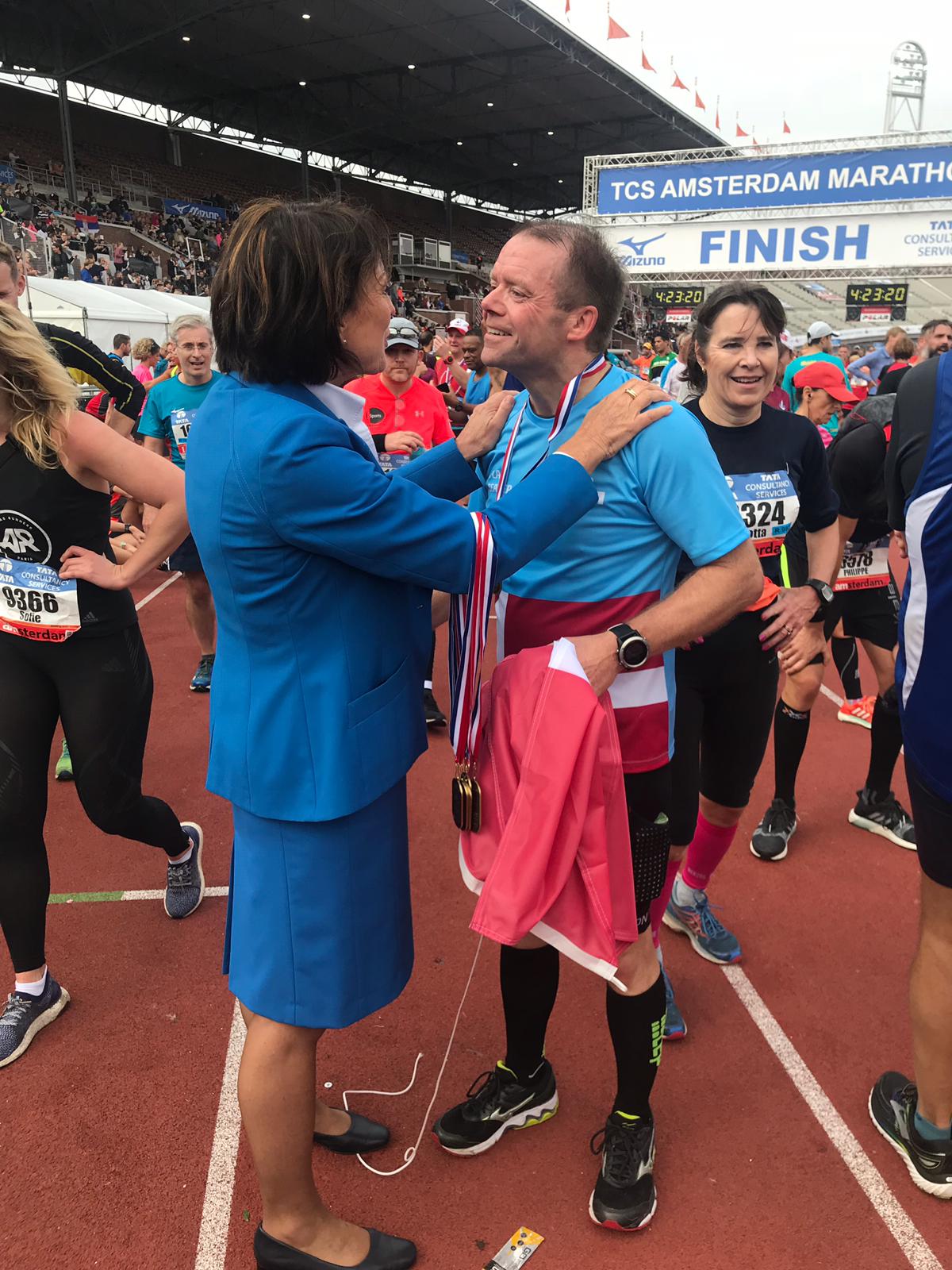 Tension
The announcement of the merger between KLM and Air France in 2004 was a tense time. It was all very discrete and hush-hush – rightly so! Only late in the evening did I hear that I had to report for the press conference the next morning. Everyone sensed that this was an important moment for KLM and the Netherlands.
Pandas
The merger was a major media event, but it was dwarfed by the pandemonium that erupted around the arrival of the two giant pandas, Xing Ya and Weng Wu, in April last year. We had representatives from 150 different media organisations from around the world waiting for the new arrivals. It really was exceptional.
On TV
The day before a TV benefit broadcast to raise money for the Philippines, I was asked if I would present a Boeing 747 to deliver relief goods. Live. On television. While I was sitting in the stylist's chair, they pinned a microphone on me and explained how many seconds I had to put my message across. I must admit, I was slightly nervous, but it is one of the memories of my career I shall always treasure.
Peace
I have the best job in the world. That includes my work at crew centre with crews and my position on the PR team. Look, I'm all for world peace, of course, but that's not something I have any influence over. But I can be open and kind to other people, in the hope that it will make the world a slightly better place. It all begins with that one smile.