Taking Off With… Kim Vleghert | Landside Coordinator
Kim (34) is landside coordinator who loves living life to the full and spending time with her family. Her fast-talking enthusiasm is fuelled by boundless energy. Her job is what drives her and she enjoys kicking back on Bonaire, renting a scooter and exploring this picturesque island to her heart's delight. The Maldives are high on her bucket list, as is Australia.
Landside agents & coordinators
We check in baggage, rebook tickets and assist during calamities. We're the people who double-check your passport. We're often the first line of contact with customers. We're the eyes and ears of the organisation. You may see us at the gates from time to time, but 99% of our interactions with passengers take place in the arrival and departure halls.
Hospitable
I love seeing passengers walk off with a smile on their faces. That's important to me. Whether it be at the desk or in the departure hall, regardless of what I'm doing, I want everyone to walk off with a smile. That doesn't always happen, of course, but it's all about trying. That's one of the key qualities of landside staff.
Early bird
We work in shifts, so my full-time week is sometimes spread out over six working days. We always get our schedule for a six-month period. The planners try to ensure the best possible spread for early birds and night owls. The latter usually take the late shifts. I'm more an early riser, which means my shifts often begin at 04.30, 06.00 or 07.00. I'm an early bird. I do try to have a lie in sometimes, but I'm not very good at it.
Freedom and responsibility
My job demands flexibility. We get our schedules well in advance, but there are plenty of opportunities to swap shifts or take time off. We have a large pool of agents and everyone is flexible and considerate, which gives us a lot of freedom. If I can help a colleague, I will. They'll get the day off and I'll get a longer holiday. It's a combination of freedom and responsibility.
Mini jetlag
Shifts do influence my biorhythms, of course. When the clock jumps forward an hour in spring, it robs you of an hour's sleep and I often end up with a mini jetlag. If I have to start work at 04.30, I set my alarm for 02.00.
Fitness
It's really important to keep fit in my job. The same goes for cabin attendants, who are constantly crossing time zones. Both the quality and quantity of sleep are important. We need to be in balance. I enjoy playing sports and running. I've taken part in the Dam-to-Dam Run, which is a very popular event among KLM staff. It's a great incentive to keep me running and helps me stay fit. That's really important, especially as you get older.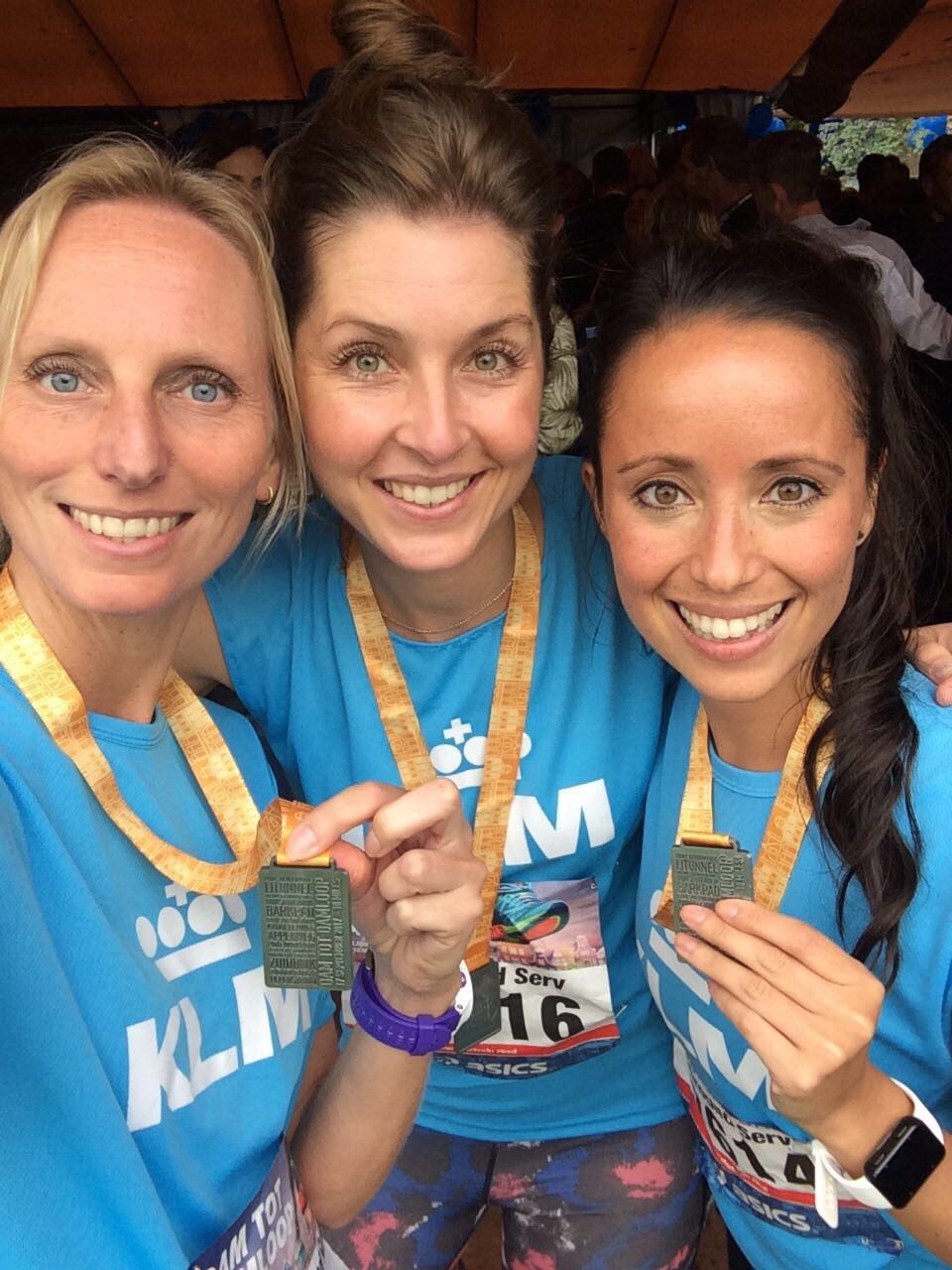 Greatest wisdom
Always seize any opportunity to grow. I'm ambitious and eager to learn, so I've always grabbed chances with both hands. Of course I've had disappointments at work, but it's a question of picking yourself up and moving on. If you keep giving it your best, chances appear automatically. A positive mind-set really is the key factor.
Heading home feeling satisfied
That happens regularly, especially when I've been racing around helping everyone at the desk. It makes me happy and proud to know I've gone that extra mile for passengers, together with my colleagues.
Blue blood
My colleagues are like family to me. That may sound like a huge cliché, but it really is the case. I'm almost constantly on the work floor, which means almost I'm constantly in touch with colleagues. I've really made friends for life. It's a deeper love. The kind you usually reserve for family. That's what KLM does to you.
Team spirit
That's incredibly important, both as a landside agent, which was my previous job, and as landside coordinator. You're always part of a team, one of the links in the chain. We need each other and our team spirit plays an integral part in assisting passengers. They feel the blue spirit we share, feel that we're prepared to go that extra mile. It's a natural thing. KLM calls it "Moving your world", but it's actually part of the DNA of all landside agents.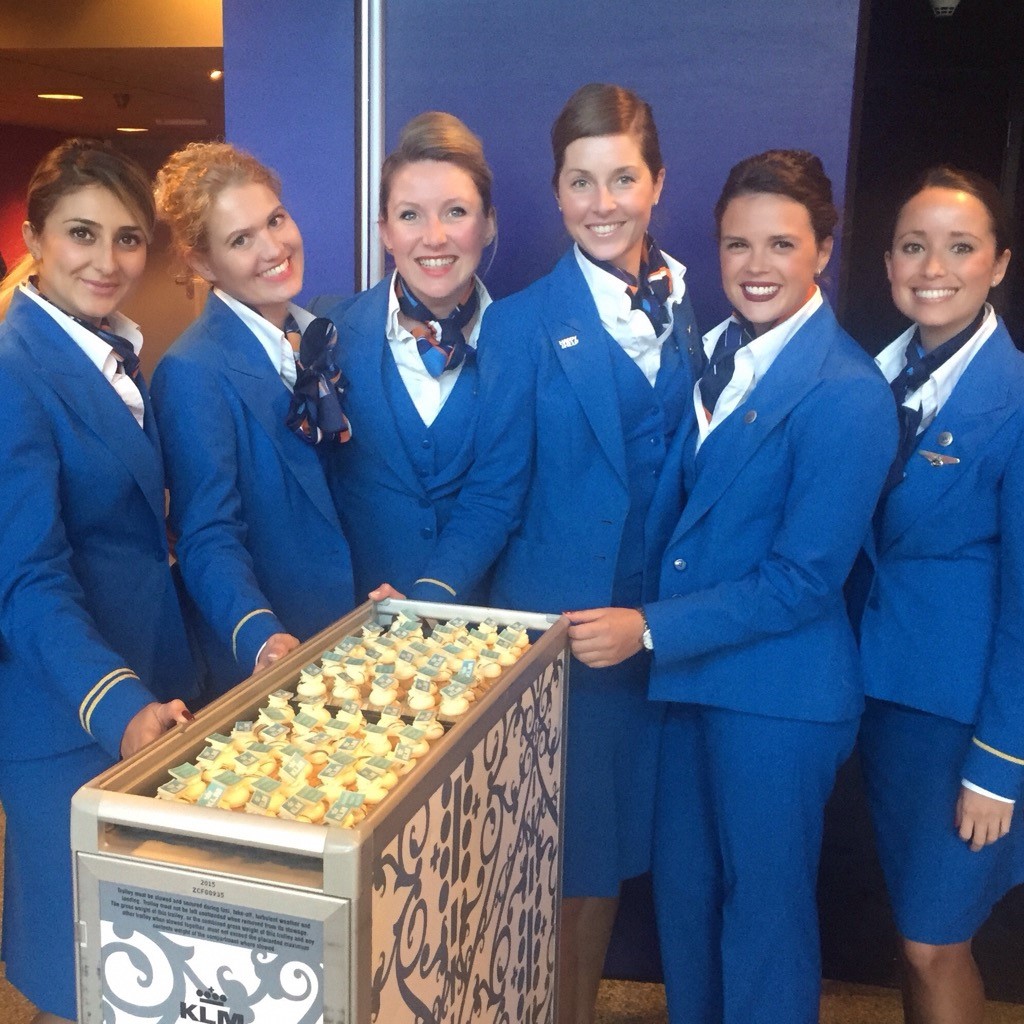 Unaccompanied minors
You may have heard of unaccompanied minors. These are young children who travel under the watchful eye of our pursers. Landside agents accompany them to the plane, which sometimes means spending time colouring pictures with a seven-year-old. It really is great fun being able to do something extra for passengers, especially the very youngest ones travelling alone.
Best KLM memory
A couple once showed up at my colleague's desk. The lady was carrying her wedding dress over her arm and I couldn't resist wishing her well and asking some questions. They were on their way to Bonaire, which just happened to be where I was going on holiday the following week. Long story short, I was invited to their wedding. That's just one of the great memories I have.
Learning
I learn every day. I'm always curious and people often open up to me. That's taught me a lot. I was promoted to this new job in 2017, which also gave me a chance to learn, not only new procedures, but also about my role in the team and about new colleagues.
Touch wood
I really enjoy my job, but I do sometimes get angry passengers at my desk. They're frustrated because of delays, for instance, or because they've missed their connection, or because their flight has been cancelled due to mist, storms or snow. And to make matters worse, their kids are inconsolable. Sometimes they've had arguments or they're jetlagged. You can feel the stress rising at the desk.
That's when it's a true challenge to help these people, finding solutions and helping them calm down. We often succeed, but people can be unreasonable at times or things will get really personal. Fortunately, the uniform can work like armour. Maybe I'm just lucky – touch wood – that I'm seldom faced with angry passengers.
'Floor walking'
Landside agents have a varied job. One of the things we do is "floor walking", which basically means walking around near the KLM baggage belts and assisting passengers who have any questions. Those shifts are over before you know it, because there are constantly new passengers coming and going. Opposite carrousels 17, 9, 4 and 5, you have the KLM desks in the arrival hall.
Later, when I'm older…
…I'll still be working for KLM. I know this for sure. KLM really gives you chances to develop. My job is always a challenge, because I need to be alert and there are all sorts of areas in which I can develop.
Always on the job
When I head home in my uniform, I'm actually still working. You could say you're always on the job while you're wearing your uniform. If I'm on my way to the bus after my shift, someone may ask where they can find a specific desk. You always get a great response from people, as cabin attendants will confirm. People carry KLM in their hearts. That's what I've experienced.
Life lesson
Be yourself. And by that I mean: no matter how well you do in life, never forget where you started out. I like ambitious people who retain their gratitude. That ensures you don't get too cocky and that you remain open to everyone in the world. If you don't forget where you came from, you won't forget who you are.
Things my parents taught me
Keep your shoulder to the wheel and always try to turn the bad into something better. And if all else fails, try to shift your focus to something that gives you positive energy. That's what I learned from my mother, with whom I have an very close bond. We give each other lots of room, but we'd also take a bullet for each other.
Fascination for aviation
To me it's all about the destination. The fun starts when I go on board. I really love flying. I find it relaxing. I'll read a book, watch a movie or two and then I fantasize about my coming holiday. Flying really is a fascinating miracle, to me. It's really special that something so huge and heavy can take to the air!
Things I've learned
"Don't judge a book by its cover." Don't make assumptions. That's what I always keep in mind. But I see people doing the opposite all too often.
Then and now
Check-in is the first thing that comes to mind. That was completely different back in 2008! Nowadays passengers check in online, but back then – just ten years ago – there was a lot of paper and printing involved.
Goose bumps
The first thing that comes to mind is a lady who was crying her eyes out in the departure hall. I wasn't quite sure whether I should go and help or console her. It turned out her son had died during his internship in Canada and that she was waving off her husband who was going to fetch her child. It gives me goose bumps thinking about it again. You don't forge things like that. It's etched in memory.
Last app you downloaded
That was an app for the gym. I'm training for the Dam-to-Dam Run in September, which means I have to plan my runs and other training.
Dam-to-Dam Run
Thousands of KLM people take part. It's a fantastic event and it has a special place in my heart, because it's where I fell in love.
Island
Bonaire. I really love Bonaire. It's a fantastic place for diving, but I only go snorkelling. I really feel at home there. It's great fun, very laidback, a wonderful place to relax.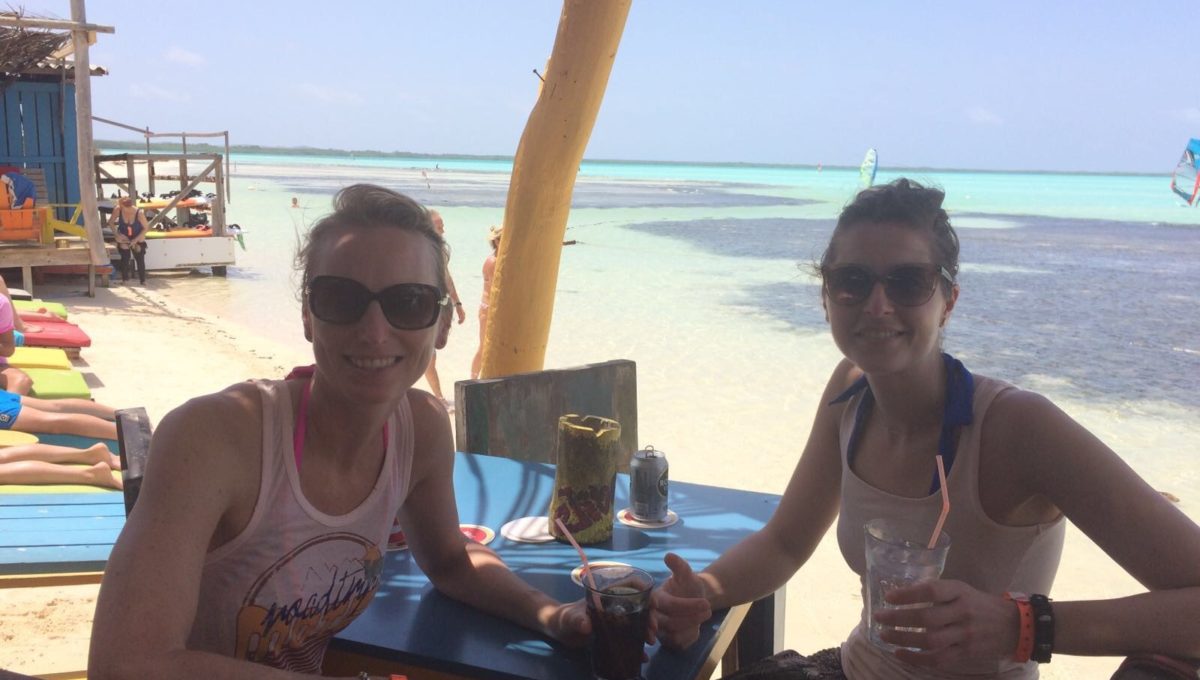 Must see
I'd really like to go to Australia, rent a camper and tour around for at least three weeks. If I was allowed to choose, I'd go with my beloved.
Best tip for flying
Switch off, get some sleep, watch a movie and fantasize about what you'll be doing at your destination.
Globetrotter
The Lonely Planet guides are a must for globetrotters. If I'm planning an active holiday, I read the guide from cover to cover.
Most beautiful place on earth
The Maldives. I'd love to go there. If only for five days… Maybe in combination with Sri Lanka.
Typical KLM
A great company to work for – that's the first thing that comes to mind. KLM ensures that you connect with your colleagues, that there's a safety net. We also have a care team, consisting of volunteers who help colleagues if they're shorthanded owing to circumstances. I'm part of one of these teams.
Drive
I get my drive from my work. Sport allows me to blow off steam. Other than that, I really love people – my mother, my family, my nieces, friends – all of these things keep me going.
I would love to…
… become a mother. I really hope to enjoy this privilege. You don't "have" children, you are "given" children. And I'd like to grow very old, without too many complaints…
Favourite sense
Sight, without a doubt. I see everything and my gaze stretches near and far. That can be annoying at times. I see the most minimal details; the tiniest tattoos and piercings. Even the things people would prefer to keep concealed.
What can we wake you for?
Good food – hahaha. Especially roti from my favourite spot in The Hague, whose name briefly evades me. I also enjoy eating at Loetje, who have restaurants all over the country nowadays. I love eating along the Amstel River or overlooking the IJ in Amsterdam, or in Bergen. Maybe just lunch or in the evening.
Aisle or window
I love the view, but I prefer an aisle seat. I need to be able to get up and walk around when I'm on board.
At my place…
… everyone is welcome.