Taking Off With… Marlies Beek | Pilot
In the series "Taking off with…", I'll be interviewing some of my 32,000 colleagues at KLM. Does this story sound familiar? If so, that's because this piece was partly published in the Holland Herald of April 2018. In this blog, you can read the full story.
Don't ask this pilot – who happens to be a woman (as she puts it herself) – to choose between a hotel bed and her own. She simply loves her life too much to choose. Flying is her life. And in between flights she has heroically brought four children into the world. It already looks as if her daughter (12) is going to follow in her footsteps, just as Marlies (46) followed her father, who was also a pilot at KLM. She even flew with him. When she joined him in the cockpit, she was his co-co – his second officer.
Short biography
Date of birth: 3 April 1971
Place of birth: 's Hertogenbosch, Netherlands
Position: Captain aboard KLM's intercontinental flights since December 2010
Personal: Marlies is married and has three sons, Jesse (13), Fender (10) and Kester (8), and a daughter, Louke (12).
Career: Joined KLM in 1991
Not long ago
Twenty-six years have passed, but it feels like yesterday. I don't actually recall my very, very, very first flight. But I vividly remember the flights to New York and Nairobi I made in the early days of my career.
Like so many of my colleagues, I started out as a second officer after graduating from the flight academy. Second officers are assigned to intercontinental flights, which means you're flying larger aircraft.
Two years as second officer
You're the extra pilot that allows the other pilots to get some rest. You don't get to do take-offs and landings, although you have trained to do them. You just get to sit at the controls when you're cruising and the others are resting. I spent two years doing that.
Career
After those two years as second officer, things moved along rather quickly. I became a co-pilot aboard the Boeing 747, which I remained for four years. Then I moved on to the B747-400, again as a co-pilot, which I remained for quite a while. My children were born in those years. I also started working as an instructor, alongside my pilot duties. When I was offered the job of captain on intercontinental flights, I seized the opportunity with both hands.
Teamwork
Every pilot has stripes on their sleeves. A co-pilot has three, a captain has four. The four-striper bears final responsibility, but believe me, when we're flying, we always discuss the flight plan with each other. In the cockpit, it's all about teamwork and equality.
My father
My father was a pilot and, of course, he set an example for me. But again, this really isn't a job only for men. I've never been treated differently because I'm a woman. I'm just a pilot who happens to be a woman. That's the way I see it.
My father's career inspired me. In fact, we flew together a lot.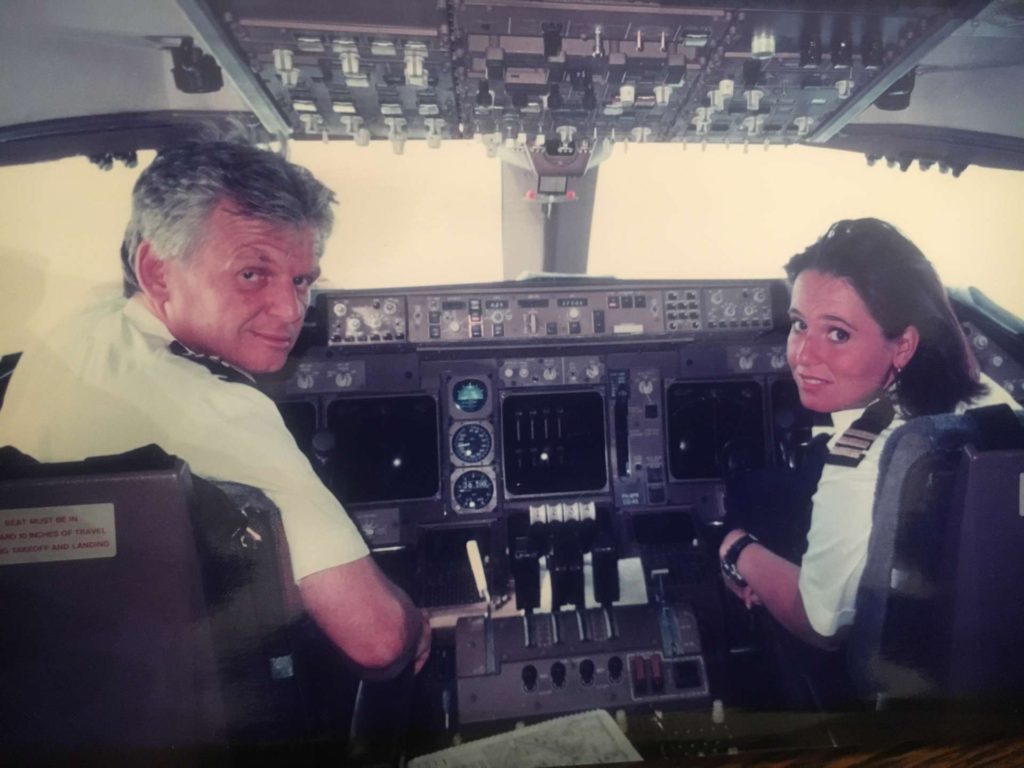 My father's name is Wim. I was the co-pilot on his last flight as captain. That was really amazing. I also worked with him as second officer. He retired in 2013.
An ordinary job
My family is used to the fact that we fly. It's just an ordinary job for us. One of my sons also has flying ambitions. I like that, but it's not something I expect. I hardly give it much thought, but only about 5% of pilots are women. So it is rather special, I suppose.
Love my job
My work really is a source of immense joy. I've been doing the same job for 26 years and I still love it madly. Not many people can say that about their job, so I'm really grateful, too.
If I was allowed to choose again, I'd choose to be a pilot.
Work and family life
This is the only downside to my job: I sometimes have to work on days I'd rather not and I've had to miss some of my children's special events. Nevertheless, I never go to work in a bad mood. And when I'm not flying, I always catch up on all the moments I've missed, and enjoy them all the more.
Special
I once sat in the cockpit of a Triple 7 with a pilot friend, which was very special. "Look at us sitting here!" A dream we'd had at the flight academy came true. It was a fantastic flight. To New York. We went out for coffee together. A wonderful memory.
New people every time
I fly with new people every time. The cockpit crew is never the same. But everything still always happens in the same way, so you know what to expect from each other. Even though you've never met before, you can have faith in one another. It's all about being alert and adhering to safety instructions, the rules, and our working methods – everyone dances to the same tune. That's a really special part of my job.
The human touch
Even though we follow a flight plan and the entire route is plotted in advance, we have to know what to do if things take a sudden turn or the wind changes direction. It always requires a human touch. Maybe that's why it never gets boring. You're always sitting next to a different person, who you may never have met before.
Friendship
I have a great group of friends and, sporadically, I make new friends through my job. I meet a lot of people and you can develop a relationship with colleagues in a very short space of time. In the early days of my career, I often said: Let's get together sometime soon. Or, we should see each other more often. But life goes on and you hardly ever get round to contacting each other.
Muscle power
I think the early pilots were mostly men because you needed a lot of muscle power for taking off and landing. But those days are long gone. Nowadays, it's much more a career for both men and women. In fact, at KLM it's a job where having children doesn't affect your career development. There's plenty of room to strike a good balance between work and family life.
But we women still have quite a way to go. Since I joined KLM, the number of female pilots has only increased from 4% to 5%. So there's plenty of room for improvement. I don't think women should be given precedence, but I do think more women should discover that this is a fantastic job. You do need to be able to cope with jetlag and with the fact that you always work with a different crew. You also need to have an affinity with technology. But these are things that apply for both men and women. What I mean is that this job is not suitable for everyone and not everyone is suited to this job. But it would be good to see more women doing it, that's for sure.
A typical pilot
You do need to possess a number of particular qualities to be a pilot, like being immune to stress. Luckily, this isn't required too often. You also have to be decisive – to be willing and able to take decisions. I do think things are changing a little now though. Flying used to be more technical – everything now hinges much more on teamwork.
But that's just one of my hobby horses: creating a good atmosphere in the team. I believe in bonding, in team spirit. It's important in all walks of life and that includes flying. I believe that working closely as a team results in better operations. The only drawback is that you have to be able to deal with feedback. So you really have to be able to empathise nowadays.
And yes, analytical skills, thinking ahead and, hence, cooperating. These are all important qualities. I also notice that we focus on these skills at KLM, which is a positive development.
Dare to be vulnerable
This is key to my job. By this I mean being open to others, not clinging to your own ideas, but being keen to contribute and willing to change. You aren't breakable, nor fragile, but you are open. This is so important for your own development. At work and beyond. I really believe this.
The nice thing about my job?
Taking off and landing – it's always a joy to experience. But there's more. Knowing that, although I'm at home today, I'll be walking around Shanghai tomorrow. With whom, what and how? That I'll find out along the way. And the week after that, I'll be back in Singapore. It's become normal for me, but actually it's far from it [giggles…].
Wisdom
Staying who I am is what I hoped to achieve in my different jobs. And in my current capacity as captain, having made my last career move, as it were, I think I can honestly say I am still myself. I often wondered whether I would change when I became a captain. I haven't.
Life changer
Children, they're the biggest life changers. You become a parent; you live for your kids. It makes you vulnerable and you seriously change your views about some things. You tap into some kind of primordial power, but also gain a degree of peace in your life. I'm so pleased I've been able to experience becoming a mother.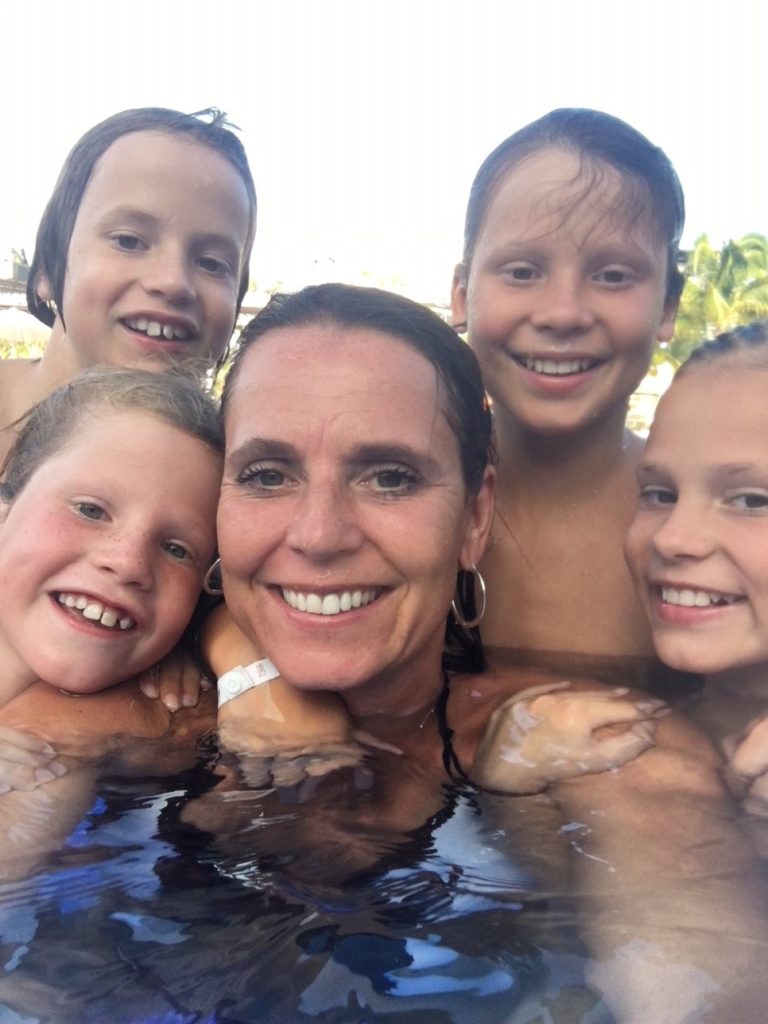 Life is good
I've been on so many amazing journeys, I don't have a particular favourite. There have been way too many for that, and I don't mean to sound spoiled. Quite the contrary, it's more that there are too many to choose from.
Hilarious
We've touched down and an old couple disembark – the cockpit door is open. The man looks at us and pauses for a moment. Wanting to compliment us, he says, "Goodness, nice to see a female pilot, and still it was a very safe flight". I think that's brilliant, quite priceless. Although you could take it another way, I found it hysterical at the time.
One day, when I grow up…
On a personal note, I hope that my four children find their feet and happiness in life. That they can look back and say: "You did a good job, Mum." In terms of work: I aim to be a good instructor. I've had several trainers who inspired me and served as good role models. I hope to be the same for some of tomorrow's pilots.
Challenge
There's always something new to learn in my job, always new challenges to face. You have the standard operation, of course, but I always want to learn more from others. Who knows, I might even go on to do something else on the side. KLM really stimulates its employees to develop their potential, but the effort has to come from you.
Life lessons
Life has its peaks and troughs. I believe you always grow from these experiences, especially from the troughs. And there's the colour of your life. Life is coloured in a certain way, but in the end it's you who decides which colour it should be. What I mean is that it's up to you. Do you seize that grey or black pencil? Or the red or yellow one?
You see, even if things don't always go the way you want them to, in the end, after a while – even when your life has undergone a drastic change caused by someone else – you have it in your power to apply the colour. And you are stronger for it, even if it takes a while.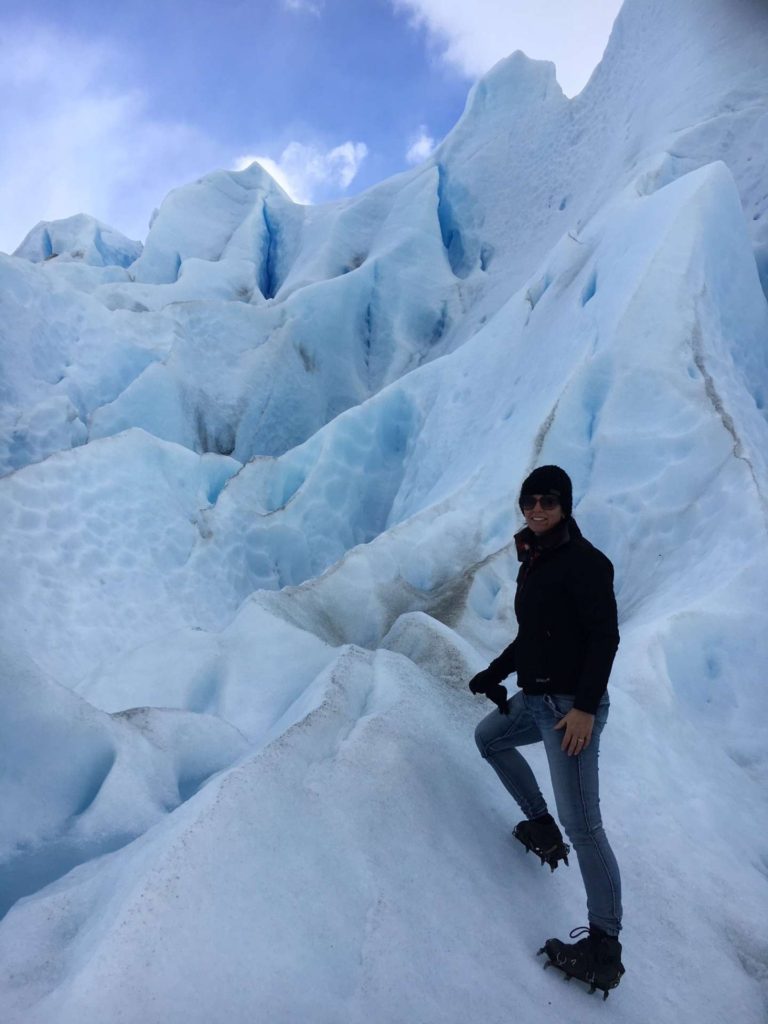 Passengers
When I'm not flying, but am going on holiday, then I'm a real passenger. It can also be very instructive. Once we had a massive delay and the passengers were told very little. That situation can be handled differently.
Fascinated by aviation
Yes, I suppose I am fascinated. Not so much by the aircraft themselves – I'm not a plane spotter – but I wanted to be a pilot from the age of 11. No one took me very seriously. I was too young. My daughter says that she wants to be a pilot. We'll see.
I began with gliding, to see if I really like flying. In the end I started flight training very young, aged 18. Flying has been my job from that moment on, even though it doesn't always feel like work.
Emotional moments?
Family stuff, definitely. I'm reminded of the time I flew with my father, and my mother and grandmother were both onboard. Can you imagine what it was like for my grandmother, having her son and granddaughter as pilot and co-pilot? The way she spoke about the experience brought tears to my eyes – and hers.
The last flight with my father was definitely one such moment. He said to me, "Tomorrow I will still be able to fly, but I won't be allowed to anymore." That really was emotional.
Special moments
The first time I was able to tell the passengers that I was the captain of their flight. That felt amazing! It's something you really look forward to, grow towards.
Your most recently downloaded app
Room for Thought. I highly recommend it. Everyday it sends you a reminder to take a photo and at the end of the year you have a record of your year, which you can also have printed. It's a great little app. The photo gets taken within three seconds of you pressing "OK". They call it your "accidental photo" diary. Let's take one now, during this interview (see below).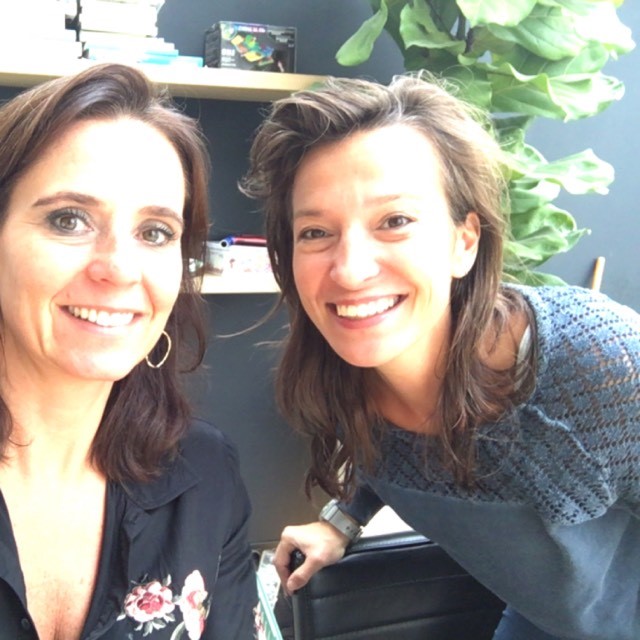 Then and now
When I began flying, you were pretty much unreachable if you were in a distant country. It was quite something if the hotel had so much as a fax machine. Now we can be in touch all the time. It's so different. When you have a family, like I do, it makes life a lot easier. Harder too, when they can't find something at home and I'm asleep in a different time zone – those messages in the middle of the night, "Mum???", "Mum???". Hahaha.
I recall vividly walking along the Great Wall of China with my first mobile phone – they hadn't been around that long. I remember thinking how bizarre it was that I was standing on the Great Wall of China – far, far away – yet phoning home. Nowadays I don't always turn my phone on; sleep is too precious, especially when there's a time difference. But that's fine too. Everything's organised well at home for the times I'm away.
Favourite destination
I really like flying to New York in good weather, because you're in New York straight away. You can see it lying there below. But I don't want to choose. I can't.
Must see
I can't choose. There are simply too many "must sees". Buenos Aires, Patagonia. And then stand on the glacier, a really old glacier. Stunning! There I thought to myself, I really want to bring my children here, but then for longer. I'd also like to take them to China, to the majestic area where "Avatar" was filmed. Remember that film?
But then there's sailing in Turkey. The British Virgin Islands. Oh yes, around Canada in a camper van, to visit distant family. And Nepal! The Great Wall of China! I really don't have an ideal holiday destination. The world is unbelievably beautiful – and big.
Glamping
I'd like to try glamping one day. I'm not really the camping type, but I will try it again one day. Give me a backpack and I'll backpack. Take me to a luxury resort and I'll enjoy it just as much. Glamping is on the list, so I'll give it a go. My children love it.
Unique
I was in Beijing and on the Great Wall of China during the SARS outbreak in 2002-2003. There was almost no one on the streets, something I'll never experience again. It was surreal. I won't ever forget it.
A small world
Flying has made the world smaller. I really hope my children will get the chance to explore the world as I have done. I'm so grateful for my job.
Enjoyer of life
I am.
Flying tip
Drink a lot. Really a lot. And if you're travelling with children, be really relaxed about it.
Make the flight the start of your holiday – Schiphol, boarding, everything. If you're relaxed, you're children will be too.
The ultimate food tip
Again, I can't choose. In Japan we went to Kyoto and ate Japanese pizza in the street. In Southeast Asia you have all the saté cafes. The chic restaurants in Cape Town. I love variety, but every year I eat in the same restaurant in Shanghai.
Most beautiful place on earth
Home. Amsterdam. When we fly back I always say we're heading for the best destination of them all. Home, where my children are.
When in Amsterdam
Amsterdam has got really busy in recent years, with lots of tourists. As a tourist you might enjoy the neighbourhood called De Pijp – lots of locals still live here. It's got a great atmosphere.
Mini Amsterdam
I live in Haarlem. It's a lovely town. You can travel through it on boats and enjoy wonderful food, shops and the pretty, old city centre. We're much closer to the beach here too. Not that I go to the beach very often. When I do, I prefer to go out of season, when it's quiet.
This is KLM
KLM is the "blue spirit" that lots of KLM employees share. A sense of pride and solidarity. I think a lot of Dutch people feel it too, even if they don't work for KLM. KLM feels like home. But then matter of factly, "It is what it is". Something like that. I feel it when I'm abroad and see Heineken, or something really typically Dutch.
Love
This is a very important part of my life. The love of your life, love for you family, for your friends, for my job.
Love runs through everything.
Drive
My drive is love. But perhaps life as a whole too. I would really regret letting it simply pass me by. Sometimes I look back over a week and wonder what I have done. Perhaps people are my strongest drive. I love to be around people.
Inspiration
People who are still full of energy. I sometimes want to put people like this on a pedestal, I look up to them rather. They make me think, "Wow, I want to be like that too". But you have to have it in you; some things you just can't feign.
One day I would like to…
Study psychology. Just to be able to analyse and understand life and the massive changes that sometimes overcome people. Whether it'll ever happen is another matter.
Most proud of…
My children! Without a doubt! I would still like to go on a long trip with them, with a camper van through Canada, or Australia. Or a trip to Southeast Asia – to visit islands, to go diving, and to go into the jungle.
Strongest sense
Smell. When I recall events, I smell everything again. From the smell of newborns, to my trip to Nepal. I often recognise a smell first; the image of the memory follows. I apparently smell things a little quicker than most people.
Ultimate plane
The Boeing 747. I've flown them myself, with my father too, when he was still flying.  I still think it's a very beautiful aircraft. But I also like the aircraft I fly at the moment, the Boeing 777 and the Dreamliner. They're actually great to fly and are more modern than the 747, which is also part of the appeal.
Trial lesson
I'm not an aircraft geek and I don't go to airshows , or that kind if thing. But, last summer, I had a trial lesson in a helicopter. It was fantastic. I can't really follow it up, of course; it simply doesn't fit into my life. But it was great fun to try.
Sun or snow
Snow, because skiing really is my family's thing. I can't keep up with my children at all anymore. Preferably loads of snow and mega-sunny days.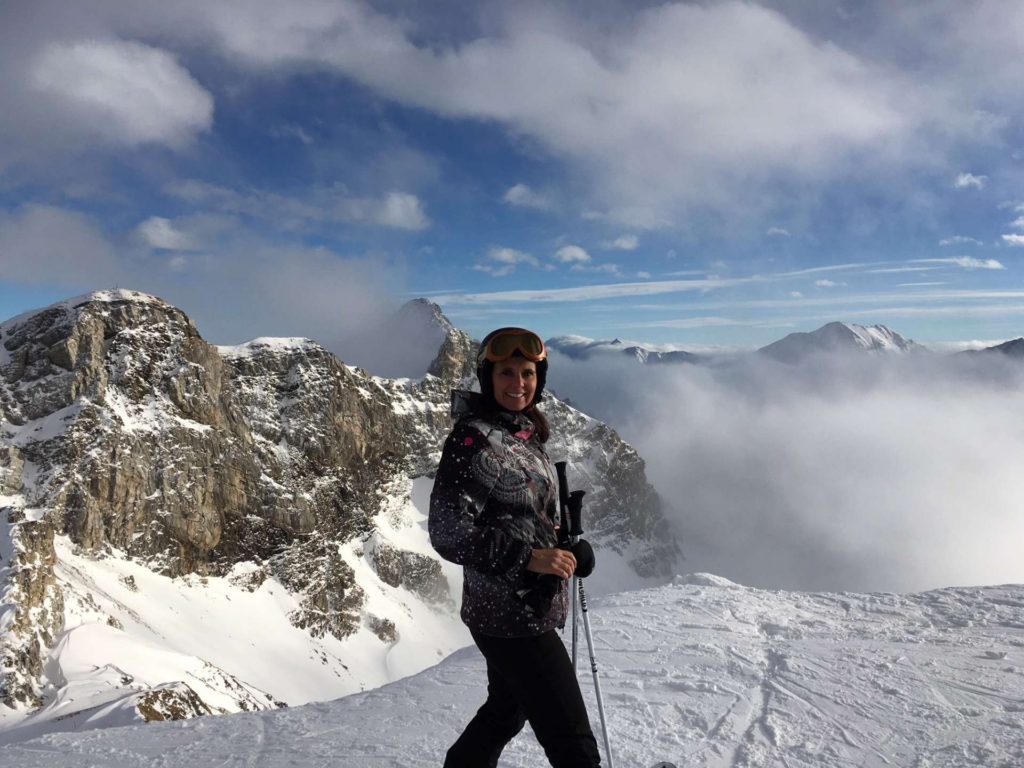 Coffee or champagne?
Champagne would be my choice. That's what you celebrate life with and that's what I like to do.
Hotel or your own bed
If that means always having to sleep in my own bed, then I'd choose hotel. But my first answer was my own bed. Again, I can't choose.
Cheese sandwich or sushi?
A Dutch breakfast, all that bread, that's what my family loves. And that's what we always miss, whether we're in Austria or Mexico.
Frisian or tropical islands
Tricky. I would probably say tropical. I'm very fond of the Frisian island of Texel and went there a lot with my grandparents when I was young. But I'll leave nostalgia for what it is.
Long haul or short haul?
Long haul. It's become my way of life. But short haul would be fine too. I spent four years flying in Europe. One night in Barcelona, the next in Copenhagen.
Aisle or window
Window, even though aisle is more comfortable. But the view – the sun. Even though I see the sun all the time, it never bores me. Meteor showers are also stunning to see. They make me feel so happy.
At my place…
I hope everyone feels welcome and that anyone can come anytime.
At KLM…
I feel very at home. I hope I'll be able to spend my entire career here. I have a blue heart, you see ;-).