Taking off with… Rob Duivis | Fleet Manager GE90 & CFM56
This smart and savvy Amsterdammer and KLM employee is a seasoned aviation specialist, who lectures on aviation maintenance at the Delft University of Technology. Rob is a human force field. He gets his kicks by riding his racing bicycle and lives life to the full with his beloved Rosita. He is – by his own admission – a child of the Apollo Era, enthusiastically rattling off the milestones: Saturn 5B, the first moon landing, the Apollo 13 drama, Skylab and the Space Shuttle. He has a deep love for technology in its myriad forms, talking about it with great gusto, using language anyone can understand. He also knows what he'd like to do when he retires: open a bicycle shop. A logical choice, bringing two passions together.
World of abbreviations
The airline industry is full of abbreviations, and that includes my job title. The GE90 is the engine that powers the Boeing Triple 7. It's made by General Electric. The CFMI powers the Boeing 737 and the letters stand for Commercial Fan Moteur Internationale, which is partly French, because it's jointly manufactured by Snecma of France and General Electric of America. One of the models they produce is the CMF56.
Brothers
My brother Nico and I both worked as mechanics at the Riva garage in Amsterdam. We were part of the Opel Family. I'd just graduated from technical college, but the oil crisis was on, so I spent more time painting doors than repairing cars. In 1975, I followed Nico to KLM. They were looking for technicians and I was looking for a new challenge. After working in the Engine Shop for a couple of years, I spent some time working on aircraft in the hangar. Nico and I seldom bumped into each other, because we both worked shifts and we were on different teams. Still, I owe my career at KLM to him.
Engine Shop
That's where my heart lies. It's an inspiring environment and it allowed me to take major steps in my career, because I started studying part-time and I've actually never stopped doing so. When I was in my 20s, I got my middle-grade technical diploma (MTS) and then enrolled for the higher-grade diploma. Meanwhile, I'd been promoted to the engine testing department, where we ran tests on the engines after maintenance.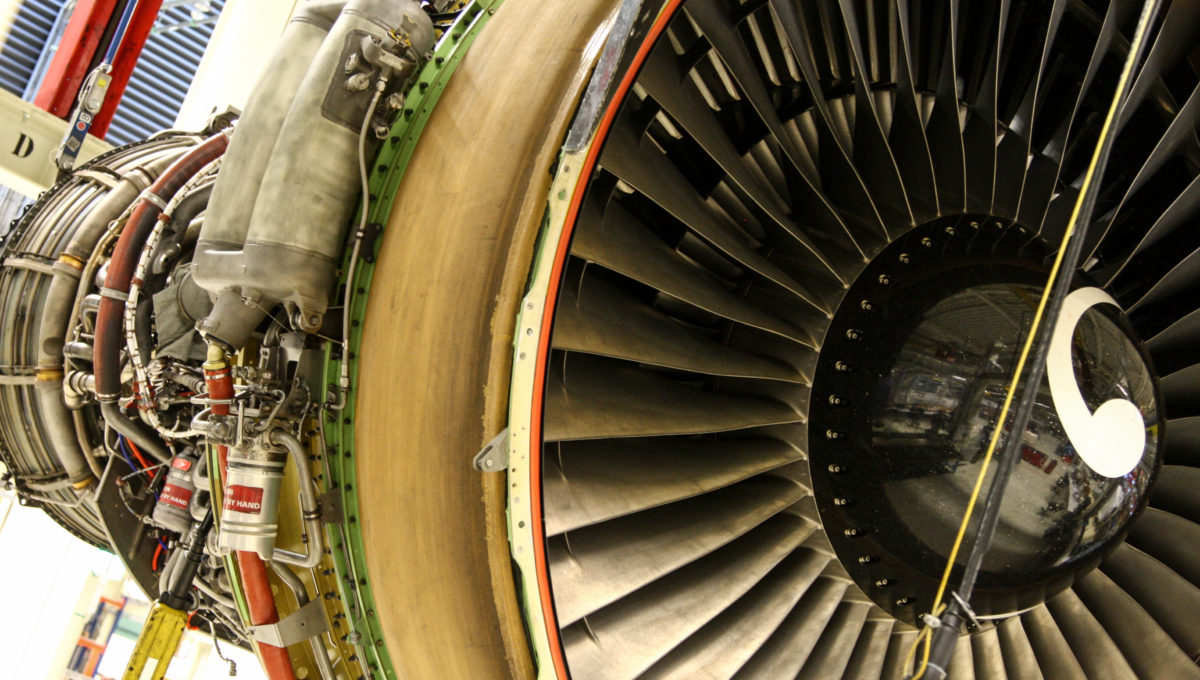 I eventually became an engineer after completing my higher-grade technical training in 1991. I really had a fantastic time working at Engineering. I learned a lot, completing post-graduate courses, as well as the Lean and Black Belt training at General Electric. I also spent some time teaching alongside my engineering work. Sometime in 2013, I was appointed fleet manager, which is a role that suits me perfectly.
Fleet Manager
What exactly is a fleet manager? Well, KLM is a company that operates aircraft, as you know. And these aircraft need to be maintained. KLM itself is responsible for that maintenance. It's up to us to decide how we do this. We can outsource it, if we like, but we always have to comply with the regulations of the air transport authorities.
As an operator, KLM has a Fleet Services department that monitors maintenance processes and, where necessary, outsources these to service providers such as KLM Engineering & Maintenance, of which Engine Services is a sub-department. We also cooperate with other airlines, such as Air France, with whom we've shared out various tasks, based on the technical expertise of the two partners. As a fleet manager, I'm in charge of contract management, the details of agreements, but also long-term planning and budget monitoring.
I'm an intermediary between various different parties and I'm part of a team. My colleagues at Custom(er) Support handle the operational planning if something has to be replaced. This could be an engine exchange, which is sometimes arranged far in advance, but may also be required on the spur of the moment. There's actually a truck that shuttles engines back and forth between Paris and Amsterdam. My colleagues handle all the logistics for that.
Wide-Body Fleet
Our Flemish neighbours call them "breedrompvliegtuigen", but we Dutch just use the English term: "wide-bodies". KLM began operating them in 1971, when the first Boeing 747s arrived. These were later joined by the DC-10s. Both of these aircraft types had two aisles, which meant you had a single-aisle fleet and a dual-aisle fleet. The latter is also referred to as the wide-body fleet.
Youngest
At 61, I'm the youngest of nine children. I have four brothers and four sisters. Almost all of them are retired now. Our parents have passed away. We share fond memories of our youth in the Nieuwmarkt district in the centre of Amsterdam. We were born in the Kleine Trippenhuis on the Kloveniersburwal. One of my brothers recently published a booklet on the history of this classic canal house.
Teaching
Somewhere in the late 1990s, the Delft University of Technology asked me to chat to students about being a test cell engineer. The university wants students doing internships at KLM, and test-cell engineering is a very interesting topic. They were very enthusiastic about my presentation, so I was asked to give a lecture occasionally and to supervise students during their internships.
Tailcoat
Before I knew it, I was also supervising graduation projects, which meant I also had to take a seat on the examination committee. I also supervised the PhD research of a student studying Engineering in Delft. The doctoral candidate in questions had been working at our department for a year, almost literally at my desk. We developed a bond with one another, of course, and we learned from one another. He is incredibly intelligent, so I was more than willing to put on a tailcoat to attend his graduation, where I had a seat on the graduation committee, alongside the professors in their gowns.
Gasturbine
That's a good one. Let me explain what a gas turbine is. Look, in the old world, until around the mid-1960s, aircraft were powered by piston engines, which are similar to those you find in cars, although aircraft engines have a completely different type and shape. The problem with piston engines is that they became more and more complex as the aircraft got bigger and bigger. This meant they became less reliable and a lot less efficient.
However, as early as the 1930s, engineers were already working on a different type of engine. In their simplest form, these jet engines consist of a compressor, which pumps air at high pressure into a combustion chamber, where fuel is sprayed into the compressed air. This mixture of fuel and oxygen then ignites, streaming through a turbine, which also drives the compressor.
You could say that a gas turbine works in much the same way as a balloon in the air, which has been blown into at high pressure and allowed to flow out again. In reality, a gas turbine is far more complicated, of course, but this is a good way to illustrate how the air streams through the engine under pressure, creating a forwards force, as described in Newton's law of action and reaction. This propels the aircraft forwards.
The engine creates a backwards force, which means the reaction force moves the engine forward. If the engine is attached to an aircraft, the engine will also move the entire aircraft forward. So this is the action-reaction principle that applies for every engine, as well as the safe jet engine, the gas turbine.
Gas turbine training
Several years ago, Dutch colleges offering higher vocational training experienced a growing need to focus more on the functioning and maintenance of gas turbines, which are not only used in aviation, but also in the energy sector and in the navy. Together with a number of these colleges, we developed a minor course in which third-year students can complete gas turbine training as a separate credit.
KLM then further developed this course in cooperation with colleges, energy companies and the navy. This was a lot of fun and very interesting. Apart from this training, we also developed the rest of the coursework, including several science courses, so that the curriculum for the minor was complete. Several years ago, a colleague took over my duties on this team. Things were a getting a bit too hectic and I had to make choices.
Women in technology
I still give lectures in Delft and Amsterdam a couple of times a year. Nowadays, one in four of the students are women. That gives me hope for the future, because let's be honest, it's 2018 now, but the people I work with are almost all men. Here's hoping the coming decade will change all that.
Paris
I regularly go to Paris to discuss all sorts of issues relating to GE90 engines, which have been maintained there since KLM and Air France merged in 2004. We already had this kind of cooperation in the 1980s, when we had a pool system for maintenance with a group of airlines. The cooperation with our French colleagues is excellent, as is the cooperation between the engineers. We often discuss costs, because aircraft maintenance is very expensive.
Electrical aircraft engines
It's just a matter of time, but I don't think I'll be around to see that day. I will, however, be attending a knowledge session on the future of electrical flight in June. I'm fascinated by that kind of thing. In the Czech Republic, there's already a company that builds small aircraft fully powered by lithium batteries. And let's not forget Bertrand Piccard's solar-powered plane, which took quite a long time to fly around the world (505 days; Ed.), but it got there eventually, albeit in stages.
Nevertheless, I find Piccard's project fantastic, because it can work. I reckon it would take extremely long wings, covered with solar cells, each fitted with six engines. The main problem with such designs is the battery technology and the required engine power. It would require many, many megawatts, and that kind of technology for large passenger planes is still at least 25 to 30 years off, I think.
Veiligheid
There's a growing interest in sustainable air transport, but that isn't something you can arrange overnight. Unlike the automobile industry, which has a vast market for cars, the airline industry is faced with much higher development costs. In commercial aviation, we need to earn back our investments. And safety is our chief priority, which really takes a continuous effort to guarantee. We can't just make major changes, which means safety regulations sometimes make us slightly conservative.
And that's logical, because we need to operate safely, which means testing, testing and more testing, and that takes a great deal of time.
Love
I was a latecomer to love. I've been with my wonderful wife Rosita for the past twenty years, and I also have a good connection with her son. We've visited her family in Suriname on various occasions. Rosita works with elderly people and does so with great pleasure. The two of us enjoy life and we're both fanatical about keeping fit.
Tinkering
I often joke that I'll be opening a bicycle shop when I retire, which will be in 2022.
I love cycling. It's one of my favorite hobbies and I really enjoy tinkering with bikes. I have racing bikes, in addition to my ordinary bike, and I have a large shed with a purpose-built workbench. No, I don't have an electrical bike. Not yet! Although my wife has mentioned that it might be handy.
The main problem with electrical bikes is the maintenance. If you want to repair a puncture, you have to take it to the dealer. And I'm not too keen on those maintenance contracts. As a cyclist, I'm looking forward to seeing electrical engines that I can reset myself when I'm changing a wheel, but I have yet to find a dealer that offers this option. I'd be open to that.
Repairs
People often ask me to help them with repairs and odd jobs, which is something I enjoy doing. It's a great way to burn off some energy; installing bathrooms, doing the tiling and grouting, hanging stuff up. No major renovations, though. I restrict things to a couple of days.
Doing Nothing
That I can do, I think. But only if reading counts as "doing nothing". We don't really enjoy beach holidays and mostly take shorter trips. But a week's all-inclusive holiday would be most welcome, thank you. We have our set ritual: we have breakfast at our leisure and then sit around reading most of the day, until the end of the afternoon, when we do an hour's exercise every day. But we always restrict these all-inclusive outings to a single week.
Jakarta
I love visiting Asia, especially Indonesia. I'm crazy about Jakarta. It's a fascinating place and I have this thing about Asian people; I feel at home, a bond. What really amazes me is that it is incredibly busy, but everything works out. It's organised chaos and I see very little aggression there. And then there's the weather, the warmth that embraces you; 26, 27 degrees, with a cool shower in between, divine!
Aviation Knowledge & Career Day
Together with the other board members of the Aviation Knowledge & Career Day (AKCD) I organise and annual event for students and other interested parties who want to gain greater insight into the technology and logistics of the air transport industry. The AKCD never ceases to inspire me, which is exactly what it's supposed to do! I always end up with all sorts of new knowledge and good ideas. And the presentations are world class!
We had a great keynote speaker again this year. There were all sorts of lectures and we had panel discussions featuring three women, Wilma van Dijk, director of Safety, Security & Environment at Amsterdam Airport Schiphol, Meiltje de Groot, director of Twente Airport, and Marlou Banning, CFO of Air Traffic Control the Netherlands, along with Huib Gorter, former representative of Malaysian Airways. They discussed the appeal of aviation and why "adaptive aviation" was the main theme of the event. It's all about our ability to adapt and adjust. I'm really looking forward to the next edition.
Voldaan naar huis
I'm never quite sure what kind of day it will be. I've got my weekly schedule, of course, and I know what I'll be doing, but there will always be unexpected assignments along the way. Those are challenges and I love them. In among the safety, the regulations and the rules, there's plenty of room for the unpredictable. That ensures a nice balance. And I also enjoy engaging with other cultures, on the odd occasion that I give a lecture abroad.
Typical KLM
Being open to developments, expanding your horizons and maintaining a broad perspective. If you don't stay in one place too long, you'll discover how many doors open to you, and how open we are at KLM, and how we welcome people. Be open to new things – that's the greatest wisdom I can offer, because it gives you energy and keeps you sharp, which is healthy for you, I reckon.
Best KLM memory
I've carried out engine exchanges abroad in the past, which resulted in some wonderful adventures. Hopping into a taxi and driving straight to Brussels for a flight, arriving in Africa in the middle of the night. Checking in at the hotel and then getting straight to work, day and night, to overhaul a DC-10. This was 35 years ago, mind, but we were already working with our French colleagues back then.
I also travelled to Portugal once to fix a DC-10 as quickly as possible. We worked flat-out and got the job done fast, after which we toured Lisbon in a carriage and were offered a fantastic lunch, with all the trimming, as a token of gratitude. Those are wonderful memories.
Venice
Several years ago i attended an annual meeting of one of the engine manufacturers which was at that time organized in Venice. The weather was mostly fantastic and, after a long day, it was great to take a boat out to one of the smaller islands for dinner, returning to the Piazza San Marco Square for a drink late in the evening. These are events that you remember for ever.
Pech onderweg
Engine problems en route are in most cases solved localy, in a rare ocasion this is not possible and we need to replace the engine locally. The engine is then shipped to our facilities and repaired. It's fascinating that lots of the metal components can be reused. If they are "life-limited components", they are replaced after a set number of flight hours and then sent to the junkyard.
Life lesson
It's good to be energetic and to share that. Which basically means taking pleasure in what you do, even though there are days when everything seems to go wrong. I get energy from my curiosity and passion for my work. If I ever lost that, I'd go and do something else.
Cycling through Schiphol-Oost
I enjoy this most on clear days. Then I'll feel the energy and dynamism of aviation. The surroundings really give me a boost. I think it's a combination of the people who work here with the technology and everything else that's involved. And all this is set in beautiful surroundings, which is why I almost always cycle to work.
The ultimate bike
That would be Italian. I currently ride a Cannondale, which is a great bike and an excellent brand, but someday I will own a Bianchi. That really is my dream bike. The design is superb, but I also have a thing for Italy, as you may have noticed. I'm crazy about the place. I always rode a Moto Guzzi motorcycle and I now have a Vespa scooter, two different means of riding, but with that same Italian style.
Ultimate aircraft
The Grand Old Lady, without a doubt. The Boeing 747 is beautifully streamlined and the design truly is a marvel. You've got to bear in mind that this plane was developed in 1965, when Boeing engineers were still working with pocket calculators. The entire aircraft was drawn on old-school sheets and all the structures were calculated without any automated computer programmes, by hand and mind and sixties technology computers, which I find an incredible feat.
Birth of the 747
In the 1960s, Lockheed, Douglas and Boeing were vying for a US Army tender to design a cargo plane that could also carry heavy tanks. Lockheed won and Boeing was smart enough to use the designs for other purposes, starting with a commercial passenger aircraft and later coming up with combi types that could fly cargo and passengers simultaneously.
We largely owe the existence of the 747 to PanAmerican Airlines, who were so enthusiastic about the design that they gave a guaranteed order of 25 aircraft, on condition that Boeing rounded off the design. And the rest is history.
Phase out
I fully understand that KLM is now phasing out the 747s. There are more efficient and economical aircraft around and we need to keep pace with the changing times. The era of four-engined aircraft is drawing to a close, but the 747 remains a beautiful design.
787, Dreamliner
That's the future: the latest series of the 787. Twin-engined aircraft are the future. And we'll soon be flying to Australia nonstop.
Last app downloaded
That was a General Electric app, which I needed for a meeting in Cincinnati. It included a three-day schedule for the World Travel Together meeting, as well as all the participants, which was very handy indeed.
Apple fanatic
I really am an Apple fan. I'm lyrical about these computers, because everything is self-explanatory. The desktop is also very inventive and I'm always getting into discussions with people who favour Microsoft, Samsung or other operating systems.
Favorite holiday destination
That would be Italy. When I was single and part of the Italian motorcycle club, I loved touring around there with the rest of the guys. We were all huge Moto Guzzi fans and, once a year, we'd ride down to the factory in northern Italy. I'd really like to drive down there again in the near future, but this time I'll be going by car.
Island
The first ones that come to mind are the islands of Indonesia, especially Bali and Java, which I love visiting because they offer a great combination of landscape, culture, people and good food.
Bucket list
Australia is high on my list. Ideally, I'd like to visit Melbourne and Sydney, while enjoying the superb landscape along the coastline. I'd probably give the interior a miss, because I'm not a huge fan of creepy-crawlies, vast distances and high temperatures. Everyone who has been there is very enthusiastic about the country and the people.
I'd also love to visit Japan, where I would board the high-speed Shinkansen trains to explore the country.
Must-see
I always say: Paris. I visit the city about six times a year, which sounds lovely, but I'm usually there on business, which means I spend most of my time in the Air France maintenance areas at Charles de Gaulle and Orly airports, so I don't really get to see the city. However, on two occasions I did go into the city centre when I was there for work. On one of the ocasions we went for dinner in downtown Paris, and then you realize city really is a delight.
You see the grandeur of Parisian architecture in the former Air France headquarters, which were located in a beautiful building beside the metro station near the Louvre. The building has a wonderful grandeur and has clearly been designed with attention to detail. That's one of the things I like about the French: they like going big. They believe things deserve to be seen. France is an incredibly beautiful country, and Paris definitely has a place in my heart.
Amsterdam
I've visited America regularly on business, but I've also been there on holiday, and a lot of Americans still believe that most Amsterdammers use lots and lots of drugs. They have strange views of our city. Amsterdam is a compact metropolis. Everything is within easy walking distance. It's a beautiful city, with great museums and magnificent canals. It's a fantastic place to visit.
Gangpad of raam
I'm fortunate that I'm sometimes allowed to fly Business Class when I'm on travelling for work, which means aisle or window becomes less relevant. The very best spot is on the upper deck of the 747… And if I do have to choose, I'd opt for the comfort of the aisle, which is worth more to me than the spectacular view from the window.