When will my luggage reach the baggage belt? What's the best way to beat jet lag? What is the current exchange rate? How do I get the most out of my layover? Answers to these and many more questions can be found in the travel apps below. Download them for your next trip.
1. TripAdvisor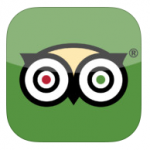 Wherever you're going, there is bound to be someone who's written a review of it on TripAdvisor. With more than 150 million traveller reviews and opinions, TripAdvisor makes it a lot simpler to find the best attractions, restaurants and hotels at any destination. Useful for planning your journey and when you're already on your way. The "Near Me Now" tool uses your location to give you a list of hotspots in your immediate vicinity. (free)
2. GetPacked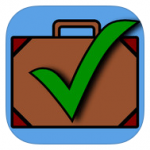 The risk of packing the night before is that you nearly always forget something essential, whether your reading glasses, lens solution or your phone charger. The app uses questions to compile a packing list which you can, of course, personalise. The list contains more than 600 items and a "To-Do" section for useful things like, "Renew Passport". So all you have to do is tick off the items on the list the night before. (EUR 1.99 / iPhone)
3. Smart Layover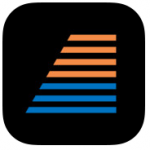 Do you have three, four, even five hours to kill between flights? The app helps you get more out of your layover. It offers maps of airports, lists of hotels you can book for a few hours, and discounts for tours and airport shops. It helps you to order tickets for the most interesting activities in 140 cities and, thanks to the notification feature, you'll always know if you have to race back to the airport. (free / Android / iPhone available in some countries)
4. Triposo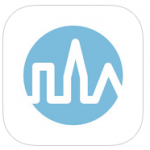 This is perhaps the most comprehensive travel guide available for smartphones. It contains maps and highlights for hundreds of countries and cities. An ingenious algorithm attunes the "Must Sees" to match your personal travel behaviour. Using the its suggestions, you can put together your own walking routes. And, if you download the information, the app works offline, too. Very handy when there is no WiFi and for avoiding data roaming costs. You can leave the guidebook at home in future! (free)
5. XE Currency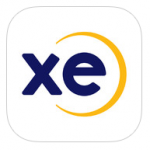 A shirt that costs 200 shekels… Is that a bargain or not? This app contains all the up-to-date exchange rates in the world. Shake the phone to get the most recent rate. This app is already very highly rated. (free)
6. Zeker op reis (Certainty When You Travel)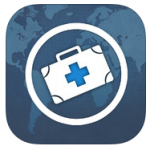 Sometimes things go well, sometimes they don't. If you need help abroad, this app contains the telephone numbers and addresses of embassies and hospitals. There is also a list of vaccinations you need for different countries and regions, health tips and a dictionary of 400 useful words in six languages. (free)
7. JetLag Genie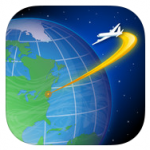 There is nothing worse than waking up at your destination and feeling drained—the dreaded jet lag. This app helps you to tackle it. It makes a plan for you based on your flight and time zones so that you minimise the effects of jet lag. It all revolves around striking the right balance between sleep, waking hours, catching some sun, food and exercise. The JetLag Genie works it all out for you. (EUR 2.99 / iPhone)
8. Schiphol App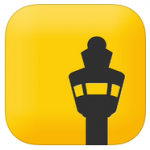 In addition to the usual flight information, the app also sends push notifications with important changes including flight status, times, gates and baggage belt changes: "The expected arrival time of flight KL0869 has changed." Fun extras include mention of which runway the flight is using and the time the first suitcase will hit the baggage belt. (free)
KLM Apps
KLM has also developed a number of useful apps that we just have to share with you.
KLM App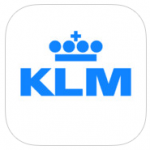 With the KLM app you can book a ticket anywhere and everywhere using your phone. You can check in, choose a seat, arrange for extra baggage, or change a reservation. Another useful feature: The app also shows you the latest special offers. And the "Contact Us" feature connects you directly to Facebook or Twitter to contact the social media web care team. (free)
KLM App for Your Tablet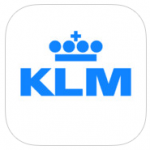 This app, only available for tablets, lets you book a flight, but then with a twist. You can select filters for the journey you want to make. For example, no more than five hours in the plane, minimum 20 °C., maximum EUR 600. When you log in with Facebook, an interactive globe with all your friends abroad comes up, including current prices of flights to those places. A playfully and attractively designed app (free)
KLM Houses App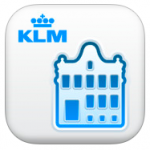 "Hang on a moment, I've got a note somewhere. No, not here. In my jacket, perhaps, or wallet? I just need to get my bag for a second." Sound familiar? All that searching for a crumpled piece of paper with the numbers of the KLM Houses you already have? The KLM Houses app is far more practical. It keeps track of which houses you already have on the shelf, which ones are missing and which you have double. Even more fun: There's an info button next to each house with its history and background. (free)
Travel Tip: An Extra Battery
This isn't an app, but a very useful travel tip. Anyone who travels a lot and is constantly using these apps, will soon run out of battery power. It's always useful to know that there are cases for most smartphones which also serve as batteries. They can increase the life of your telephone battery by eight hours or more.
iPhone tip: Mophie Juice Pack.