The 'blessings' of duty travel
If your job portfolio at KLM includes 'International PR', you can't avoid a certain amount of 'duty travel' now and then. That's why I found myself at Schiphol airport for the Tuesday evening flight to Beijing. Once onboard, I stretched out in Business Class and left the worries of the day behind me. I wondered whether to run through the 144-page presentation during the flight that evening but I knew from experience that it was doomed to failure. Instead, I would eat, watch a film and try to sleep a bit. We would be arriving in Beijing the following morning so if I wanted to get through Wednesday relatively fresh and alert, I would have to try and get some rest.
Just a little under ten hours later, I got off the plane at Beijing and once again immediately realised the benefits of duty travel: a lady from our local office was waiting for me at the gate and guided me quickly and skilfully through immigration. In the arrival hall, I bought some Chinese Yuans at an ATM but found it difficult to judge the right amount. I had looked up the exchange rate at home but my brain was still in 3 a.m. sleep mode and refused to function. Outside, a grey-brown mist blew in my face. Smog. At the hotel I would try to get a couple of hours' sleep and then we would see. My travels have taught me never to pass judgment on a city or a country when you're tired.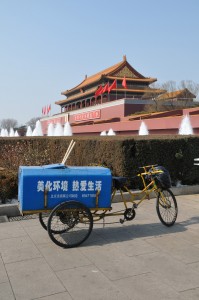 After two hours' sleep, I felt reasonably fit, so I grabbed my camera and walked into the city. Via the luxury Wangfujing Dajie shopping street, I headed in the direction of Tian'anmen Square and the Forbidden City, which was packed with people. I was regularly approached by students wanting to practice their English and I let myself be cajoled into visiting an art gallery. Of course I bought an art-work from Johnny, especially as he offered to paint my name on the silken canvas in golden Chinese characters. I left his shop and entered a side-street. Bingo! A real Chinese market. Shivering with a mixture of pleasure and revulsion I walked past eating-stalls offering fried grasshoppers, cockroaches, butterfly cocoons and other vermin. I decided to give it a miss this time. However, I did try the fried ice cream (nothing to write home about) and the fried milk (never heard of it but it was okay).
The first night there, I suffered badly from jet lag. At 3 a.m. I grabbed my BlackBerry to read my e-mail; I then read for a bit and finally took a sleeping pill. Of course I should have done that before. In the morning, I had time to fit in a Chinese massage. 'You want massage tomorrow too?' asked the masseuse. Unfortunately I would have no time for one – before me lay two days of meetings in a mixture of Chinese, English and French. Interesting but also tiring.
After three days in China, I'd had enough. In total, the jet lag robbed me of four nights' sleep and the extravagant business lunches and dinners were not making me any fitter. On Saturday morning, I boarded the KLM Boeing 747 and sank into my chair with relief. I felt home already. The senior purser asked me if I'd chosen anything from the Business Class menu. 'I don't suppose you have a cheese sandwich?' I asked, half laughing, half serious. 'I'll have a look,' she replied, 'but I think I might be able to make you happy!' And sure enough, after she had given some stomach tablets and advice to the gentleman sitting behind me, she returned smiling with two brown cheese rolls. Oh, I do love our KLM cabin personnel!
So do I like travelling? Sure I do. Do I like duty travel? Certainly. I go to places where I would probably never go on holiday. And even though I'm only there for a short time, I always get a fair impression of the city and its people. Is there a downside? Of course there is. There are no shared memories to relive with your partner over a glass of wine. But hey, who's complaining?
Inge
Corporate Communications