The Extraordinary Hats of the Yi Women
As the bus is driving higher, I am getting colder. The switchbacks in the road imply that the sun is on my side half the time, and warms me up a little bit. Only a few weeks before, while preparing a 72-hour layover in Chengdu, I came across pictures of the fantastic hats and dresses worn by women of the Yi, one of the many ethnic minorities in Southwest China. They left me with a strong desire to see them with my own eyes.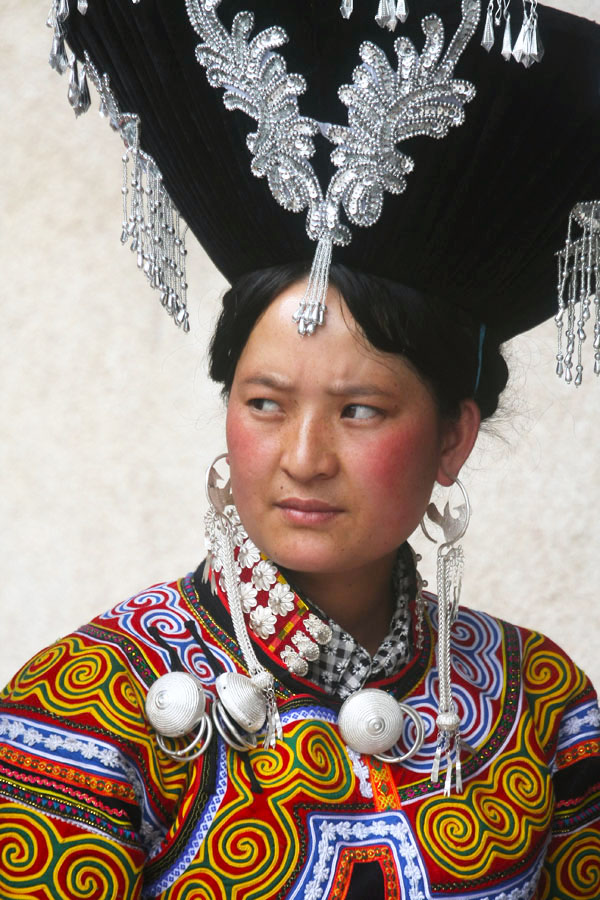 I had left my uniform in Chengdu the previous day, and taken a flight south to Xichang. But when I arrived in Puge after a three-hour ride, the people in the street wore regular Chinese garb – a far cry from the colourful dresses I had expected to see.
Fresh cow meat
What am I supposed to do now, I wonder? After cruising the streets of this mountain village, I come across four women embroidering a big black velvet hat – just the kind of hat I am looking for. When they finish, one of them gestures me to follow. We walk uphill until we reach a building with a courtyard. My heart skips a beat: I see five young Yi women in brilliantly decorated dress and tall, black hats that are much wider at their top than at the base. Inside the building: the body of a deceased woman. An old man, who later turns out to be the woman's husband, takes my hand, and before I realize, I am squatting with the Yi in a big room, digging into buckets of rice and big chunks of fresh cow meat with my bare hands.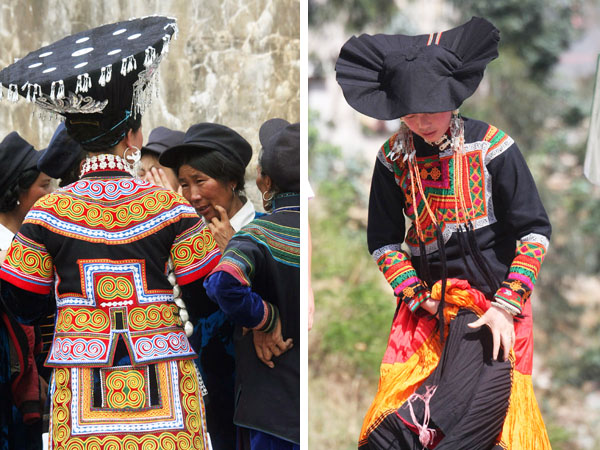 Yi burial
I stay in the courtyard for the rest of the afternoon. In a dazzling display of Yi culture, delegations of surrounding villages, each with their particular dress and hat, come to bid farewell to the deceased woman. The men get drunk, the women chat, and I take more than 700 pictures. The English teacher of town explains what I am seeing. She invites me to join the family for the burial in the mountains, the next day. It is very tempting, but I have a plane to catch. On my way back to Chengdu, I feel intensely happy, and realize that, once more, my job has allowed me to live a memorable experience.