The First Dutch Passenger
"A First Time for Everything" is a short series about the fact that things that are now everyday events had to start somewhere. In this third edition, the first Dutch passenger.
A letter from Mayor Tellegen
On 17 May 1920, the "De Havilland D.H. 16 G-EALU", leased by KLM and flown by English pilot H. "Jerry" Shaw, landed at Schiphol. The return flight from Schiphol to London carried not only freight and newspapers, but also a letter from Mayor Tellegen of Amsterdam to his counterpart in London, and two journalists. M.J. van den Biggelaar of "De Maasbode" wrote an extensive account of the event for this Rotterdam newspaper. Parts of his piece were republished in 1959 in the "Wolkenridder", the internal magazine of KLM.
A neat, terribly tidy city
The route from Schiphol followed the Dutch and Belgian coasts to Calais where it crossed the Channel and headed towards London. Van den Biggelaar wrote, "We approach a suburb of The Hague; the wet, tarmac squares stare up at us like dewy eyes, while yellow patches of tramcars crawl across them. A neat, terribly tidy city now, especially now we can see it from above."
Sinking like a brick
At Calais the aircraft turned right to cross to England. "Our flight over the Channel has commenced and thereby the most risky part of our journey; an emergency landing here would mean sinking like a brick to the bottom, for this aircraft is built for land. My English colleagues appear to have equipped themselves with inflatable jackets to increase their buoyancy in the event they are forced to take an involuntary dip in the silty sea."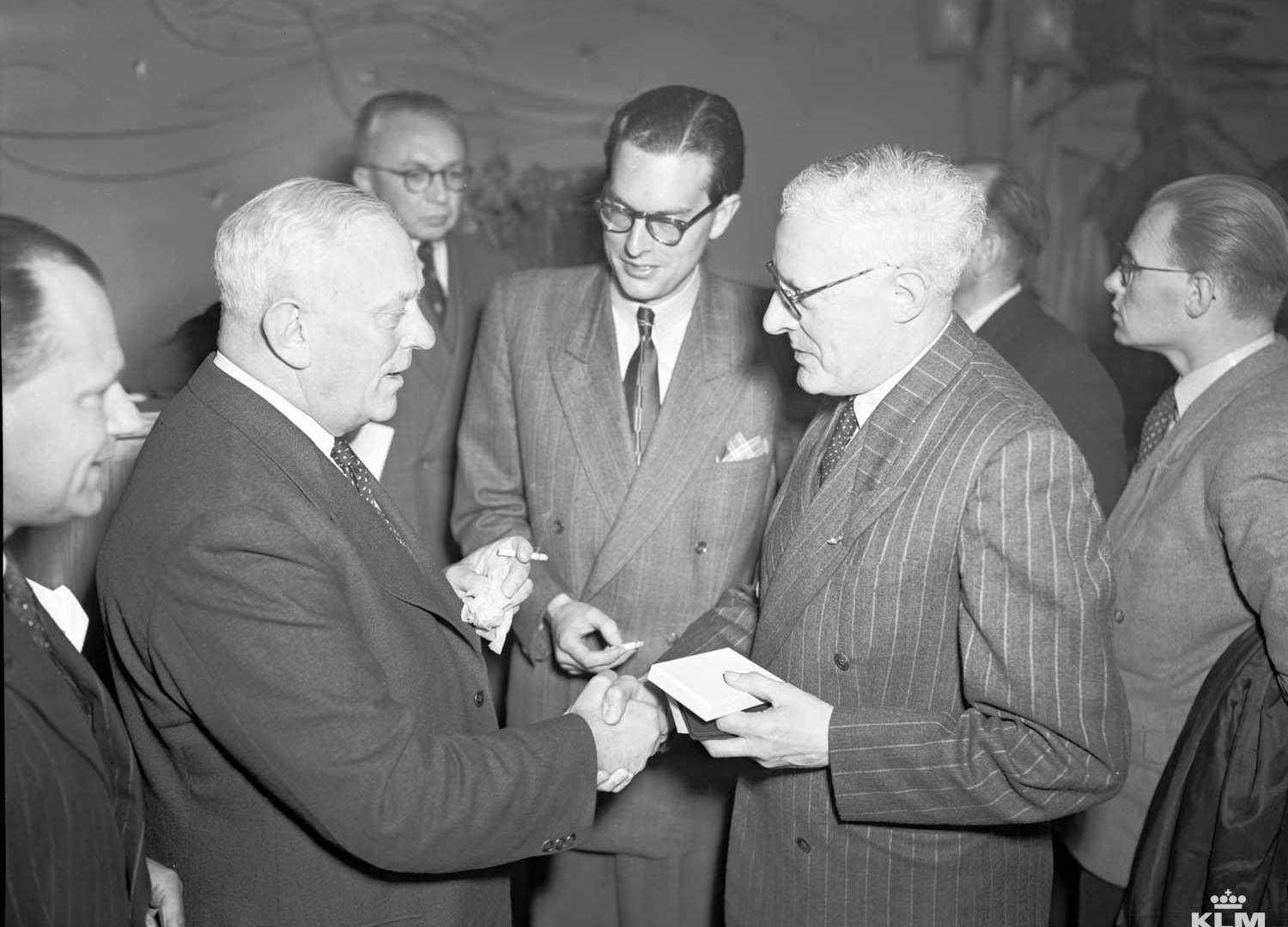 As if in a dream
The crossing passed without incident. On arrival in London, a taxi was waiting to take Van den Biggelaar to London. It felt extraordinary to find himself in a foreign city in such a short space of time. "As if in a dream I wandered through the City, just four hours after leaving Amsterdam. This is ultimately the success of the new air service, the latest development in modern transportation, the triumph of aviation!"
Photo credit: KLM/MAI