The Perfect High-Five – Not as easy as it looks
It was a wild idea. In fact, it even seemed a little too far outside the box at first. But after lying dormant for a year, the Live High-Five re-emerged as a campaign concept for the World Deal Weeks. How do people celebrate success? They give each other a high-five. It's a gesture almost everyone in the world understands and it became theme of the World Deal Weeks. What if we were to use that gesture to connect people on two different continents in a unique way?
The perfect transatlantic high-five
The Live High-Five was presented to us in early 2014 by the creative team of the Eigen Fabrikaat agency. They suggested setting up a live-stream between Amsterdam and New York, inviting locals in the two cities to connect by trying to achieve the perfect transatlantic high-five. To this end, two special video installations were created, with a live video and sound link. One in front of the Rijksmuseum in Amsterdam, the other in New York, with the Flatiron Building as a backdrop.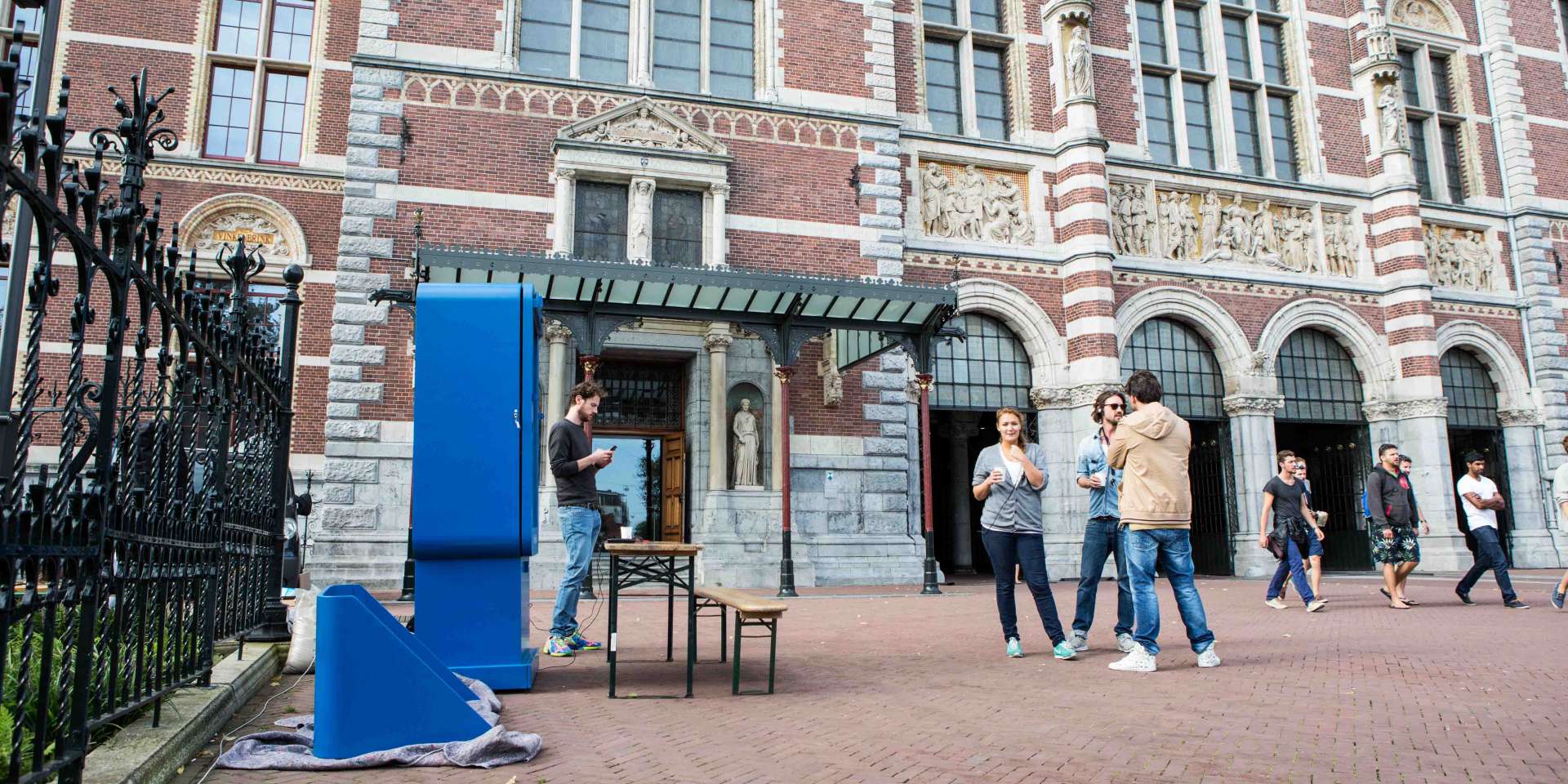 A window on two worlds
KLM's first transatlantic flight was from Amsterdam to New York. This time round, we wanted to connect the two continents in a way that reflected the spirit of our age and KLM's status as an innovator and a new-media pioneer. It was a fantastic idea, but executing it proved to be quite challenge.
We need something more high-tech than standard advertising pillars, because we really wanted to open a window on the two worlds. We eventually partnered with MiniVegas, who took up the challenge and built the state-of-the-art pillars we required.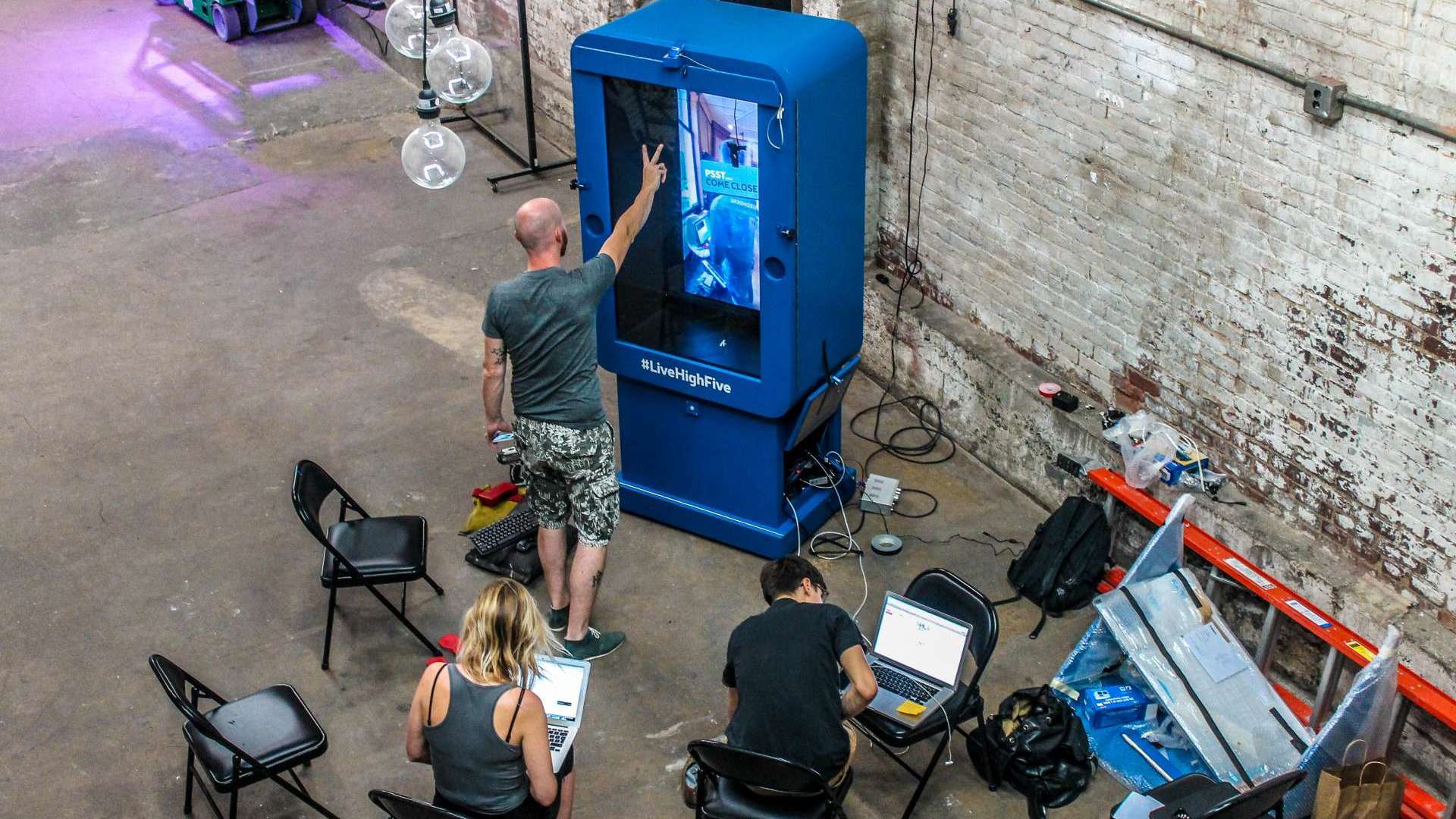 Missed high-five
Each high-tech pillar was equipped with a screen, a touch screen, speakers and a camera. The perfect high-five was all about perfect timing and on-screen hand placement. After all, there's nothing more discomforting than a missed high-five. Participants needed perfect aim and timing.
In addition to the unique live link, the campaign also featured a competition element. Those who managed to complete a perfect high-five stood a chance of winning tickets that would allow them to meet each other in real life. That really upped the stakes!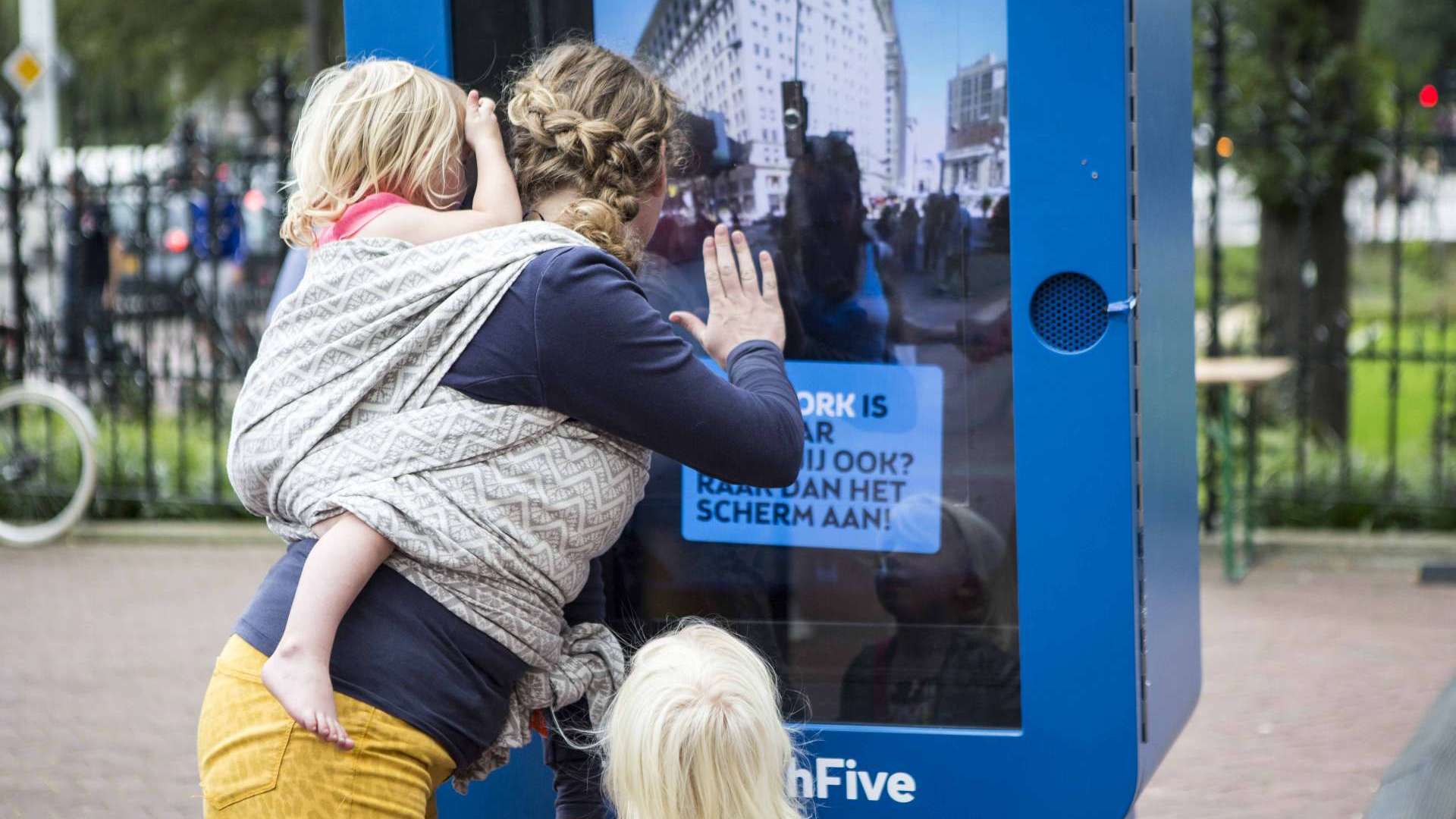 Superfast internet link
It was no easy task to realise this complex campaign. You can't just plant an advertising pillar out in the street. You need permits, a superfast internet link, electricity, a film crew and a photographer. All this had to be arranged. And then there was the challenge of transporting and storing these unique installations. But it all came right, thanks to the assistance of the Rijksmuseum, I AMsterdam and various organisations in New York.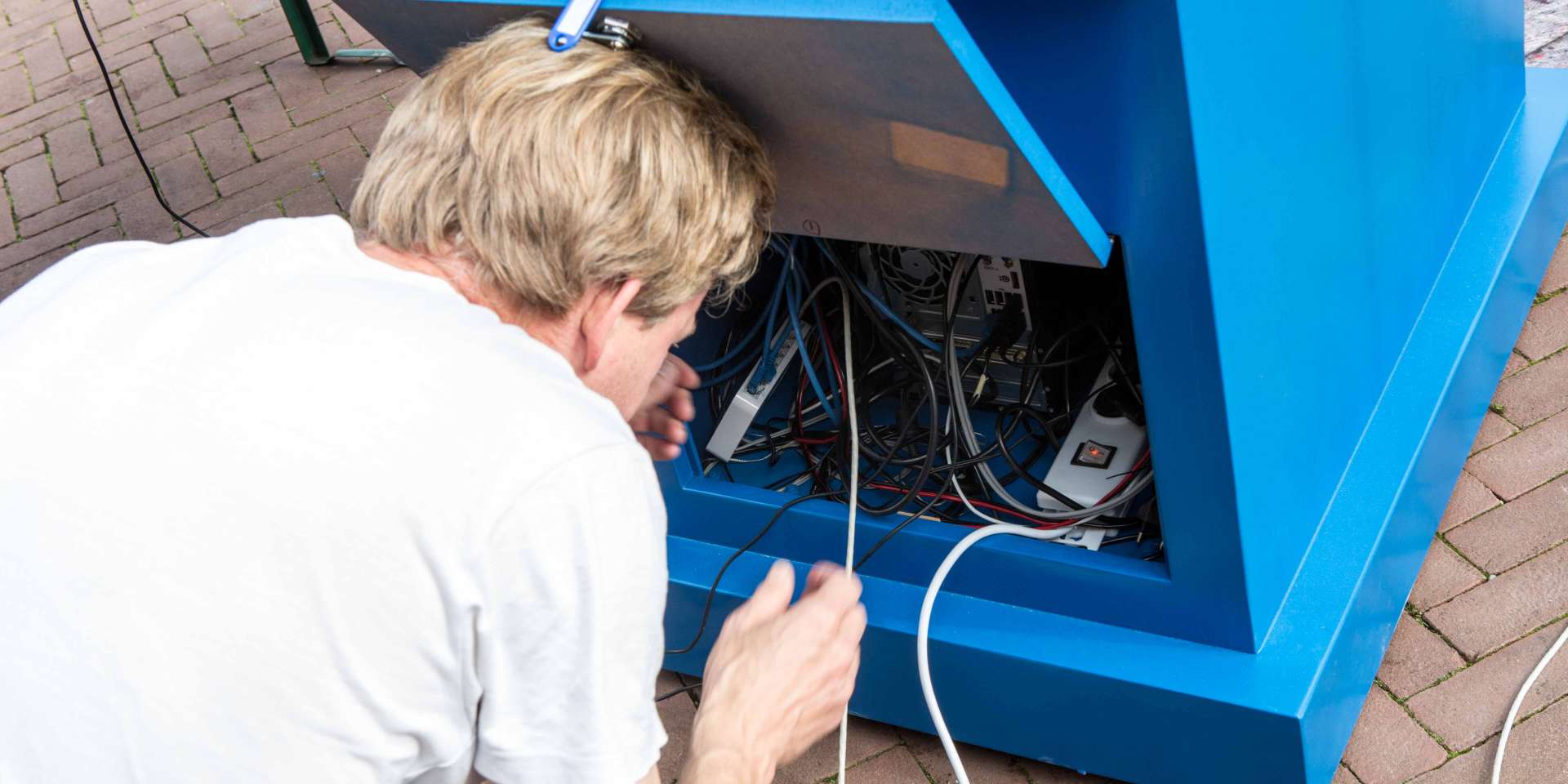 Live at last!
It was an incredible mission, with all sorts of twists and turns. The installation team, the hefty pillars and all the necessary equipment was loaded onto a flight to New York. A similar consignment was transported to the Rijksmusuem in Amsterdam. In New York, the pillar was placed against the backdrop of the Flatiron Building, while the Rijksmuseum provided the backdrop in Amsterdam. Things really got underway at 04:00 in the morning (New York time), with the crew heading out to the Flatiron Building to complete the final preparations. Electricity came from a nearby lamppost, while the internet link was established via the roof of a nearby coffee kiosk, but it all worked perfectly.
All the pieces of the puzzle fell into place and we finally went live. It really gave me a warm glow of pride and satisfaction to see everything going as planned. And more importantly, passers-by responded even more enthusiastically than I had hoped. It gave me goose bumps, even though it was a hot day!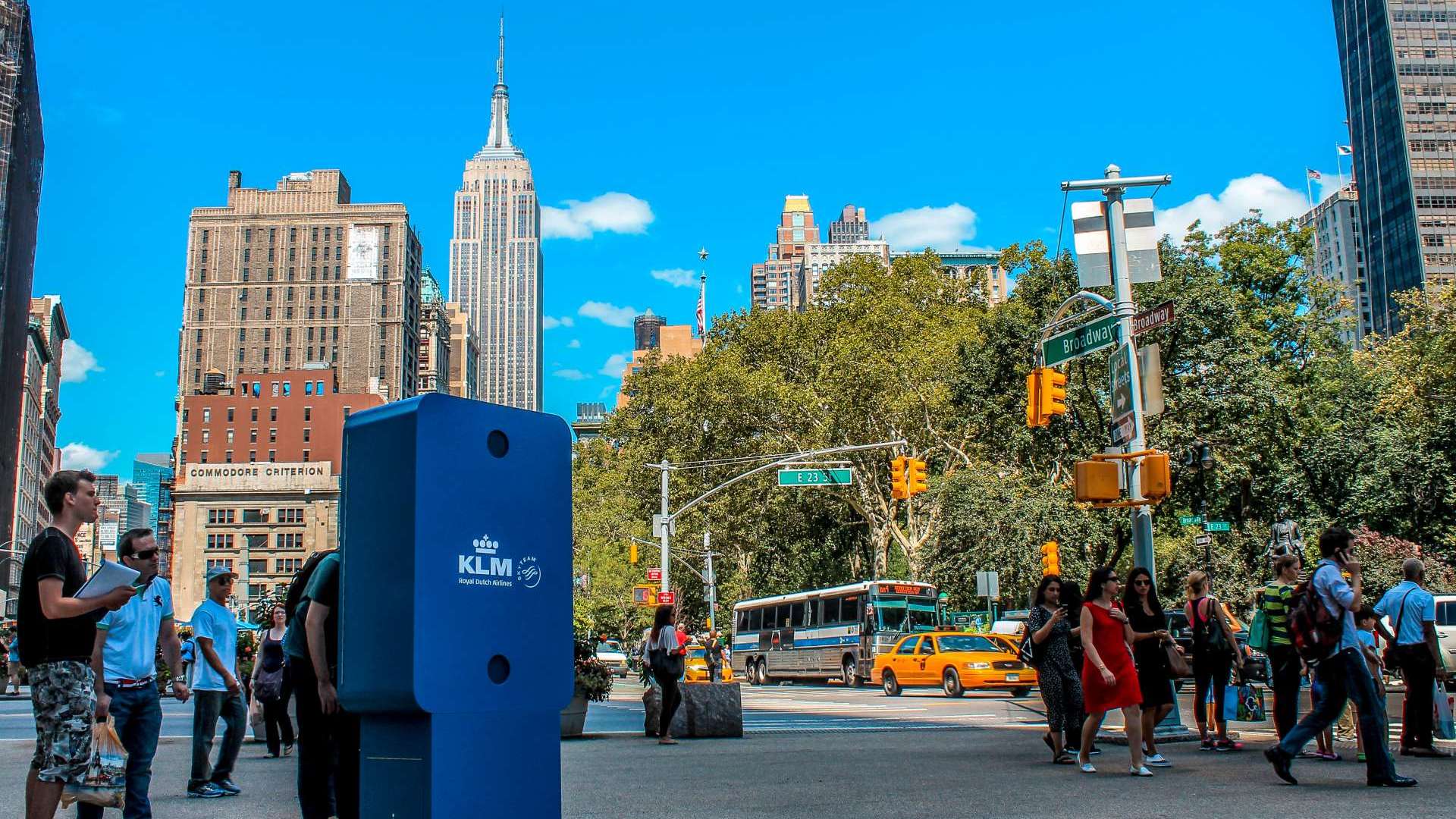 World Deal
Lots of people in Amsterdam used the live link to give high-fives to someone in New York, attempting to achieve perfect aim and timing. Those who did won a great prize! The winner in New York received a ticket to Amsterdam, while the winner in Amsterdam won a trip to New York. Together they made a World Deal with someone across the ocean. And KLM succeeded in bringing the world closer together once more!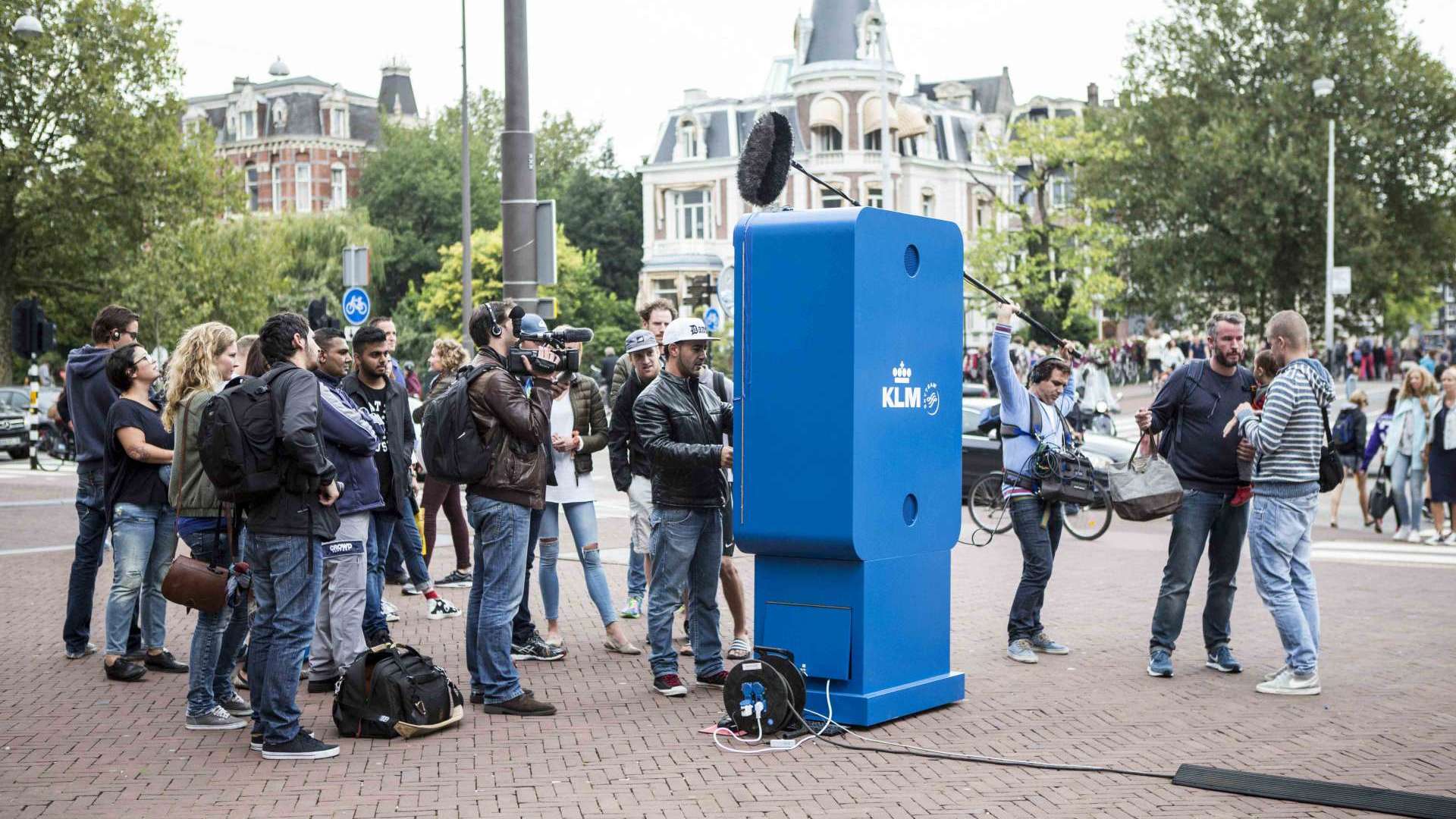 You can watch the final result in the video below.