The risk of generalisation
To explore the world and to give in to one's curiosity about other cultures. I assume those are the main reasons why most people travel to foreign countries. I'm pretty sure these are also the main motives behind most of my colleagues applying for the job of cabin attendant. They certainly were for me.
Having flown around the world with KLM for many years now, I've started to realise that although you might think you really get to know another culture because you have visited a country's (big) cities often and have had many conversations with locals on board and at the destination, this is not really the case at all.
First of all, city life differs substantially from life in smaller towns and the countryside in most countries; knowing Amsterdam doesn't mean you know Holland. (When I realised this a few years ago, I decided to explore a bit more of my own country and got a much broader view of my own culture.) Secondly, the handful of people you meet on a plane or on the streets abroad aren't necessarily representative of the average inhabitant of the country.
Travelling the world the way many people do nowadays, we run the risk of generalising. We all have opinions about 'typical' Americans, Indians, Germans, French, Chinese and so on, usually without having a clue as to what their daily life is really like. And I haven't even mentioned the 'typical' Dutch yet. Generalising the way we tend to do (which is, of course, a generalisation in itself) we miss out on a lot.
On the other hand, there are cultural differences that are very useful, even crucial, to know in my occupation. For instance: although I am left-handed, I will always use my right hand to pass things to passengers from Arabic and Asian countries. And on flights to Japan I will use my whole hand instead of one finger to point the way.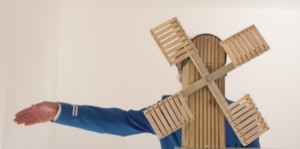 Do these differences lead to generalisations? I am not sure. It's impossible never to generalise, at times it is even necessary. What I have learned, though, is to try to erase all prejudices from my mind at all times. Fortunately I meet quite a lot of people who are anything but 'typical'. And occasionally I get the opportunity to see a bit more of a nation and their inhabitants, through which I get a glimpse of what their culture is about. Yet I would never claim to really know all about any culture other than my own.
Caroline