Montana (USA) – In May 2013, two amateur palaeontologists stumbled upon something huge sticking out of the sand. It turned out to be the skull of an exceptionally well-preserved Tyrannosaurus rex (also known as T. rex). Air France KLM Martinair Cargo had the honour of transporting the elderly lady safely across the Atlantic Ocean to the Netherlands. Join us on Trix's journey.
From pandas and racehorses to Mondrian paintings and prize-winning solar race cars, KLM Cargo has transported the most exotic and precious 'passengers' over the years. On Wednesday 23 August, they transported their oldest passenger ever – 65 million years old and named Trix. With the help of crowd funding, the Naturalis Biodiversity Centre, located in Leiden, succeeded in excavating and buying this unique ancient treasure at a cost of EUR 5 million.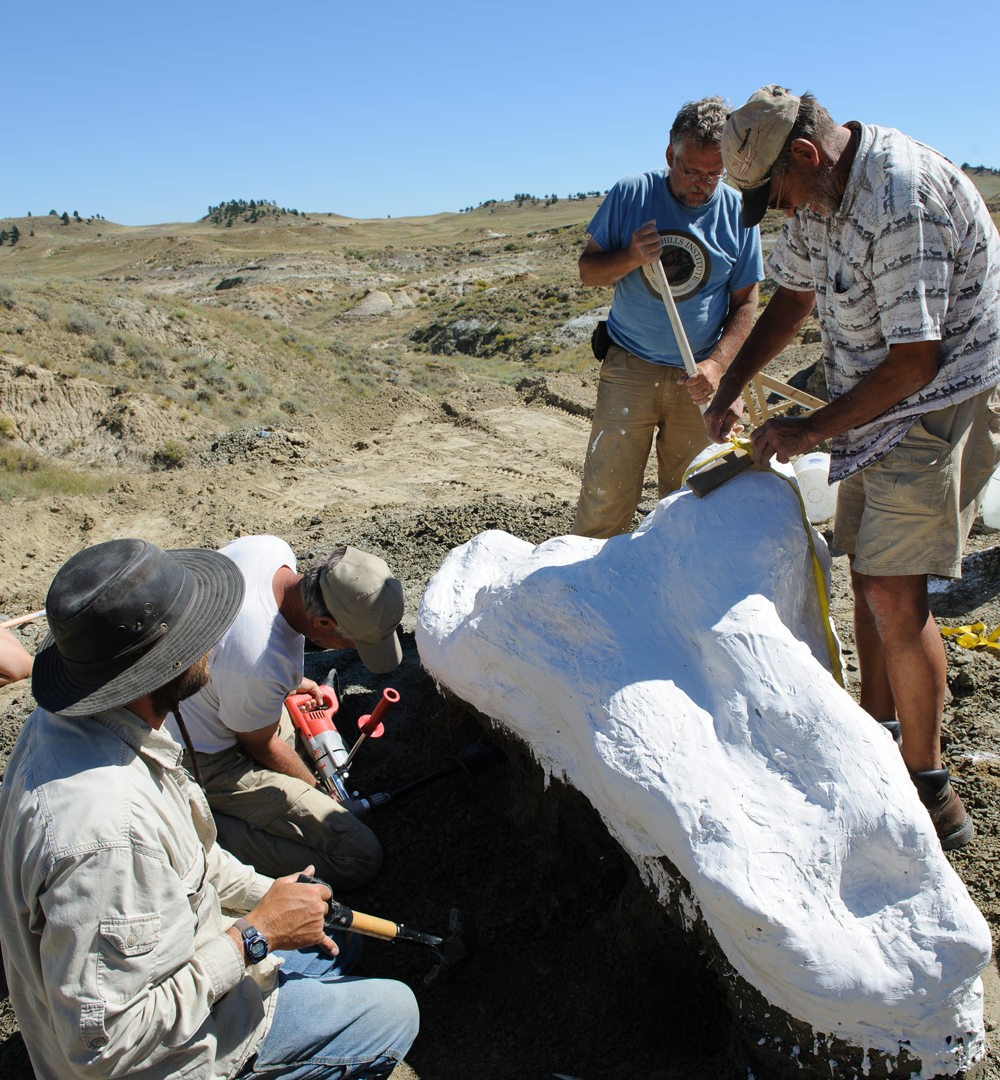 Photo credit: Servaas Neijens/National Geographic Magazine
Lost and found
T. rex lived only in North America, and Trix is the first complete fossil to leave the US. At the excavation site, Naturalis worked closely with the Black Hills Institute of Geological Research, which specialises in paleontological excavations and preservation. At the site, palaeontologists applied the first layers of transparent coating to the bones to make them less fragile and protect them against moisture. They added plaster casts to transport them safely to the Black Hills Institute headquarters in Hill City, South Dakota, USA.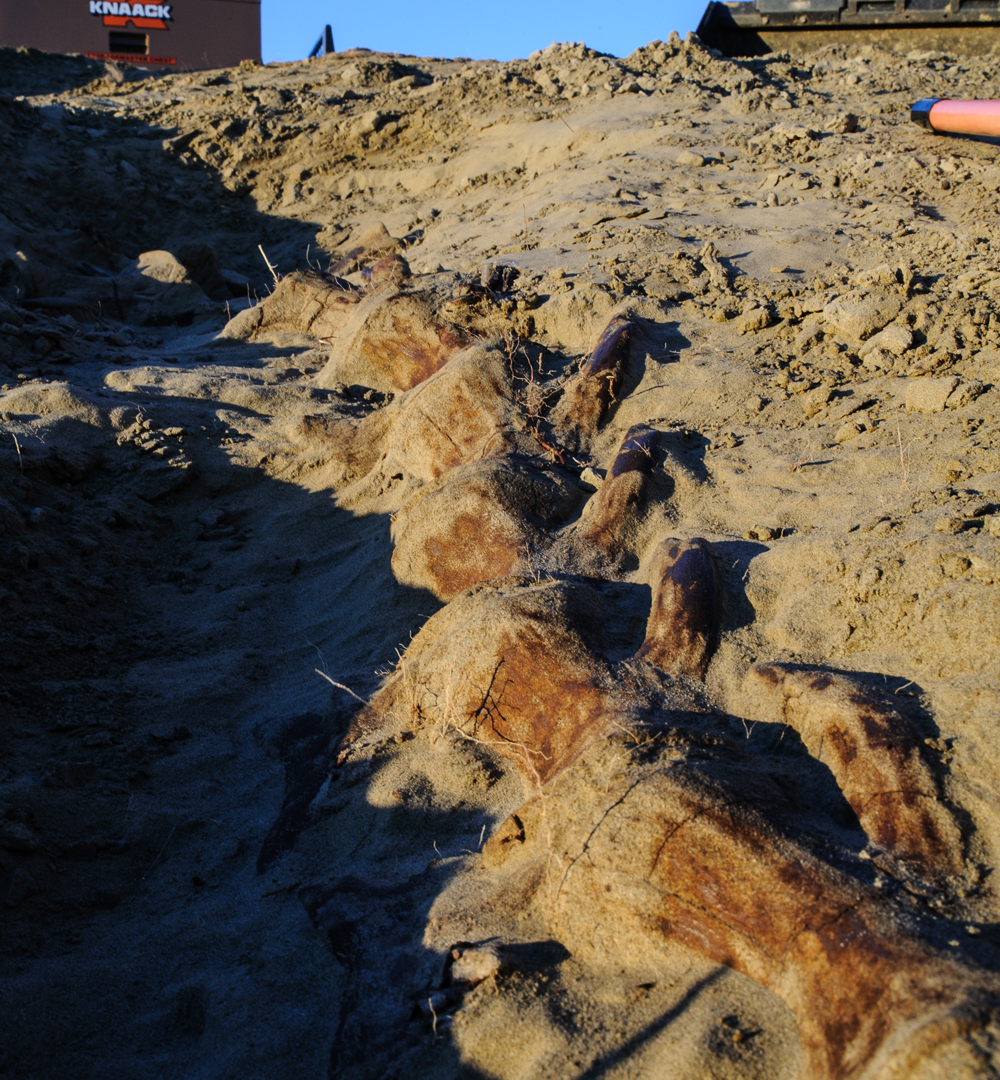 Photo credit: Servaas Neijens/National Geographic Magazine
Exciting tail
Naturalis palaeontologist Anne Schulp coordinated the project. What was the most exciting part about uncovering of this skeleton? "Definitely the tail! Never has a complete T. rex tail been found. The tip is always missing. So, I was hoping against hope, brushing and uncovering one tailbone after the next." And, was the tip still there? "No, unfortunately not. Obviously, it was a very fragile part, or just a very nice snack for other animals."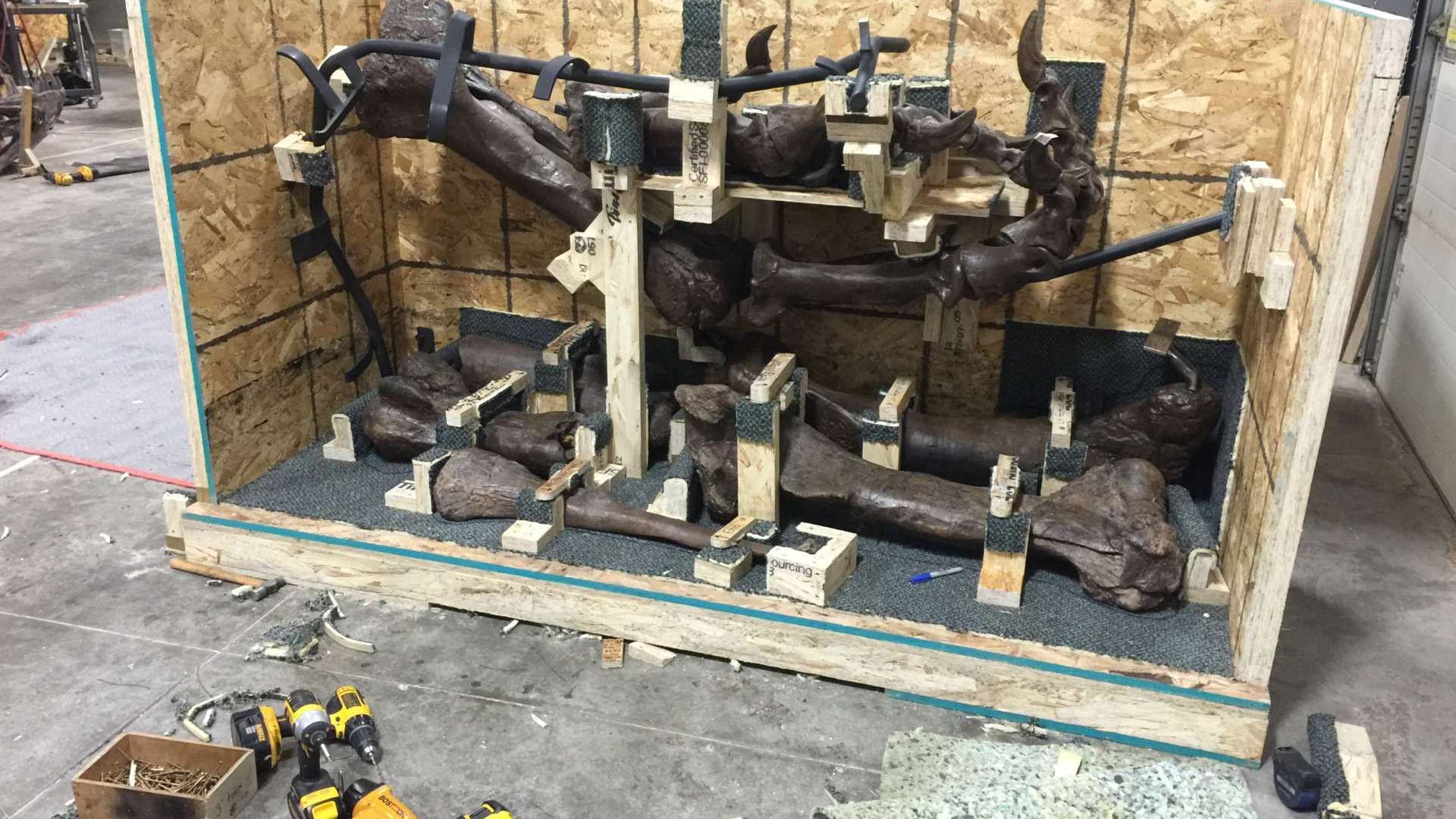 Photo credit: Black Hills Institute
Preparing and building
The entire skeleton consists of 300 bones, 55 of which make up the huge skull. All the bones were put in a digital 3D model to find out which ones were missing or destroyed and a 3D printer reconstructed the missing parts. They also established her age and gender. The T. rex was a lady of around 30 years of age, which is fairly old for this particular species.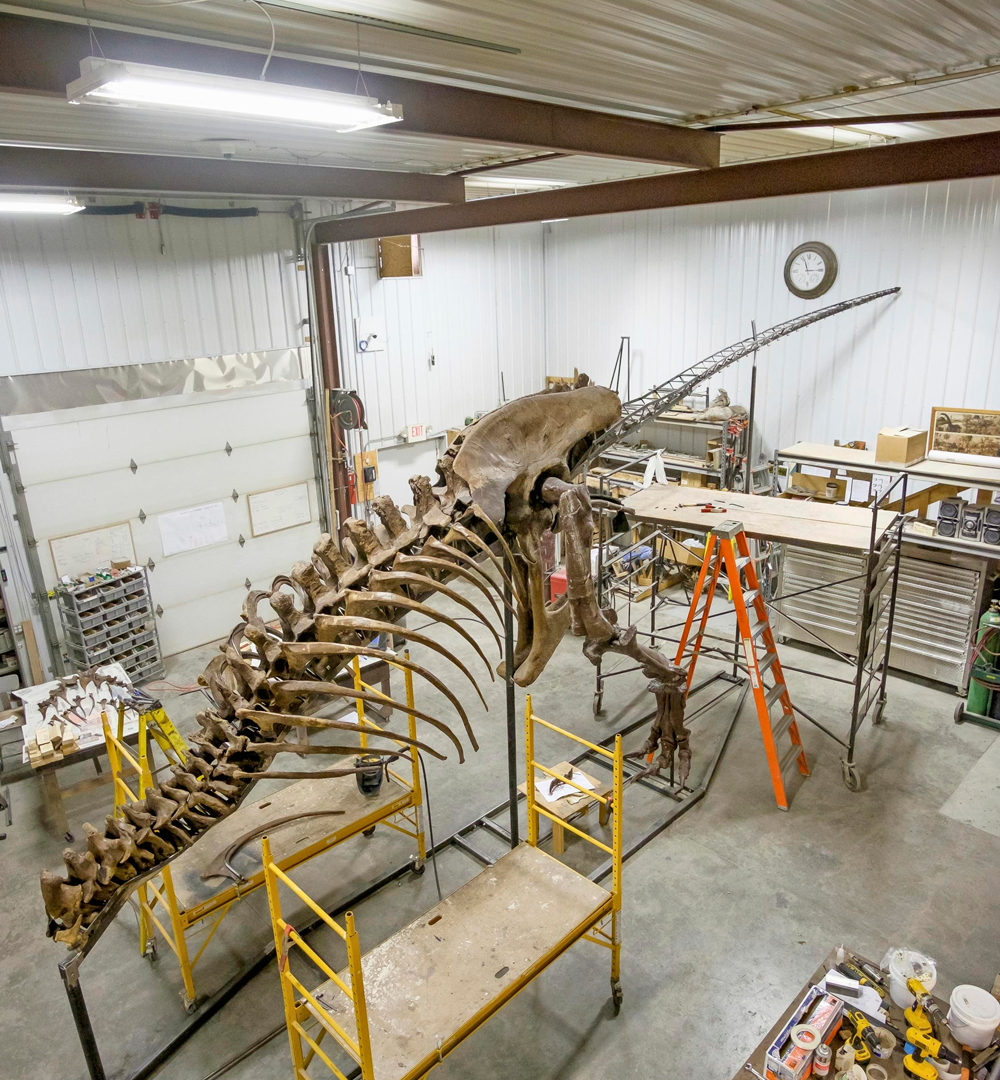 Photo credit: Black Hills Institute
Animal of steel
In order to 'resurrect' Trix more easily, the Black Hills crew created a steel skeleton so that the 300 bones just have to be 'clicked' into place. That way, it will take three or four people just two days to put Trix together. "At Black Hills, they can really work magic with steel. What's so special about Trix's skeleton is that she makes eye contact with people, because she's bending downwards," Schulp says.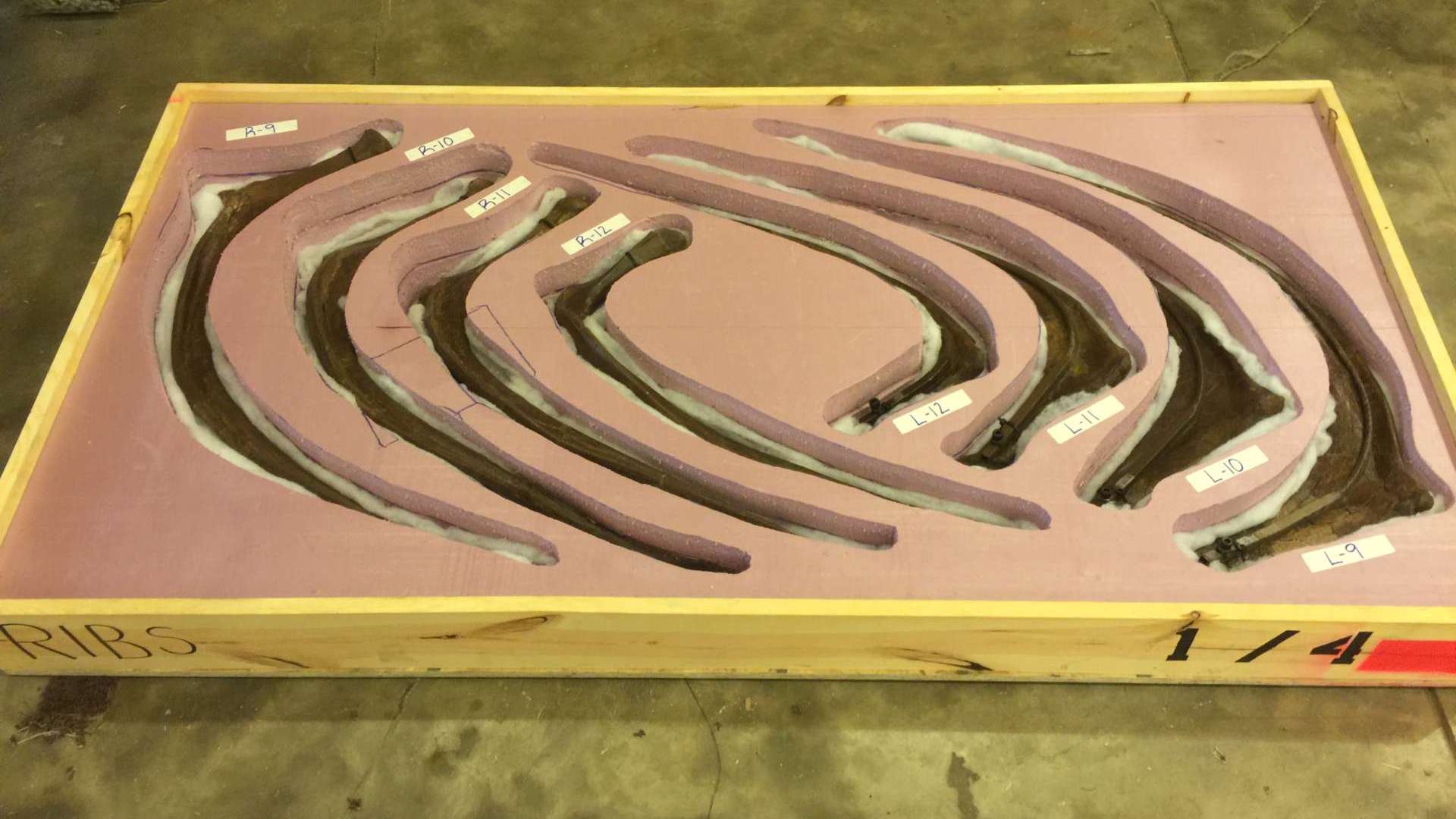 Photo credit: Black Hills Institute
Safely packed
At the Black Hills Institute, Trix's bones were stabilised in special foam and placed in strong crates. They are not made of standard wood because that can easily be contaminated with bacteria or fungi. Instead, they use a special strong sort of plywood" In total, they needed nine crates to pack Trix and her steel skeleton. The whole thing weighed about 5000 kilos.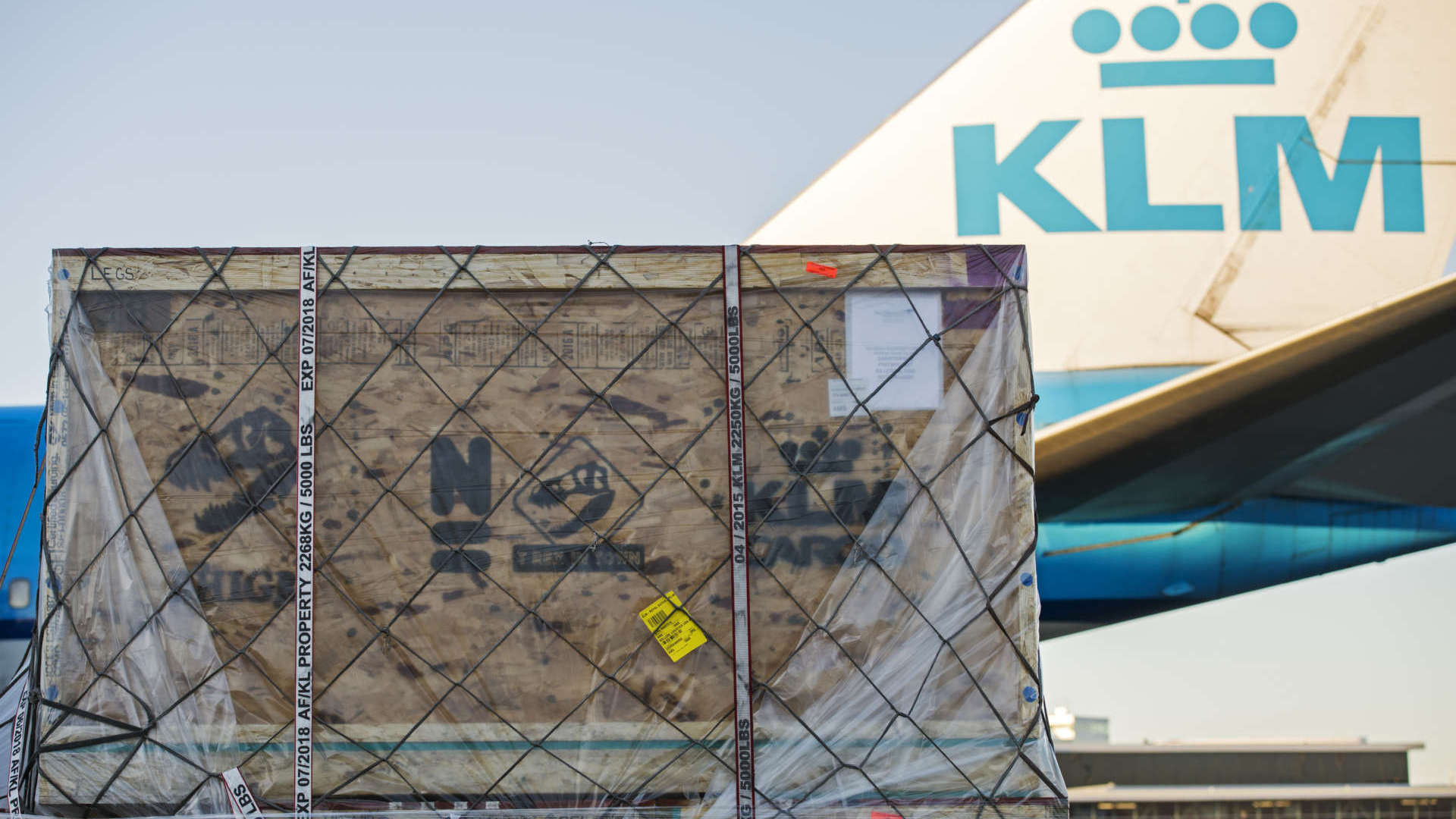 Photo credit: Marten van Dijl/ANP
Cargo patrol
After a 20-hour drive from the Black Hills Institute – which Air France KLM Martinair Cargo also arranged – Trix arrived at Chicago O'Hare International Airport. Nico van der Linden (Director Development & Aerospace Logistics at Air France KLM Martinair Cargo) coordinated the transport. "We chose Chicago because we have a special Boeing 747-400 combi carrier there, which can carry passengers and cargo at the same time. So we knew from the start that Trix would be accompanied by many people, including Anne Schulp and his colleagues from Naturalis," he says.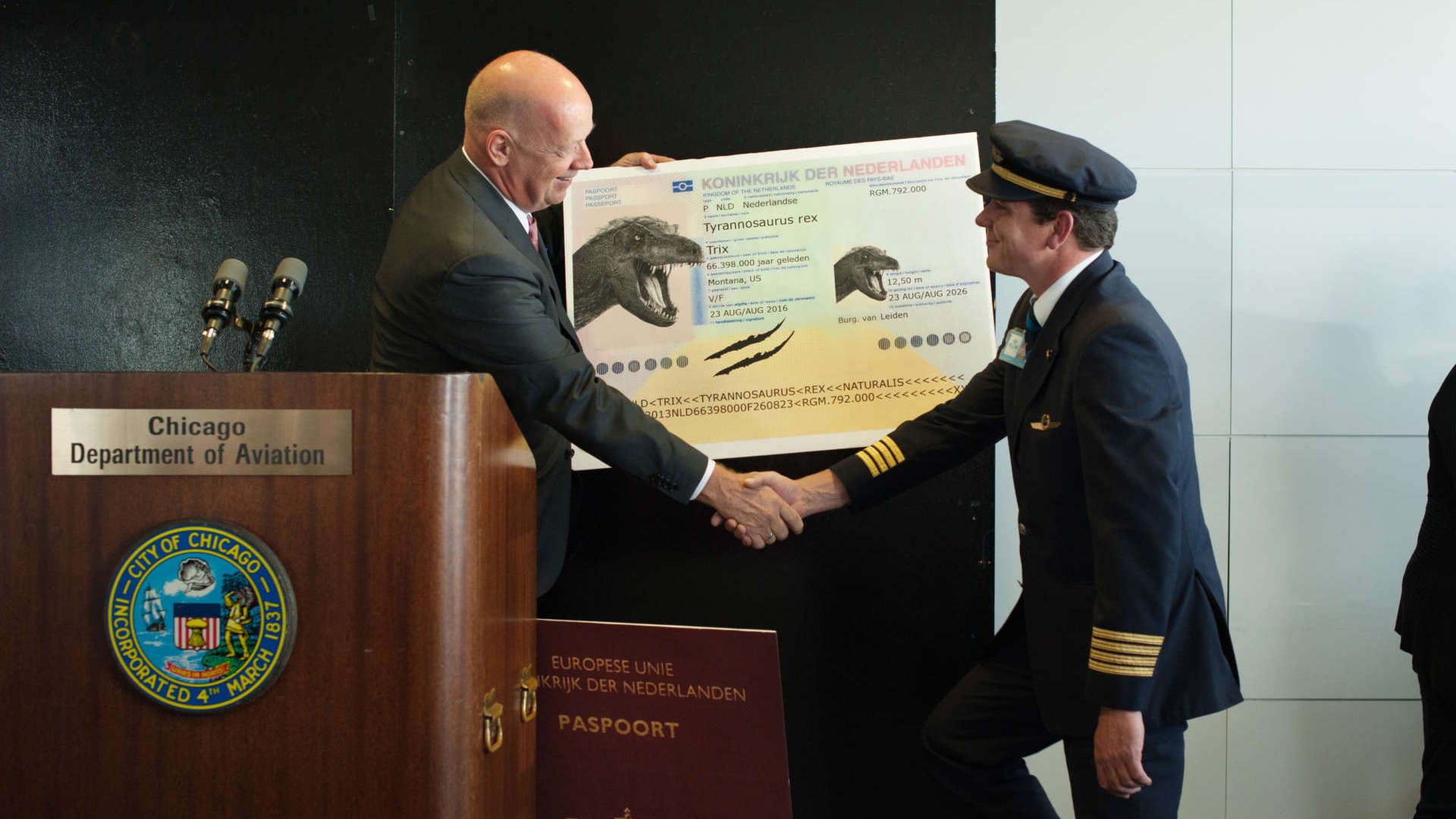 Photo credit: The Netherlands Embassy
Passport Control
Like any flying passenger, Trix needed to get the right documents. Her oversized passport was handed to the captain taking care of the flight by Dutch authorities in Chicago.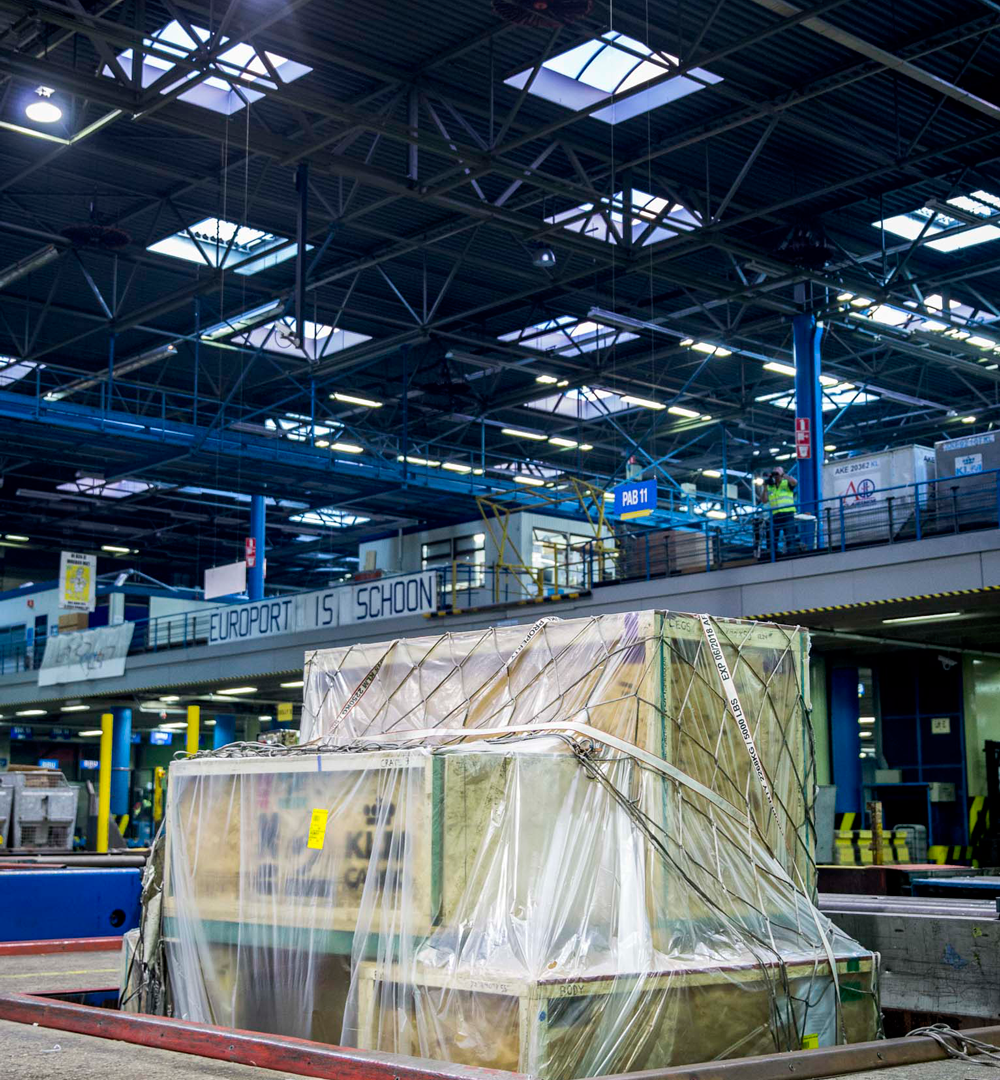 Photo credit: Marten van Dijl/ANP
Going home
On Tuesday evening 23 August, the aircraft carrying Trix and her party took off from Chicago O'Hare International Airport. "Before the flight, we covered the crates in extra plastic and used a special transport net to stabilise them in the plane," Van der Linden says.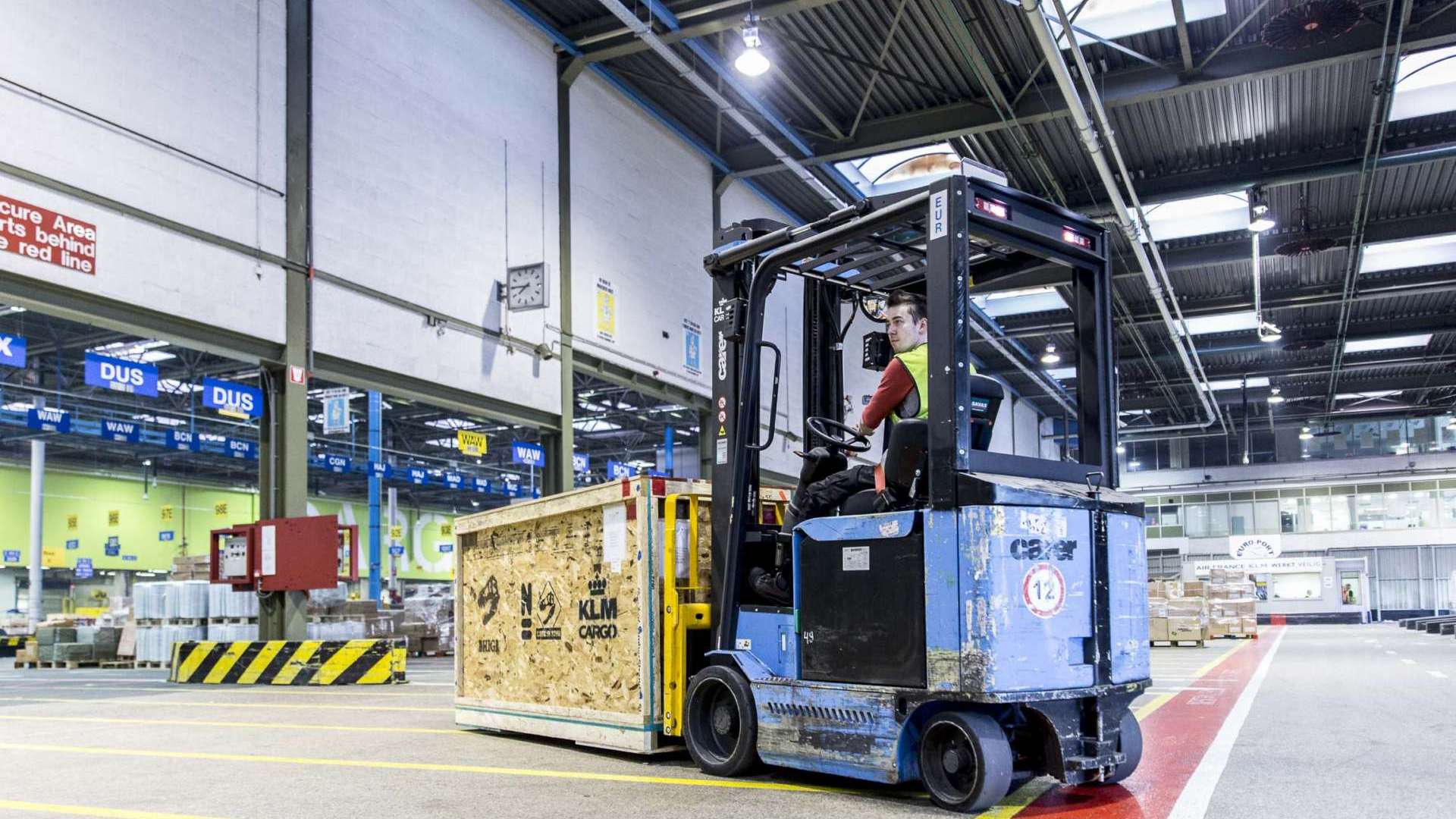 Photo credit: Natascha Libbert
Time-out
Upon arrival at Amsterdam Airport Schiphol, Trix wasn't driven straight to Naturalis, but stored safely at KLM Cargo's warehouse.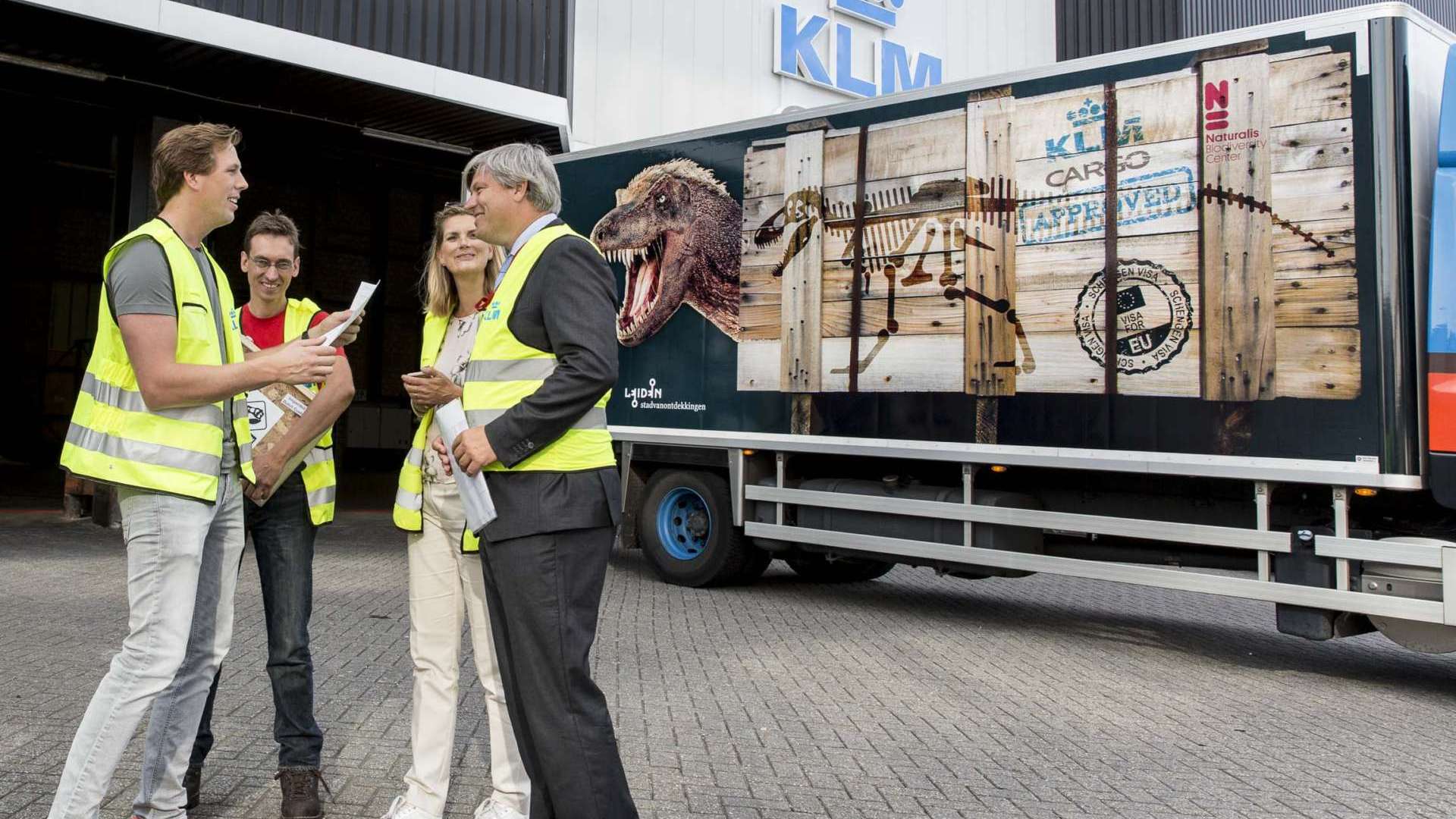 Photo credit: Natascha Libbert
Ready, set, go
Early in the morning on Friday 25 August, KLM Cargo's people were already busy preparing the crates for the road journey to Naturalis in Leiden. Palaeontologist Schulp (pictured second from the left) travelled to Schiphol to pick up Trix personally. Joining him was Freek Vonk (far left), the enthusiastic Naturalis biologist and TV presenter. KLM Cargo executive vice president Marcel de Nooijer (right) personally handed Trix over to them.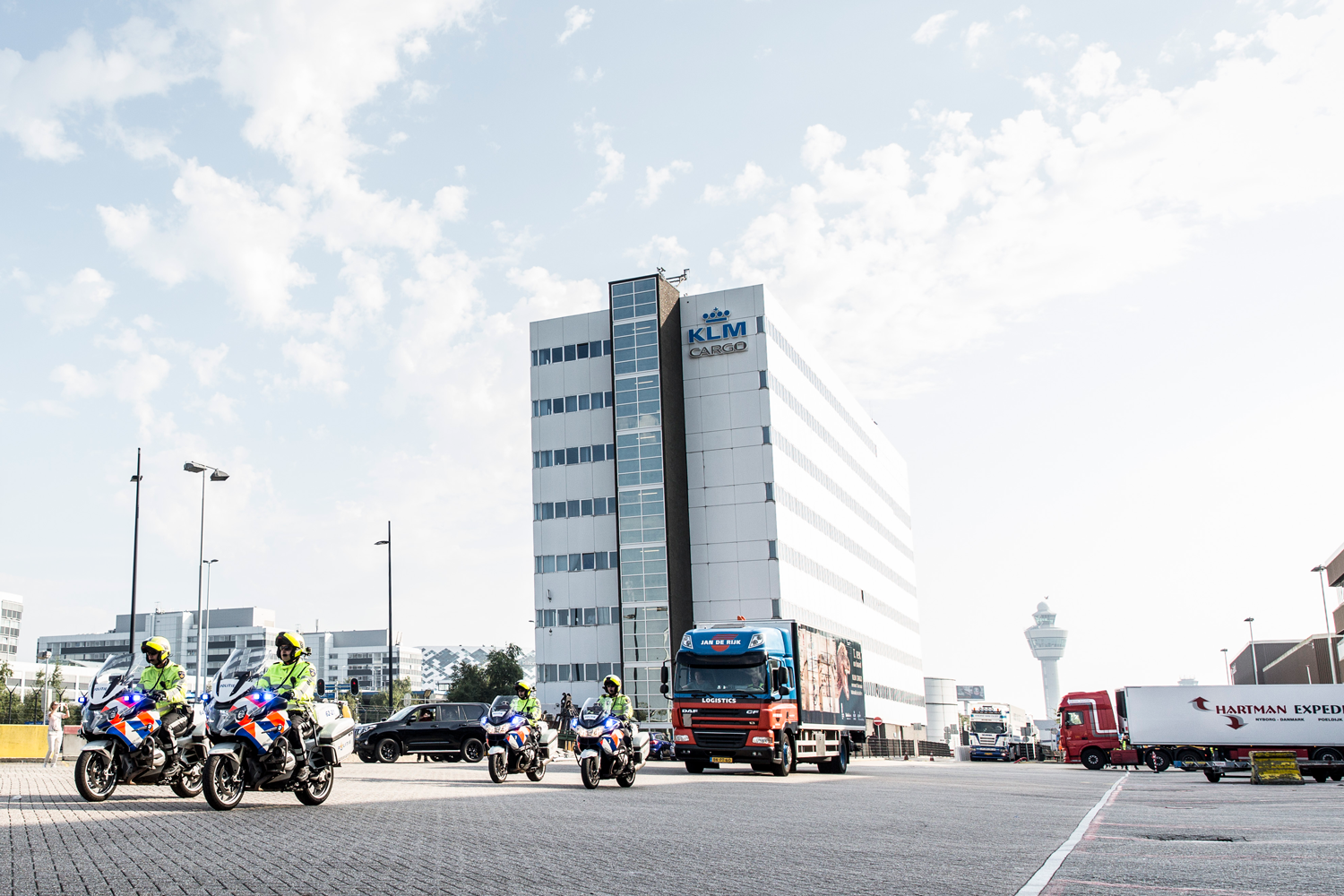 Photo credit: Natascha Libbert
Siren calling
Escorted by police, Trix was driven to Leiden by Jan de Rijk Logistics, the certified operator KLM Cargo had arranged for the transport.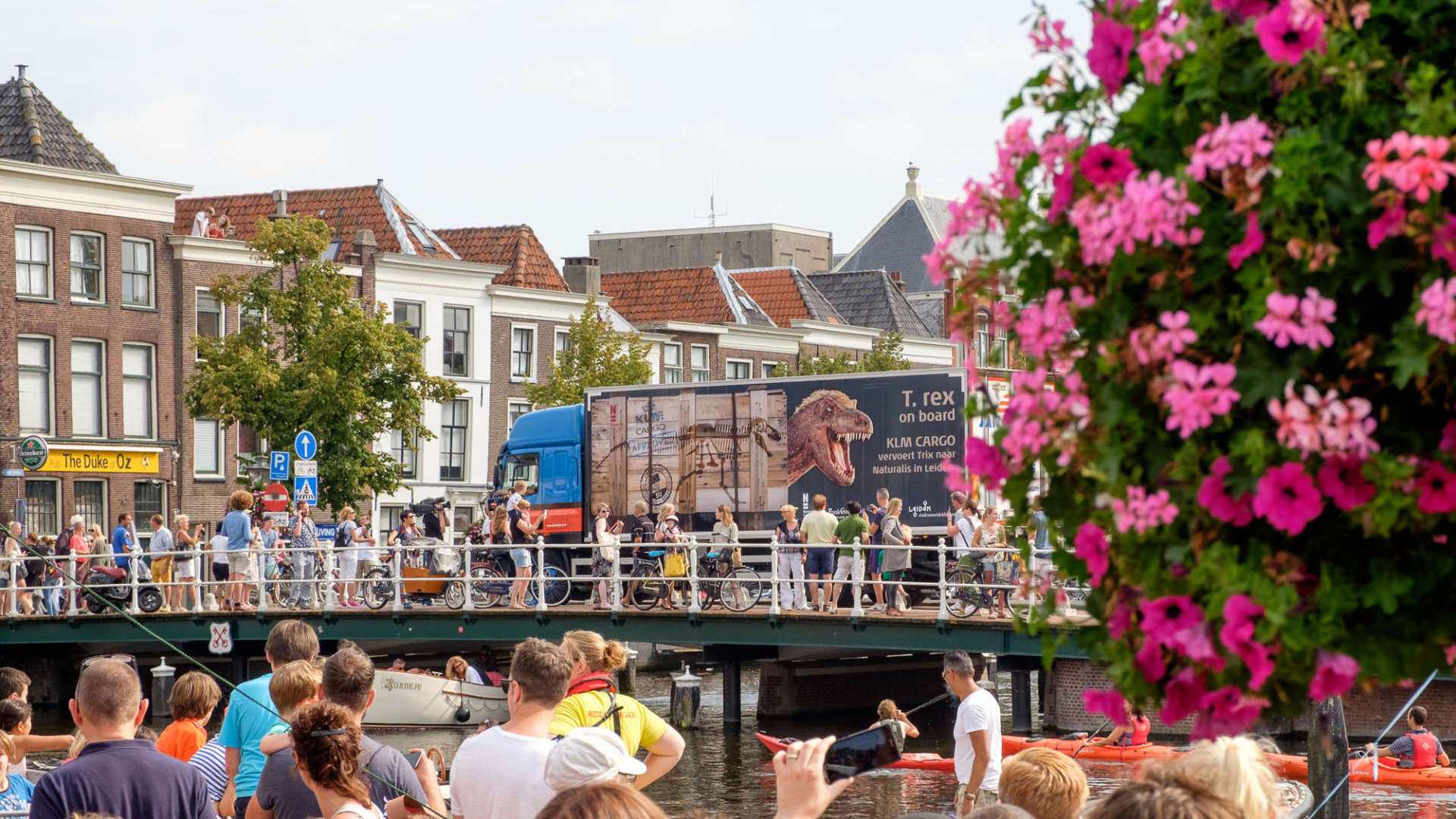 Photo credits: Servaas Neijens
A star is born
In Leiden, Trix was welcomed by the entire city. School children, people on their lunch breaks, students, elderly people – everyone had gathered to cheer on their newest (and oldest) fellow citizen.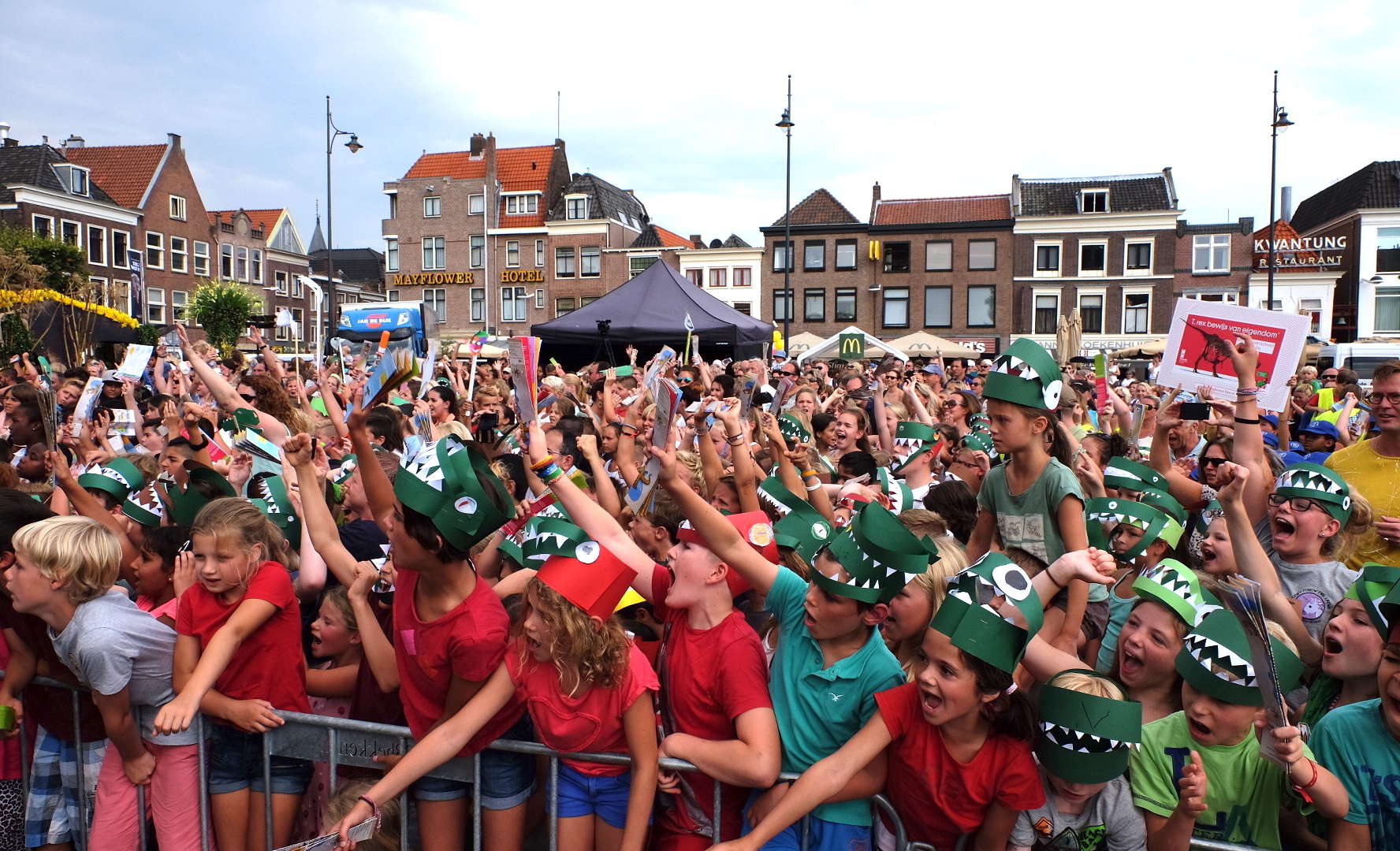 Photo credits: Servaas Neijens
Mission accomplished
At Naturalis, Schulp and Vonk opened the crate with Trix's skull for the many journalists, photographers, scientists, and others. From 2 to 9 September, Naturalis will prepare the huge exhibition, T. rex in Town! including the construction of Trix's entire skeleton. Want to see Trix yourself? You can admire her at Naturalis from 10 September.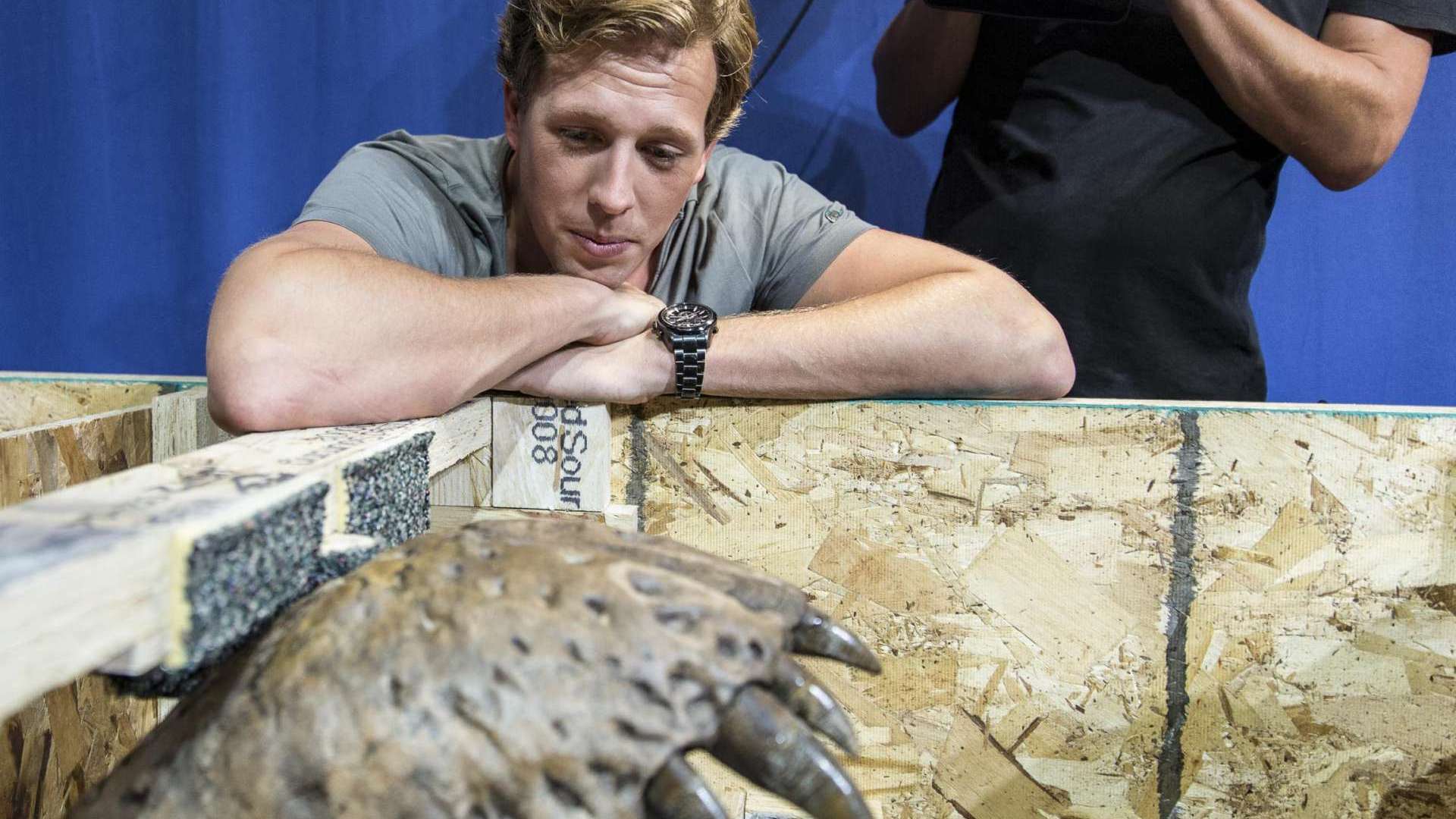 Naturalis biologist Freek Vonk in love with Trix – Photo credit: Natascha Libbert
A extended version of this story will be published in our inflight magazine Holland Herald in October.
For more info: naturalis.nl
Text: Natascha Mijnhart