The Very Last Country: Ireland
After many, many years of travelling through burning deserts, mighty rainforests, snow-covered mountains, and beneath oceans' boundless skies. After hundreds and hundreds of encounters with people from all kinds of cultures. After innumerable journeys in rickety buses and overloaded boats, trains and cars. The moment has finally arrived to visit the final country on my list: Ireland.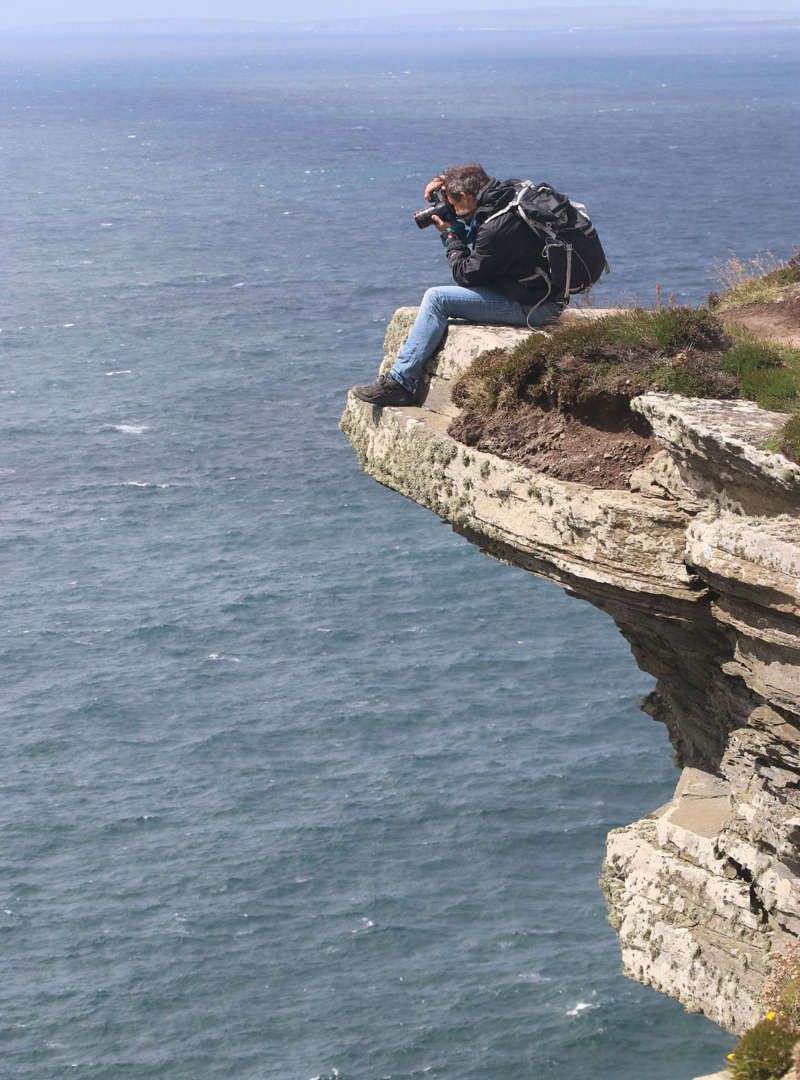 Ireland was not a random choice
I had decided years before to save Ireland until last. My main reason was so that I could celebrate this milestone with my loved ones. My nieces interpreted this as meaning I wanted to cross the final border on foot, which seemed like an excellent idea. The only problem was, that there is no longer a visible border between Northern Ireland and the Republic of Ireland.
I went to Google Earth and set about tracing the roads that cross the border, in search of a "Welcome to Ireland" sign. But, the only indication that you have arrived in another country are the speed limit signs: mph in the North, km/h in the Republic. Then I spotted a wee road crossing the Fane; a small river which, for a few kilometres, marks the UK-Irish border. A little stone bridge serves as the border crossing. This was the place.
3 June 2017
After visiting Belfast and the north of Northern Ireland, I set off southwards on the 3 June with friends from Canada and Romania, and my father and partner. A full car heading south to the border. I was so busy arranging everything in the days leading up to our departure, that I barely had time to contemplate the significance of the moment. But as the final kilometres approached, I began to feel the tension rising. What should I do when I get there? How should I cross the very last border in the world that I had set out to cross? There are no instruction manuals for a moment like this.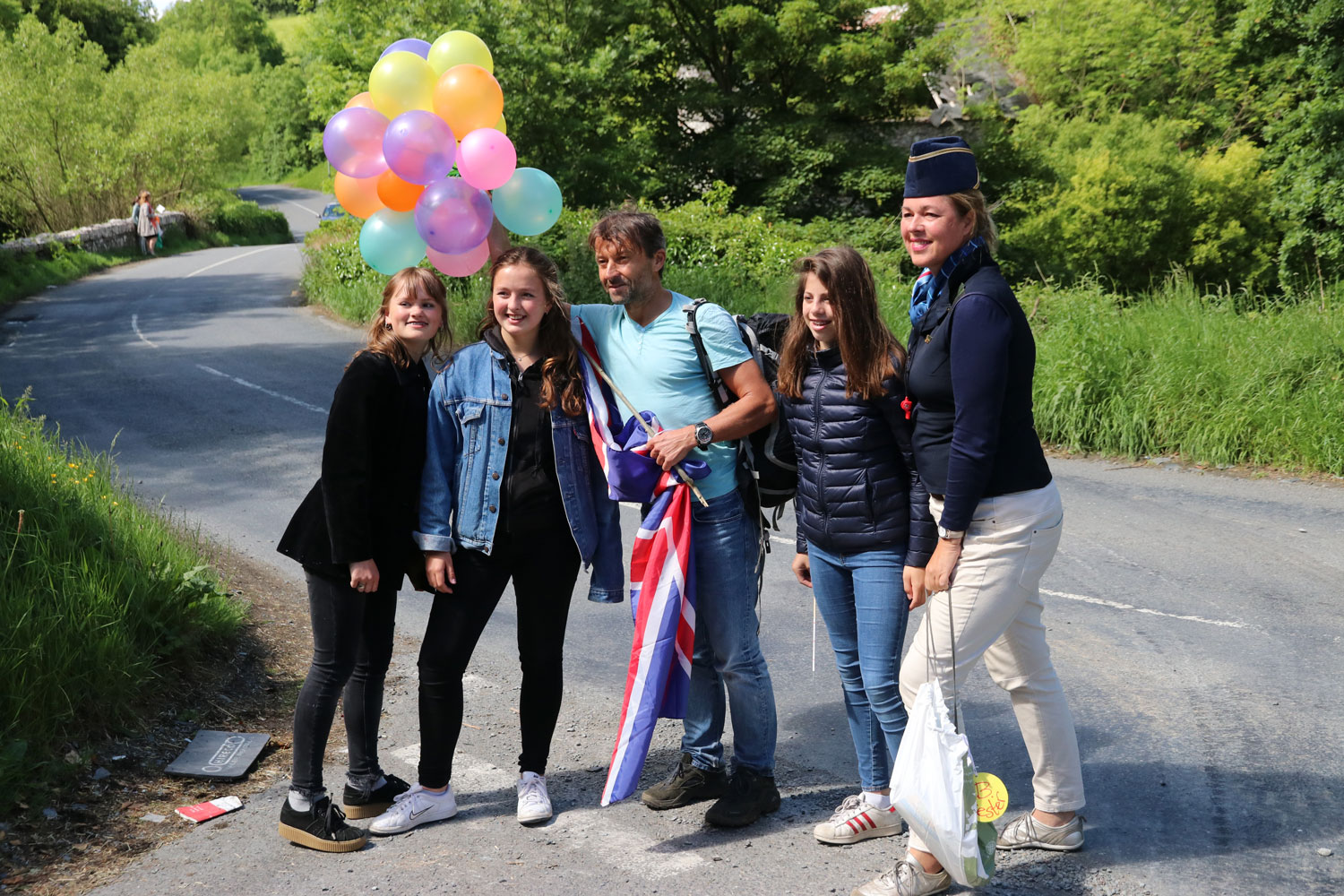 Suddenly, my brother-in-law appeared beside the car and signalled me to stop. He took the wheel and I walked with my youngest niece down towards the bridge which, until now, I had only ever seen on Google Earth. I carried the Union Jack as I walked, which prompted several disapproving comments from passersby. Friends, my sister and eldest niece were waiting at the bottom beneath a cloud of balloons. Streamers and a globe were hung around my neck and I walked towards the bridge, across which a duck-tape border had been stretched.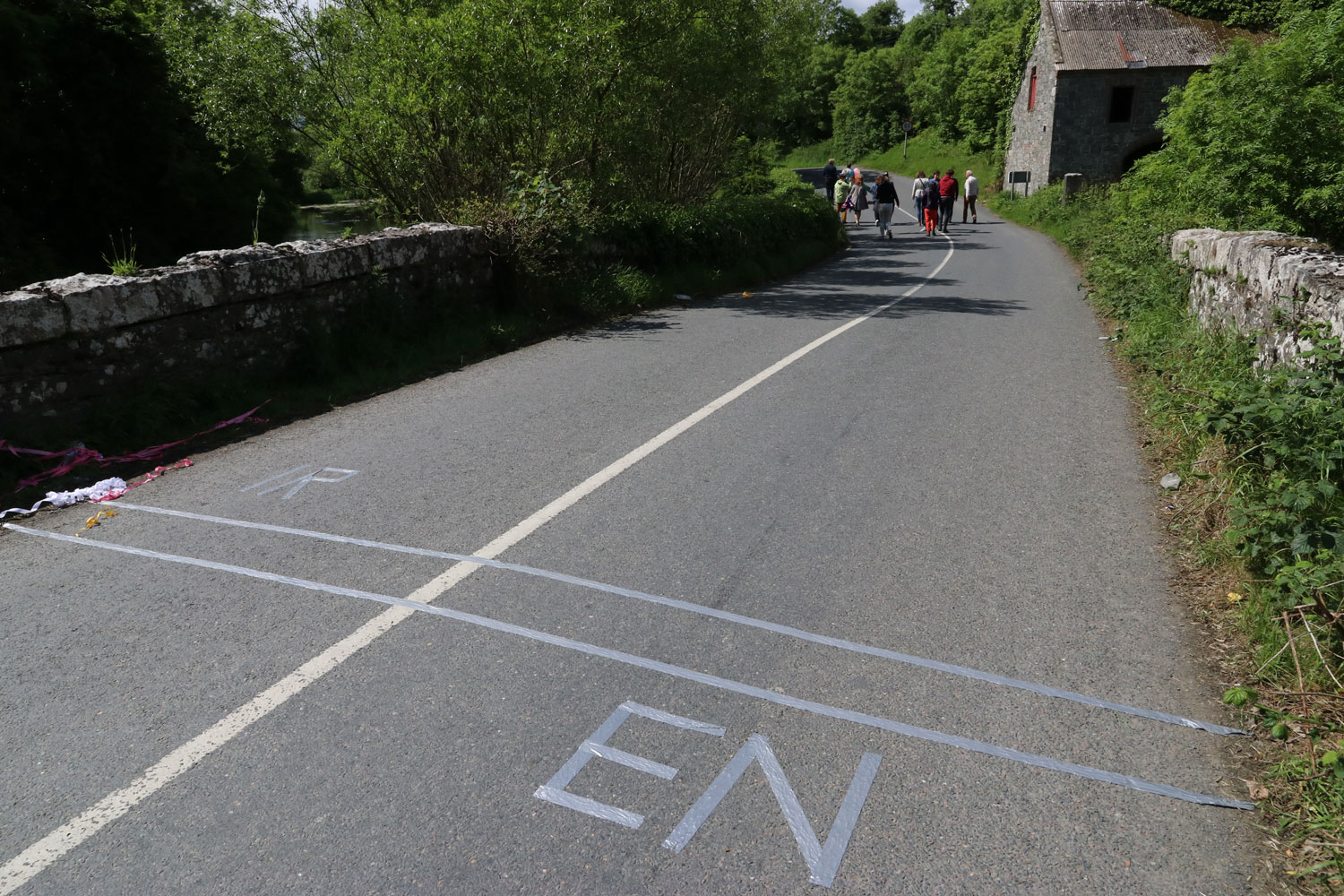 Just before the bridge I stopped and an Irish flag was pressed into my hands. My brother-in-law started up the Irish national anthem on his smartphone. Amidst great applause, I finally took the step I had been looking forward to for so many years. I had now visited every single one of the 193 member states of the United Nations.
What followed was an interrogation in a deserted house. A "customs officer" in uniform gave an hilarious fire-and-brimstone sermon and removed evidence of "smuggling" from my bag. I was then presented with a stamp, albeit it one made by my brother-in-law, with which to stamp my own passport. But still it wasn't over: I had to fill in questionnaire about my travels too.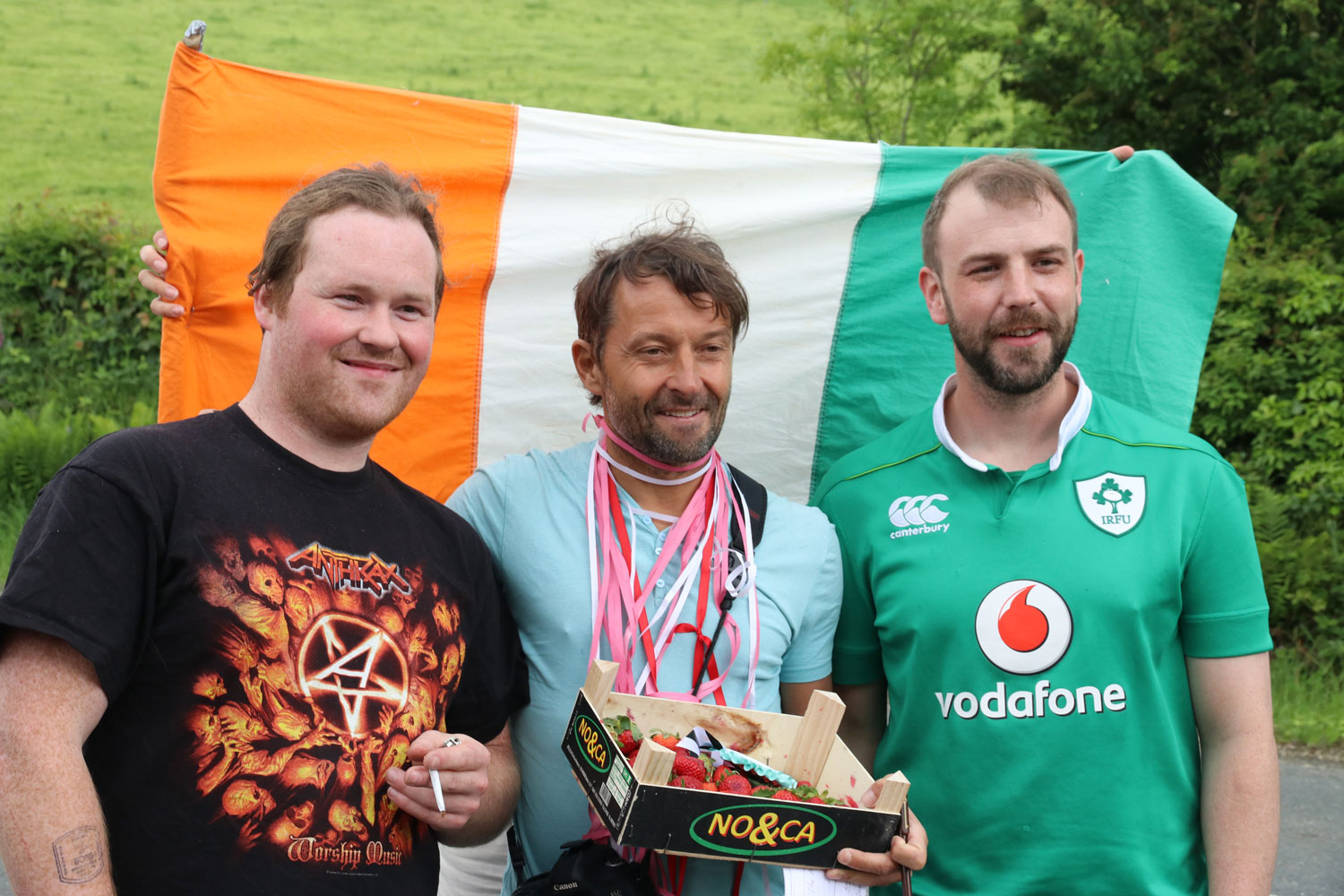 While I was doing this, two ruddy Northern Irishmen pulled up. They were dying to find out what the heck we were doing. We invited them to get out and ended up having a very interesting conversation. The journalist in Sandy came to the fore and he managed to engage them in a conversation about Brexit, the Irish Question and what this border means to them personally.
Party in the Dame Tavern
That evening it was party time for us in Dublin. I had managed to find room above a pub, the Dame Tavern, which turned out to be in a small, busy street in the heart of the city. More friends and colleagues arrived, joining the group that had crossed the border earlier that day. My surprise was crowned by the unexpected arrival of two friends from Switzerland. We first met last year on the banks of Lake Khövsgöl in northern Mongolia. It was wonderful to see them again here, and so unexpectedly!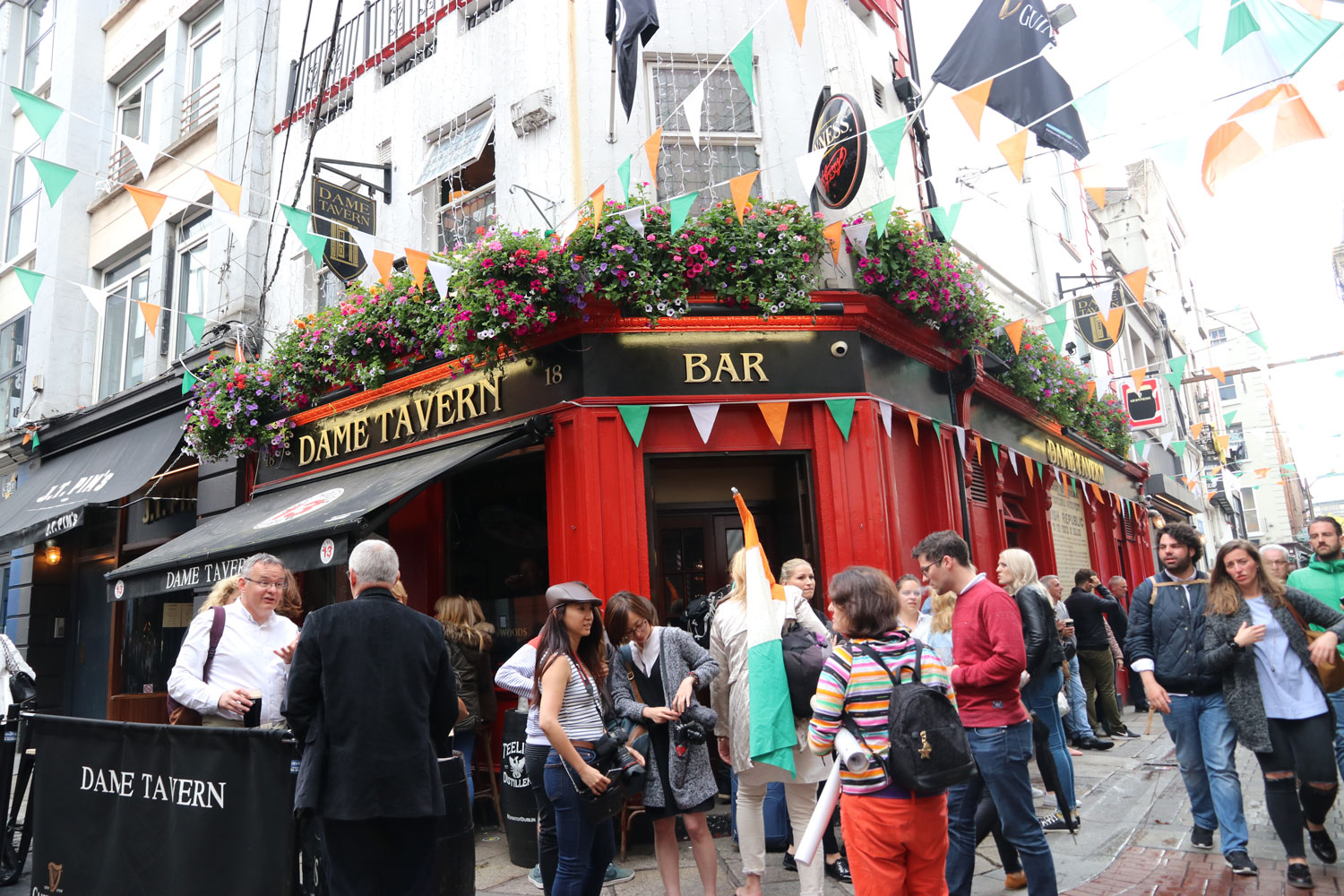 There were speeches and videos sent by friends who couldn't be there, which we watched while we ate. I then cut an enormous cake with a map of the world on it, while my Swiss friend, Amadeus, played his guitar. This lifted spirits even higher. As I sat on a bench, someone pressed a globe into my hands. I held it aloft and contemplated all the different coloured countries.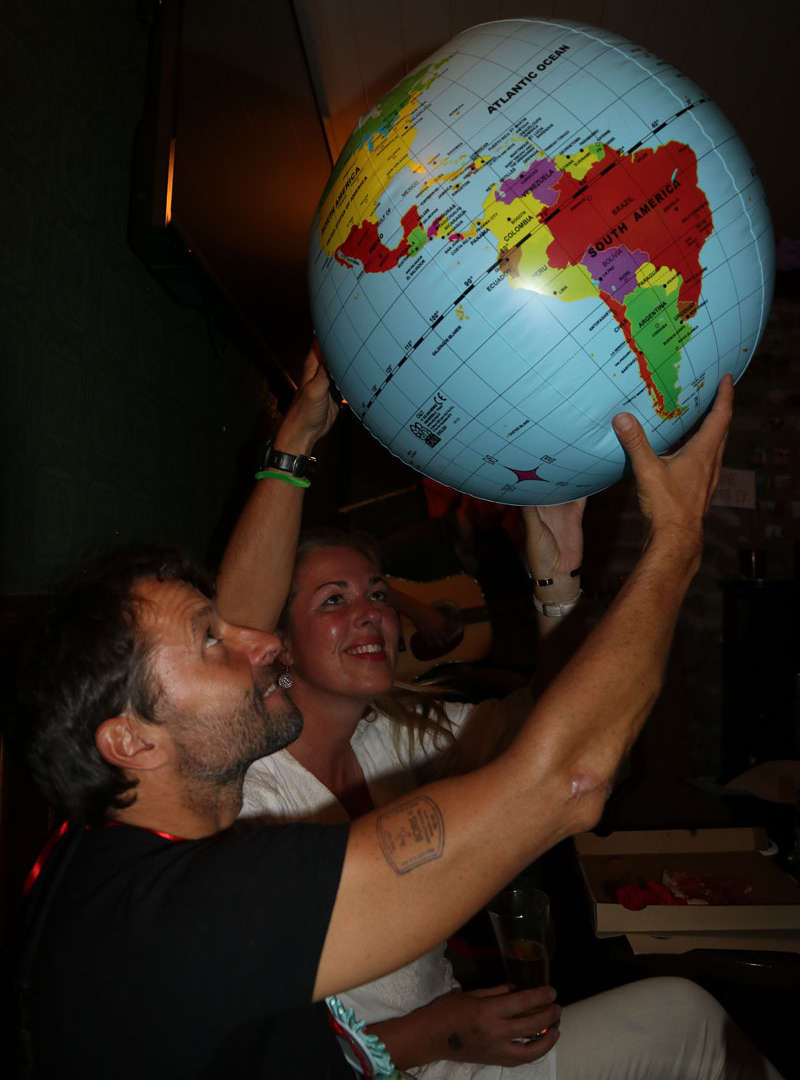 I know there are 193 member states in the United Nations and I know I have visited each and every one of them. But it'll be quite a while before it truly sinks in that I have now completed my mission after so many years. Every country represents numerous memories, adventures and encounters for me. A deep sense of satisfaction begins to seep in; about this very special day, the fact that my nearest and dearest came to Ireland to share it with me and to make it an unforgettable celebration.
Now it is time for new dreams.