The Wonderful Bustle of Daily Life in Ghana
I like the people of Ghana, they are friendly and easy to get along with and I enjoy walking around Accra visiting the markets. Here, everybody gathers to chat, flirt and do business. Near our hotel there is a fish market and that's where I'm headed today. You had better put on some old flip-flops. As long as you don't mind the smell of fish – fresh and old –  we will have a fine adventure.

Fish
It's a buzzing place. There are all sorts of fish, all kinds of sea creatures, big and small, for sale. And food stalls too, of course, for the buyers and vendors. The stallholders call out to me, showing off their fish hoping I will take the bate. I am surrounded by all kinds of noises. When I step outside the market place itself, I see an old sailing boat landing on the beach to unload some spectacular, large fish. On shore, a crowd quickly gathers and, after some discussion, the fish changes hands. On the beach I see a lot of these wooden boats and a group of youngsters playing soccer. A large container ship is heading for the main port, trying to find a way through the wooden fishing boats.

Octopus
Back in the market I see a big basket of small fish being sold to someone. A man steals a handful out of it before it is carried away. Lots of women stand together around a big table, where smaller fish are being auctioned. Some octopus gets put in the middle and the women scream out their prices.
Some people come up to me and ask me where I'm from and if I like this market. Big smiles appear when I answer "Amsterdam, and I love this market!" After a while I head back to my hotel. I truly appreciate how lucky I am to have a job and money to spend, so that I don't have to grab a handful of small fish to still my hunger.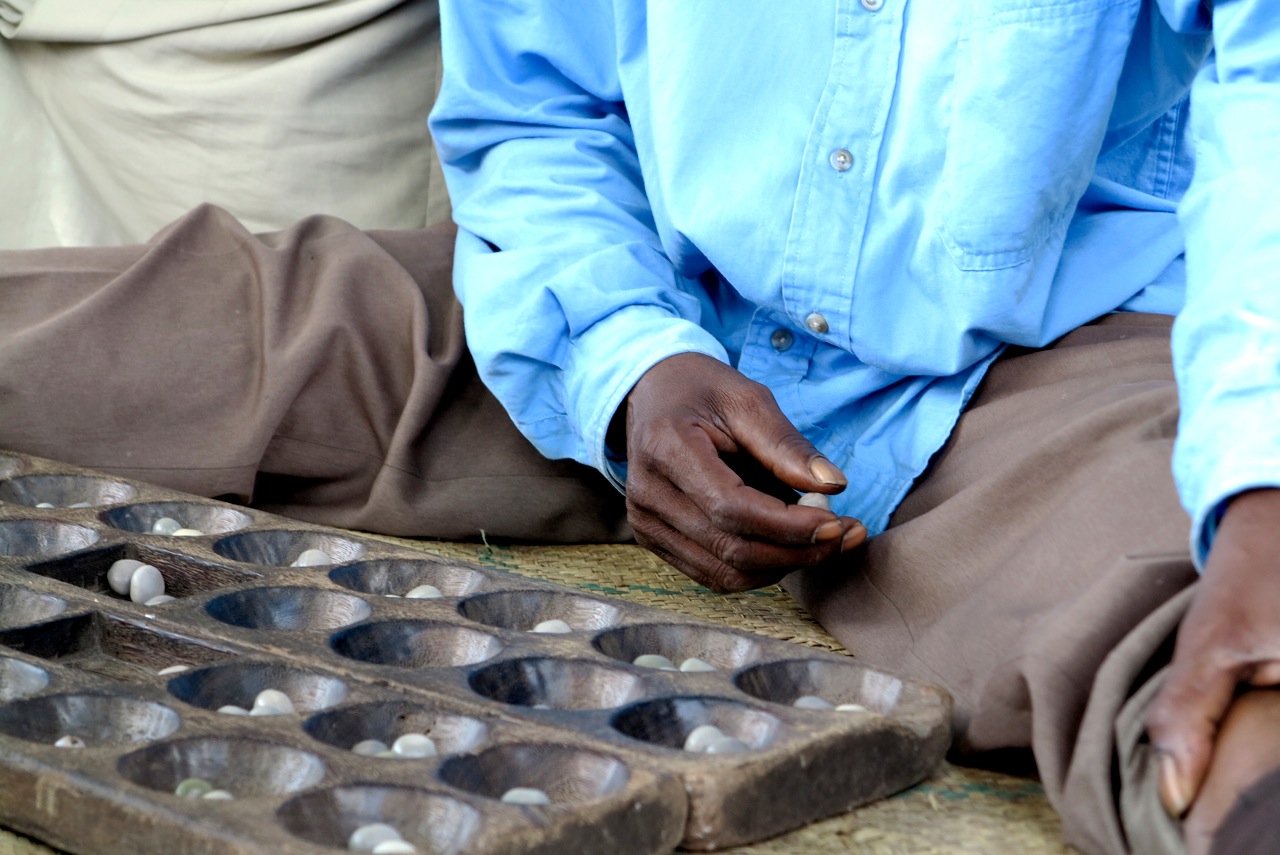 Mankala
Just before I leave the market I stop to observe one of the oldest games in the world  being played by some elderly men. It's known as Mankala, Kalah or Oware, but you might have a different name for it. It has about 200 different names and variations. I am invited to play, but, wisely, I decline. Some games can take a very long time, days even. I'm heading home, another experience richer.
Did you know?
Wagadou is an alternate name for the old Ghana empire.
Ghana is a proud African nation with 63 ethnic groups. Almost half the population is Akan, which includes the Ashanti and Fante.
13 languages are spoken in this country, which is about the size of the United Kingdom. English is the main language.
The highest mountain, Afadjato, stands only 880 metres high.
It used to be called Gold Coast by the Europeans when they first arrived in 1470.
The Dutch opened a trading post here in 1598 and it remained open until 1872.