The Wonderous West of Argentina
Dotted around the globe, there are bizarrely special places that simply enchant you at a single glance. And there you stand, awestruck in jaw-dropping, eye-popping admiration. All you can utter, a resounding "Wow…." Sound familiar? There are several places in western Argentina that fit the bill. During our tour by bus, plane and rental car, we continued to come across one more amazing place after the next, offering excellent accommodation to fully enjoy the impressive views. Join us on our journey from the northwest to the southwest, through the land of gauchos, empanadas, the tango and the most welcoming locals.
Salta
We love not planning ahead too much when travelling. We like to be guided by tips from the locals. This almost always leads us to the most surprising places, as in the case of Salta, known for its beer and empanadas salteńas. By bus, we travelled for a day and a night from the capital of Paraguay (Asuncíon: highly recommended!) to the big city of Salta. We'd rented a room through Airbnb at home with Carolina, Claudio and their children. That was a truly Argentinean experience. We became part of the family and polished up our Spanish skills. Carolina and Claudio enjoyed showing us "their" city and this enabled us to get to know fantastic, less touristy places like the hills and forests of San Lorenzo.
Empanada tip 1:  For delicious empanadas in fabulous settings, grab a table at El Duende de la Quebrada in Quebrada San Lorenzo.
Salta's city centre also has a lot to offer. You can find out all about the Llullaillaco Children in the MAAM Archaeological Museum, head up the San Bernardo Hill by cable car (gondola), stroll past market stalls, do some playground hopping and take a boat trip in Parque San Martin.
Empanada tip 2: Restaurante Doña Salta is the place to be for sumptuous empanadas salteñas. Tip from Carolina and Claudio and tasted by us!
Through Instagram, we were encouraged to visit the stunning mountain villages north of Salta. This turned out to be a fantastic tip. By rental car, we visited the multicoloured mountain of Hornocal (above Humahuaca at an altitude of 4,350 metres) and the cute villages of Tilcara and Purmamarca. Blindingly beautiful!
We stayed at Hostería La Morada in Tilcara. A great place, close to the lively village square boasting markets and performances.
Cafayate
Pay attention if you love wine, rugged landscapes, charming villages, outdoor activities and the Dakar Rally. Be sure to visit Cafayate. The bus trip from Salta to the cutest town of Cafayate is an excursion in itself. It's hard to know where to look next… it's all so beautiful.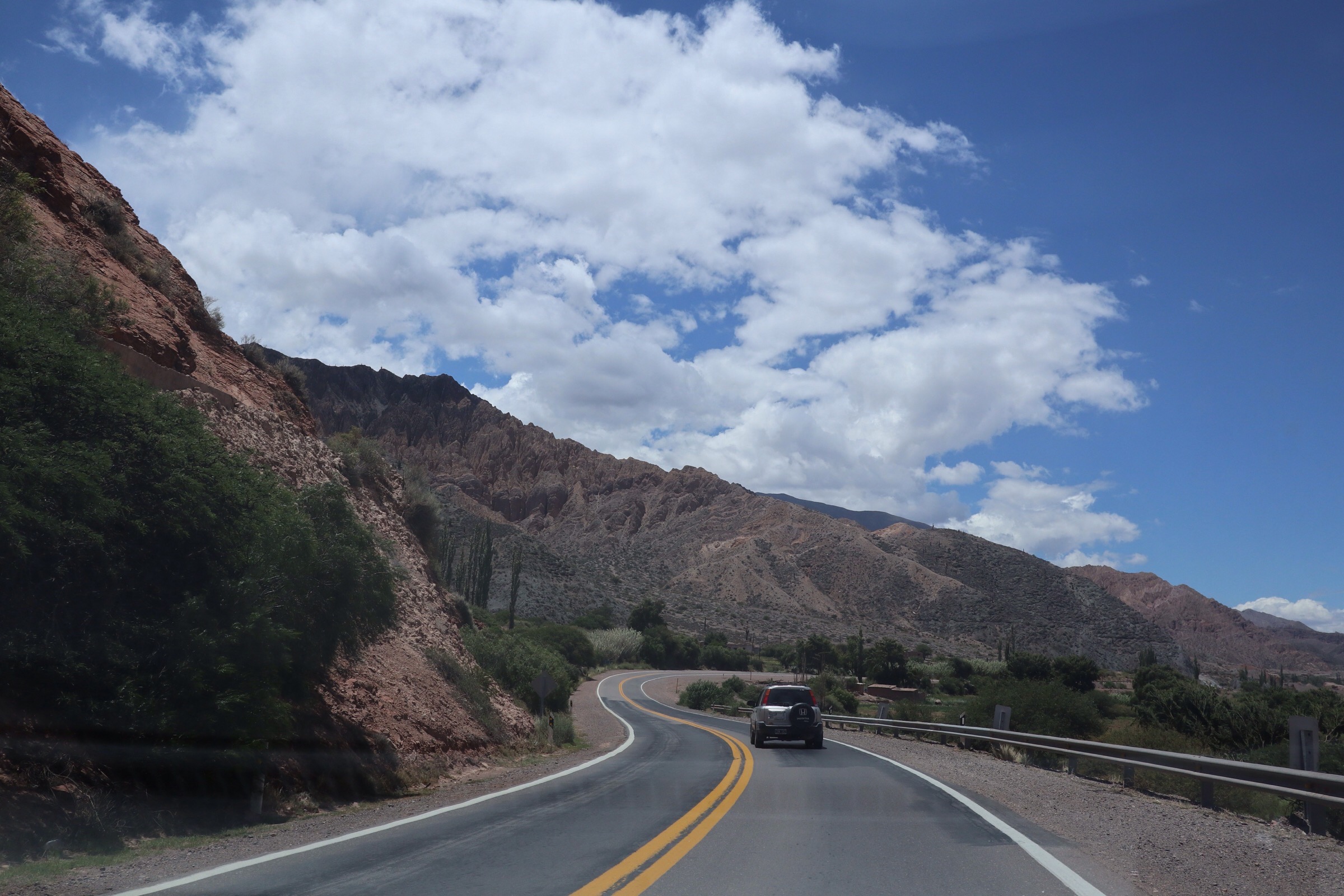 We stayed in Cafayate for a week and wanted to stay even longer. The village square is fabulous; one of those places where you instantly feel at home. Adding to the ambience, we stayed at the Grace Cafayate hotel – at that point, no. 54 in our list of homes-away-from-home. One of the pearls of the Grace Hotels chain and listed in the AndBeyond Travel collection (which we LOVE!). We couldn't get enough of the breath-taking views all around, the outdoor and indoor swimming pools, the food, the friendly staff and the brilliant activities on offer.
VINEYARD TIP: We tasted fine wines and enjoyed a delicious lunch at Finca Las Nubes. Yes, the view here was stupendous as well!
San Martin de los Andes – Ruta de 7 Lagos
We didn't have that many concrete plans or wishes travelling around South America, but heart-throb Thaddeus had heard and read so much about The Road of the Seven Lakes in southwest Argentina that we couldn't miss the chance to see it with our own eyes!
Most people start off from San Martin de los Andes, but once you get here it's not easy to get behind the wheel to press on. What an amazing village and there's so much to experience! We were hard-pressed to leave the hotel (Sieteflores Hostería de Montaña) for a few days, since it was such fun and the food so fantastic.
Bariloche
Oh, Bariloche… our happy place, our home base. We spent three stretches of a week here. We came to understand that Queen Maxima is a welcome guest. She comes from this part of Argentina, which lent our stay an extra special (Orange) feeling!
The hotel to which we returned time and again is called Nido del Condor: the condor's nest. We couldn't get our daughters away from the Kids Club or out of the pool. We must have spent hours gazing out across the Nahuel Huapi Lake from the hotel room. Our all-time-favourite receptionist Sofia gave us brilliant local tips on a daily basis.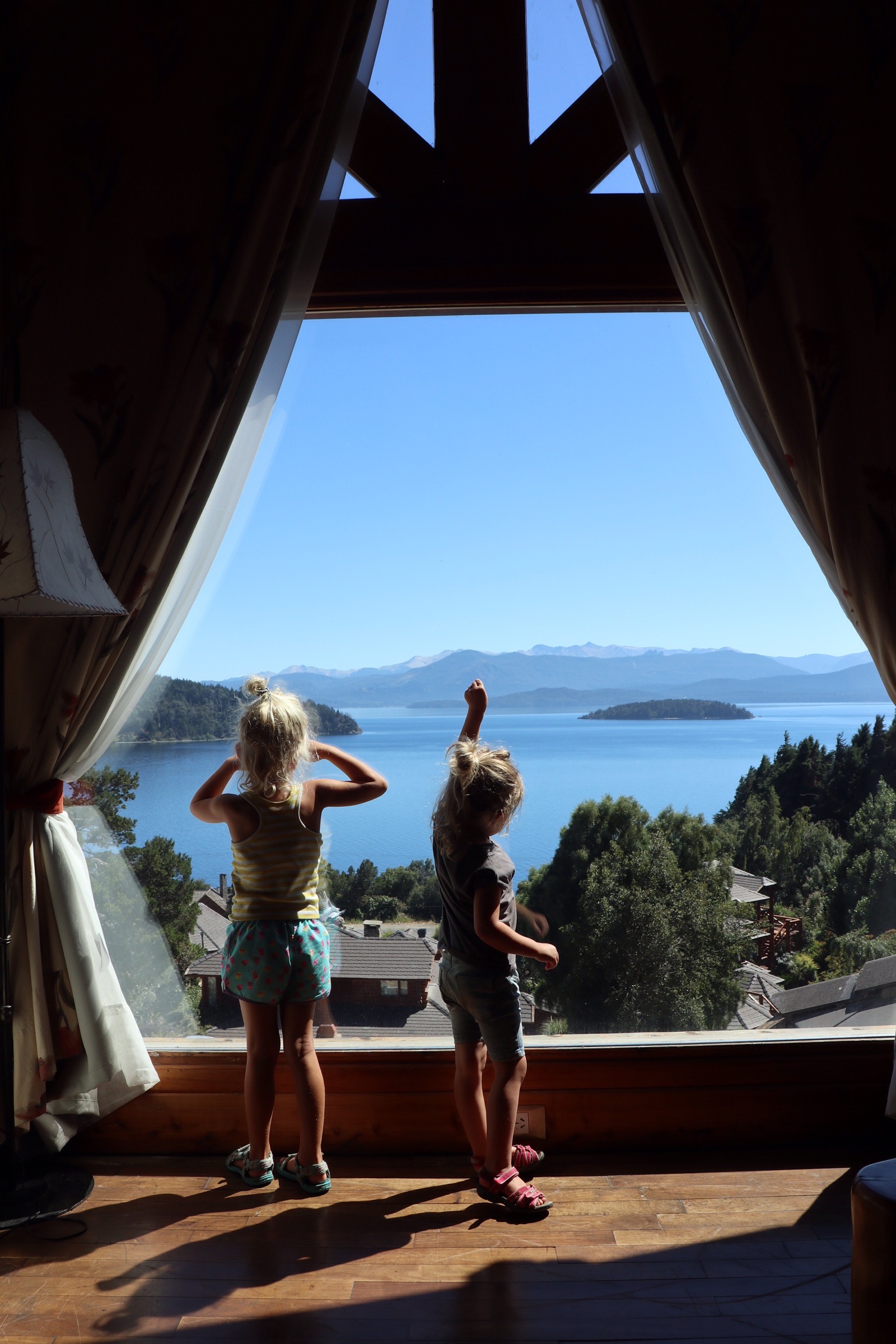 The best trips were a morning shopping spree in Colonia Suiza, beer tasting at the Patagonia Beer Brewery, drinking tea at the Llao Llao Hotel, dining at Alta y Fuego, cycling the Circuito Chico, playing on the finest beach of Península San Pedro (in front of the Fabula Lake House), enjoying coffee and cake at Restaurant Chiado, climbing Cerro Campanario and Cerro Otto (can both be done by gondola or chair lift), and ice skating and drinking hot chocolate at Rapa Nui. The absolute pinnacle, literally: climbing Cerro Llao Llao and spotting condors with Sofia and her husband Santiago. Our new friends for life! Nice to know: even Jools (4½ years old) climbed this mountain all by himself. She's still proud of this achievement!
Empanada tip 3: The empanadas with stew at Pachimama (close to Lago Gutierrez and Arelauquen Lodge) are the best ever.
El Bolsón
El Bolsón is a two-hour drive from Bariloche. People usually visit this fabulous place for its Artesenal Feria (market for handmade products), which is hip(pie) & happening on Tuesdays, Thursdays, Saturdays and Sundays. On weekends, most of the stalls are on display and there's a good chance you won't leave the market empty-handed. We went to El Bolsón for three four-day stretches. We'd highly recommended Hostería Morada del Sol as the best place to stay. It can get a bit monotonous, but we couldn't get enough of the beautiful views here either. We spent four days here doing little else but swimming, sunbathing, sports, splashing, downhill tricycle racing, grilling and rock-hard chilling. The ultimate holiday feeling!
A little further south lies the village of El Hoyo. You can do the Tree Tops Course here at Parque Aéreo Kona (even from the age of 3!), there's a beautiful maze (Laberinto Patagonia) and a dazzling lake: Lago Puelo.
Trevelín
The drive from El Bolsón to Trevelín (or the other way around) is also incredibly special. Landscapes that cannot be captured in photographs. Endless plains interspersed with looming, 360-degree mountain vistas. Horses keeping pace with you beside the car. Condors hovering overhead in search of a tasty morsel.
But be sure to keep your eyes on the road – it may just disappear… Well, guess that's all part of the adventure!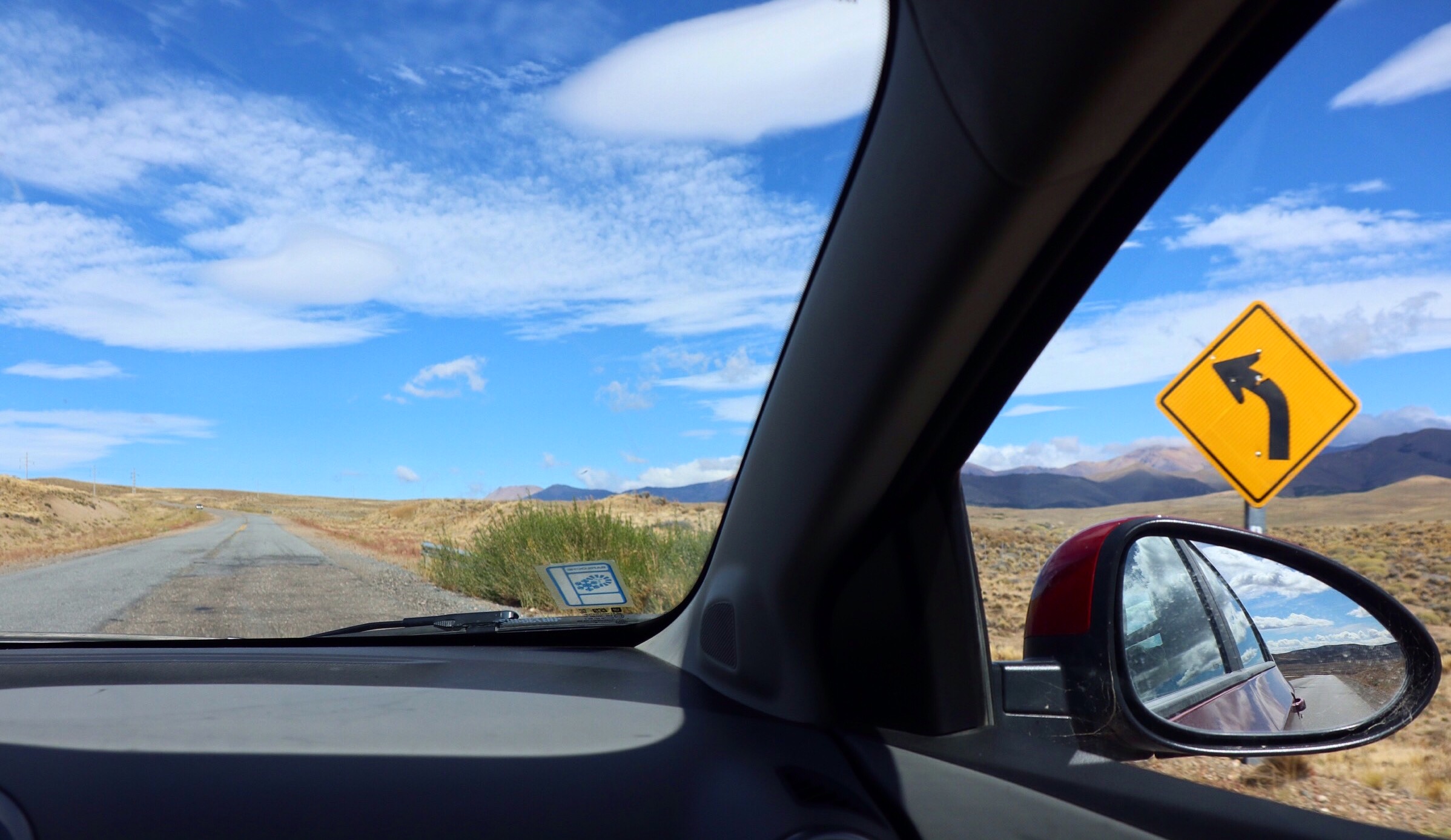 Southwest of Esquel, bordering on the Parque Nacional Los Alerces on the Feutalefu River lies the teeny-weeny village of Trevelín. You could easily miss it if you don't take your foot off the gas for a sec. And that's exactly what you have to do: if you head past Trevelín on the dirt road in the direction of the Chilean border, you'll arrive at a real gem: Sendero Lodge. Situated on the Rio Grande and surrounded by forests and mountains, this was one of the highlights of our trip. Four times a day we were expected at the table for breakfast, a three-course lunch, hora de té (tea time) and a three-course dinner. To compensate for the high-calorie intake, we took amazing walks, built huts, hugged dogs, kittens and horses, did trail runs and fished for trout in the river with a homemade rod. To give you a better picture of the good times we enjoyed at Sendero Lodge, we made this video for you. It speaks for itself!
Uitstapjes naar Chili
In principle, Chile is nearby. But country hopping in this neck of the woods isn't as simple as that. The Andes Mountains present quite a challenge. Villa l'Angostura is a popular border crossing for tourists (read: paved road). The checks are very strict and you are required to empty the contents of your car onto tables. Be prepared to spend hours at the border crossing. In Chile, we enjoyed visiting Las Cascadas and the Lodge of the same name (canoeing on Lake Llanquihue overlooking the Osorno Volcano), climbing the Osorno Volcano and admiring wooden churches on the idyllic island of Chiloé, and staying on the beach at Pilolcura Lodge just outside Valdivia.
The Wonderous West of Argentina is attractive for all kinds of tourists and travellers, and for all budgets. You can opt for absolute luxury or keep it as basic you like. We tried the full spectrum and loved all the experiences. Even the long bus rides and the simplest of huts where we stayed. But…. this did serve to amplify our enjoyment when it came to the seriously luxurious flights and hotels. No kidding about that!
Lots of love,
Annette
PS: If you fancy the idea of joining us digitally on our travels, check out our Instagram account or surf to MOMspiration!