This Is How We Care For Your Flying Pets
A bull aboard a plane? Can you imagine? Neither can I. Yet, when KLM in 1924 became the first airline in the world to transport a live animal, the beast in question was a bull named Nico. Animal transportation has been a KLM speciality ever since. Let me tell you more.
Each year, KLM transports ten of thousands of animals. Some might be tigers or zebras traveling between zoos, but most of the animals on board aircraft are pets traveling with their owners.
Traveling with pets
We often get questions on social media about traveling with cats and dogs. If you are traveling via Amsterdam with a transfer of 2 hours or more, your cat or dog will automatically be accommodated in the Air France KLM Martinair Cargo Animal Hotel. This is one of the largest and most modern animal hotels in the world and has been designed to ensure animals have a comfortable, hygienic and relaxed stay between flights. While their owners enjoy a cup of coffee in the airport, the animals are fed and watered and occasionally walked by one of the hotel staff.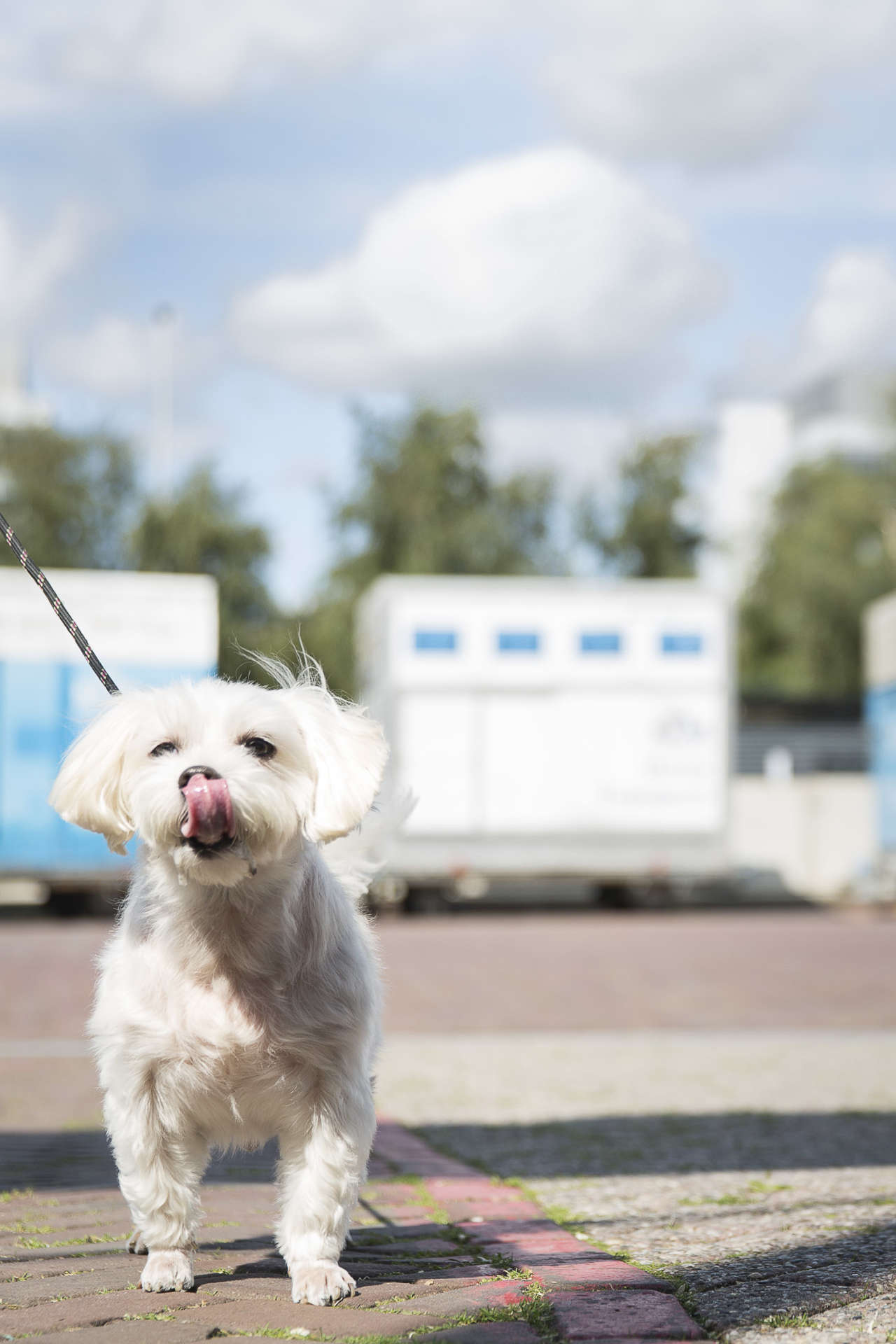 I decided to go and see for myself. I am meeting Raymond Tilburg, the cheerful KLM Cargo Product Manager, responsible for the transportation of live animals on Air France, KLM and Martinair.
He hands me safety shoes and a jacket – not particularly fashionable, but required attire at KLM Cargo departments, where heavy objects are being moved about all the time.
Flying horses
When we enter the hotel, three blue KLM containers block the entrance. A horse sticks its head out inquisitively as we walk by, while its stablemate takes a bite from the big bale of hay hanging from the ceiling. "These horses have just come in for a short stay, before flying on to their next destination", Raymond explains. "Giving them hay and water keeps them relaxed and makes sure they are fully fed before they continue their journey."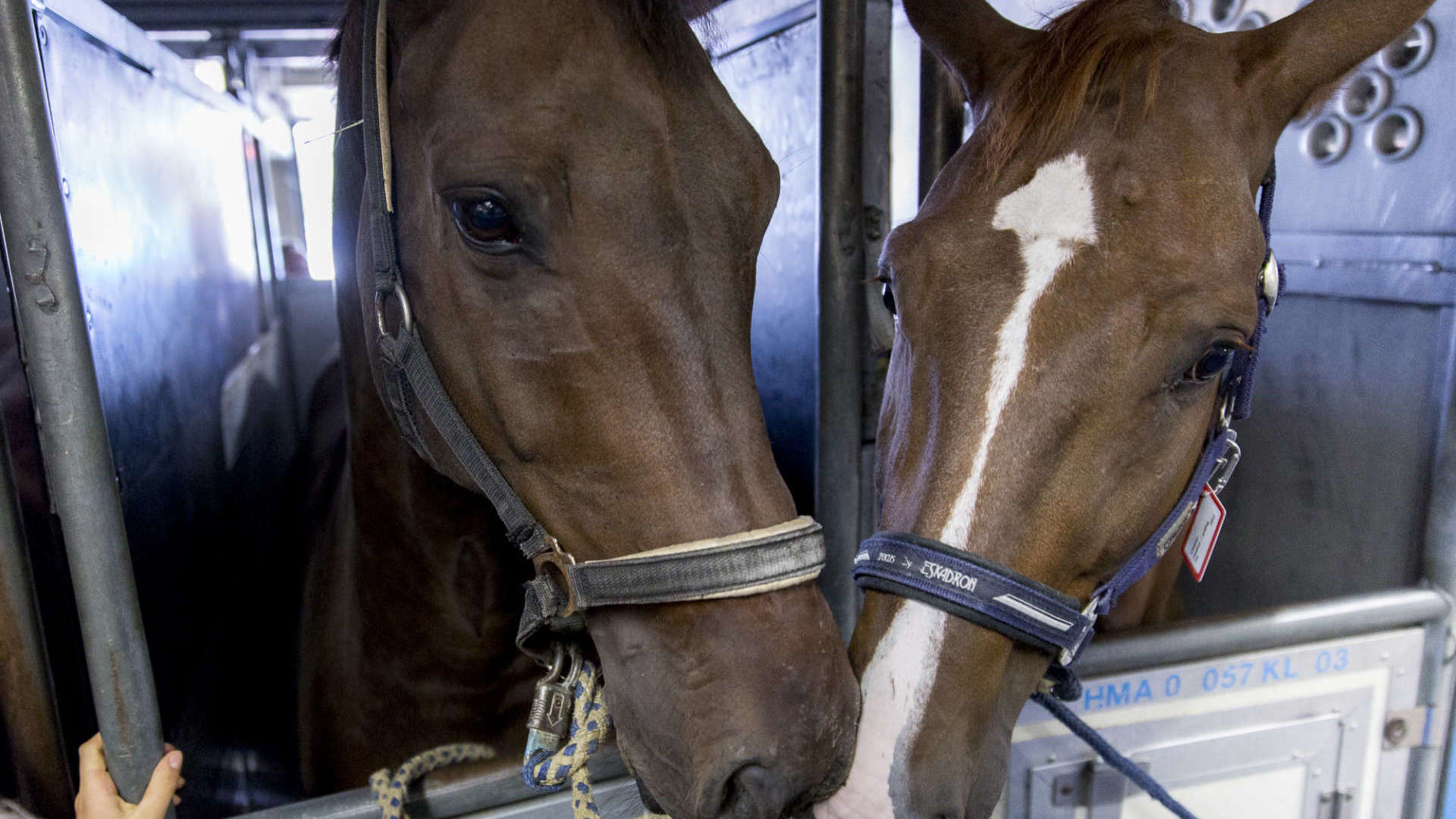 The cat and dog suites
The hotel, which is situated in a large, light warehouse, has many different spaces for all kinds of animals. When we enter the "dog suite" – a large room with kennels and equipment, like collars and leads – we are greeted by Mila, a little brown Yorkshire Terrier, who excitedly sticks her nose through the kennel door.
On top of her kennel is a bag of food. "Some passengers think their dog hasn't had anything to eat when they see the bag is untouched when they arrive," Raymond says. "This is a misconception, as the pets are actually very well fed and hydrated before travel. The food is left on top just in case, to make sure there is always something for them to eat, in case the flight has to make an unplanned stop-over for example."
How to prepare your dog for its journey
As well as food, I see travel documents on each of the kennels. These contain information about the dog's destination, health and other particulars (Mila, for example, can get a bit nervous around larger dogs). "Travelling with a pet requires a lot of preparation", Raymond says. "It can take up to four months to get all the documents, vaccinations and health checks in place, depending on the destination."
A very important item is the kennel, which has to meet strict criteria. Luckily, there are always extra kennels on site to replace kennels which are not fit for travel. Besides practical items, you can also take an extra blanket or toy for your dog to keep it warm and happy.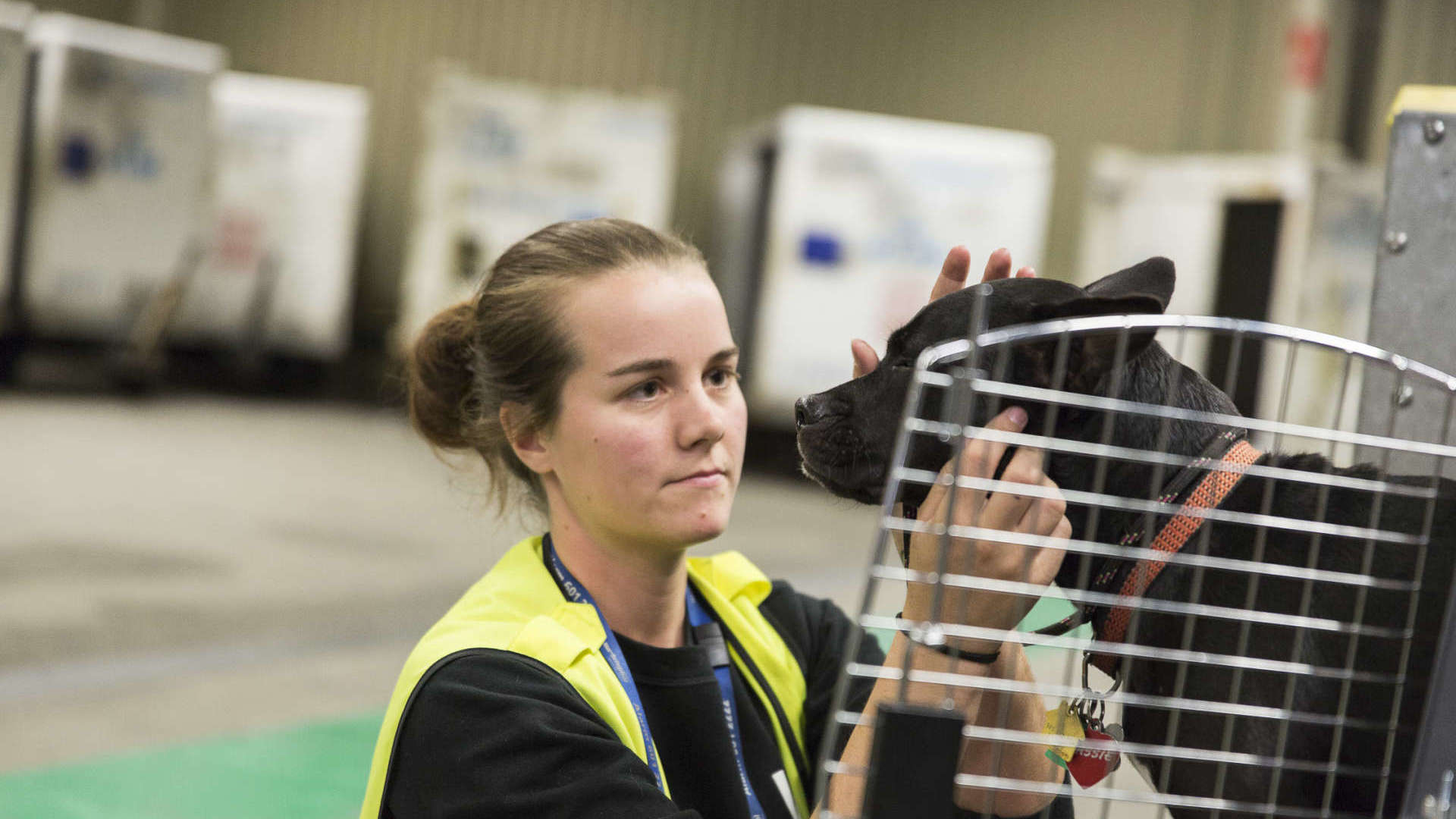 Walk in the park
The hotel does everything it can to perk the pets up before they travel. Dogs will be taken out for a short walk to stretch their legs and get some fresh air, before being put back in their kennels to relax.
I ask if dogs get sedated before their flight. "Absolutely not", Raymond replies. "We always make sure the animals are fully rested while they're here, so that they stay awake during the flight. For a pet, waking up in a strange place, can be very stressful for him. And you don't want to take any health risks."
I can't resist taking Mila out for a little walk and, while I do, I ask Raymond if specific conditions have been created in the cargo compartment of the aircraft to make it suitable for animals. "Dogs and cats are transported in a separate area. The cockpit crew makes sure the temperature in the animal compartment is always 18 degrees Celsius and has lots of fresh air."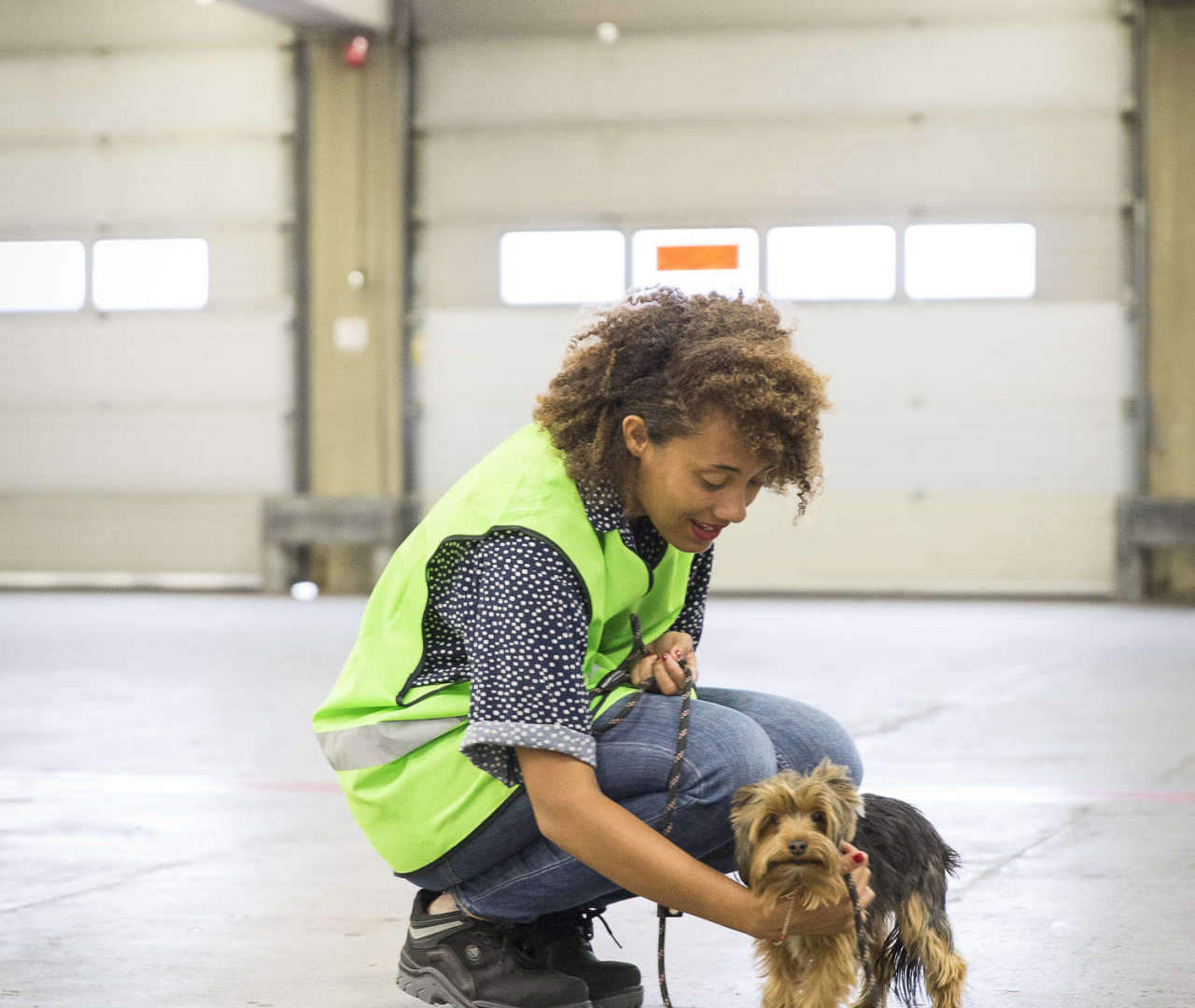 The animal attendants
There's a lot of activity in the hotel. While one employee checks a large wooden crate of rattlesnakes (which we can hear very loudly – not something I'm particularly comfortable with), another is walking a dog or taking care of recently arrived hamsters.
One of the animal attendants is Leonard Visser, who just got back from accompanying a horse to China. "This isn't just any old job", Leonard says animatedly. "We fly around the world accompanying animals like horses and zoo animals on their flights. We make sure they are fed and have had enough rest – flights can be quite stressful for animals. We stay with them during landing and take-off and generally treat them as if they were our very own."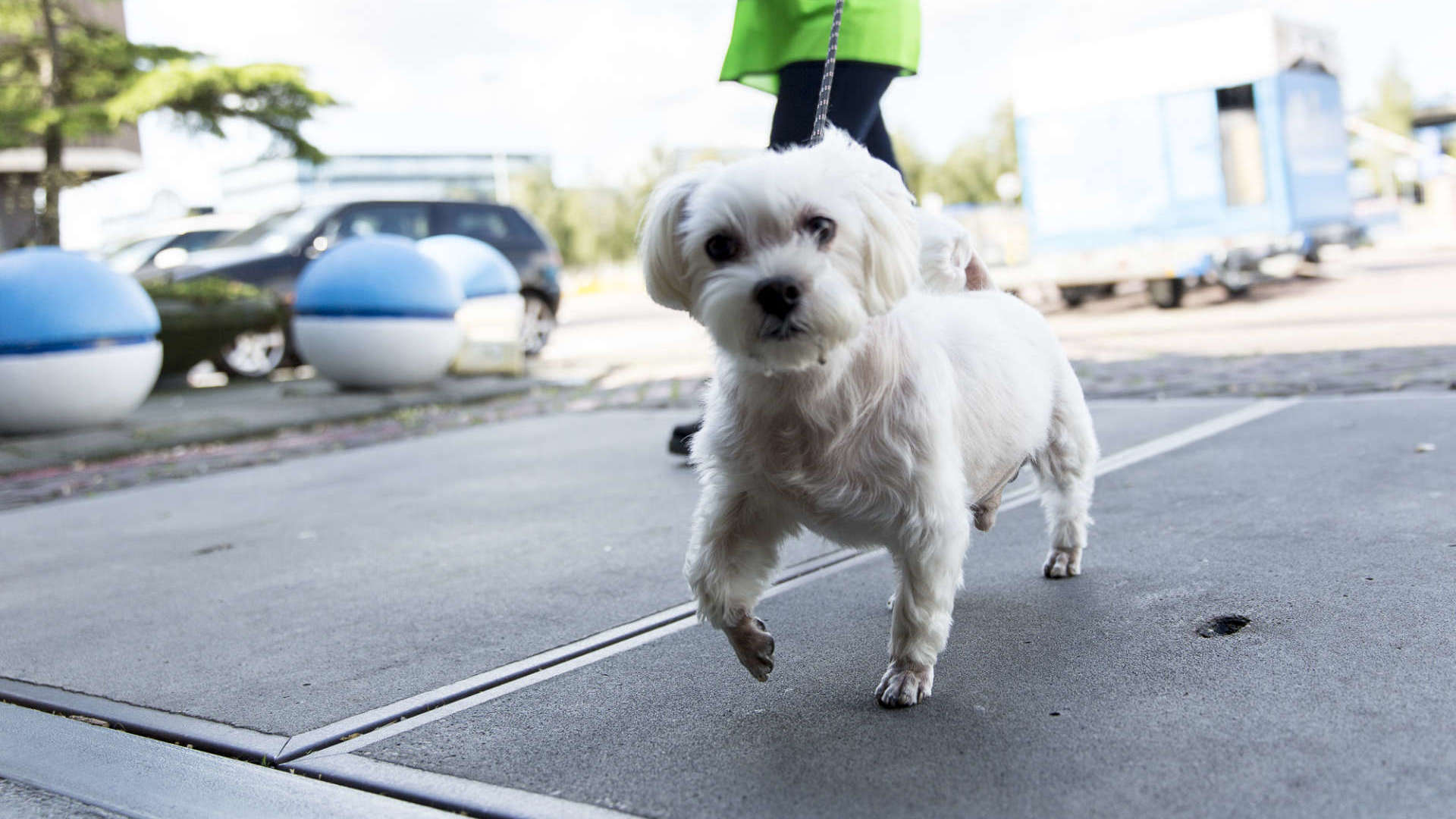 As we walk back to the hotel entrance, Raymond's phone rings: loud insect chirping, monkey hoots and the buzz of a rainforest suddenly fill the air. "You just have to love animals", he says, as his jungle ringtone rings on.
I check Mila's kennel one last time and go home, more than reassured that she is in good hands.
– Aisha –
If you enjoyed this, you might also like our blog on the early days of animal transportation.