This is What Makes a Cabin Attendant a Top Host or Hostess
I ended my blog "Nine tips to make flying as pleasant as possible on board" by saying that the cabin crew is there to make your flight as safe and pleasant as possible. Wanting to let you know my colleagues in the air are not only trained in Flight Safety, but in hospitality too.
And if anyone is a good host, it's Ad van Aken. Not only a fantastic purser but also a well-known member and Supervisor & Protocol of the KLM Public Relations Team. That makes him the perfect person to talk about the main 'ingredients' that make a top host or hostess.

Smile, smile and, oh yes, smile!
Take one single smile and put it on every day. They say a smile is the best make-up you can wear. Although I am personally partial to a little lipstick, I can confirm this to be true. You see it in the street. If you give a passer-by a friendly smile, the effect is often instantly obvious. It gives you a warm and pleasant sensation. "If you are embarking or disembarking at 4:00 a.m., that same welcoming smile is a lovely example of how a small gesture can have a truly significant effect on your passengers," explains Ad.
C'est le ton…
Attitude and voice (and well-groomed looks) linger longer with passengers than name or appearance. That's why one must never forget those two ingredients when 'baking' the perfect host. A cabin attendant has to have an openness of attitude in abundance. "C'est le ton qui fait la musique," as the French say. In other words, it's not what you say, but the way that you say it, that determines how it is received. "A good cabin attendant is aware of the fact that everything he or she says and does contributes to a positive travel experience for the passenger. Whatever you do, do it in a friendly, mature and right way."
360 vision
Let's not forget the seasonal mix and tastemakers alert and attentive. Pay attention to what's happening around you and make sure that the passengers have everything they need during the flight. If you see an empty glass, someone in need of an extra blanket, a bored child, or that someone is unwell, you respond immediately. By responding to what you see, you let passengers know that you are there for them. That extra blanket, picture to colour in, or a glass of juice is a small, but important start to what is hopefully a wonderful journey.
Dress to impress
KLM's uniforms are recognised around the world and make KLM cabin crew instantly recognisable for passengers. It's the actual blue icing on the cake. A number of "rules" come attached to wearing this uniform. According to Ad it is important to follow the orders of the uniform. "Make sure your shoes are polished and that your shirts, skirts and trousers are pressed. You wear your outfit as it is meant to be worn – neat and proud. And let's be honest, you could have a worse designer than Mart Visser."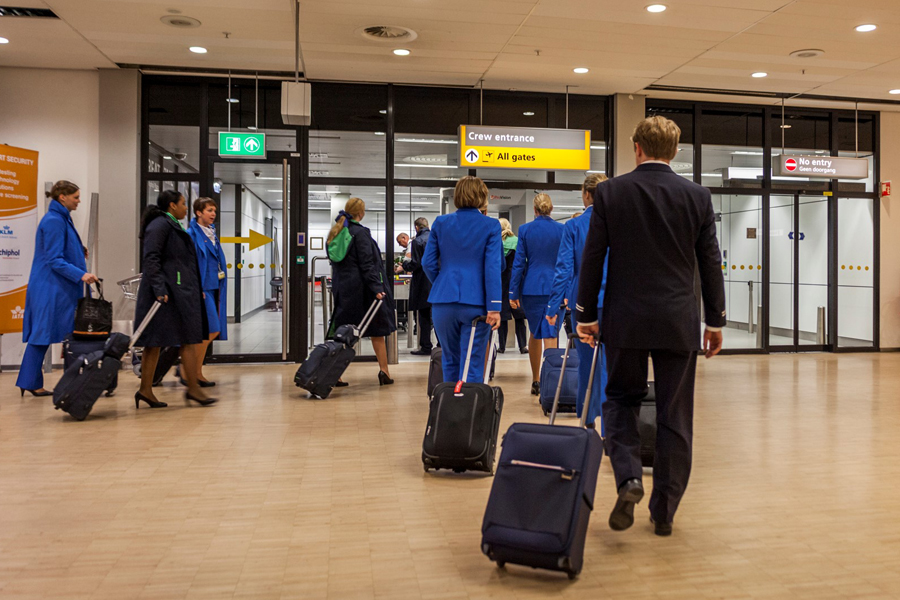 Smells like team spirit
And when you put the smile, attitude, voice, 360 vision and the neat uniform in a bowl, you stir them up with this essential: team spirit. A passenger can see whether the crew gels. A team that works well together, puts passengers at ease, generates trust. That's why there is a crew briefing before every flight. At the briefing all the crew members shortly introduce themselves. It breaks the ice for crew and passengers, because on a long flight everyone is dependent on each other to a certain degree. Ad concludes: "During the crew briefing we discuss flight safety, but also how we can give passengers the best personal attention. Because in the end, it is all about their travel experience and appreciation!"