Tile & Inspire: Your face on a real KLM plane
The Netherlands is famous for its windmills, wooden shoes and Delftware – and for KLM of course. What do you get when you combine all of these things? KLM's new worldwide campaign 'Tile & Inspire'.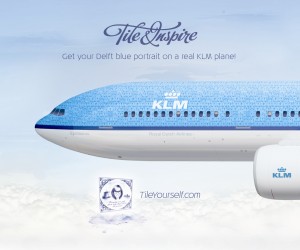 The campaign was launched yesterday. As part of the campaign, KLM has invited Facebook and other fans from around the globe to create a Delft blue tile showing their (profile) picture and an (inspiring) personal message. The tiles submitted by participants put them in the running to have their message placed on a real Boeing 777-200.
KLM cherishes its Dutch roots. And since Delft blue is an intrinsic part of the national Dutch heritage, KLM is already treating business class passengers to a small Delft blue house on every flight. A new house is launched each year on the anniversary of KLM. This year marks house number 91.
Delft blue tiles became fashionable in the Netherlands in the seventeenth century as a result of greater overall prosperity. They were often used in mantelpieces, kitchens and as skirting tiles. KLM is honouring this tradition with its new campaign.
The goal behind 'Tile & Inspire' is to actively involve KLM passengers in their journey. This connects to KLM's 'Journeys of Inspiration' campaign, which was launched in 2008 and emphasises KLM's ambition to not only transport passengers from A to B, but also offer a memorable flying experience. Since yesterday, KLM fans worldwide have been given the opportunity to create a tile showing their picture and a message and to share it with their friends. The 'gallery' shows just how cool it would be to see one's own tile on a plane – and for  some of the participants this will become reality!
You can participate in this campaign through www.tileyourself.com. The tiles will be studied in ten different languages and the chosen 'tiles' will be placed on a KLM 777-200 on 16 June. The 'Delft blue' KLM aircraft will be visible at numerous destinations around the world.
'Tile & Inspire' is in perfect keeping with KLM tradition. It is inspiring, typically Dutch and open – exactly what KLM aims to express with the inspiring journeys it offers its passengers.
Myrna
Marketing Communications